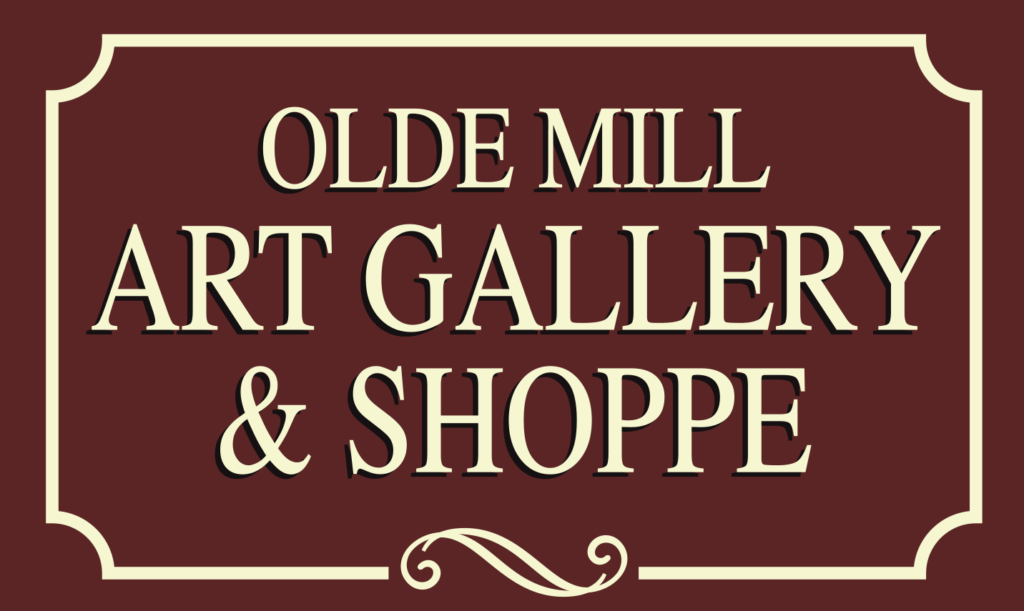 Participating Artists
George Burt
Pat Earl
Karen Hunter
Mary Morganelli
Catharine De Montmoreney
Dan Glassco
Andrea End
Inge Dam
Michelle Zikovitz
The Olde Mill Gallery and Shoppe is open Thursday through Sunday 11 AM – 5 PM. All guests are kindly asked to wear a mask. Don't Miss this Charming Gallery Nestled in the Old Feed Mill.
Past Meets Present at this Gallery Nestled in an Historic Feed Mill
Opening as a working feed mill in the 1800's, connected by rail network to the rest of Canada, The Schomberg Feed Mill was the Main Street supply store servicing farmers in the surrounding countryside. The feed mills original structure is on Main Street in the heart of Schomberg, and still stands on its original footprint.
The Old Schomberg Feed Mill originally operated until the railway to Schomberg was abandoned in 1927. Since then, it has been home to many shops and restaurants, and is now home to The Scruffy Duck Restaurant and The Olde Mill Art Gallery & Shoppe. The Old Mill is bursting with history and possibly more….tales have been told of sightings of a gentleman in a top hat wandering through the building.
Experience the creations of a group of talented artists, as they display their work surrounded by the ambiance of the historic Feed Mill in the heart of Schomberg.
This is an artists cooperative, with new artists coming and going every month, so you are always sure to find something fresh and new. With the collection including beautiful acrylic, watercolour and oil paintings, hand crafted jewellery, quilted items, a wide assortment of wooden creations and carvings, greeting cards and more, there is something to please everyone.
Chances Are You Will See One of the Artists at Work
Inspired by the natural beauty of Ontario's landscapes, Mary Morganelli has brought together her lifelong passion of painting and love of nature. Her paintings are created with the use of different mediums oil, acrylic, watercolor, charcoal, ink, oil pastels and imagination, bright colors, texture along with an extra touch of expression. Each one of Mary's paintings tells a storiy, offering glimpses of peace, serenity, relaxation, inspirational, meaning, and emotion.
"Where secret gems of hidden ponds are discovered within forests, and sunsets leave skies in unbelievable bursts of color. I capture these stunning moments so that they can live on in their glory."
Olde Mill Art Gallery Celebrates it's 2nd anniversary!
The Olde Mill Art Gallery & Shoppe on Main Street in Schomberg is celebrating it's 2nd anniversary this month!!
On November 8th, 2018 the Olde Mill Art Gallery & Shoppe opened its doors as a pop up Gallery. The Gallery has grown into a thriving co-operative art gallery featuring local artists and artisans, becoming a year round attraction and a destination place for those living in the York Region, the GTA, and beyond. The artists would like to thank Janet and Paul Hill (owners of the Scruffy Duck), The King Weekly Sentinel and Arts Society King for their continued support.
You are invited to come in and enjoy, touch and take in the colours that surround you as you make your way around the gallery. 9 artists are featured at the Gallery at this time! You can choose from a wide range of art forms, including wood turning and wood furniture; watercolour, oil and acrylic paintings; linocut and printmaking; jewellery; quilts; basketry and weaving. The work is unique and beautiful ~ and made in Canada! Take this opportunity to start and finish your holiday shopping by visiting the Gallery!
Gift Certificates are now available to make gift giving even easier! Let the recipient choose their own gift – to wear, showcase or hang on their wall!
During the month of November visitors can enter a draw to win a gift basket filled with Gallery items or a $50 gift certificate! The draw will be held on Sunday November 29th.
The Gallery is a one-of-a-kind location for this one-of-a-kind artisan shoppe!