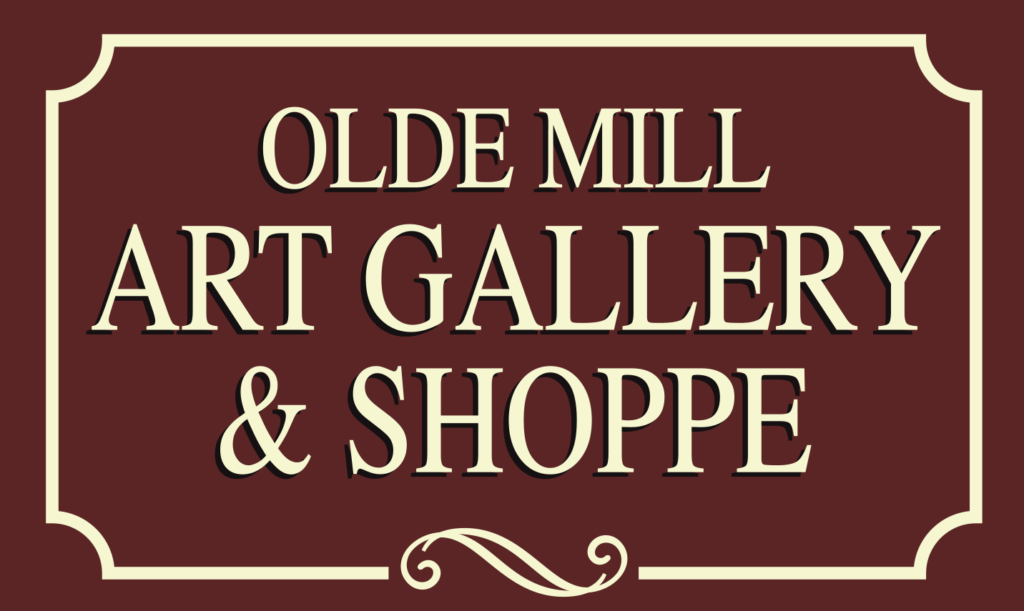 357 Main Street, Schomberg. L0G 1T0
Phone : 647 523 3275
Participating Artists
George Burt
Pat Earl
Karen Hunter
Mary Morganelli
Catharine De Montmoreney
Andrea End
Inge Dam
Michelle Zikovitz
Grace Croughan
Wendy Emery
Due to high demand and popular requests, the artists at the Olde Mill Art Gallery & Shoppe will be offering yet more classes tailored to suit our patrons. Please peruse the flyer below and consider signing up for one or more of these wonderful classes and workshops soon. Our bright, new and larger Studio space will be sure to get those creative juices flowing! Contact the instructor directly for information and registration.  
The Olde Mill Gallery and Shoppe is open Wednesday through Sunday 11 AM – 5 PM.  All guests are kindly asked to wear a mask. Don't Miss this Charming Gallery Nestled in the Old Feed Mill.
Past Meets Present at this Gallery Nestled in an Historic Feed Mill
Opening as a working feed mill in the 1800's, connected by rail network to the rest of Canada, The Schomberg Feed Mill was the Main Street supply store servicing farmers in the surrounding countryside. The feed mills original structure is on Main Street in the heart of Schomberg, and still stands on its original footprint.
The Old Schomberg Feed Mill originally operated until the railway to Schomberg was abandoned in 1927. Since then, it has been home to many shops and restaurants, and is now home to The Scruffy Duck Restaurant and The Olde Mill Art Gallery & Shoppe. The Old Mill is bursting with history and possibly more….tales have been told of sightings of a gentleman in a top hat wandering through the building.
Experience the creations of a group of talented artists, as they display their work surrounded by the ambiance of the historic Feed Mill in the heart of Schomberg.
This is an artists cooperative, with new artists coming and going every month, so you are always sure to find something fresh and new. With the collection including beautiful acrylic, watercolour and oil paintings, hand crafted jewellery, quilted items, a wide assortment of wooden creations and carvings, greeting cards and more, there is something to please everyone.
Chances Are You Will See One of the Artists at Work
At this time, 10 local artists are being featured in this space, showcasing their work as well as demonstrating their techniques. Being able to talk to the artists themselves makes this Gallery very unique. Inge weaves beautiful scarves and small purses using hand dyed cottons and silks. People love to ask questions and to watch her at work on her loom in the Gallery. Mary, Pat, Catharine, Grace and Andrea may also be seen working on their latest painting and talk about their inspiration for that piece and their medium of choice: acrylics, oils, watercolours, pastels and/or linocuts! Karen is often at work creating colourful and unique jewelry while at the Gallery. Wood turner, George Burt, always has a story to tell about each piece he has created. Michelle will often be seen weaving her hand dyed reeds to build her beautiful baskets and decorations. Our latest addition is Wendy Emery, a fused glass artist! Often hearing these stories, and/or knowing the location of the subject of a painting is what sells a painting. Or learning that the vase or bowl that they are holding in their hand is turned from local wood hundreds of years old! The buyer has a special connection with the artist and/or their work and it makes a difference.
We invite you to come in and enjoy, touch and take in the colour that surrounds you as you make your way around the Gallery.
On November 8th, 2018 the Olde Mill Art Gallery & Shoppe opened its doors as a pop up Gallery. The Gallery has grown into a thriving co-operative art gallery featuring local artists and artisans, becoming a year round attraction and a destination place for those living in the York Region, the GTA, and beyond. The artists would like to thank Janet and Paul Hill (owners of the Scruffy Duck), The King Weekly Sentinel and Arts Society King for their continued support.
Gift Certificates are now available to make gift giving even easier! Let the recipient choose their own gift – to wear, showcase or hang on their wall!
During the months of April & May visitors can enter a draw to win a gift basket filled with Gallery items or a $50 gift certificate! The draw will be held on Sunday May 9th, Mother's Day!
The Gallery is a one-of-a-kind location for this one-of-a-kind artisan shoppe!