COVID-19 Statement
Like everyone in Canada and around the world, ASK has had to adapt to the new, temporary, "normal." Technology has enabled us to communicate with artists, donors, volunteers, and the community through electronic measures such as Zoom meetings and webinars. We continue to seek new ways to collaborate, communicate, and support the community we serve.
ASK is dedicated to continuing to provide the community with the events you know and love where you can experience the amazing artwork of our local artists. In order to do so we will be following all guidelines set in place by local health authorities while constantly monitoring the COVID-19 situation to determine how or if our events can proceed. Rest assured the safety of our artists and patrons is of paramount importance and we will diligently work to ensure that our events remain a safe and fun environment for all.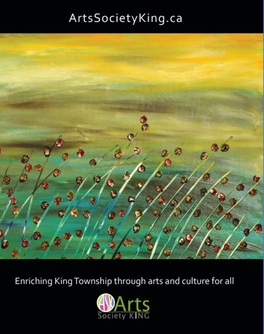 Arts Society King (ASK) is a not-for-profit volunteer organization established in 2005. ASK's office and gallery space is located in the King Heritage and Cultural Centre in King City.
Vision: Enriching King Township through arts and culture for all.
Mission: Arts Society King promotes, supports and advocates for arts and culture through effective partnerships and innovative events and programs.
Our donors are a diverse mix of private citizens and businesses and members are primarily artists. Citizens choose to support ASK initiatives and artists join to gain valuable exposure and opportunities. Donations and membership both support cultural activities in King Township.
One of Arts Society King's most effective partnerships is with King Township (KT) who has recognized the boundless value of arts and culture within our community. King Township has acknowledged ASK as an important contributor of cultural experiences that help maintain and fulfill King's socio-cultural identity.
Arts Society King events, programs and services include:
Studio Tour King
Schomberg Street Gallery
Art shows and gallery exhibitions
King MOSAiC magazine
Artist opportunities
Advocacy for arts and culture
Theatre and dance performances
Gallery exchanges
LIVE Music in King Concert Series
The 'Experience' Series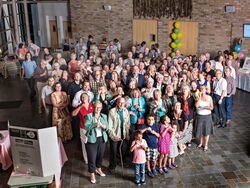 ASK collaborates with community partners to foster spirit and support of each others initiatives. Some include the King Heritage and Cultural Centre, KT Public Library, KT Historical Society, Kingcrafts Studio, York Region Arts Council, local schools, McMichael Canadian Art Collection, Olde Mill Art Gallery & Shoppe, and Cold Creek Conservation.
ASK Funders, Partners, and Supporters