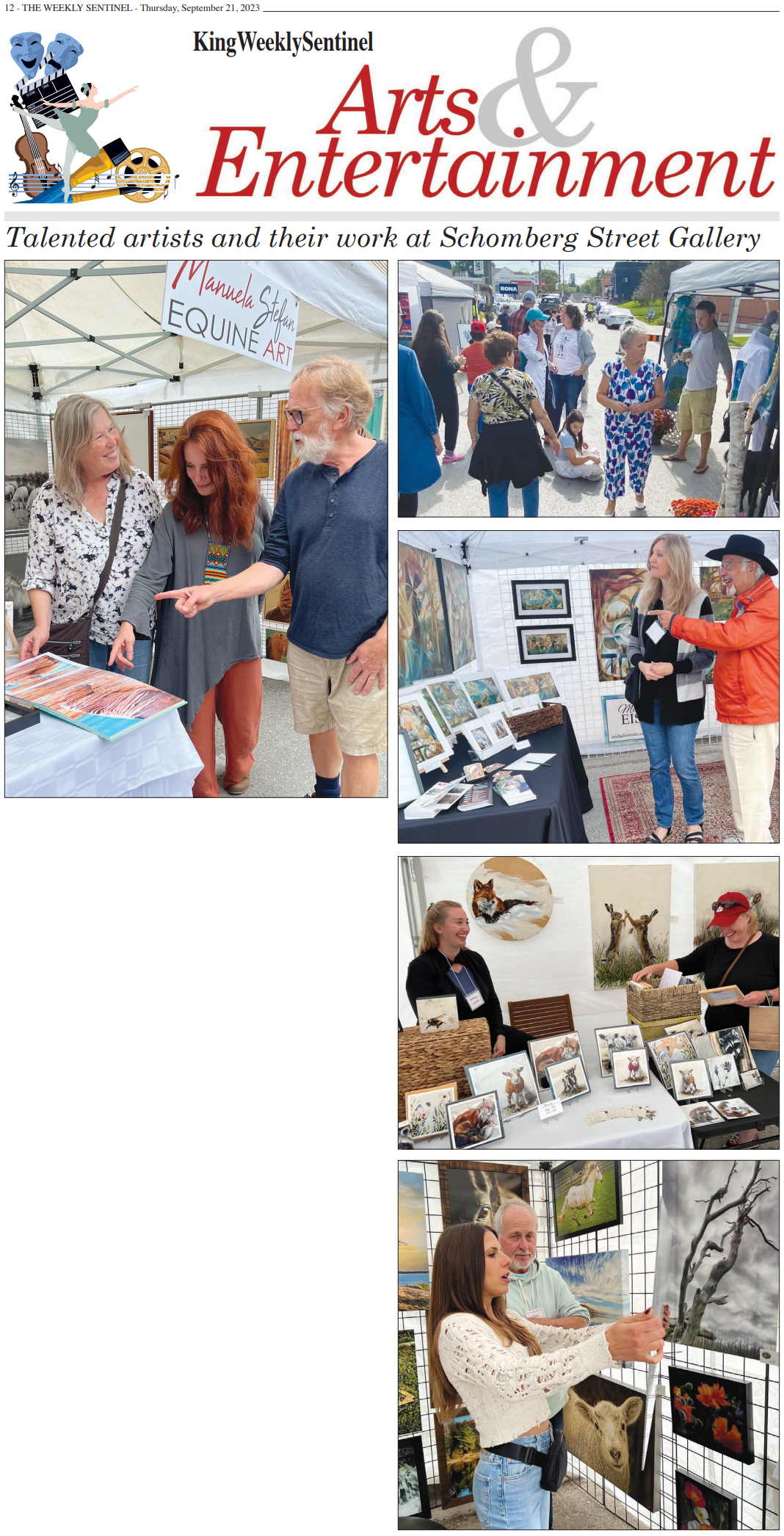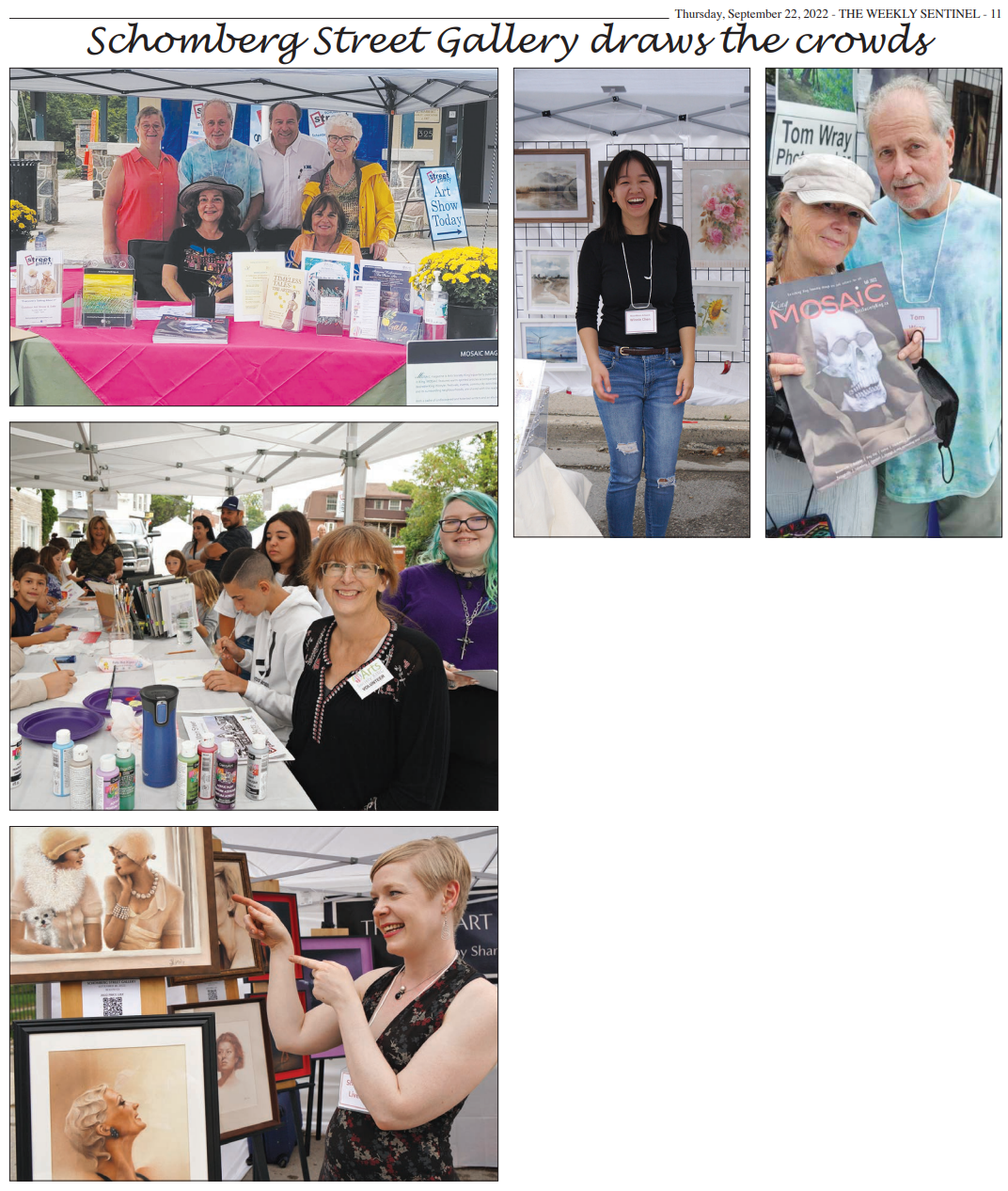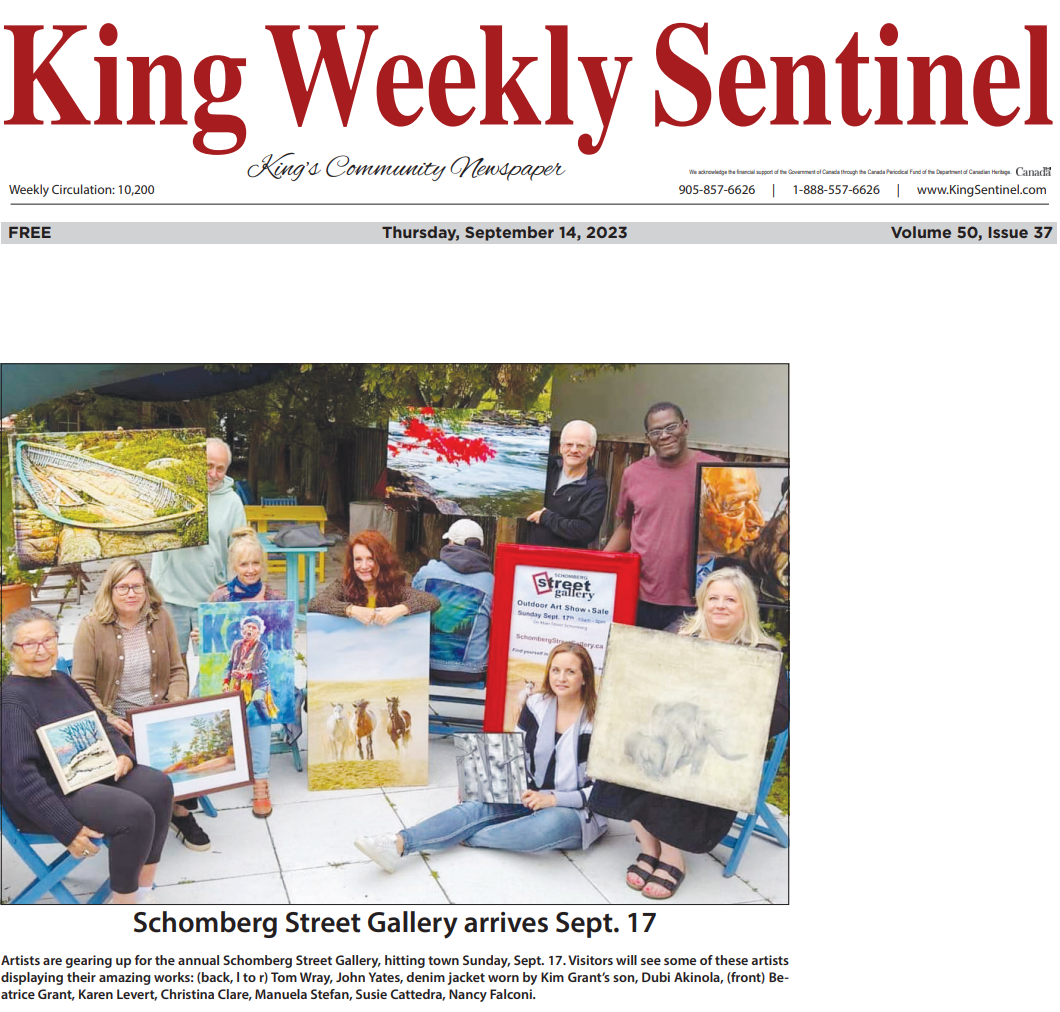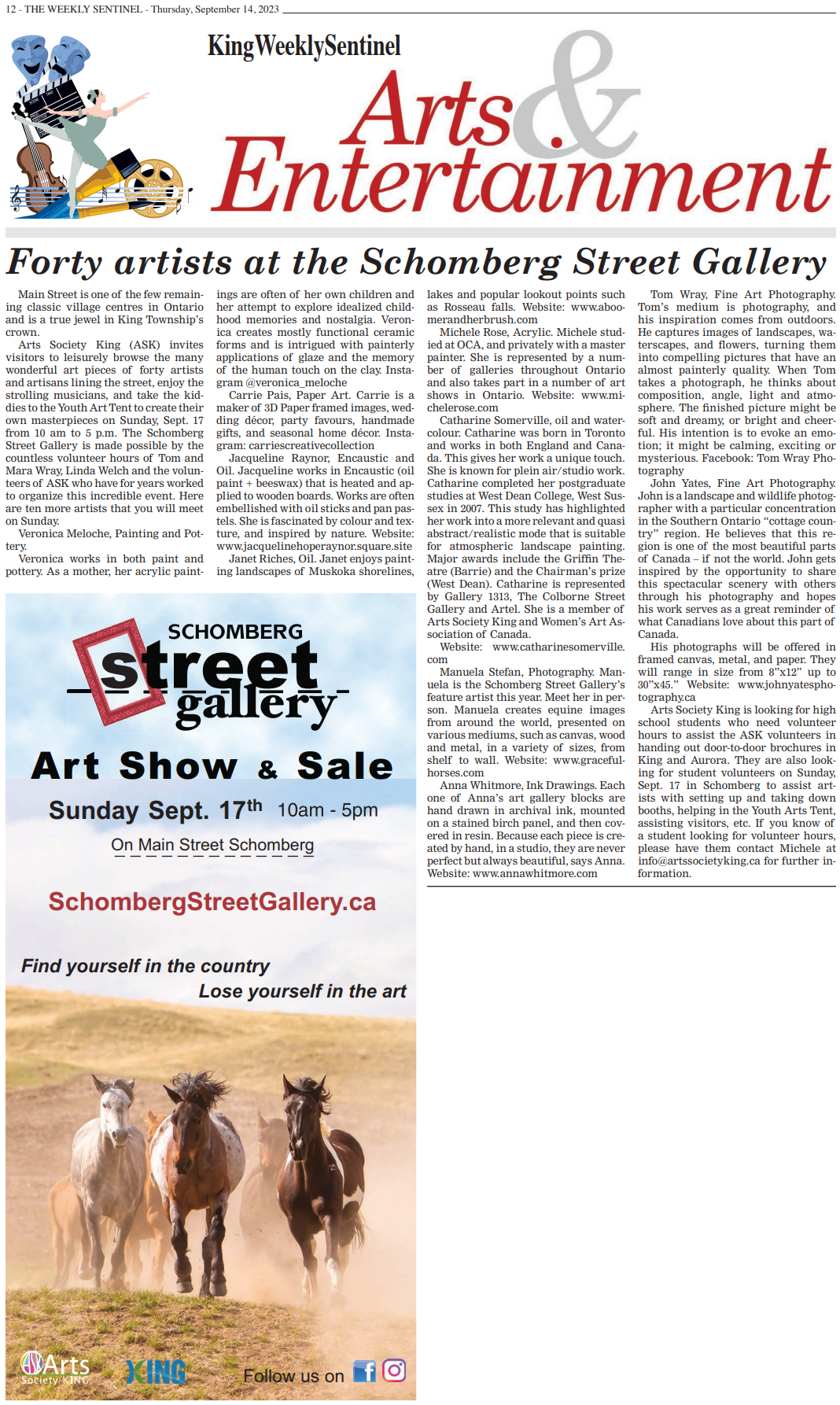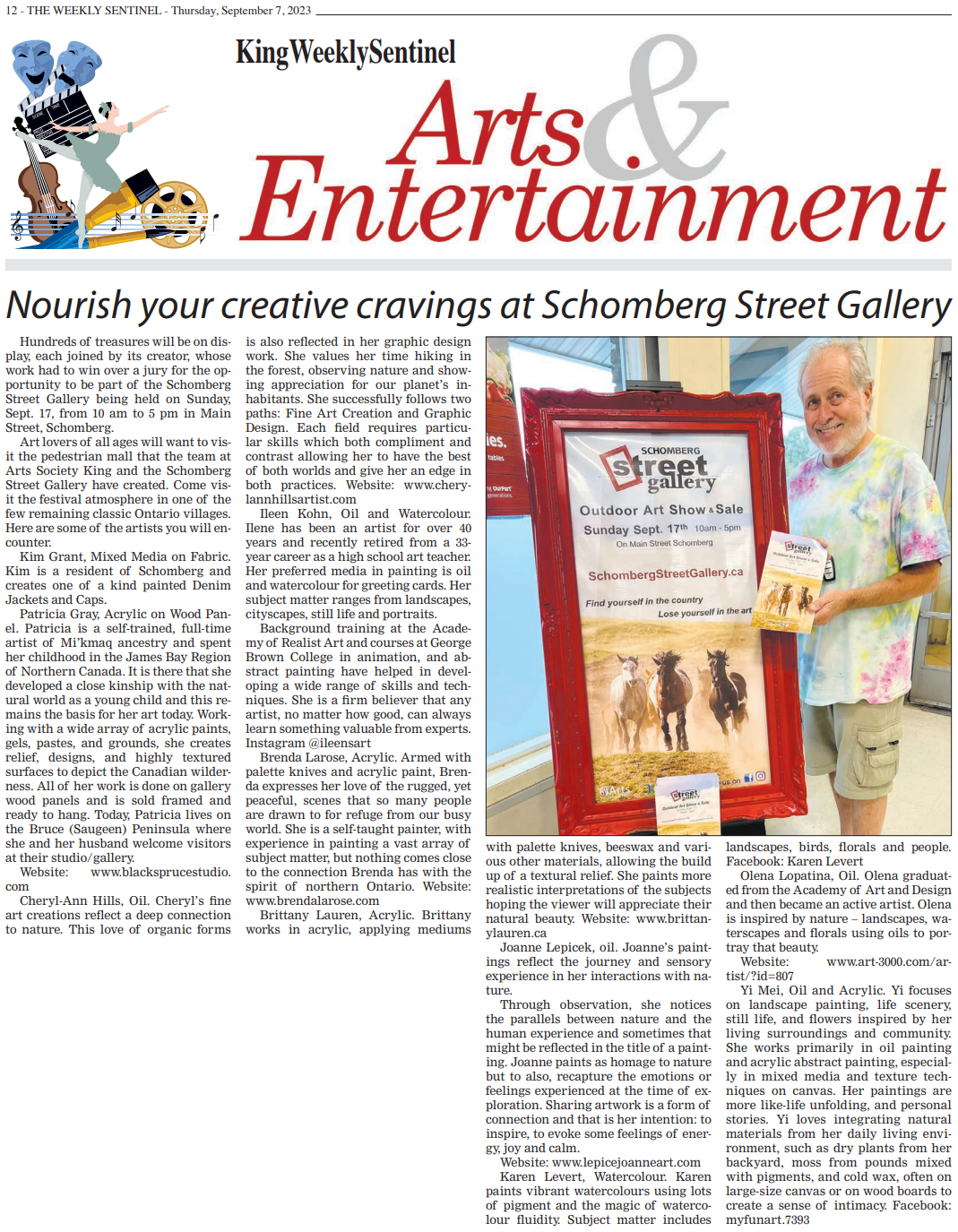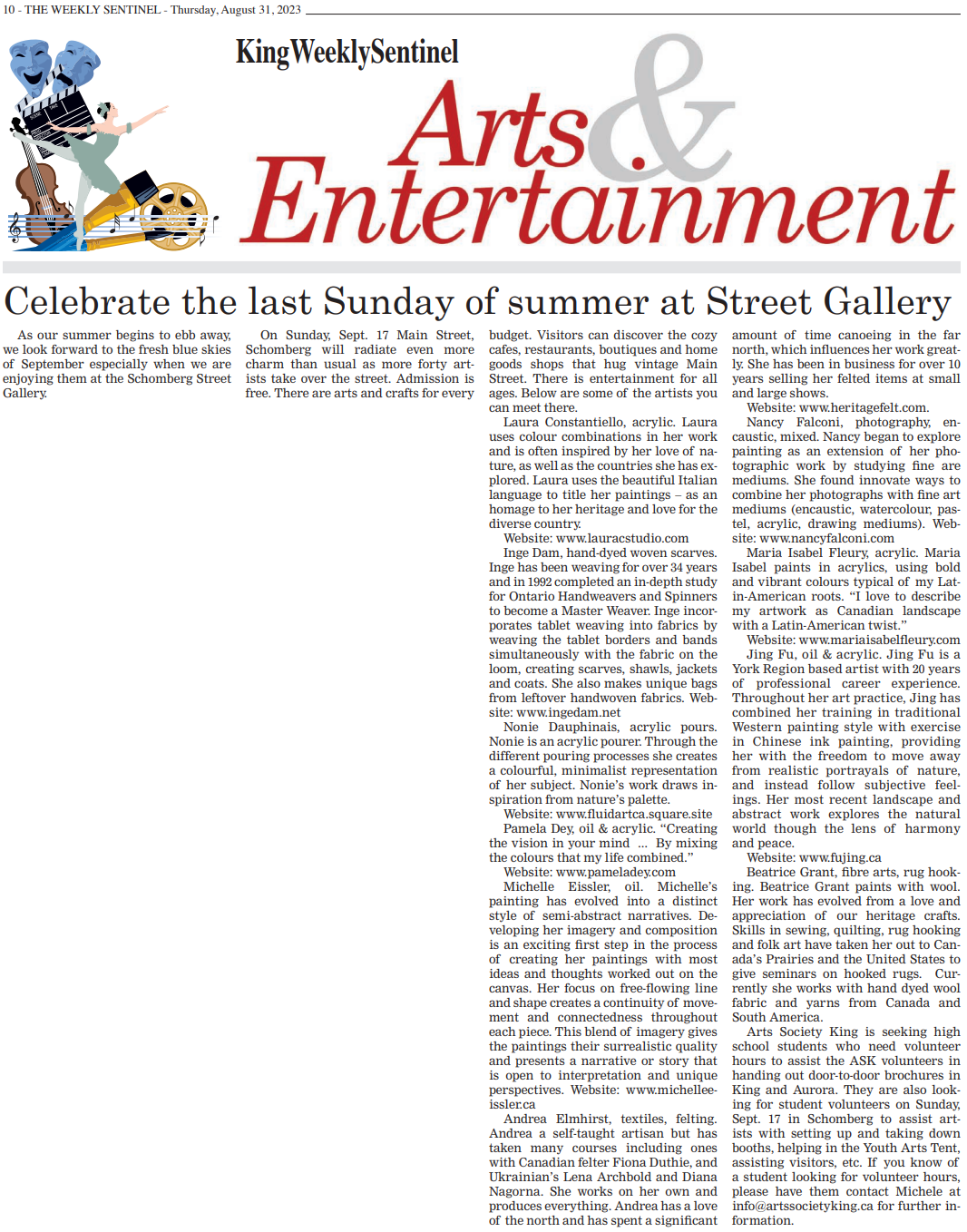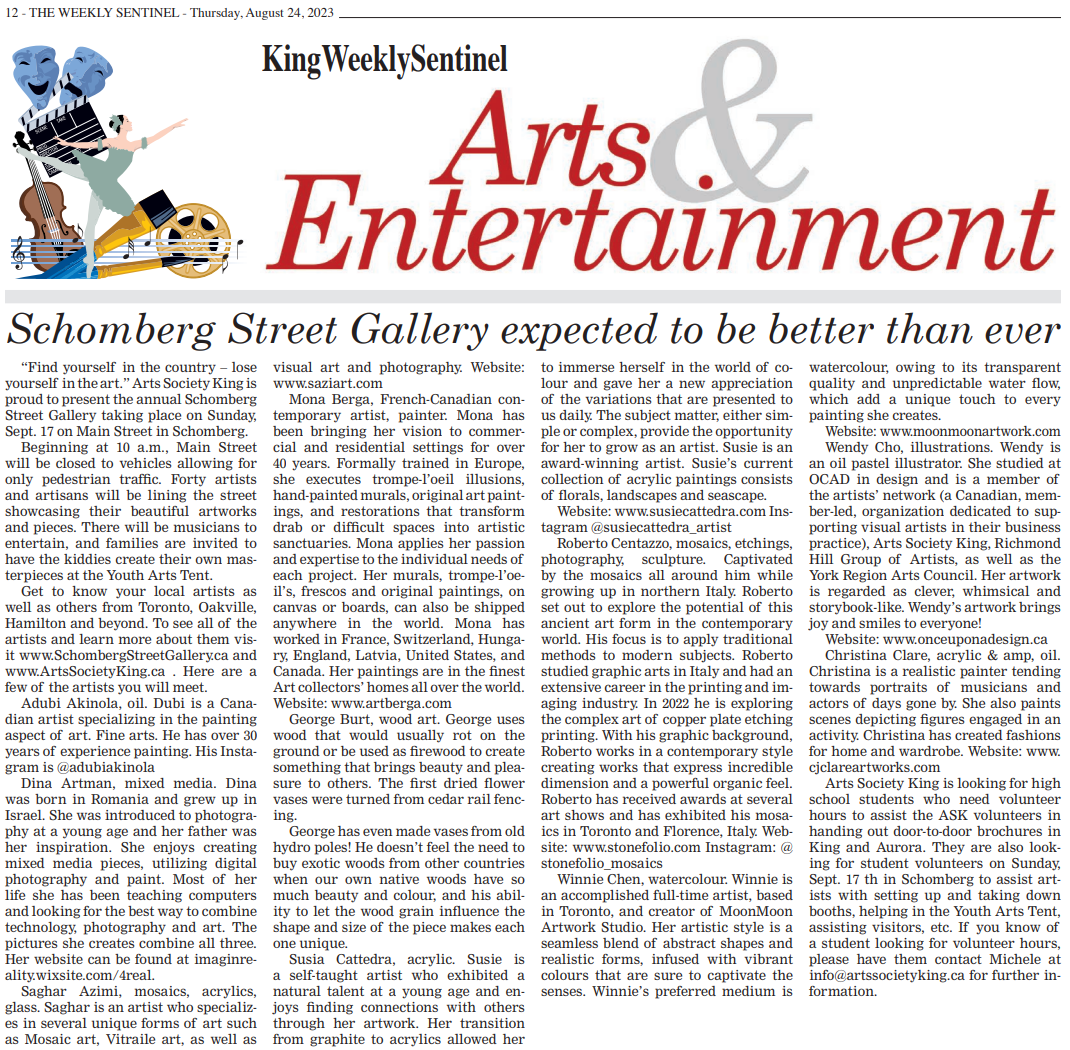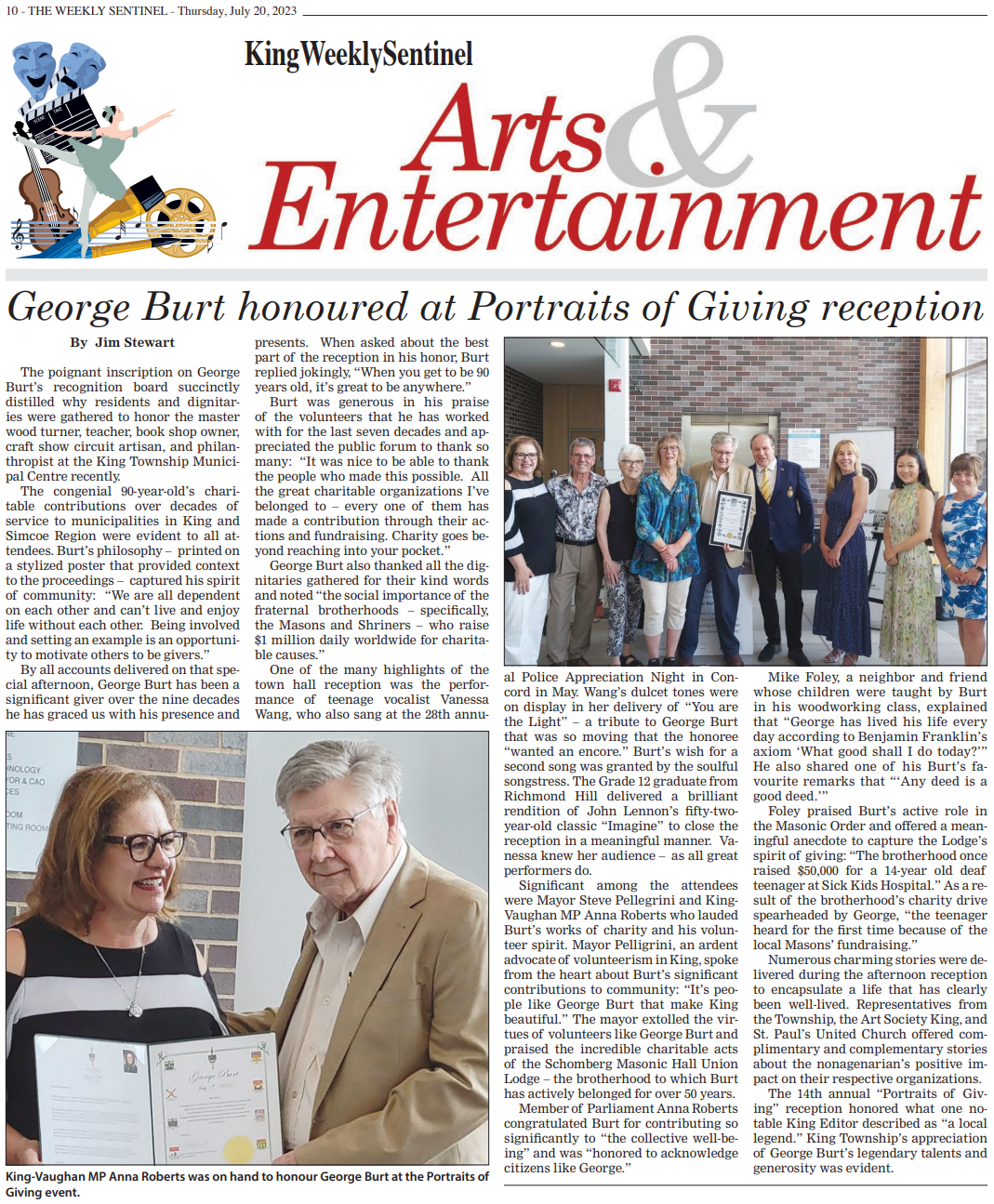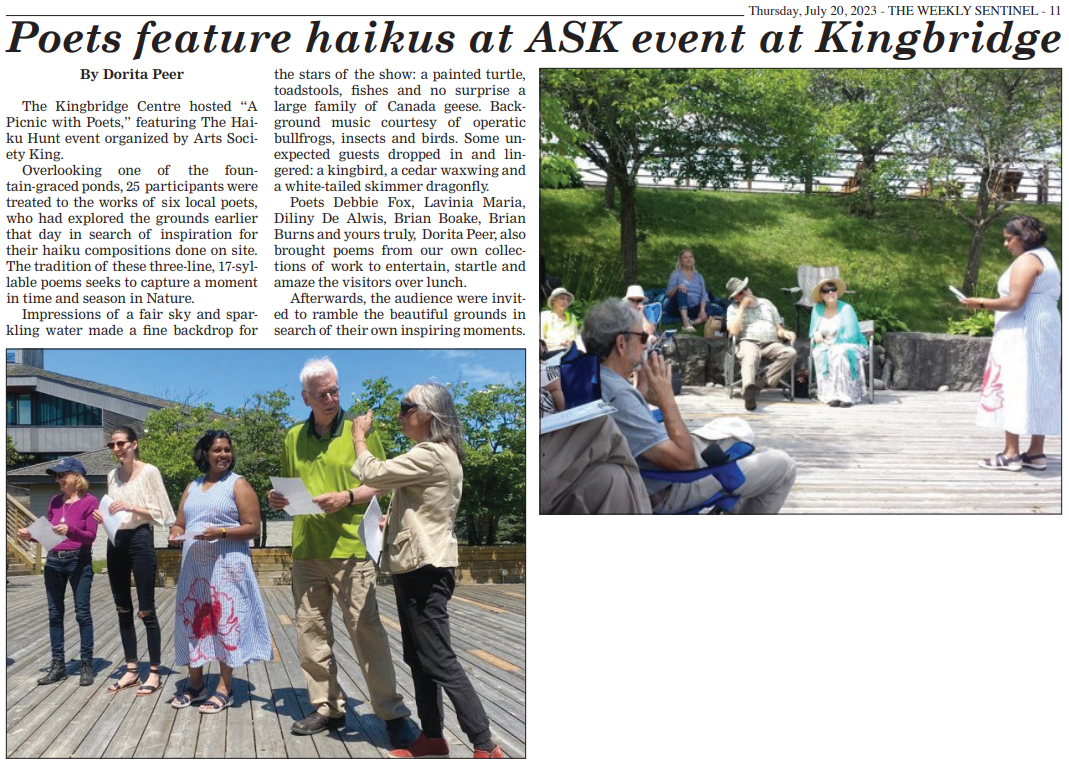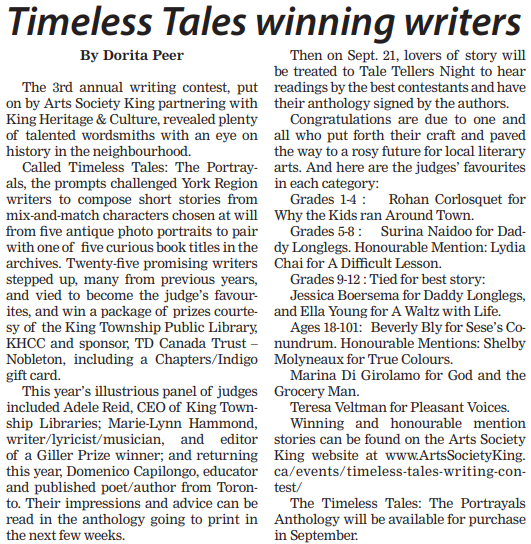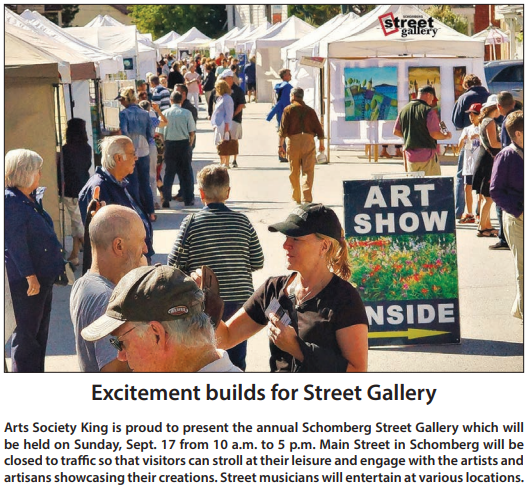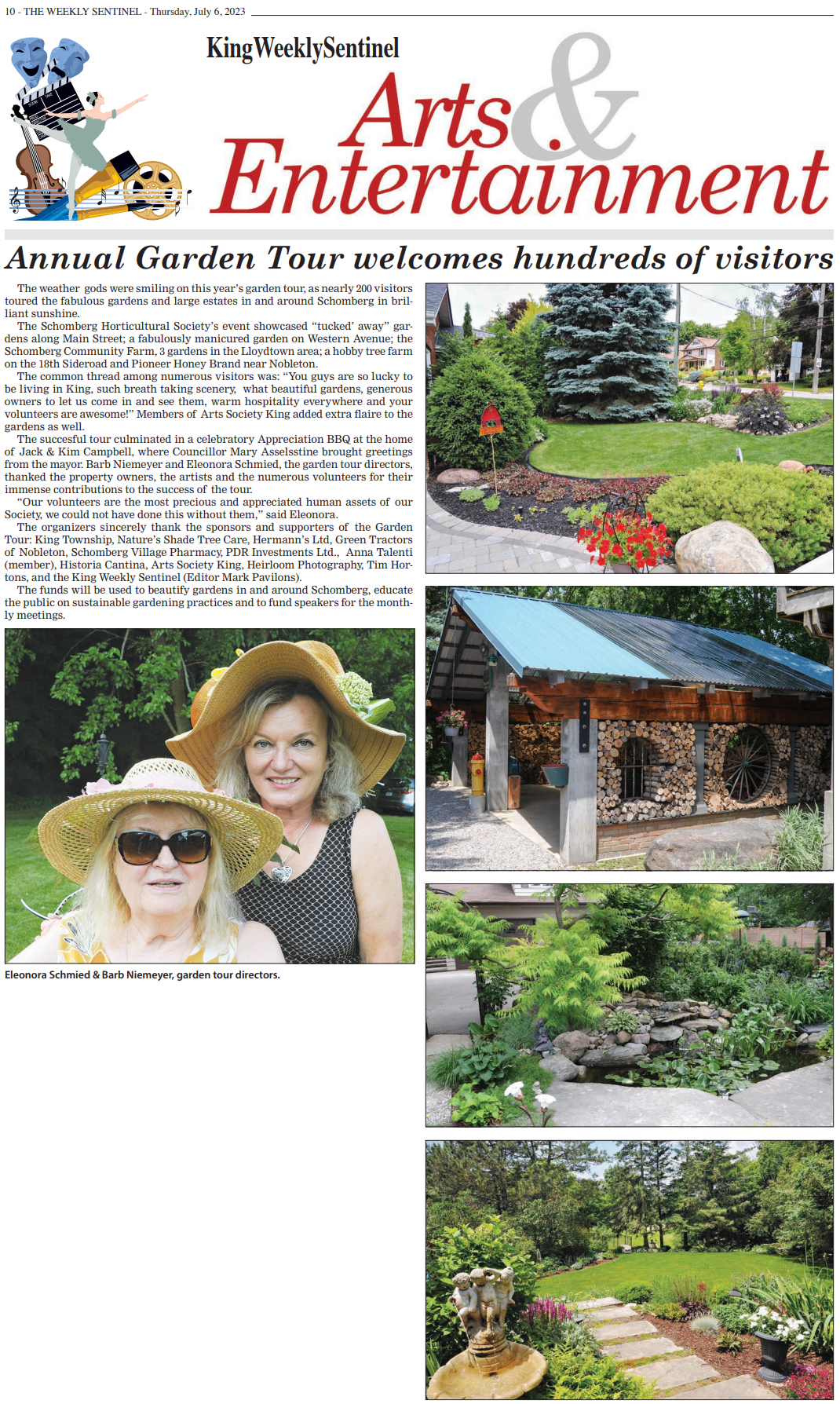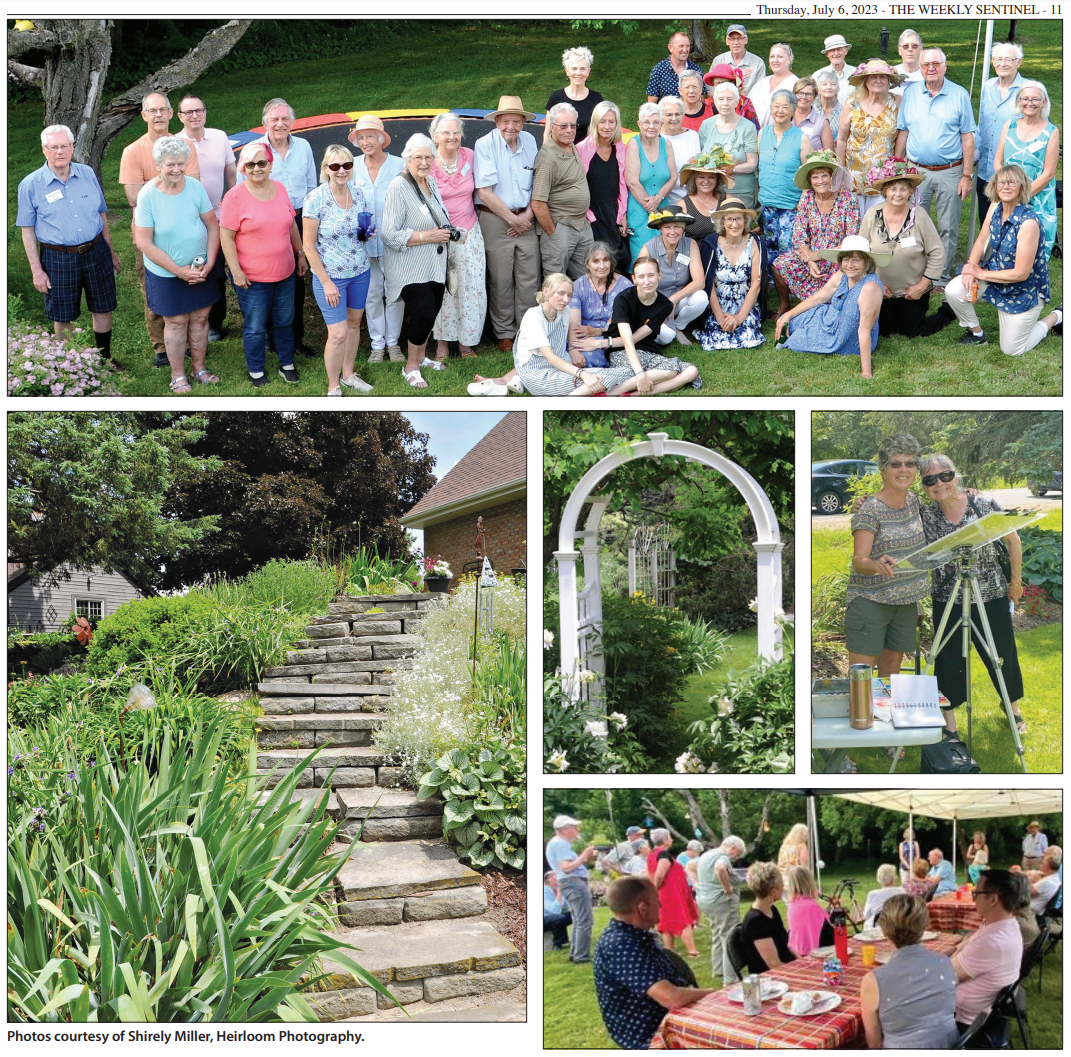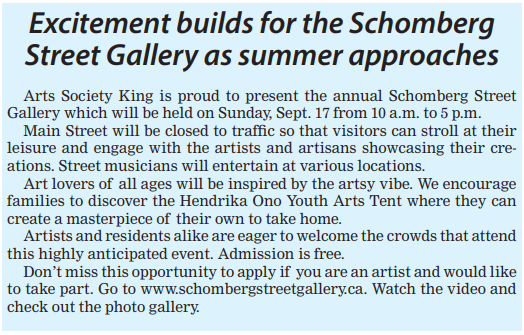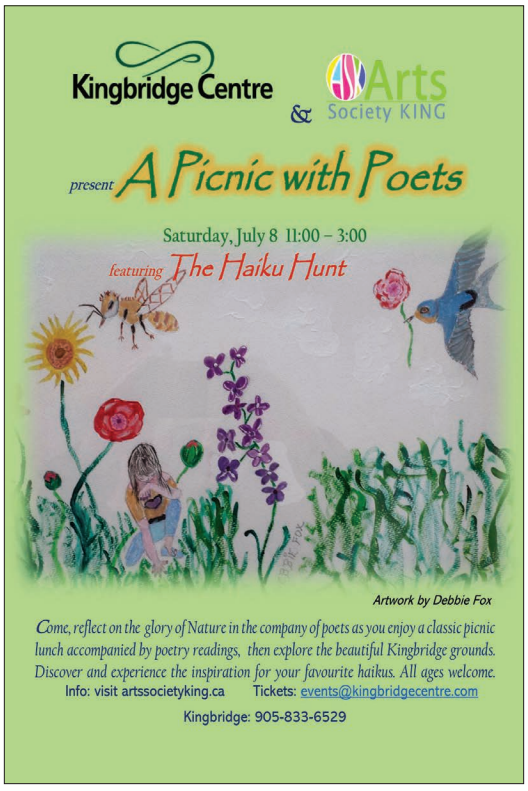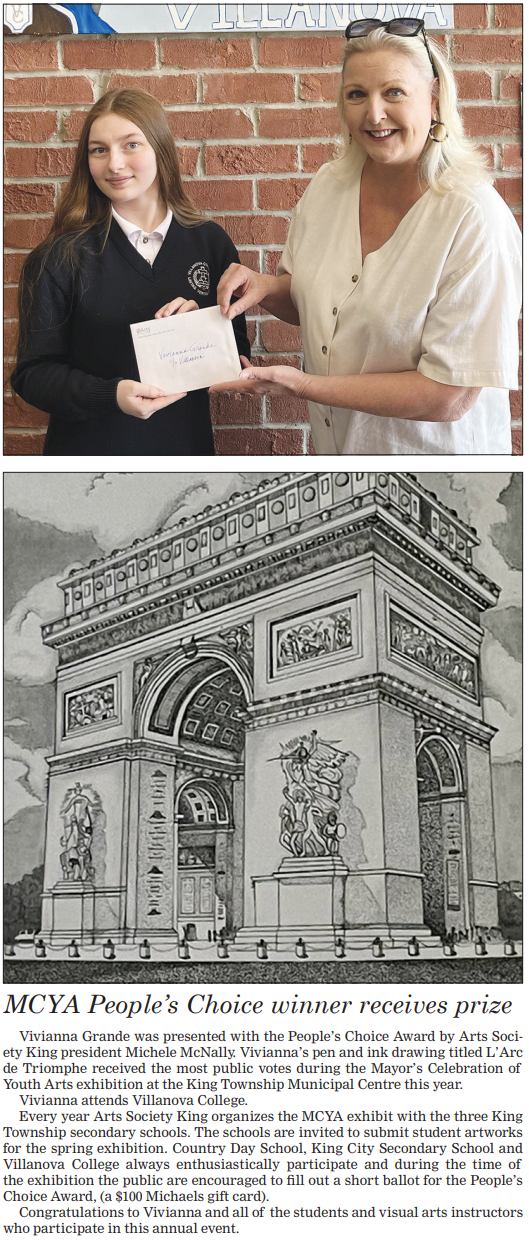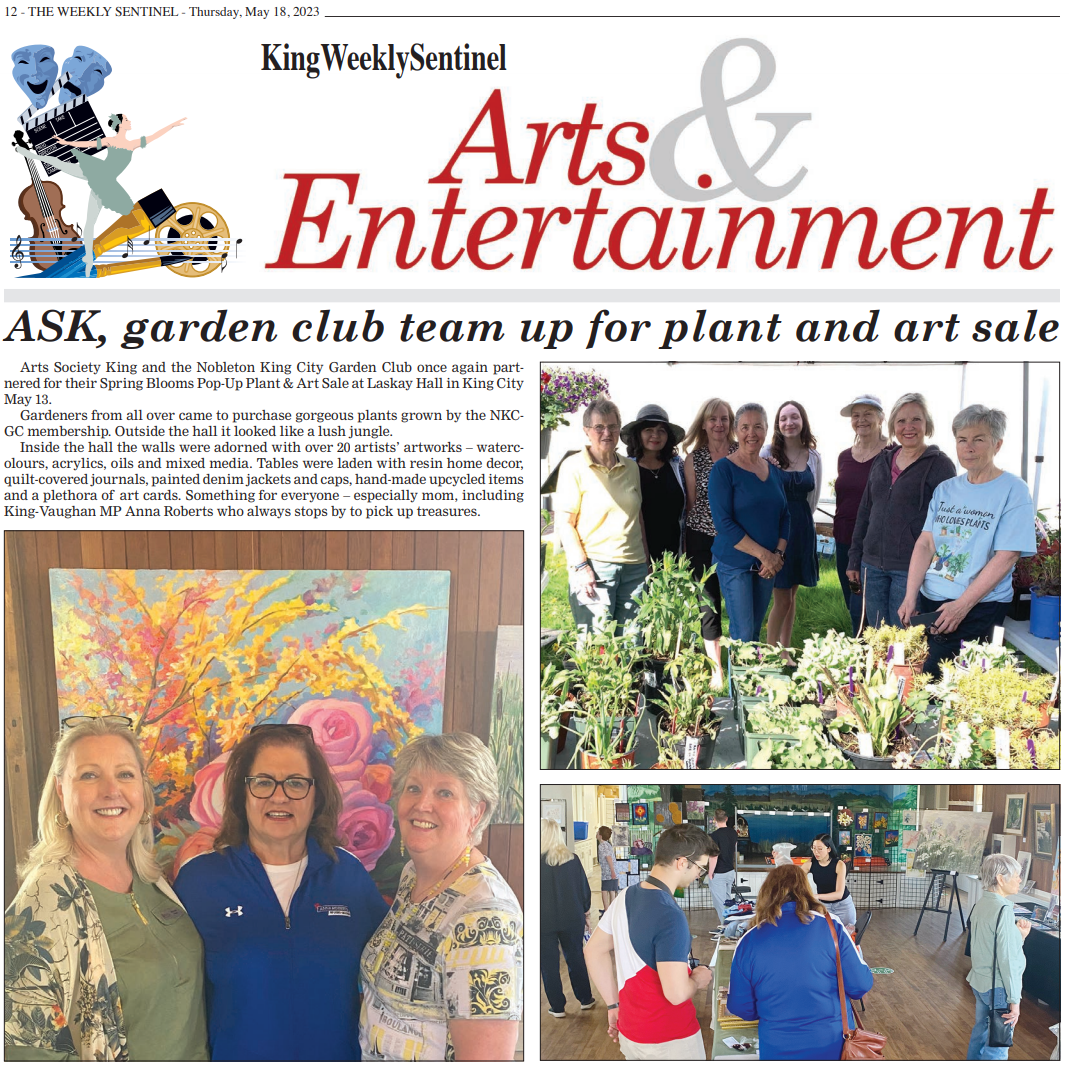 All of our volunteers deserve 'special recognition'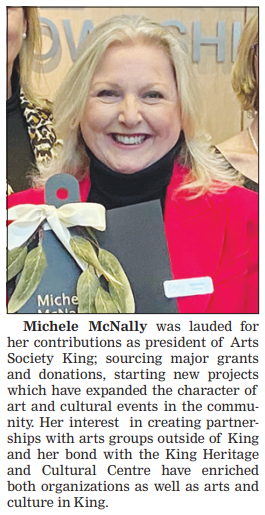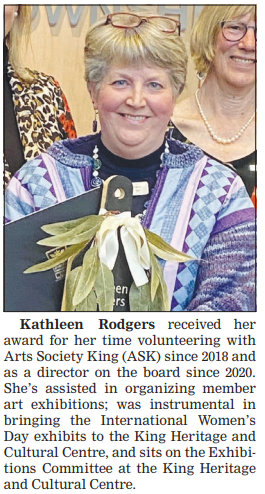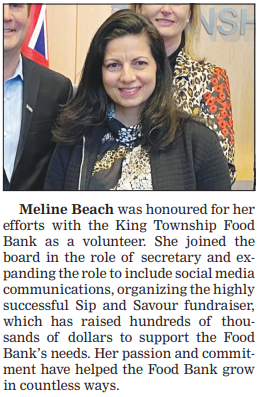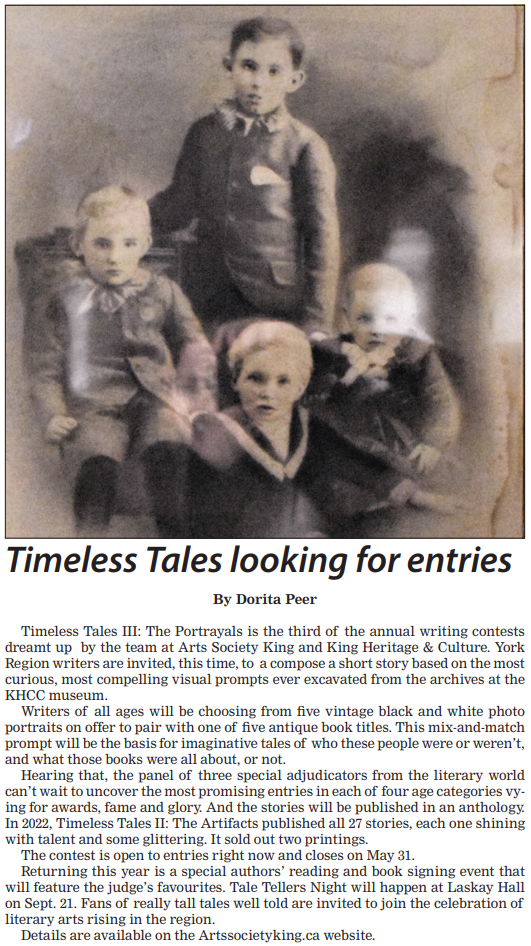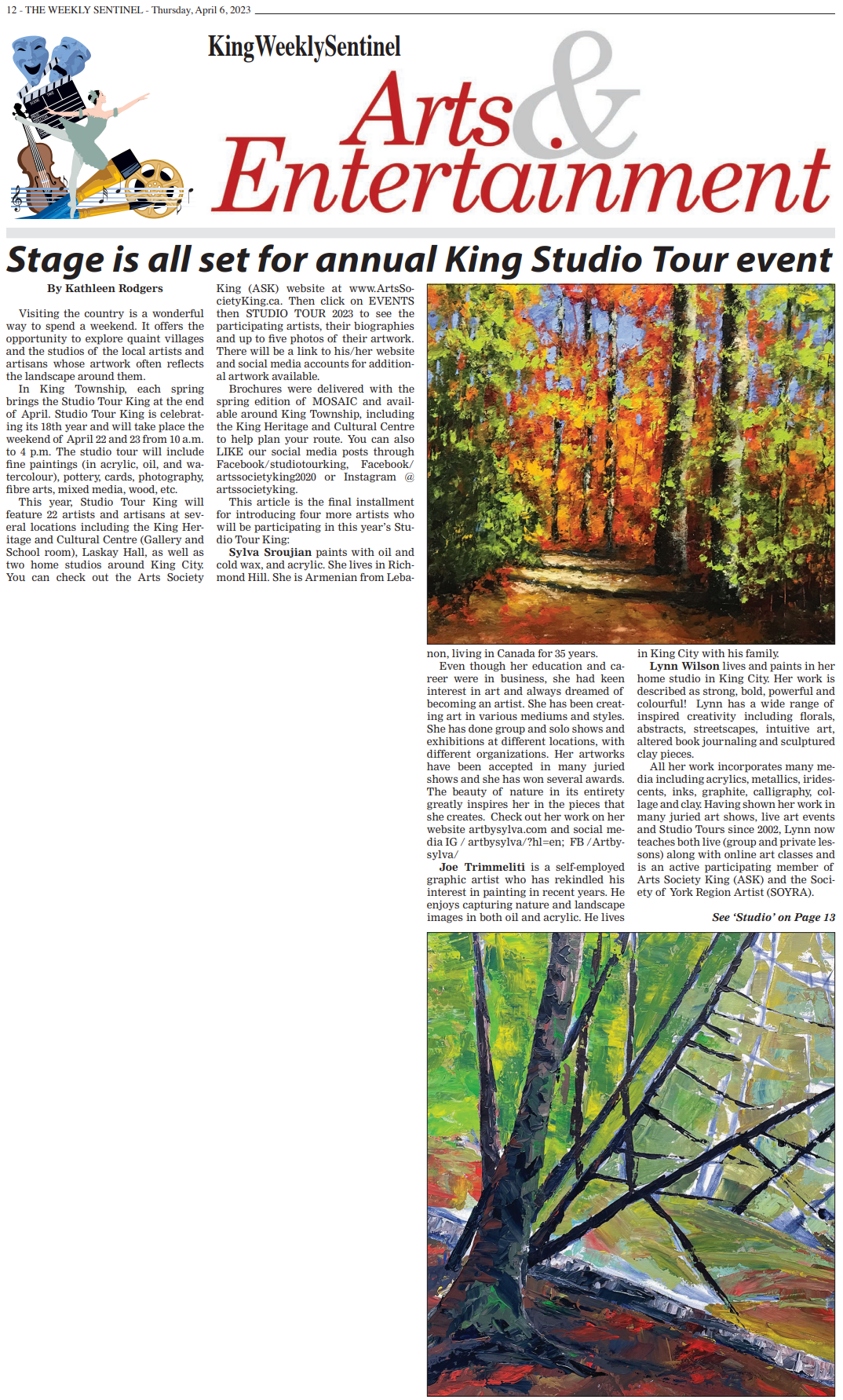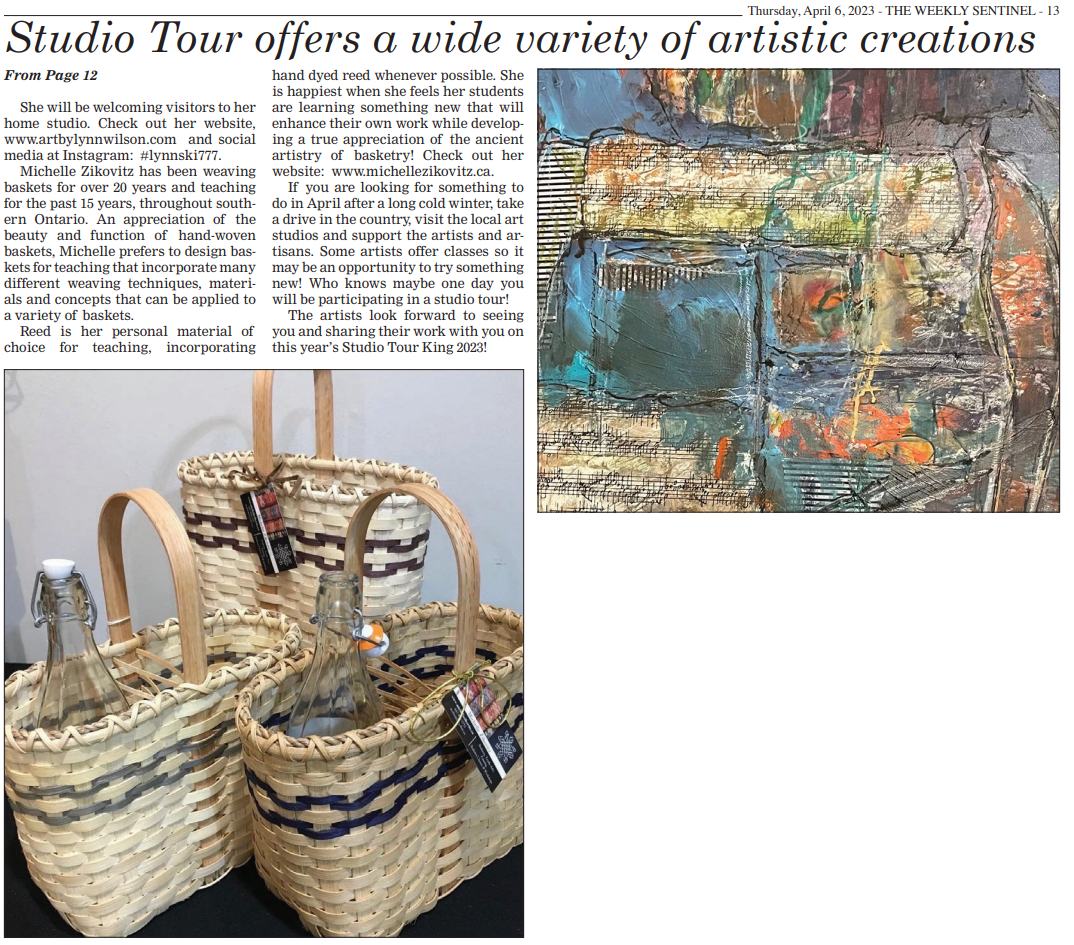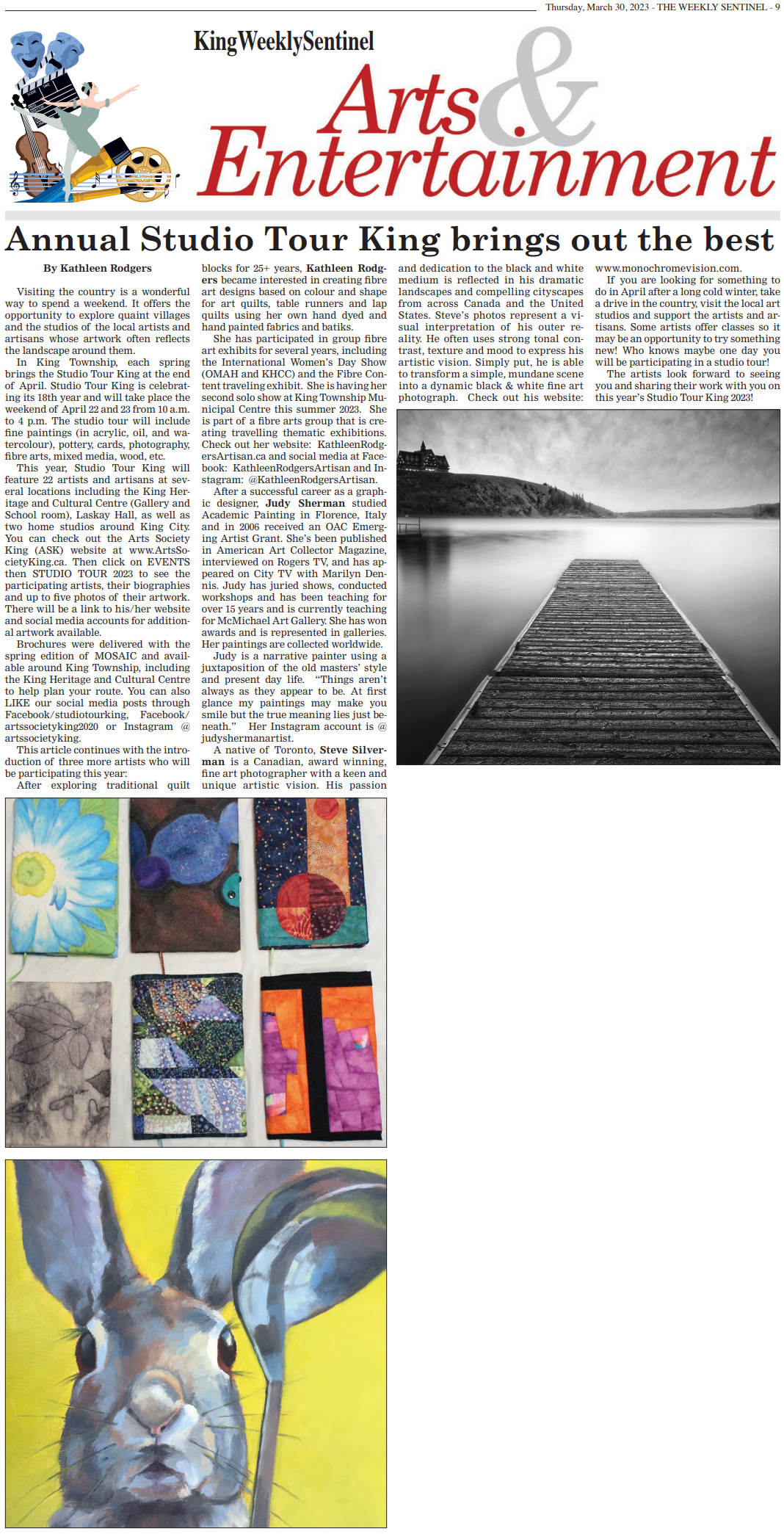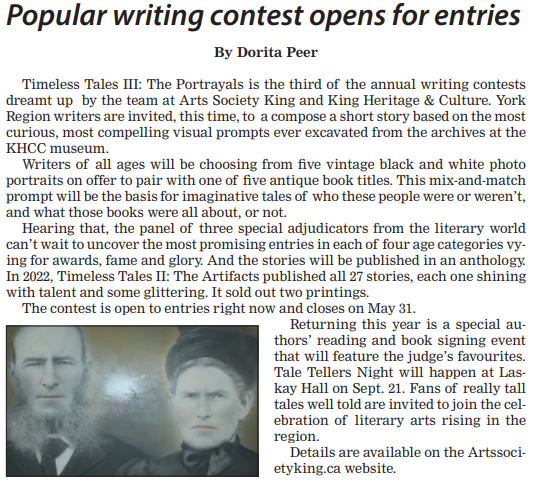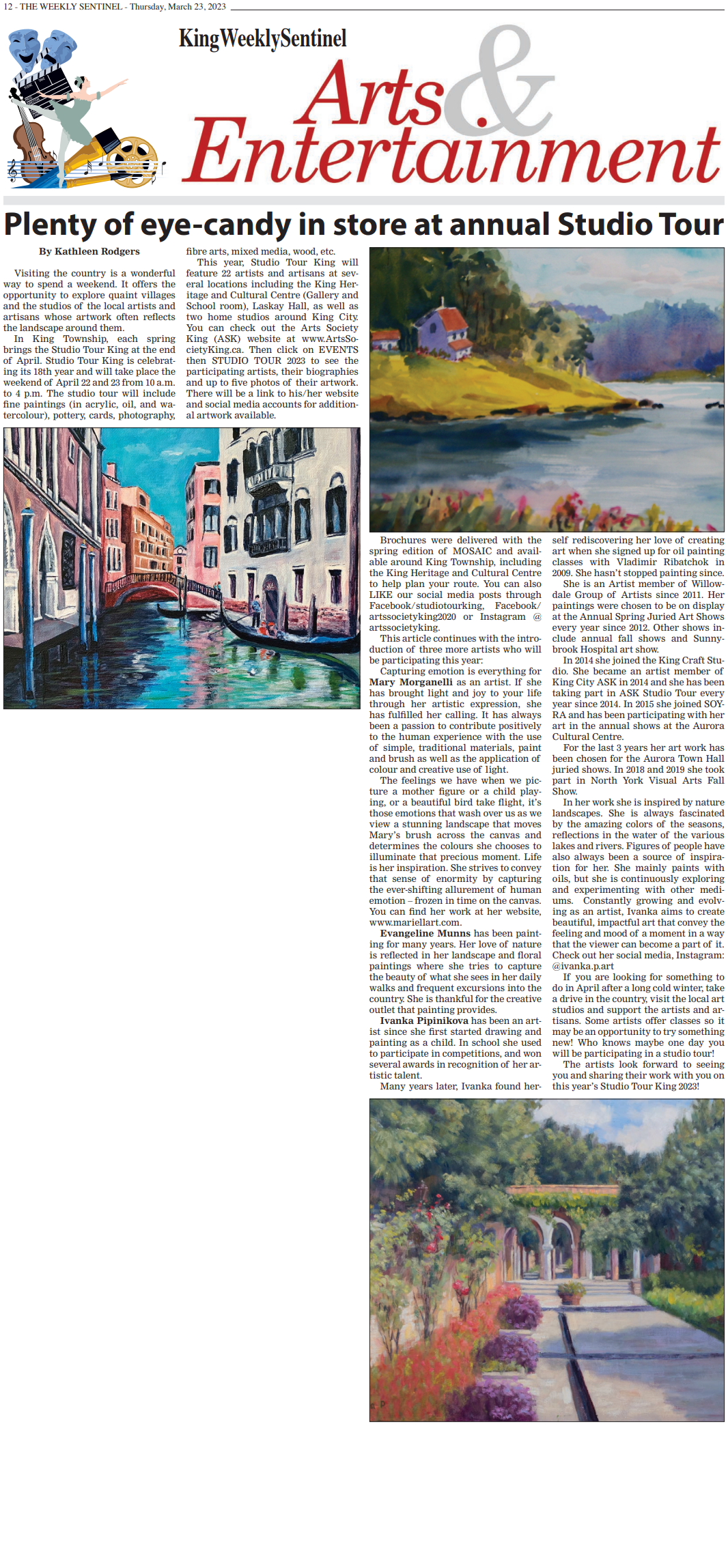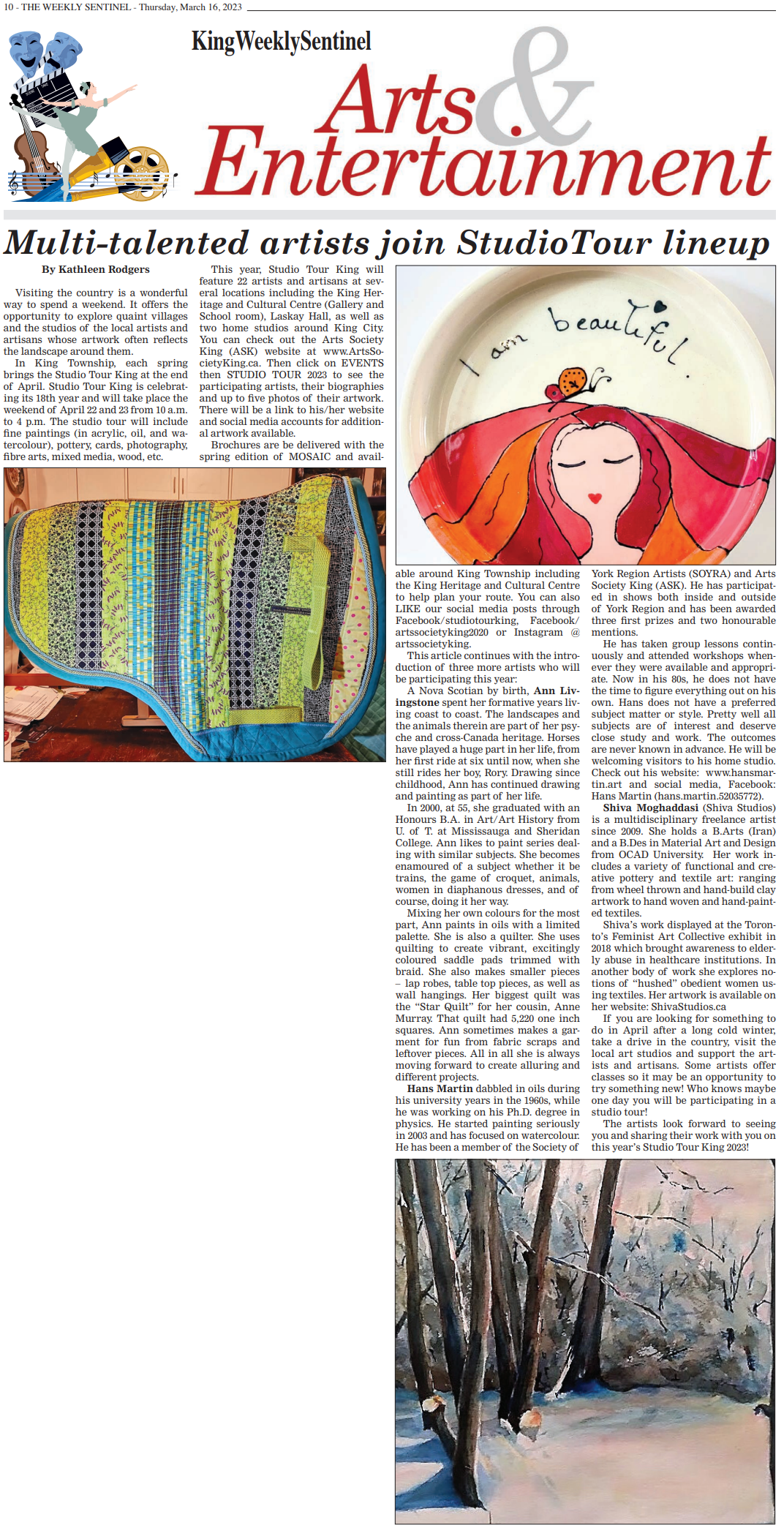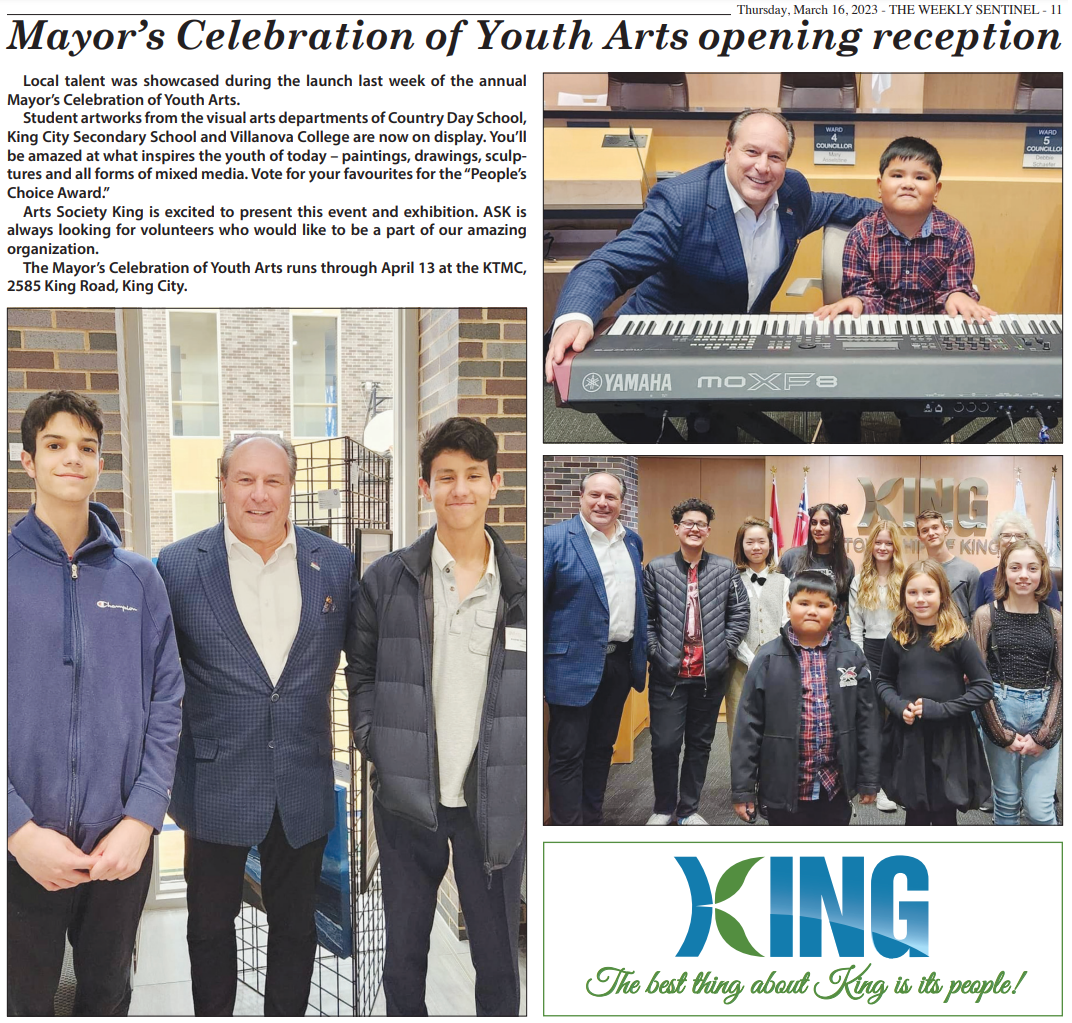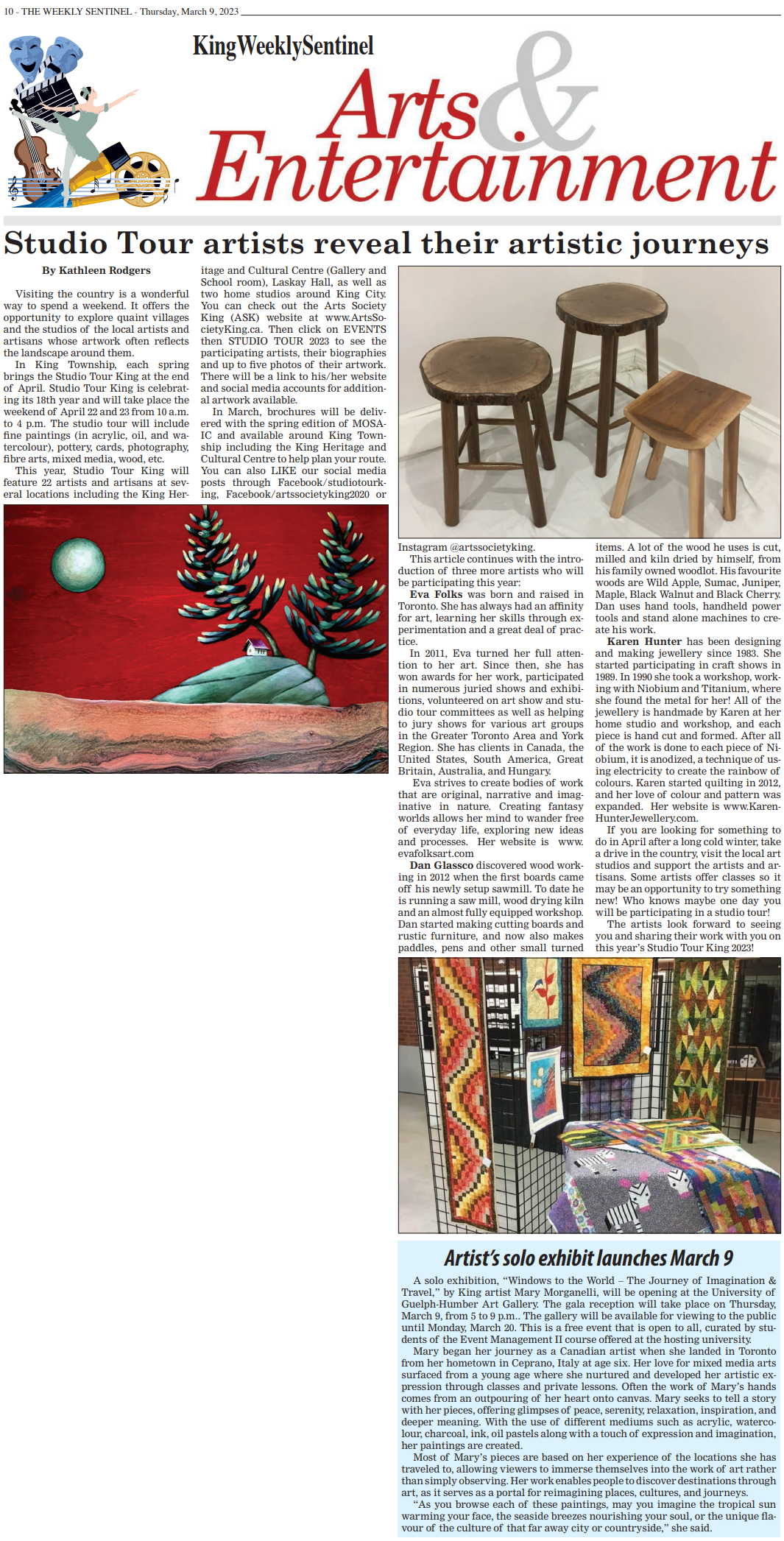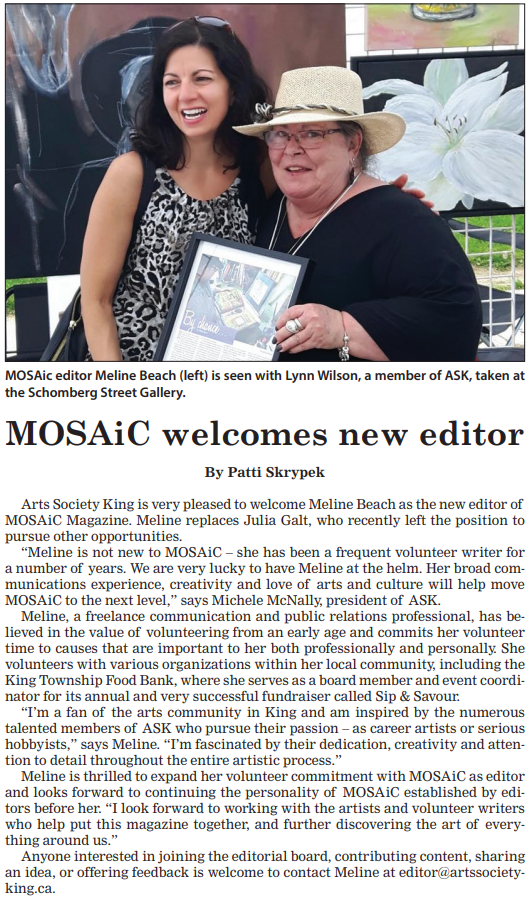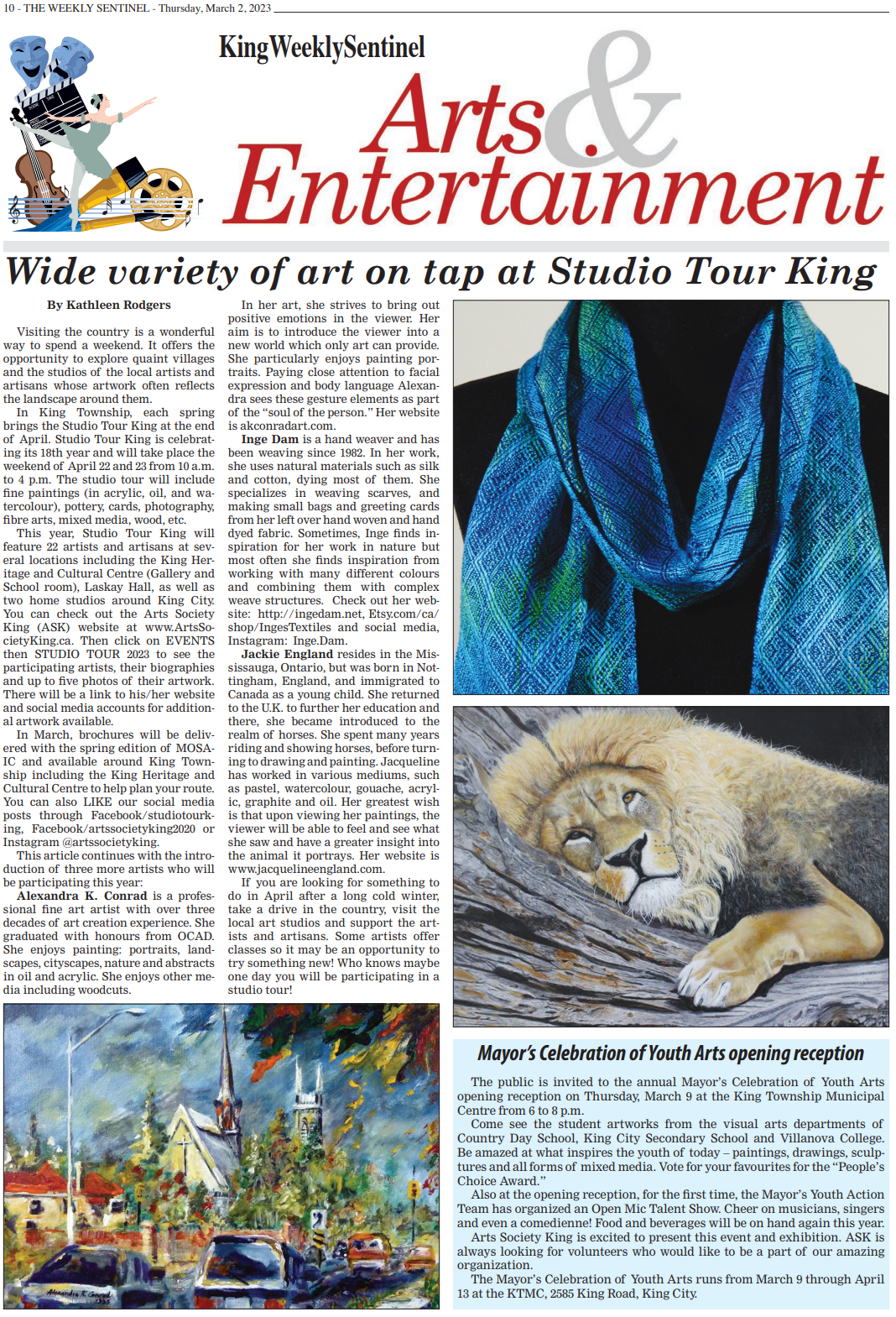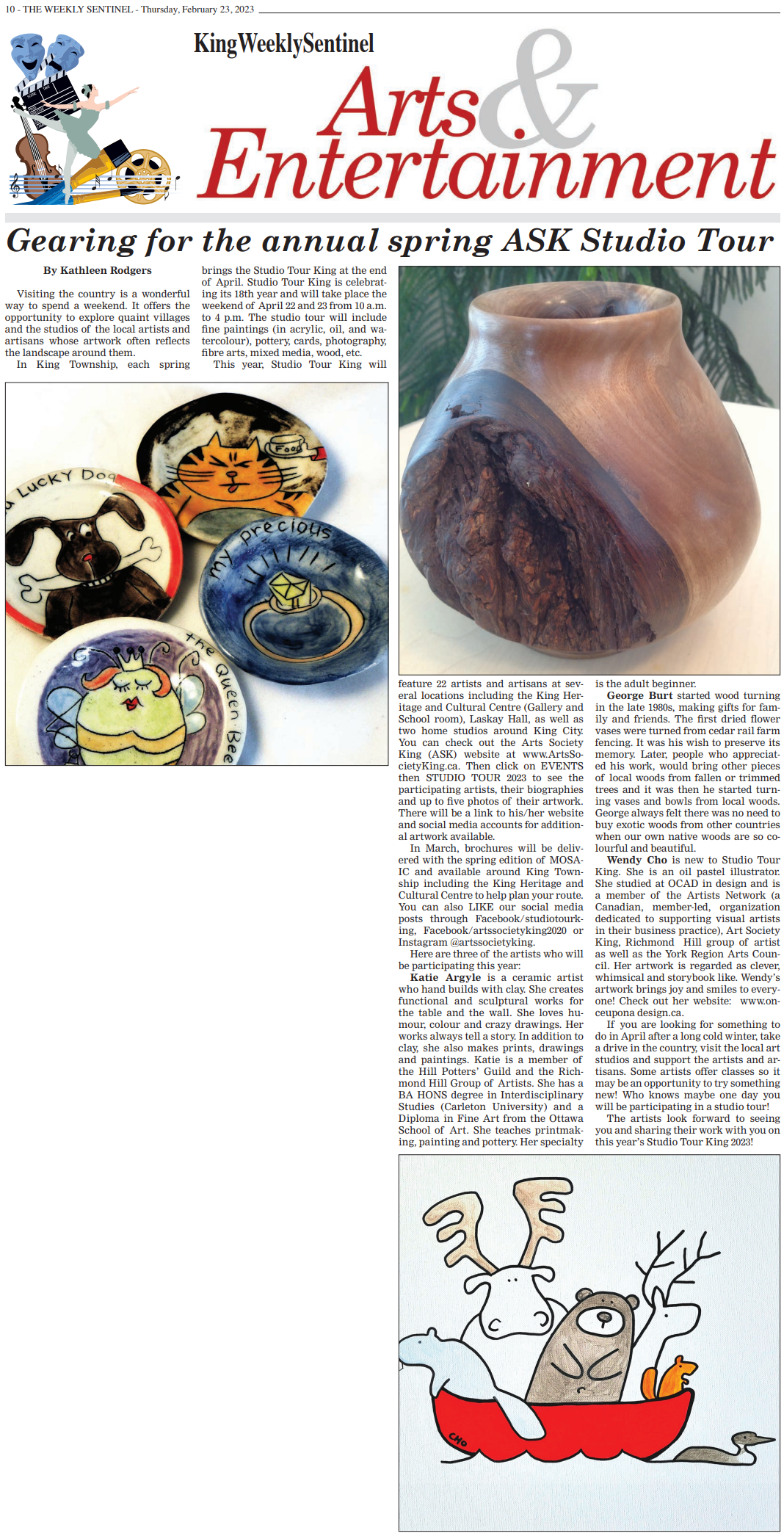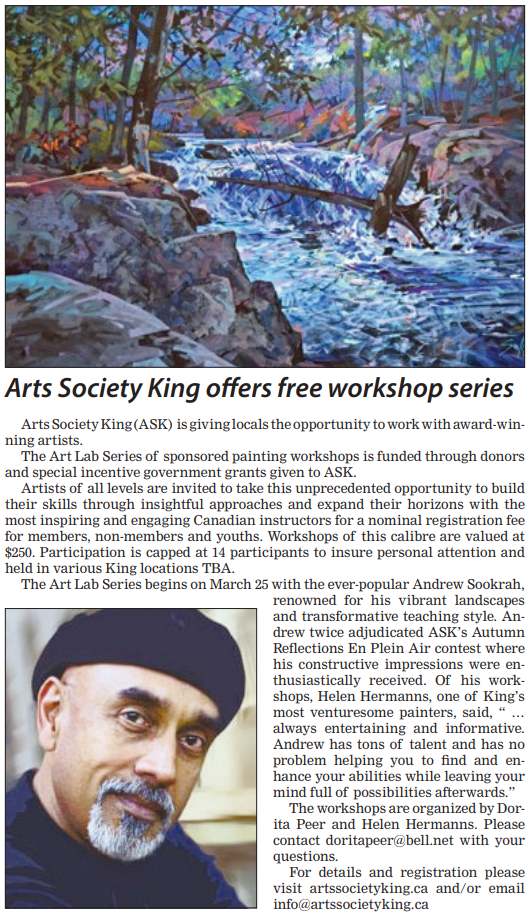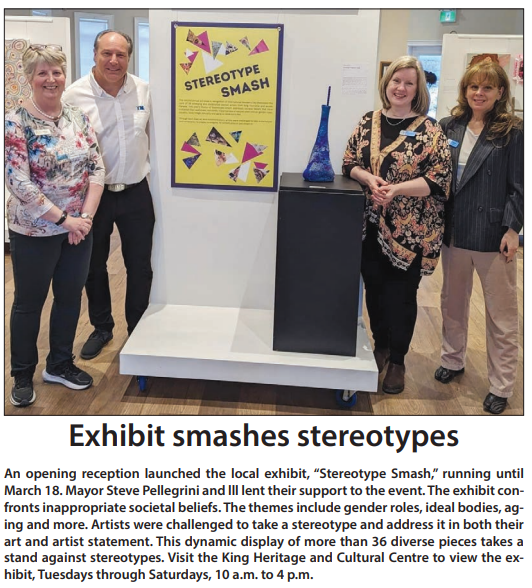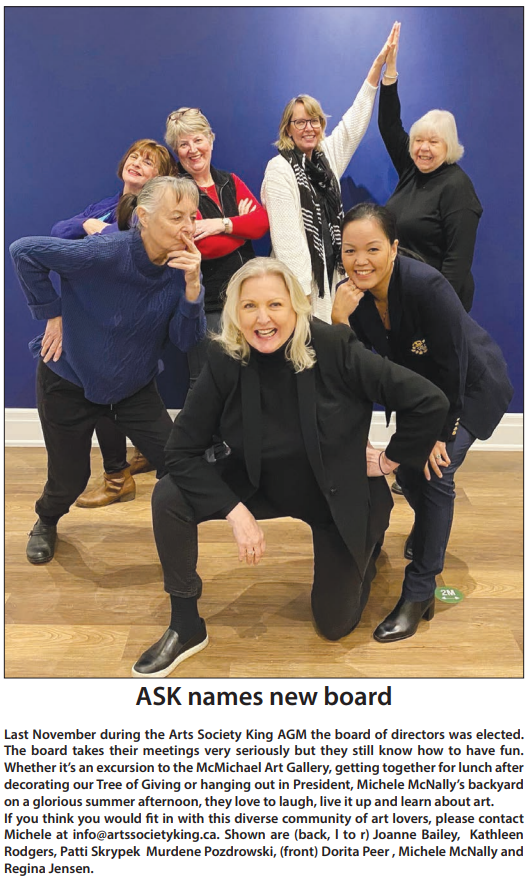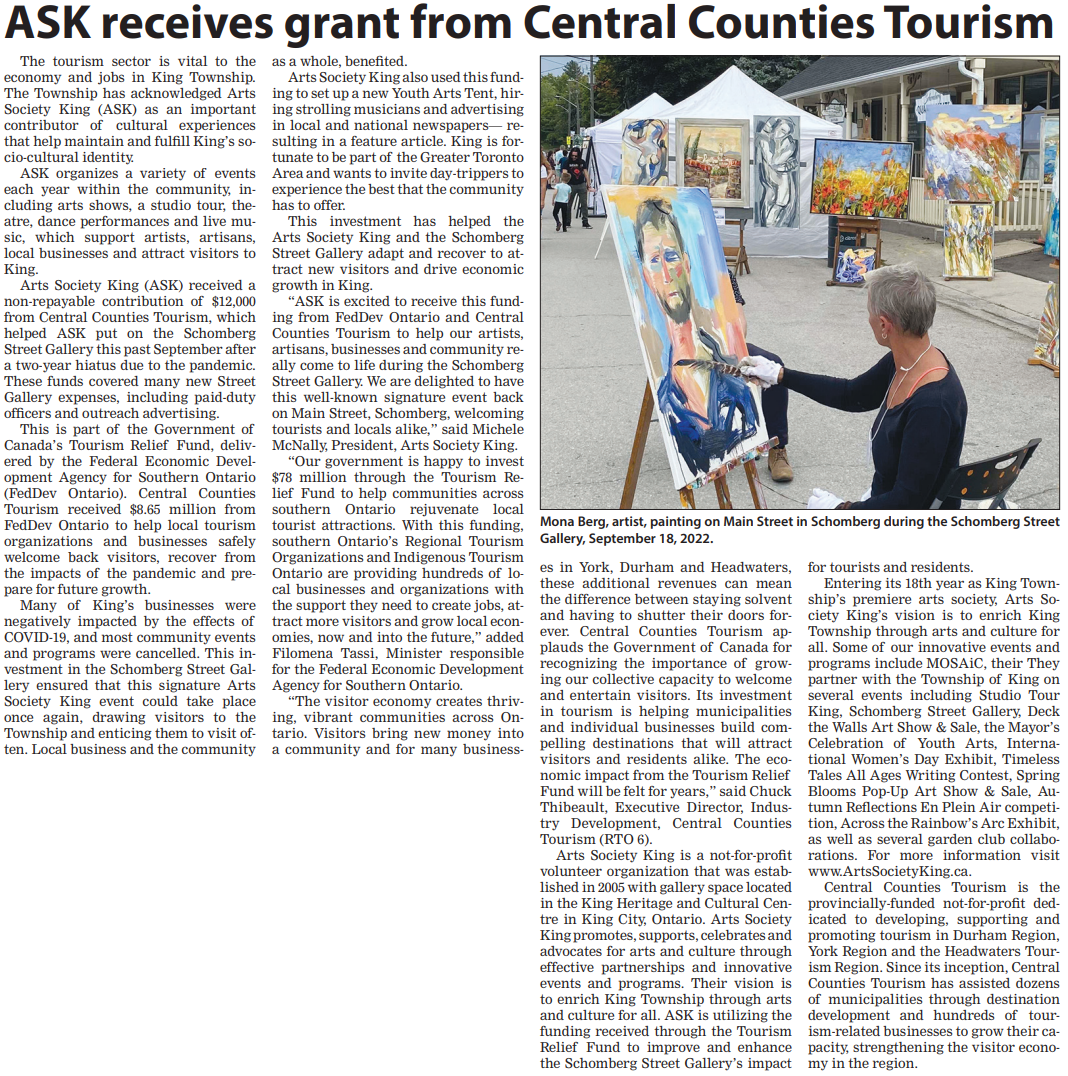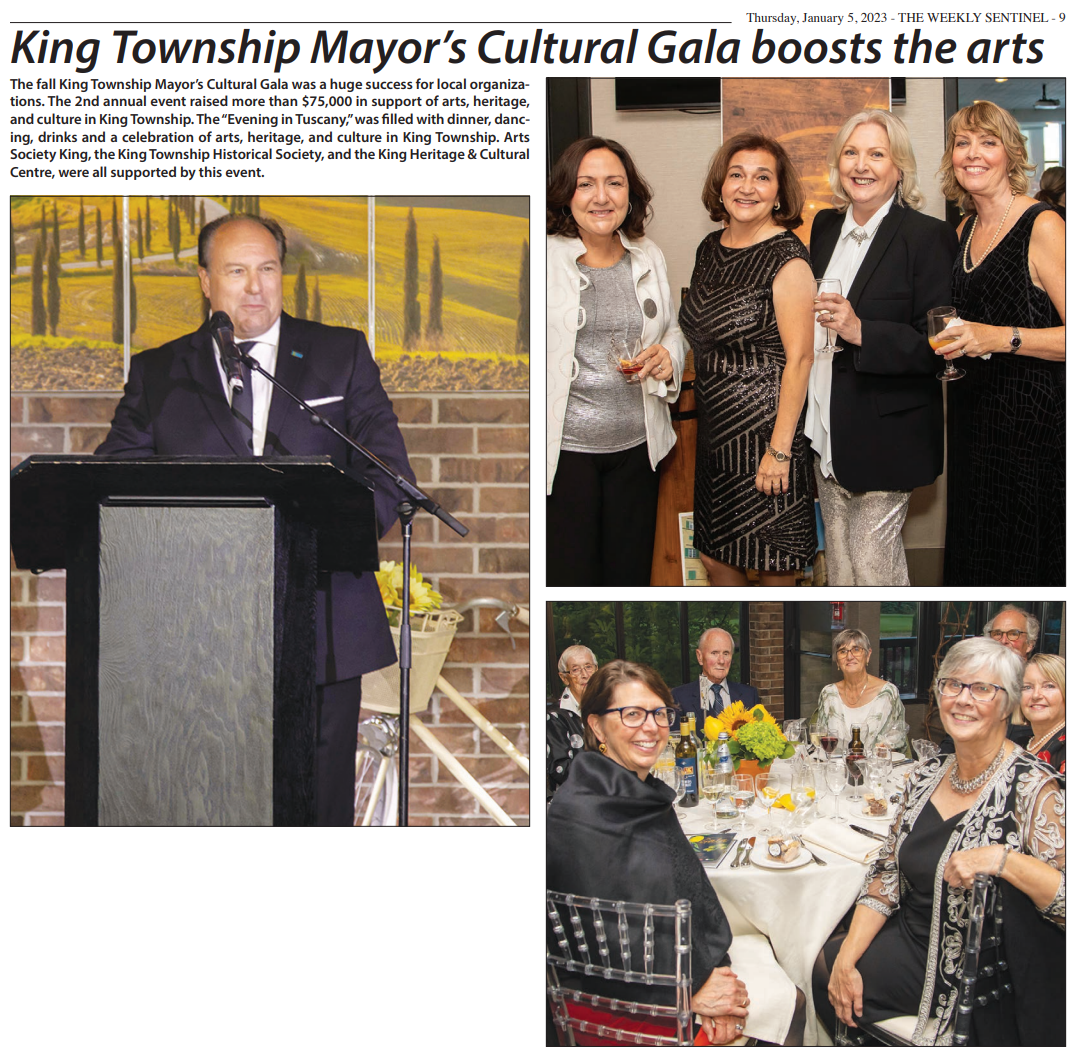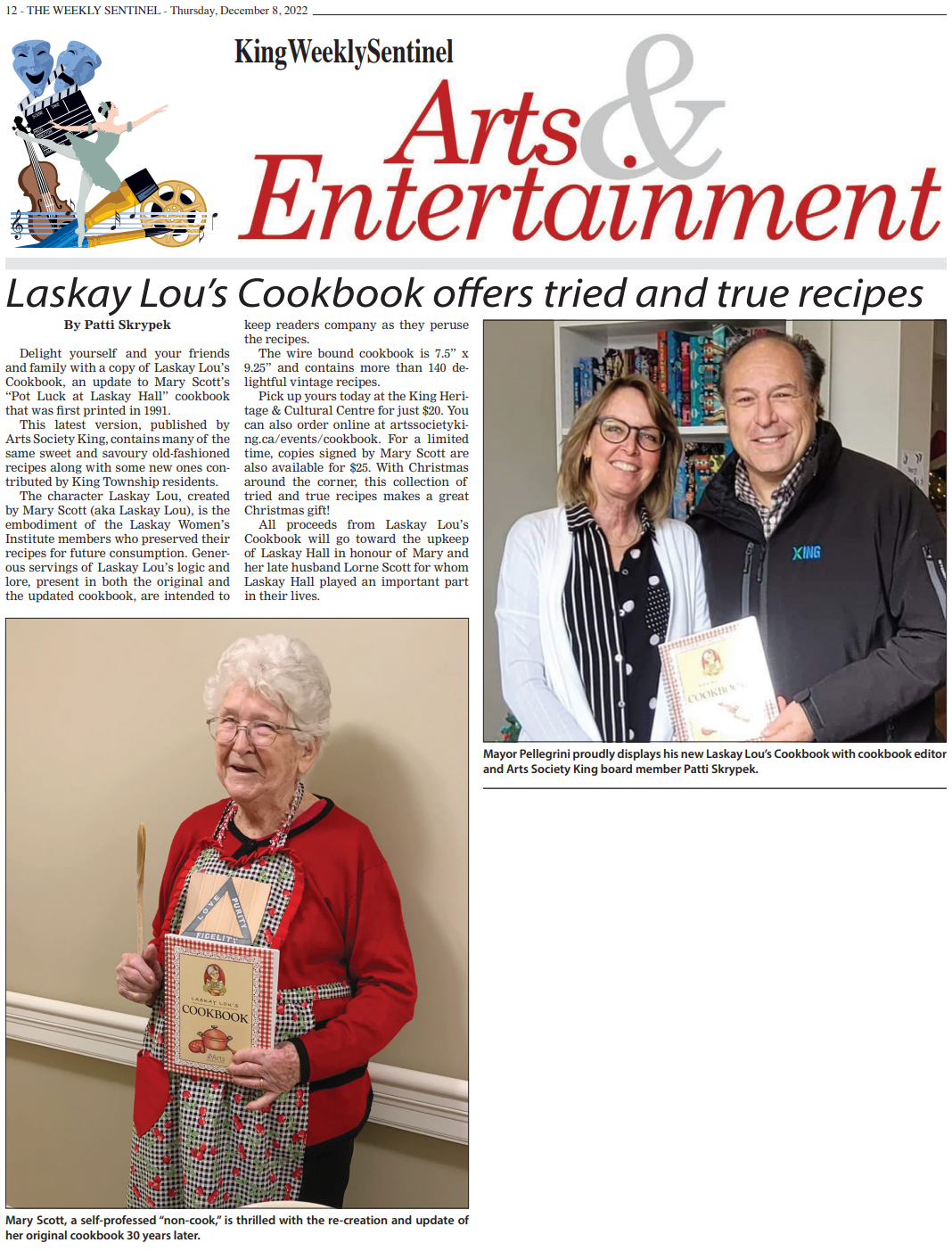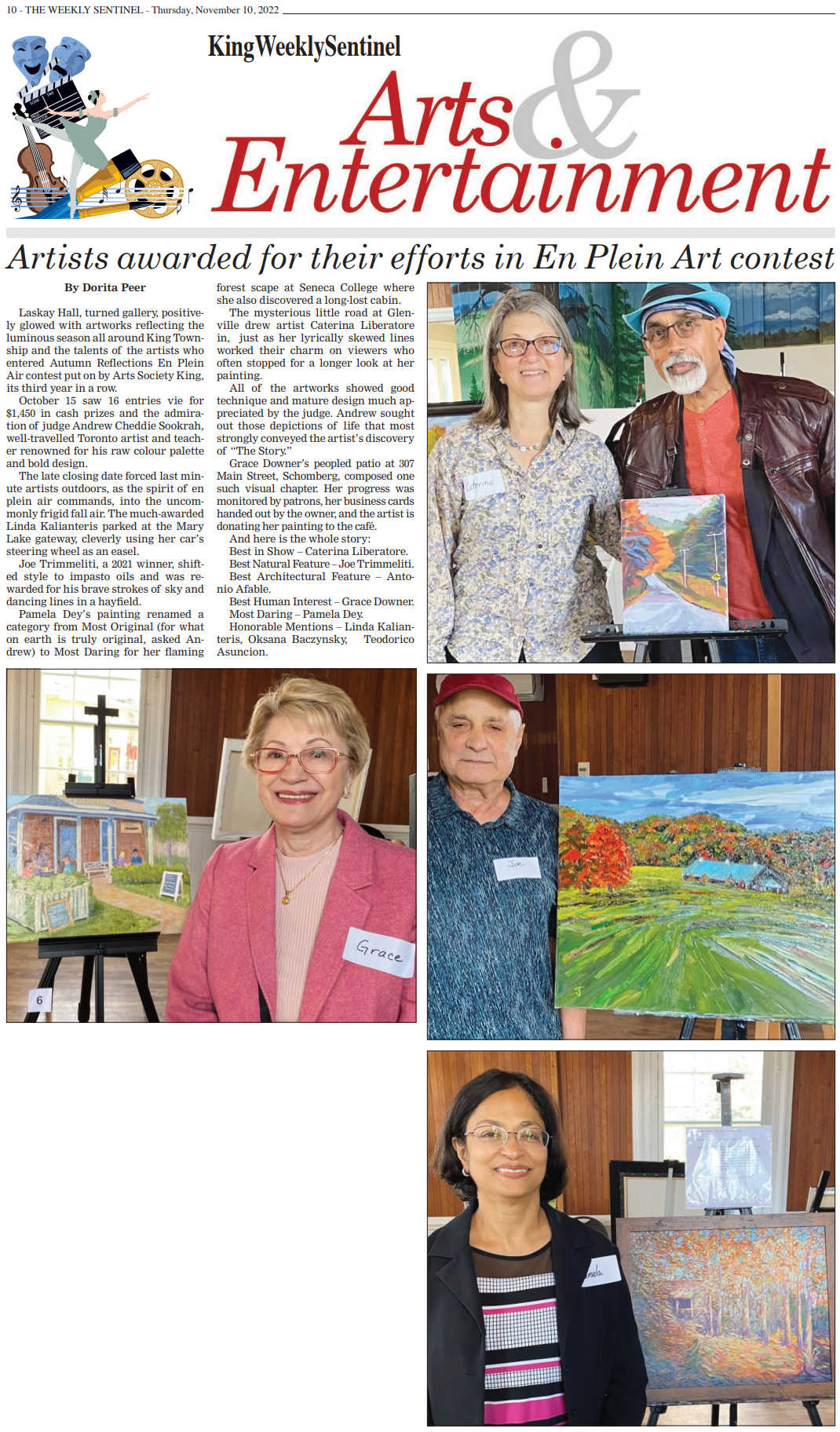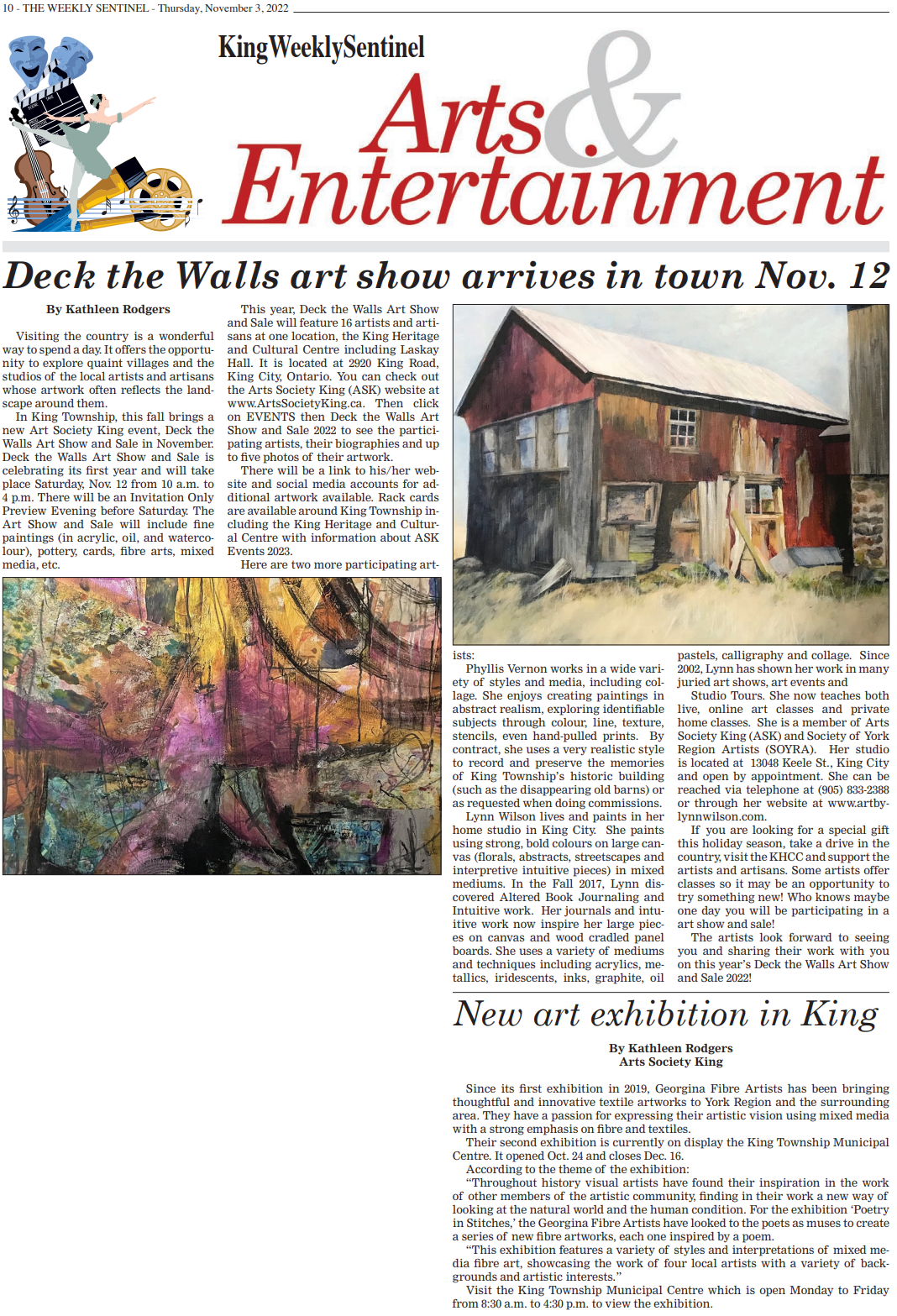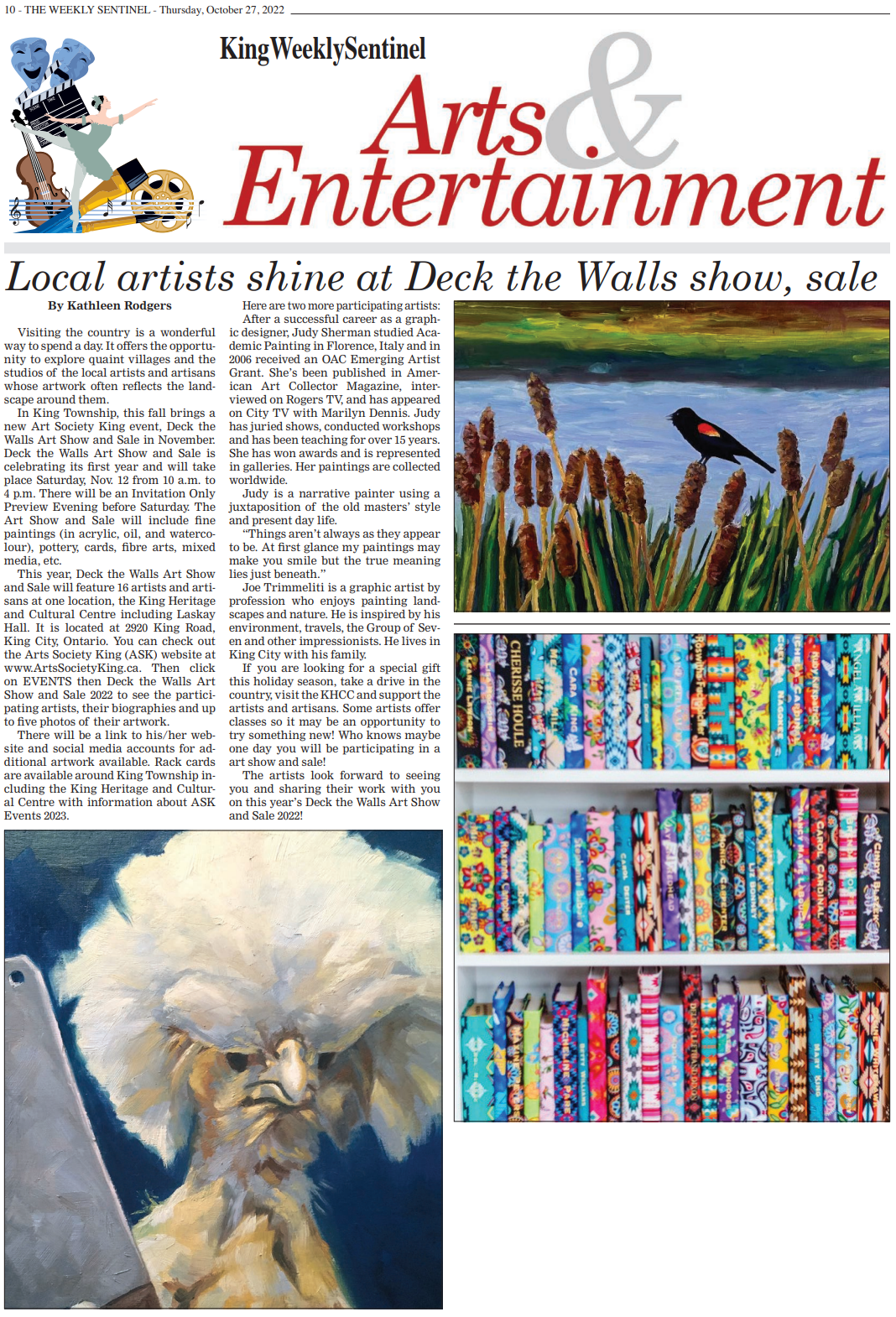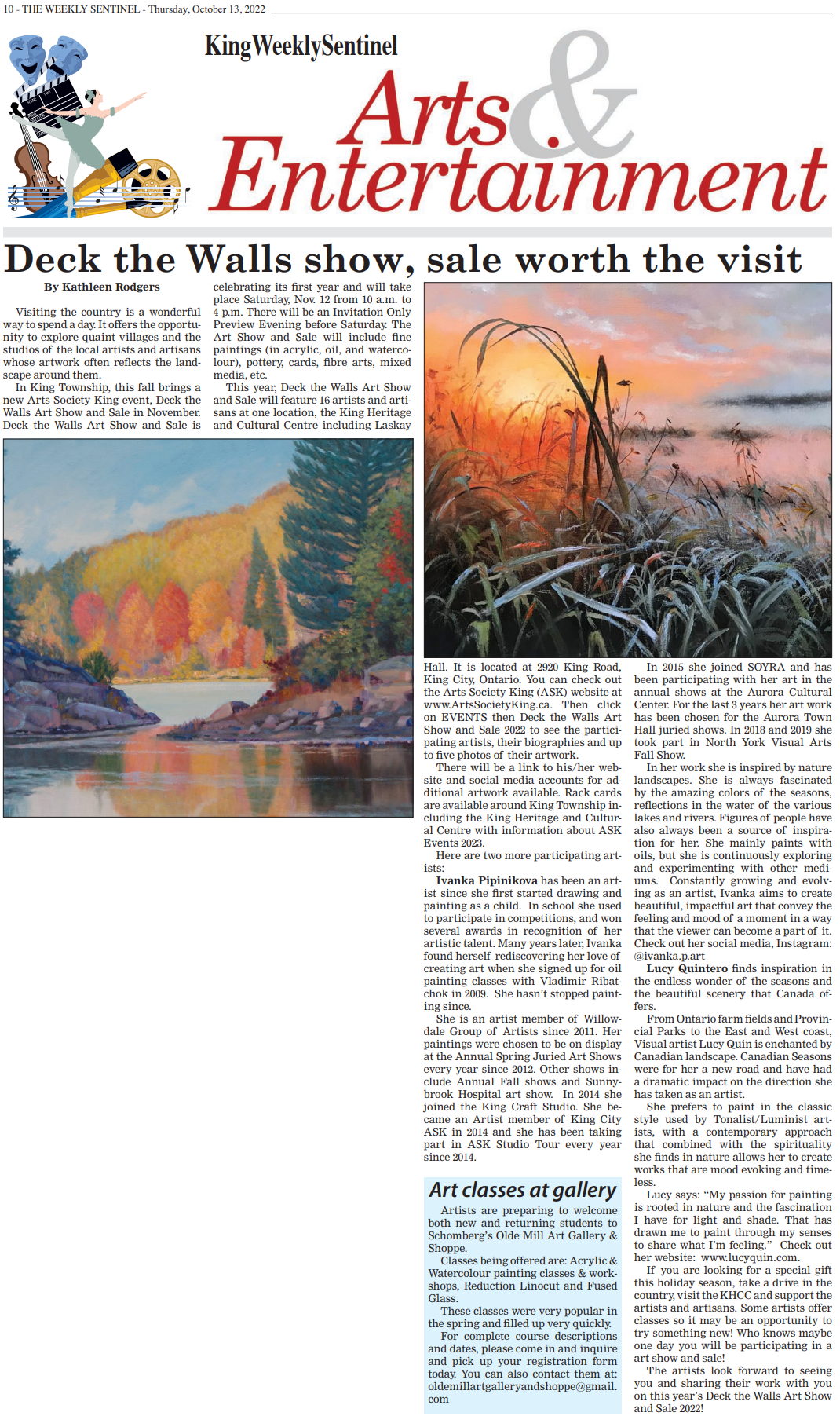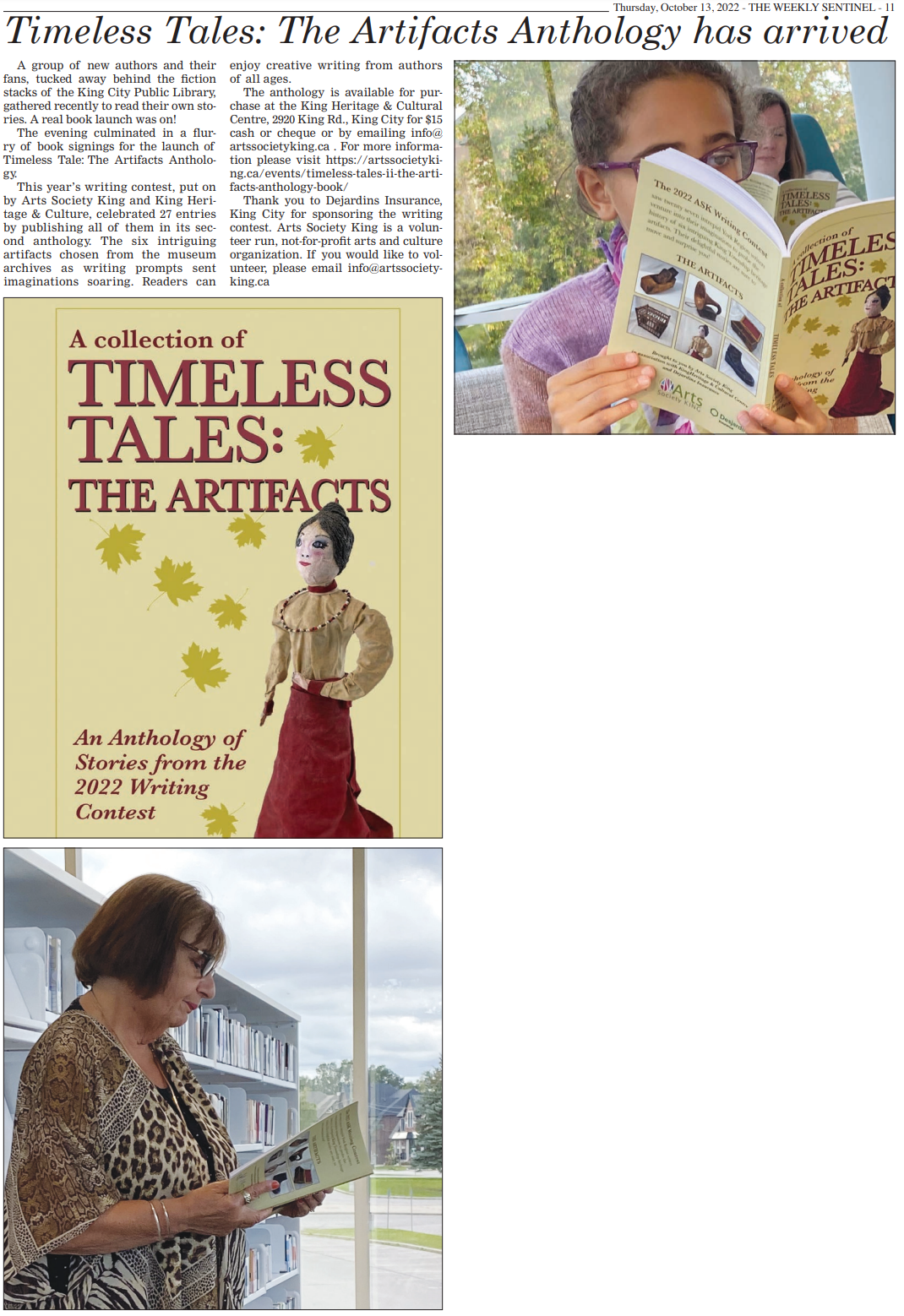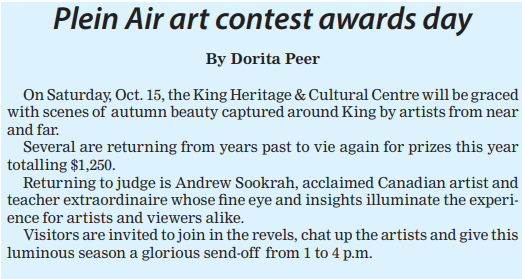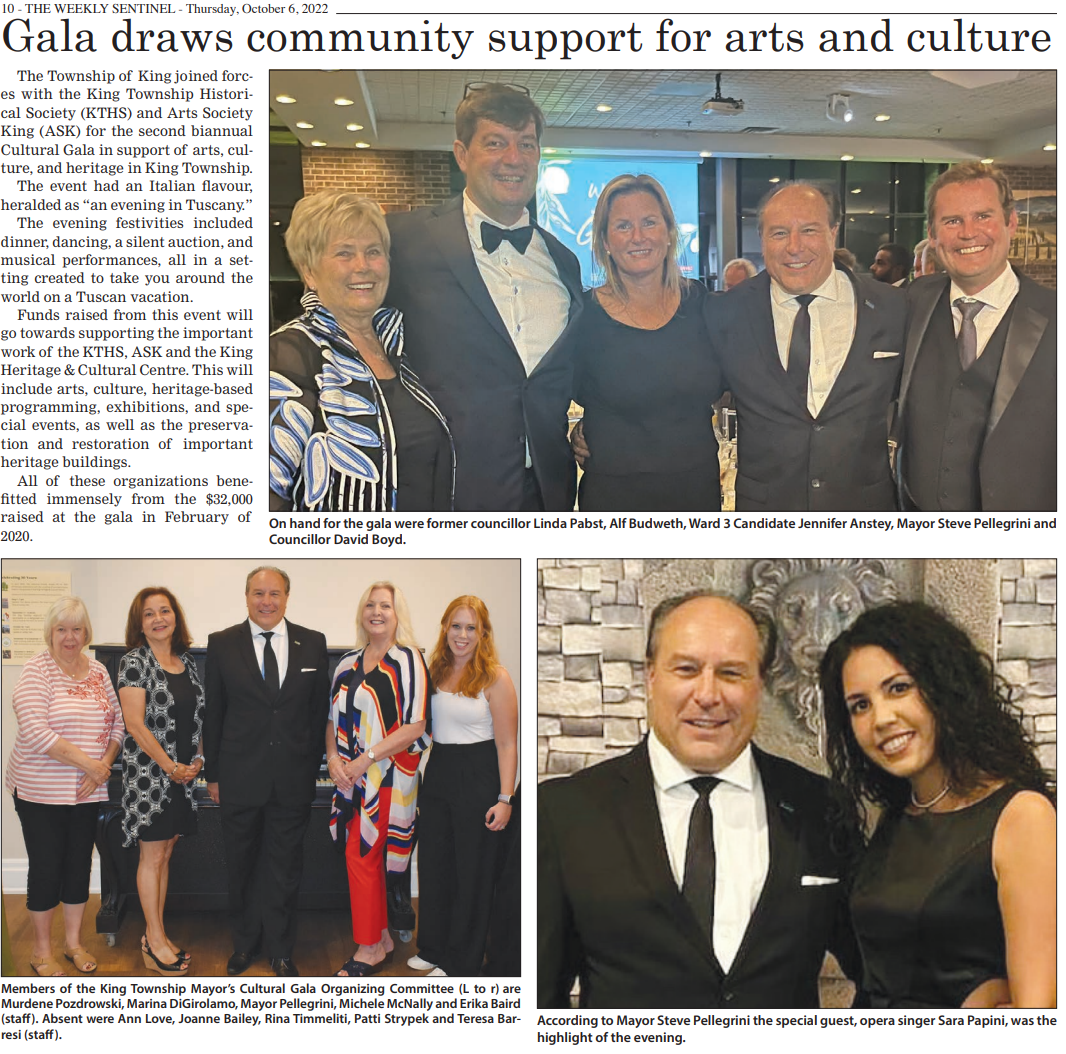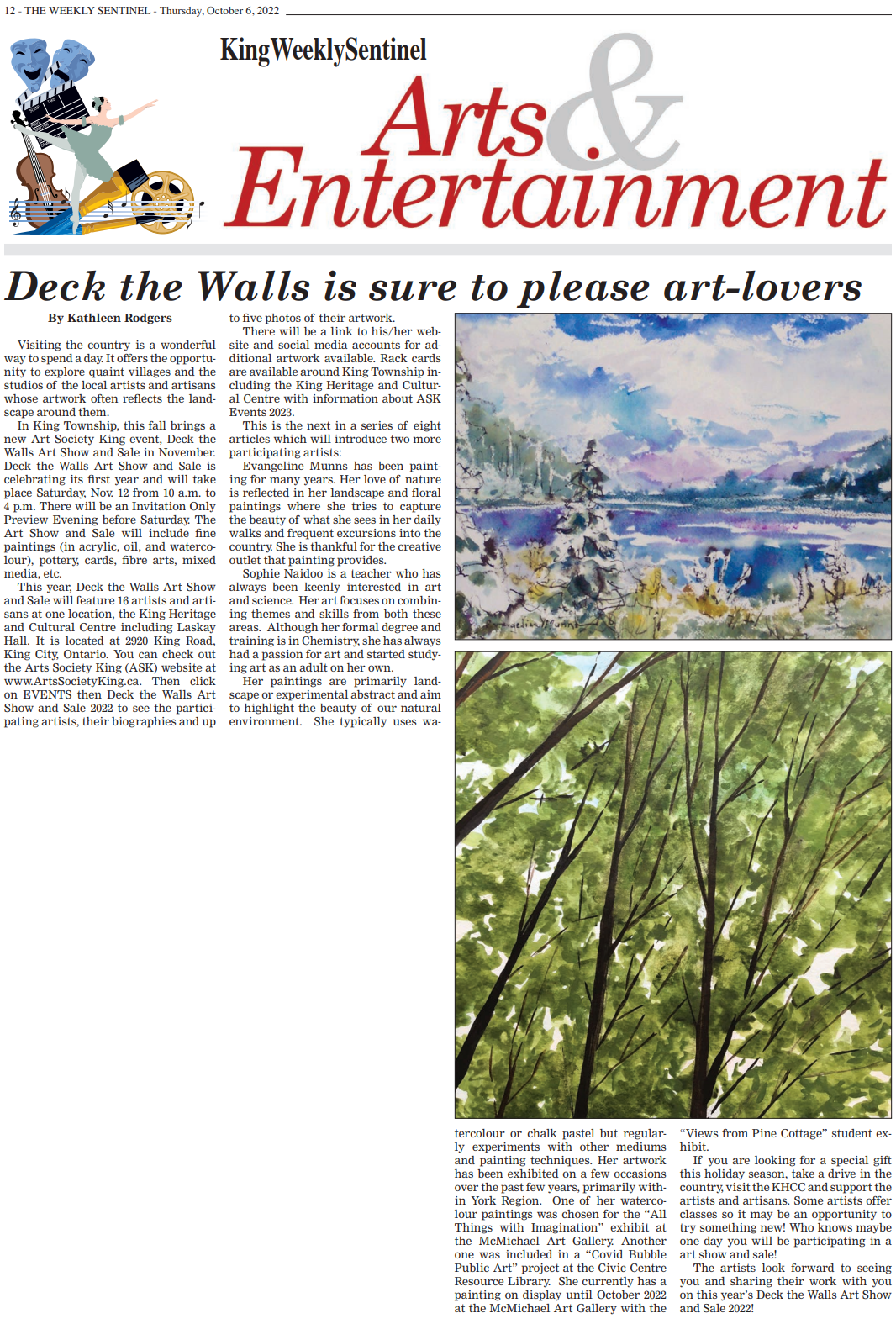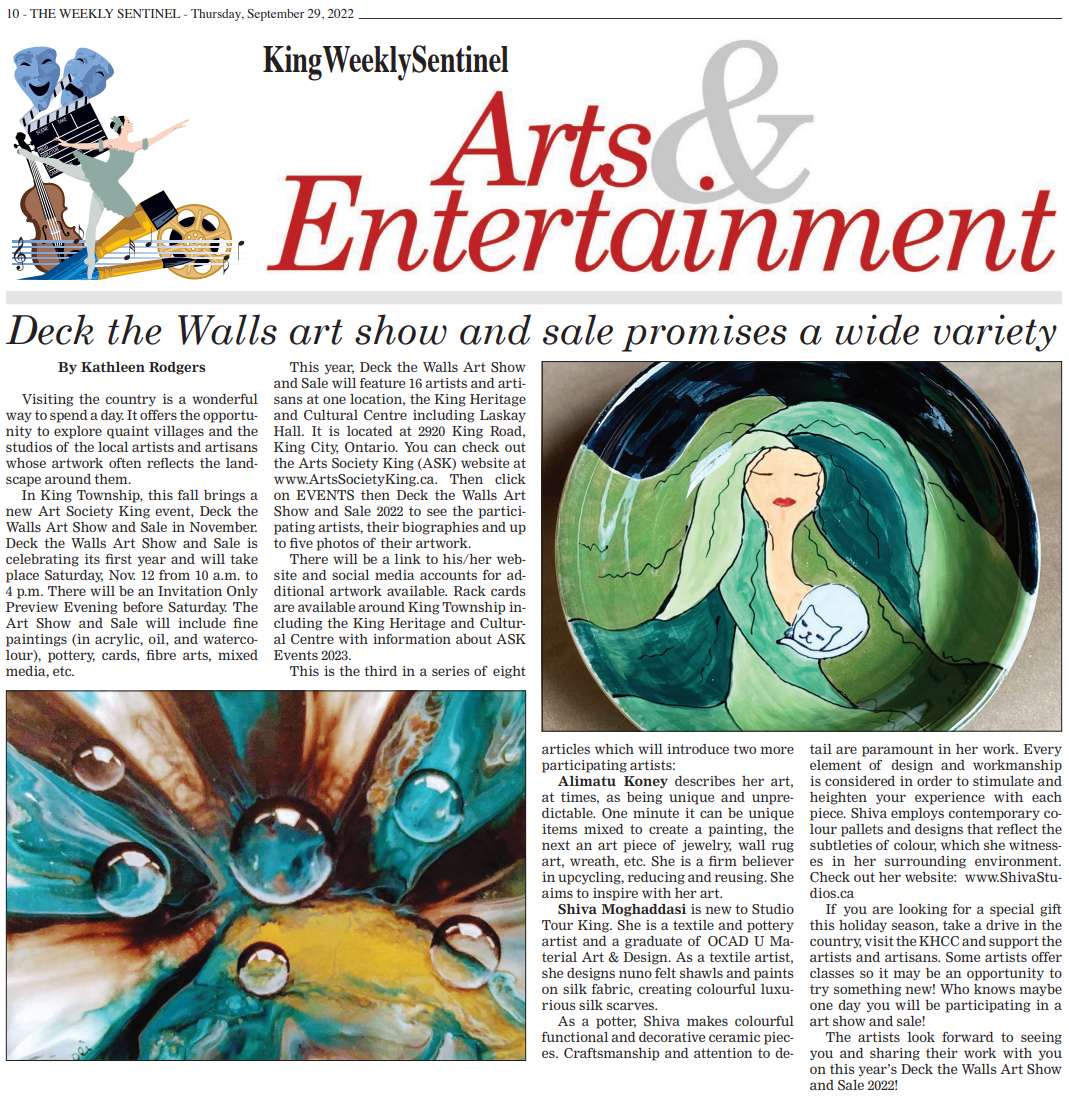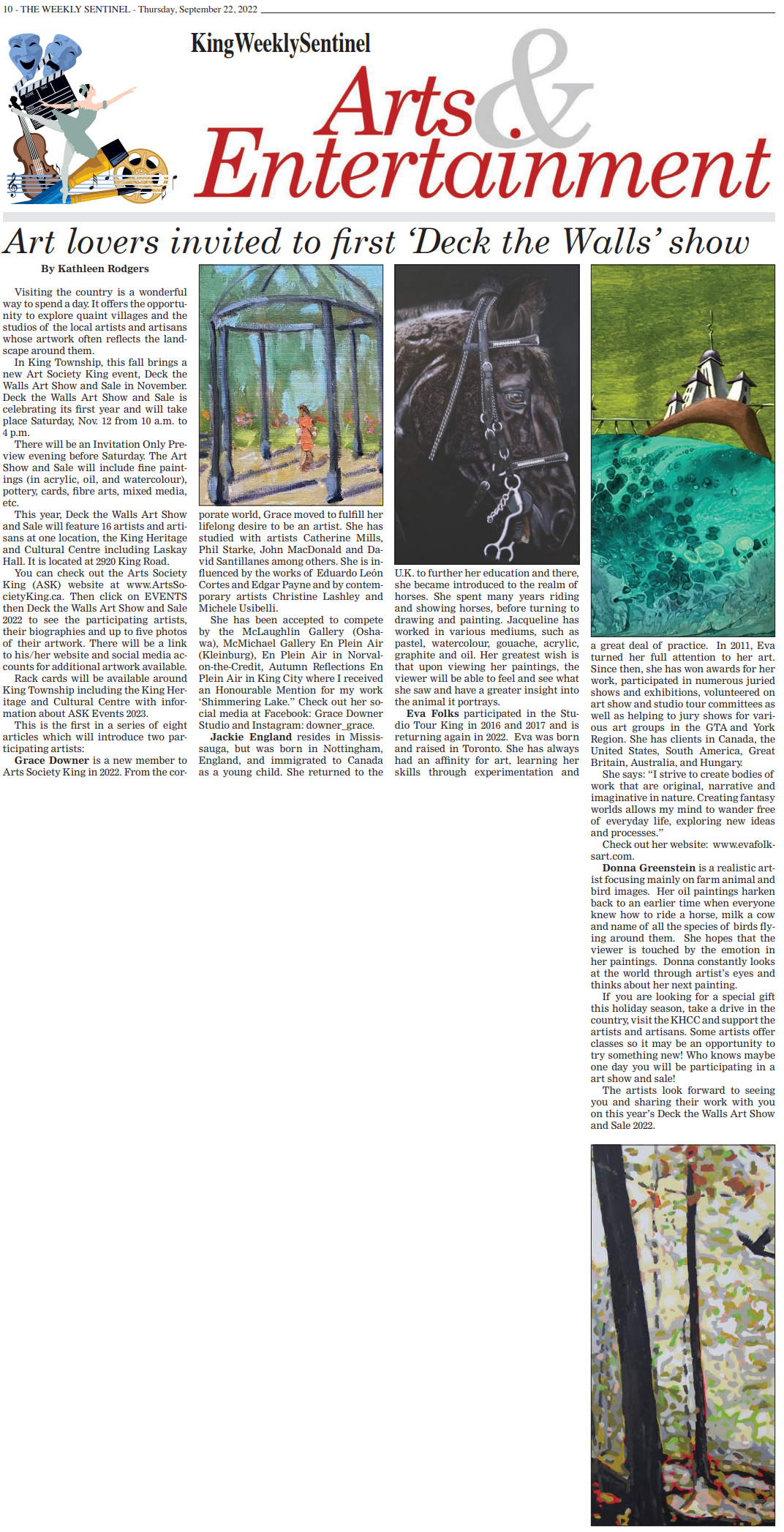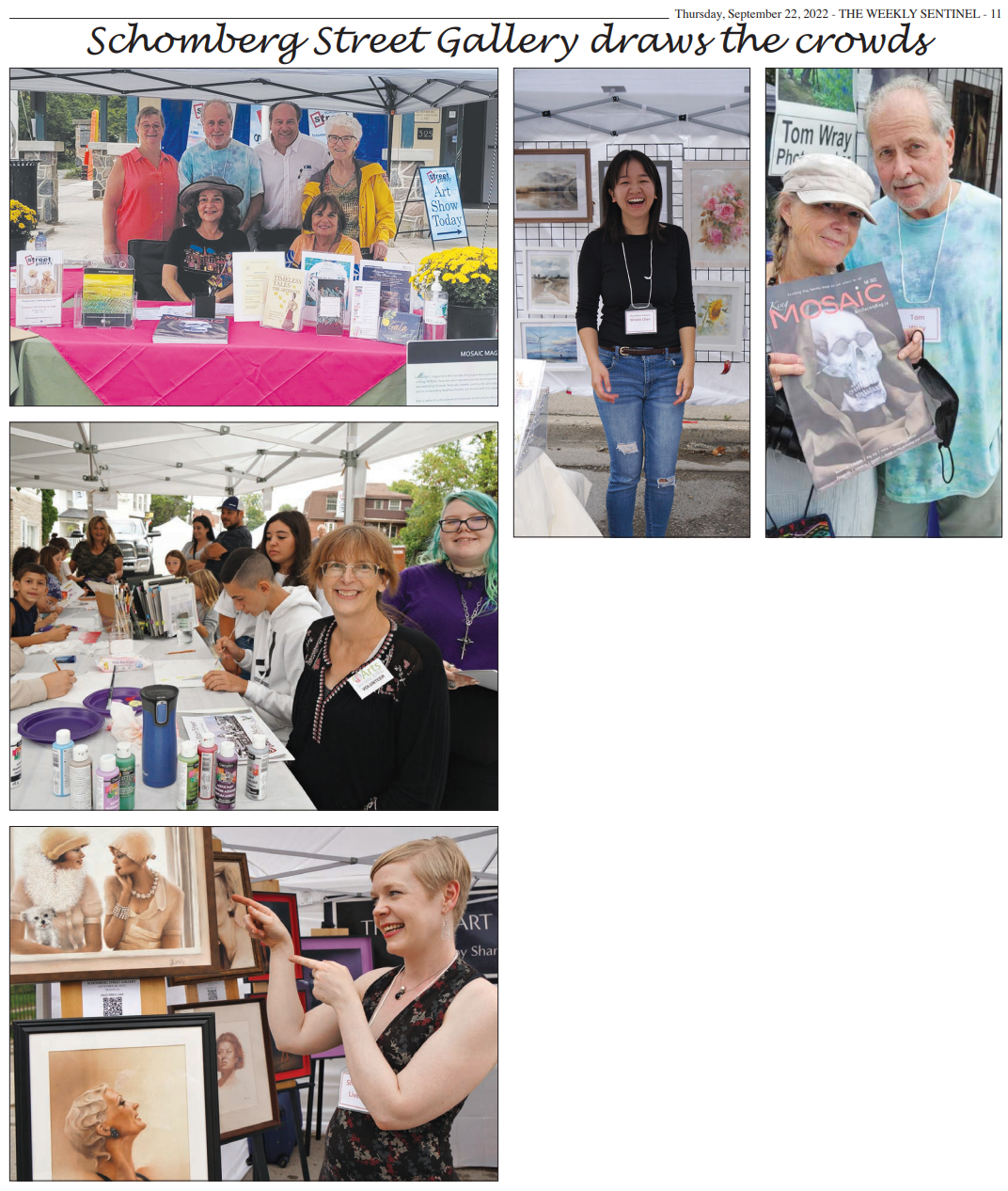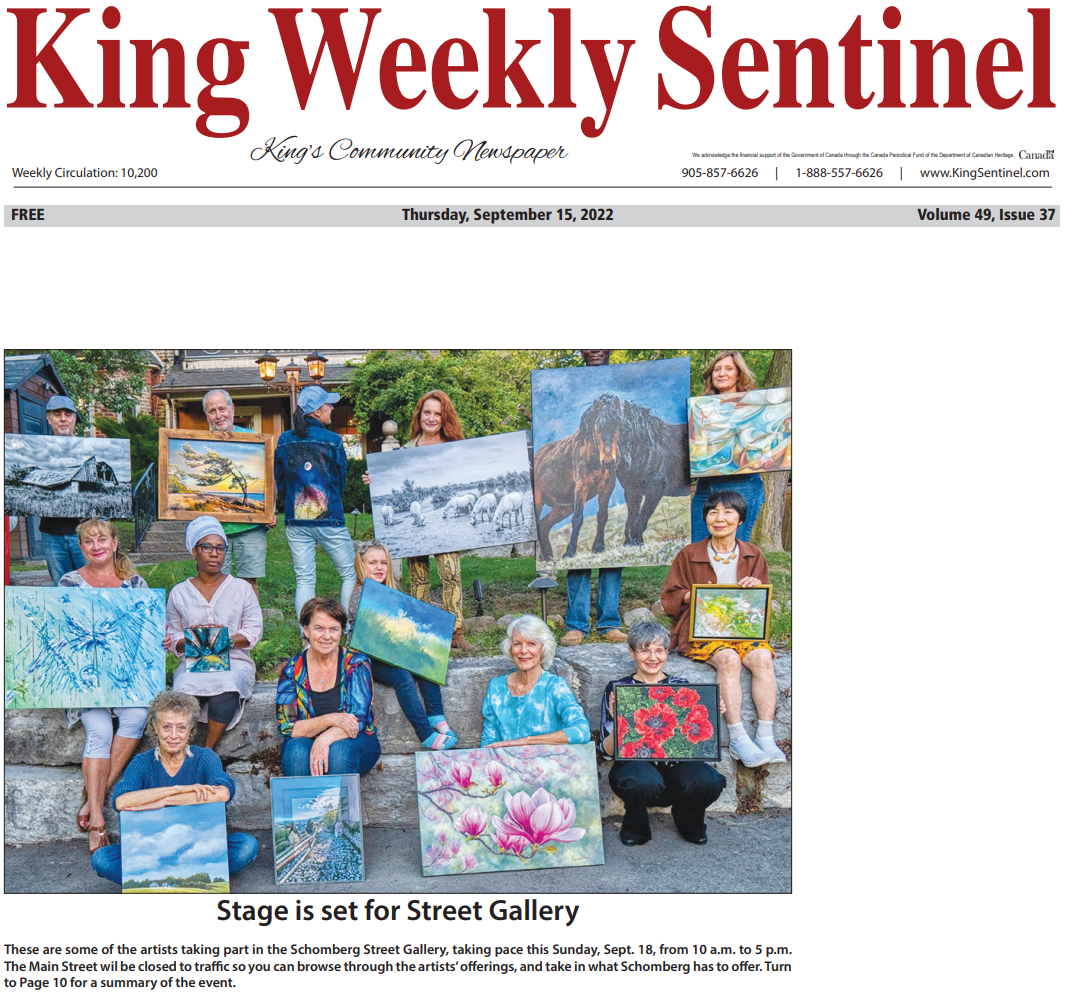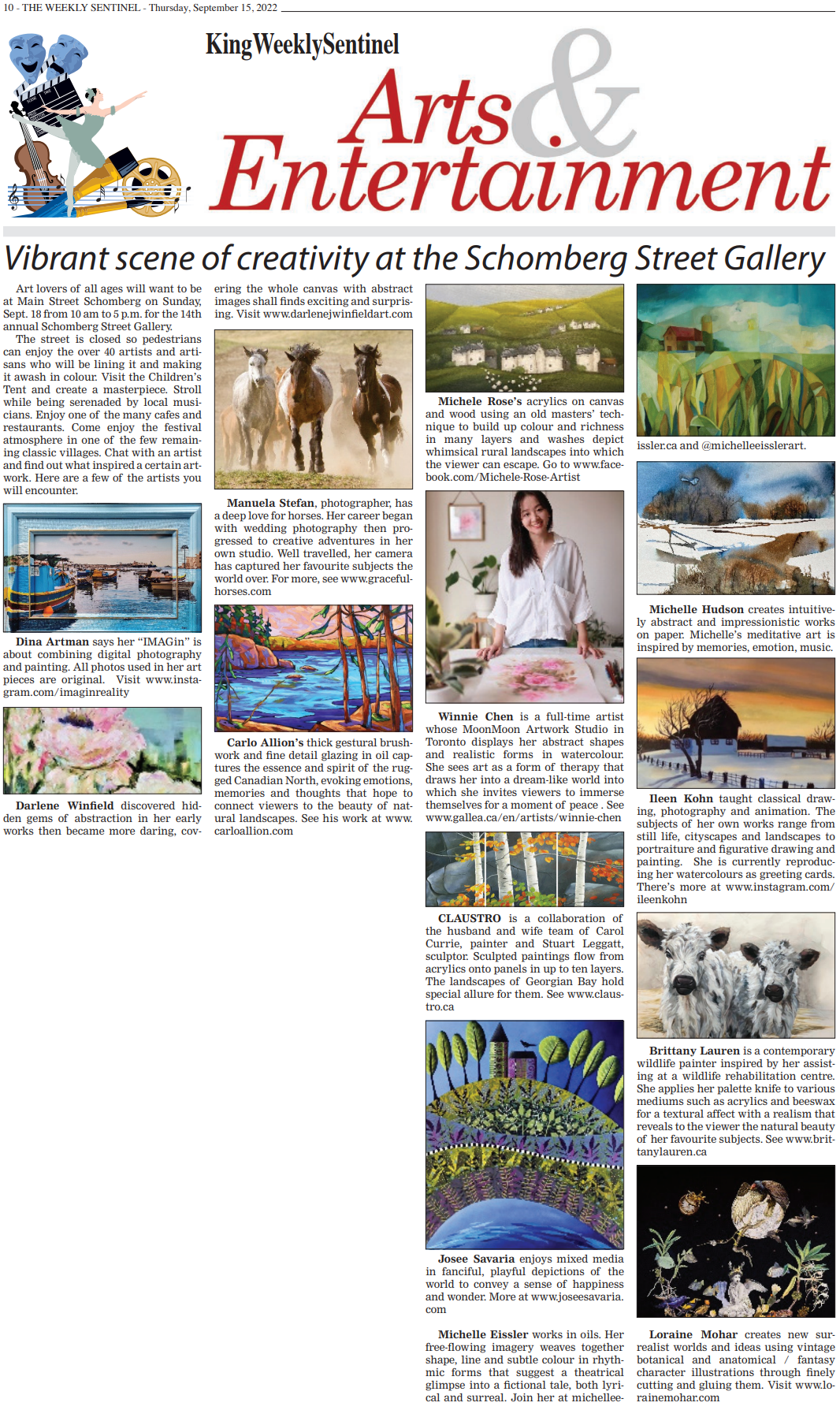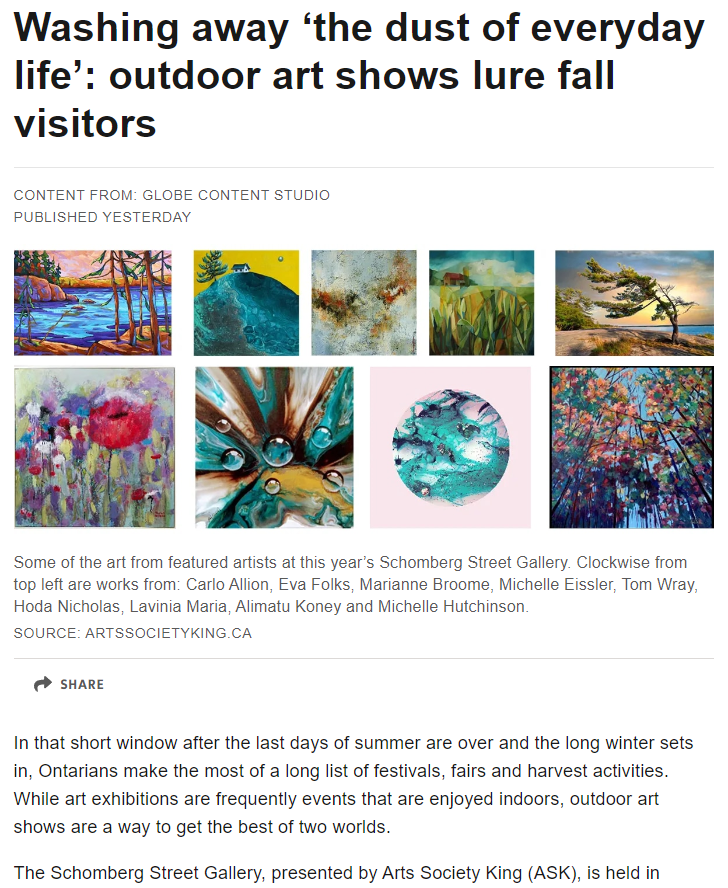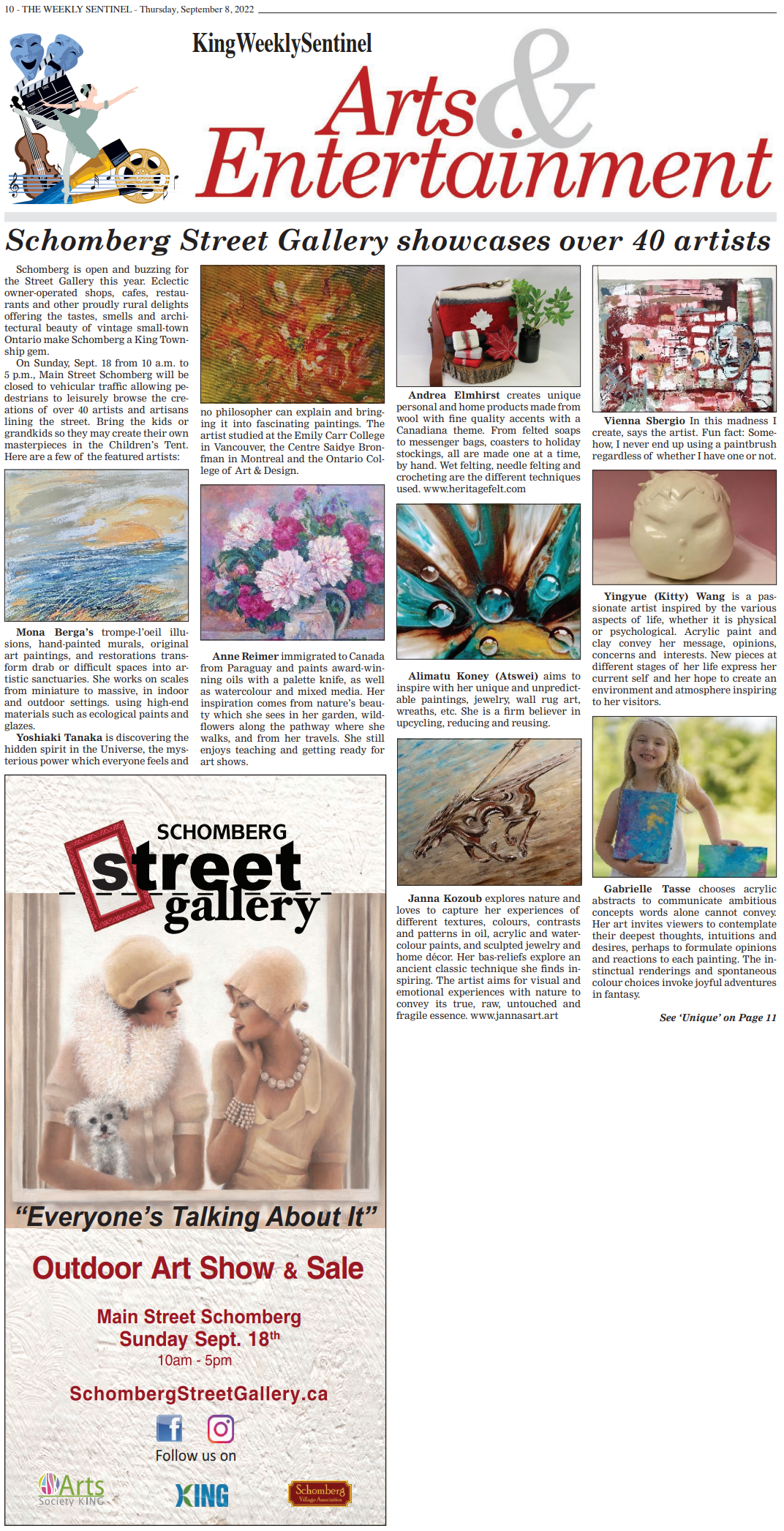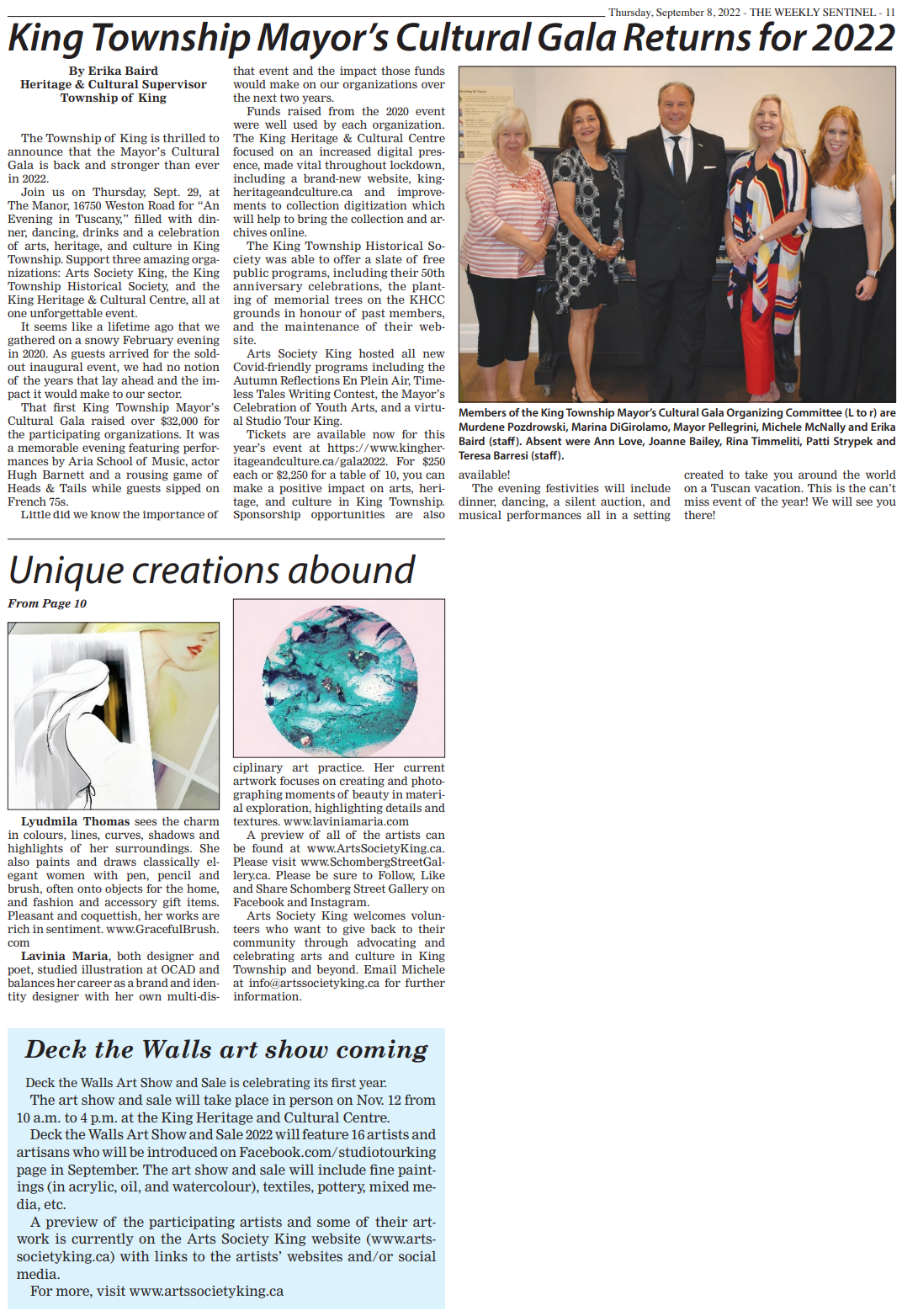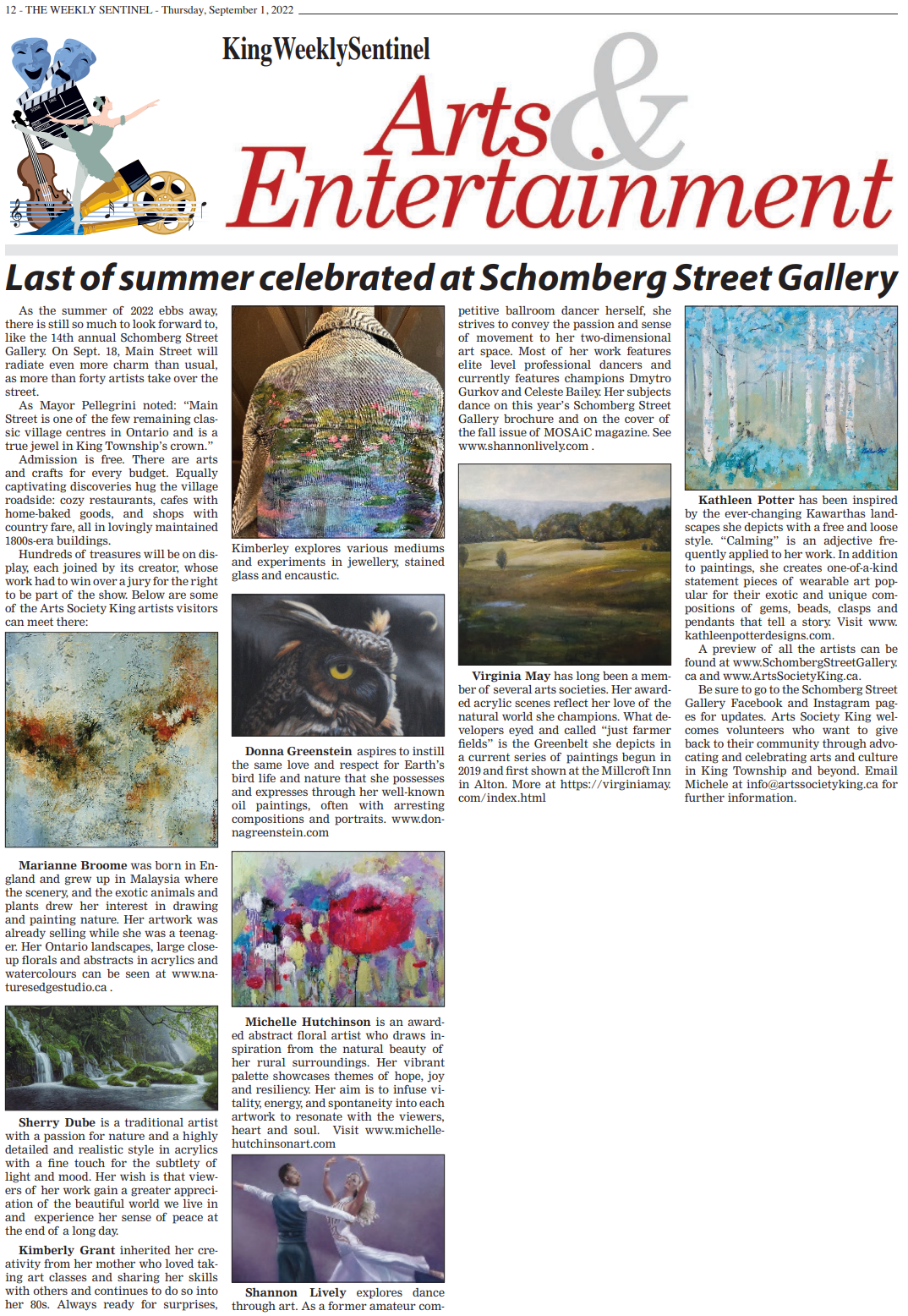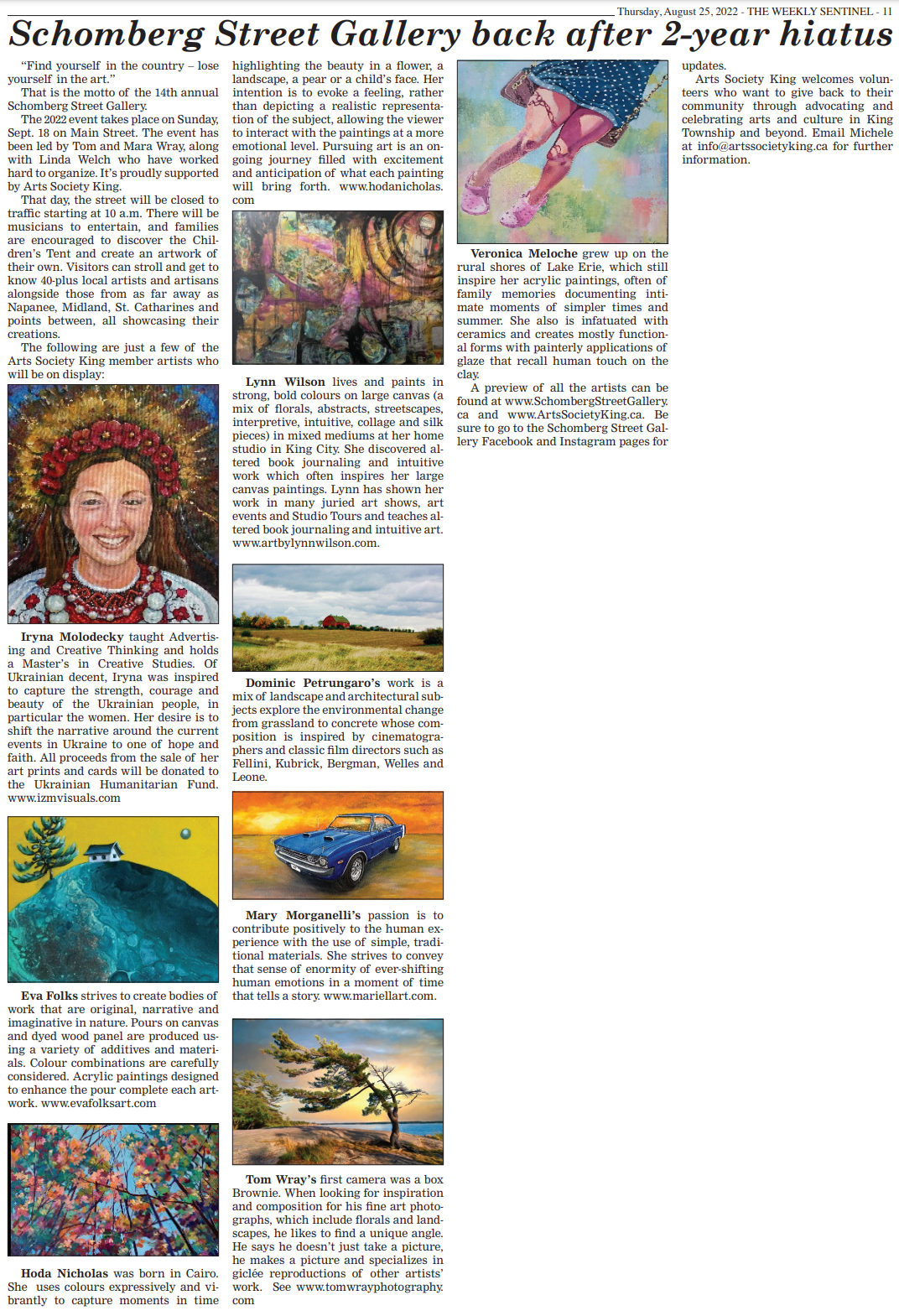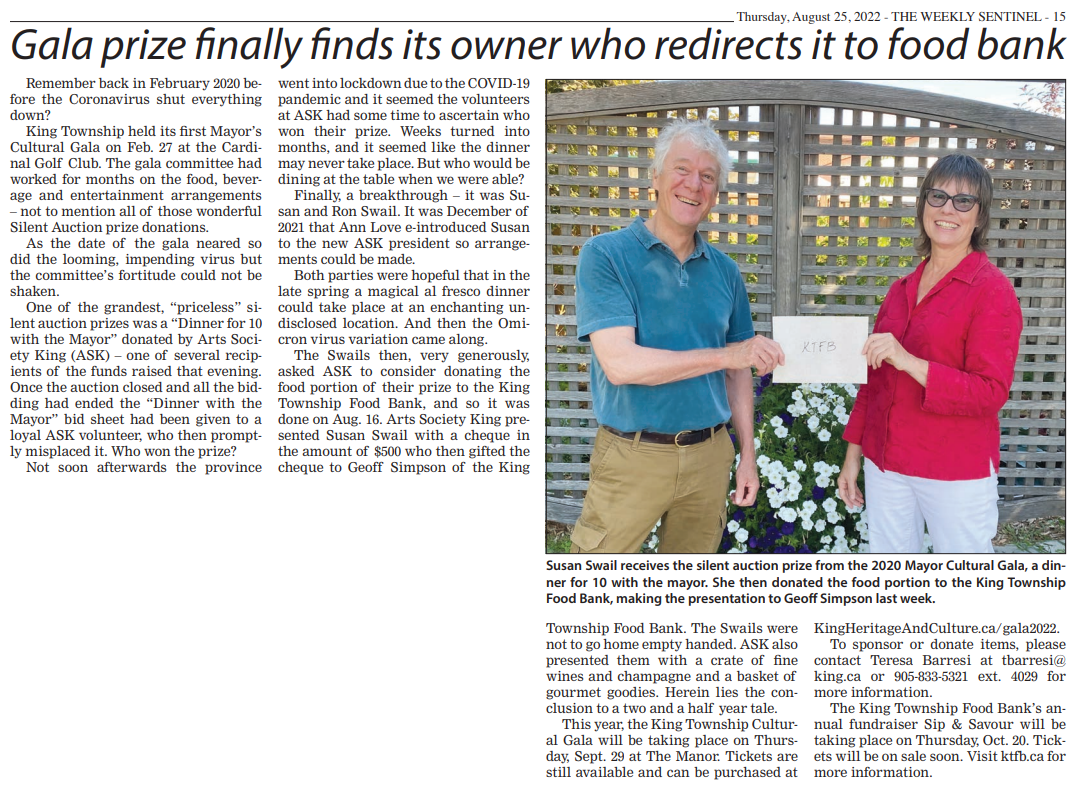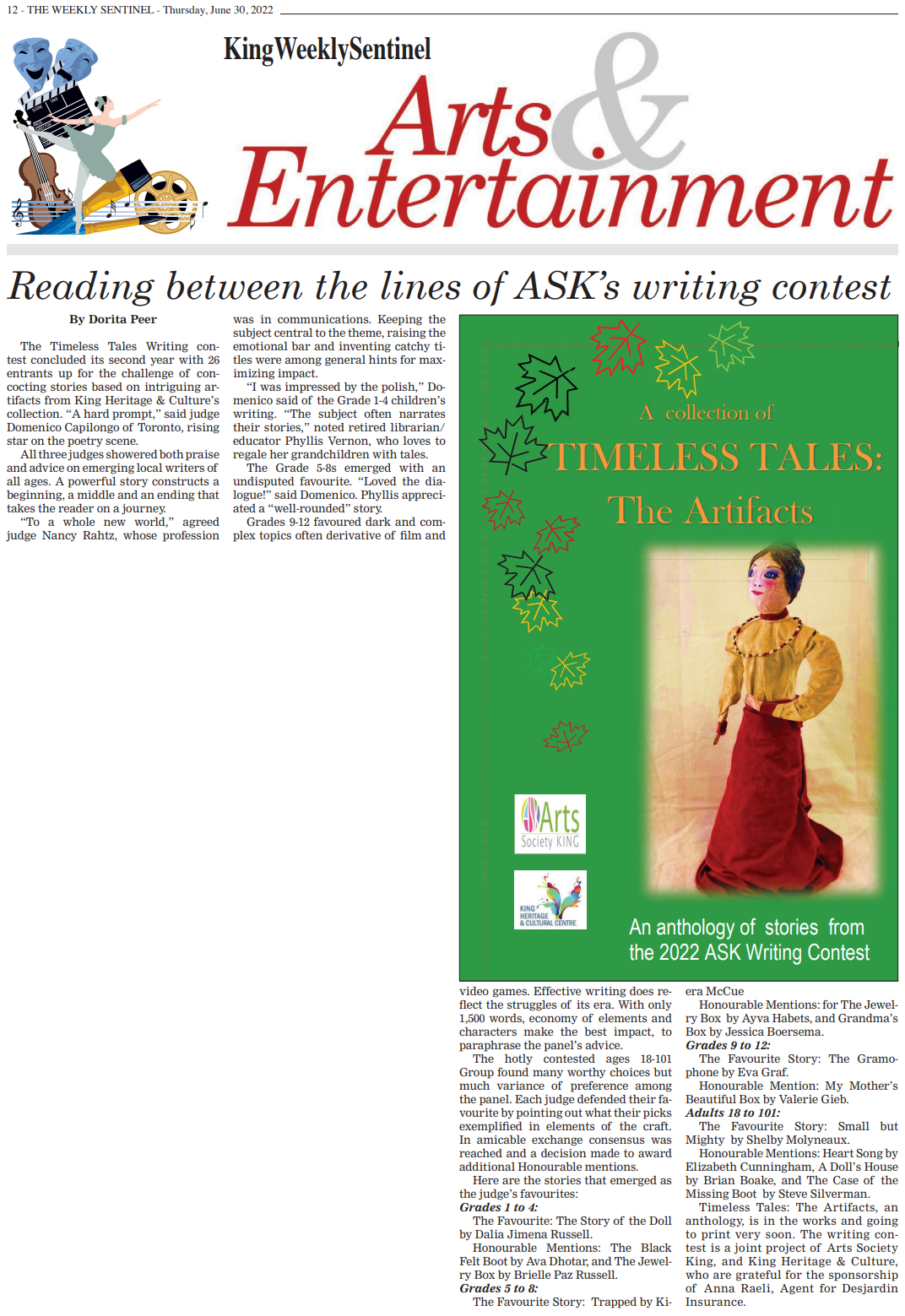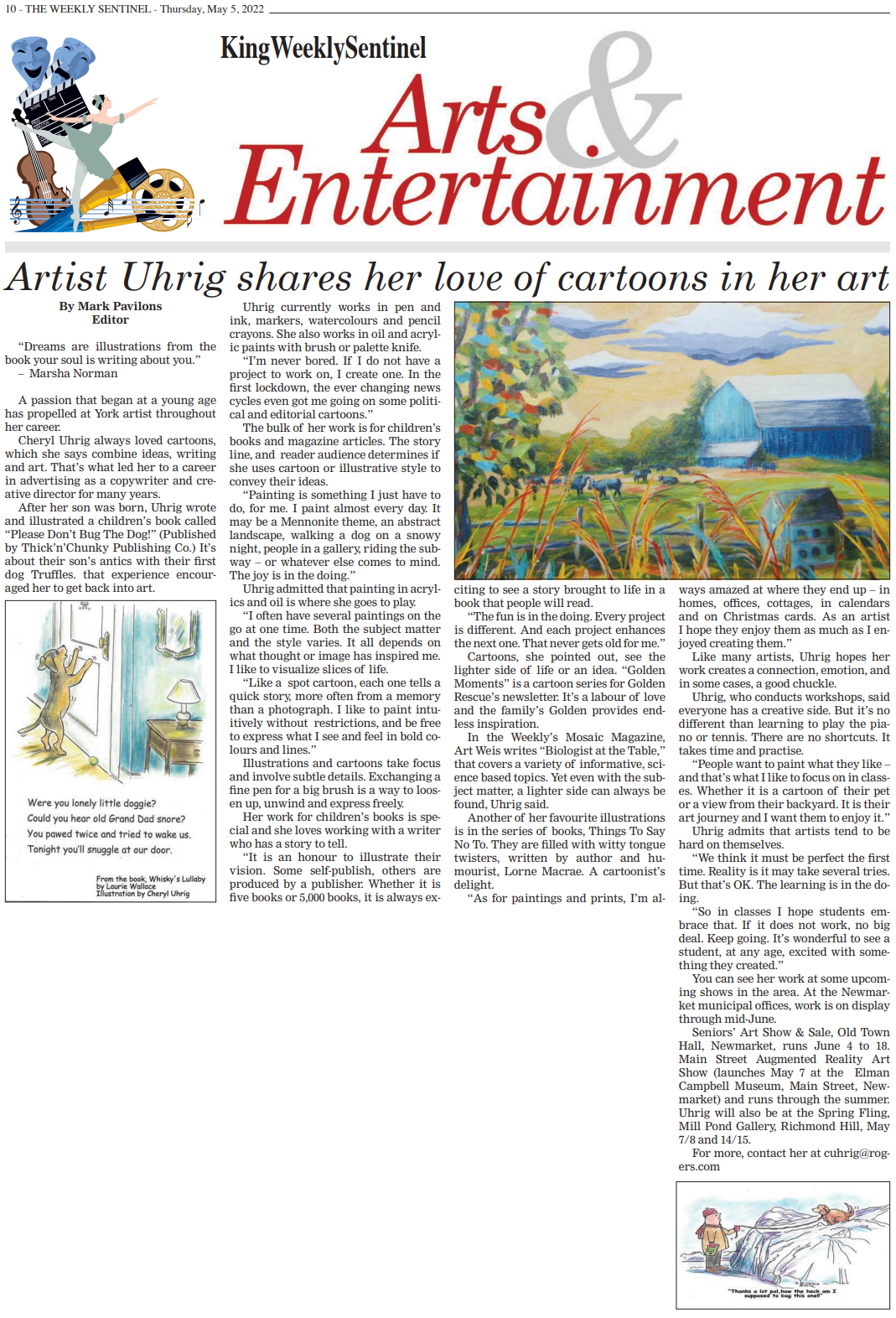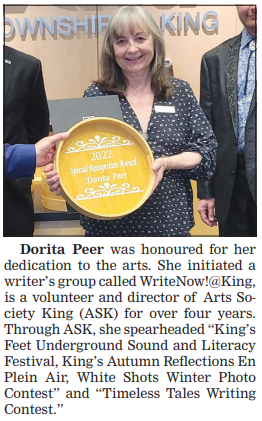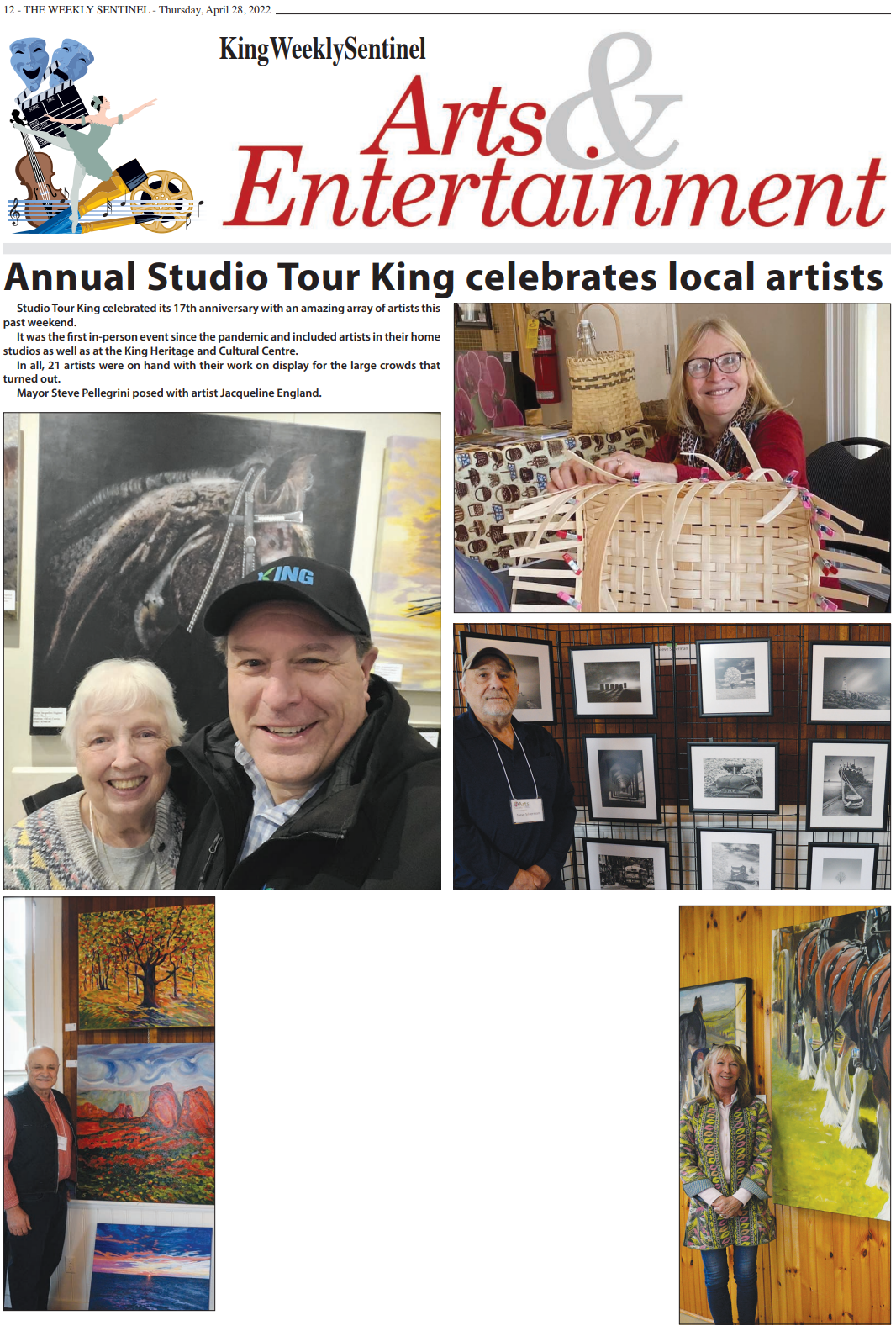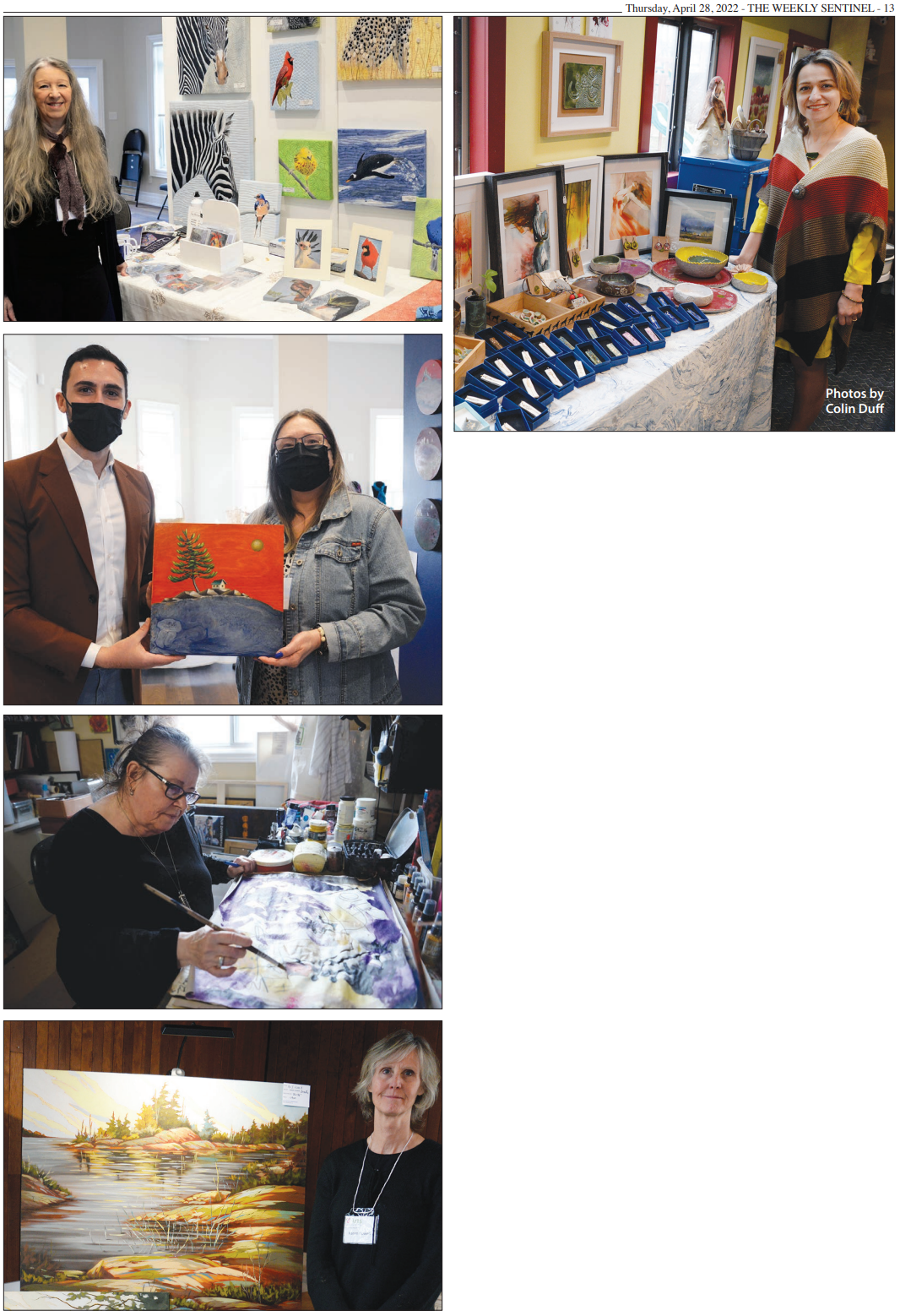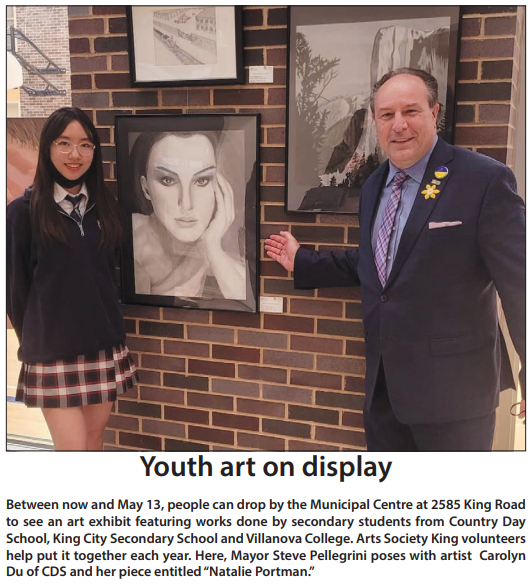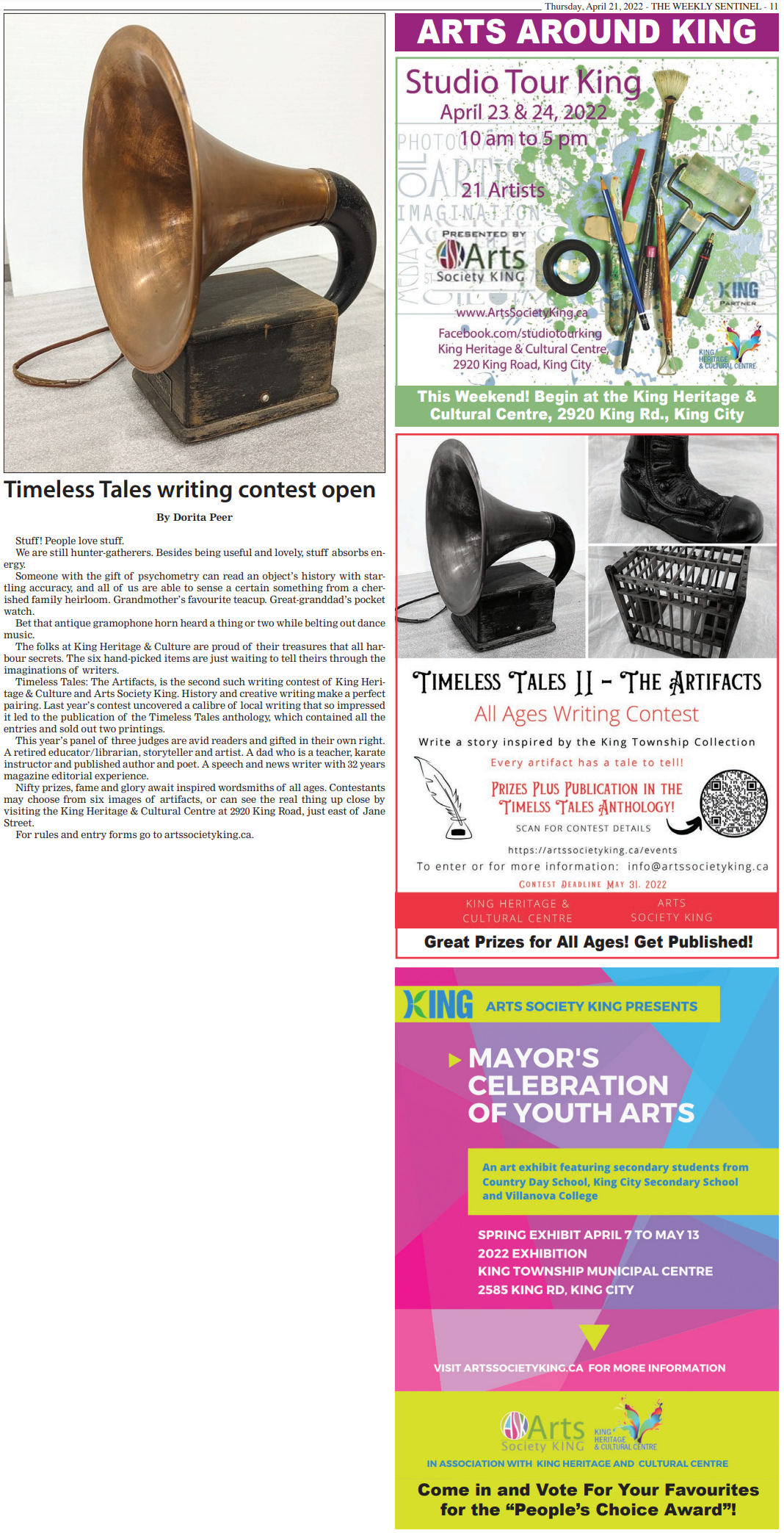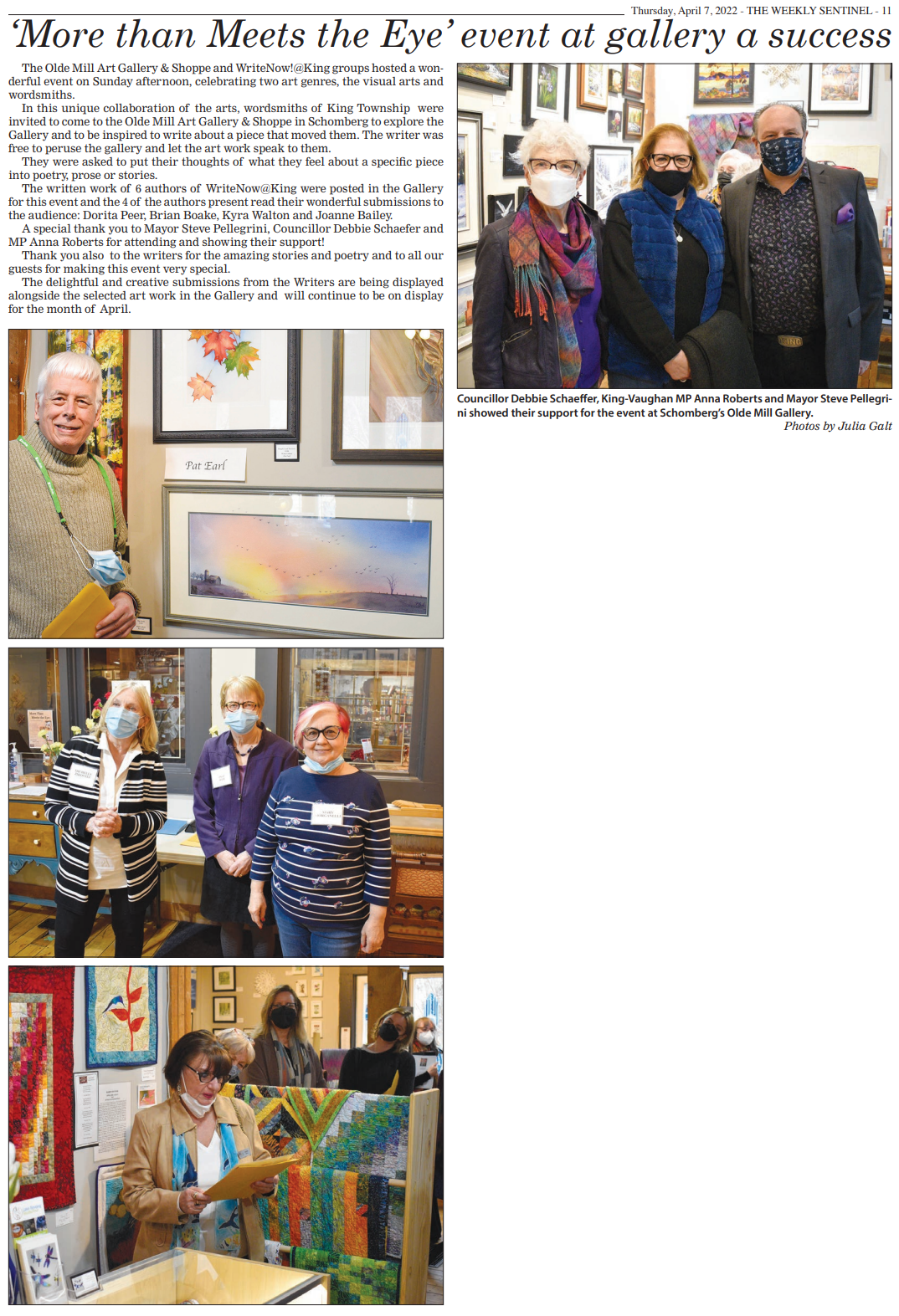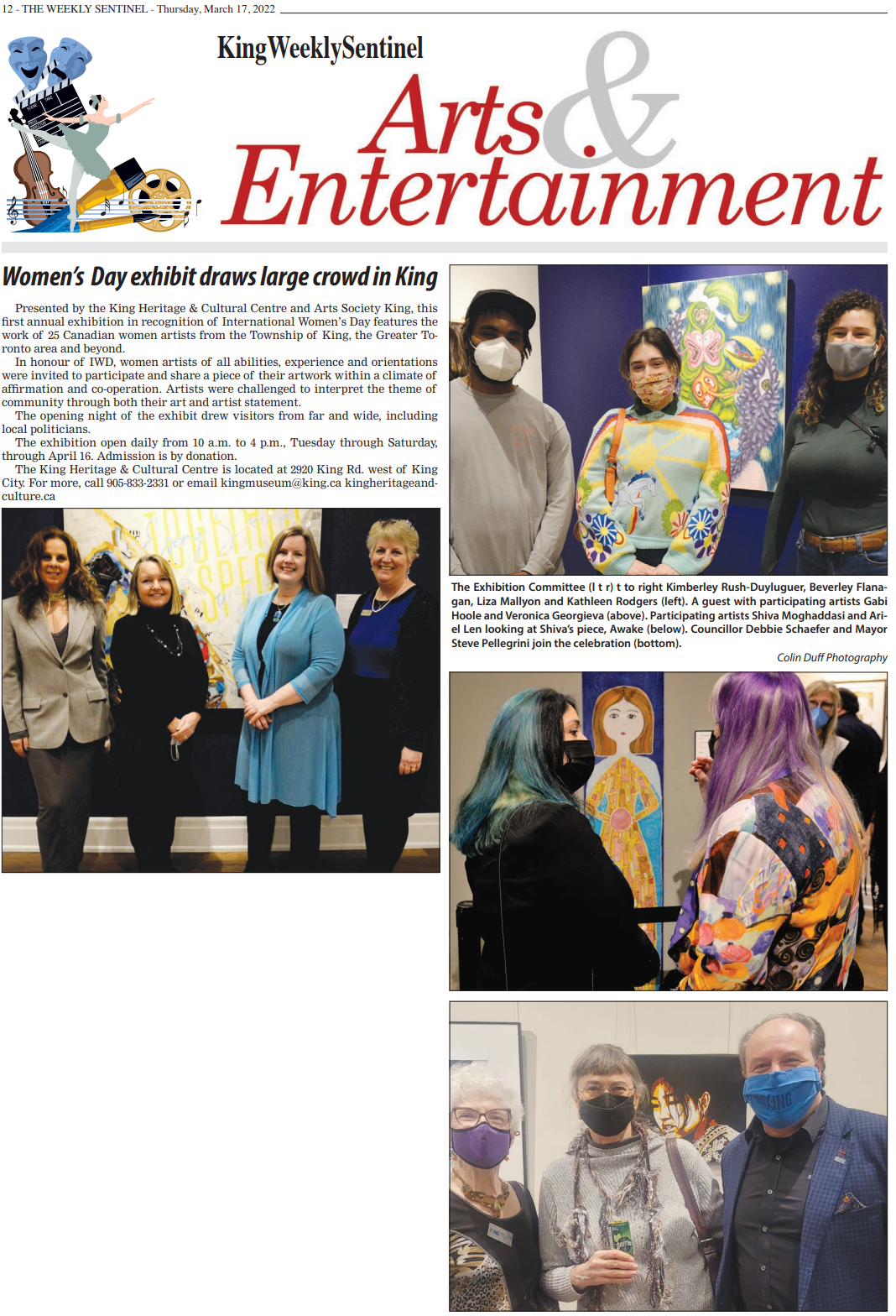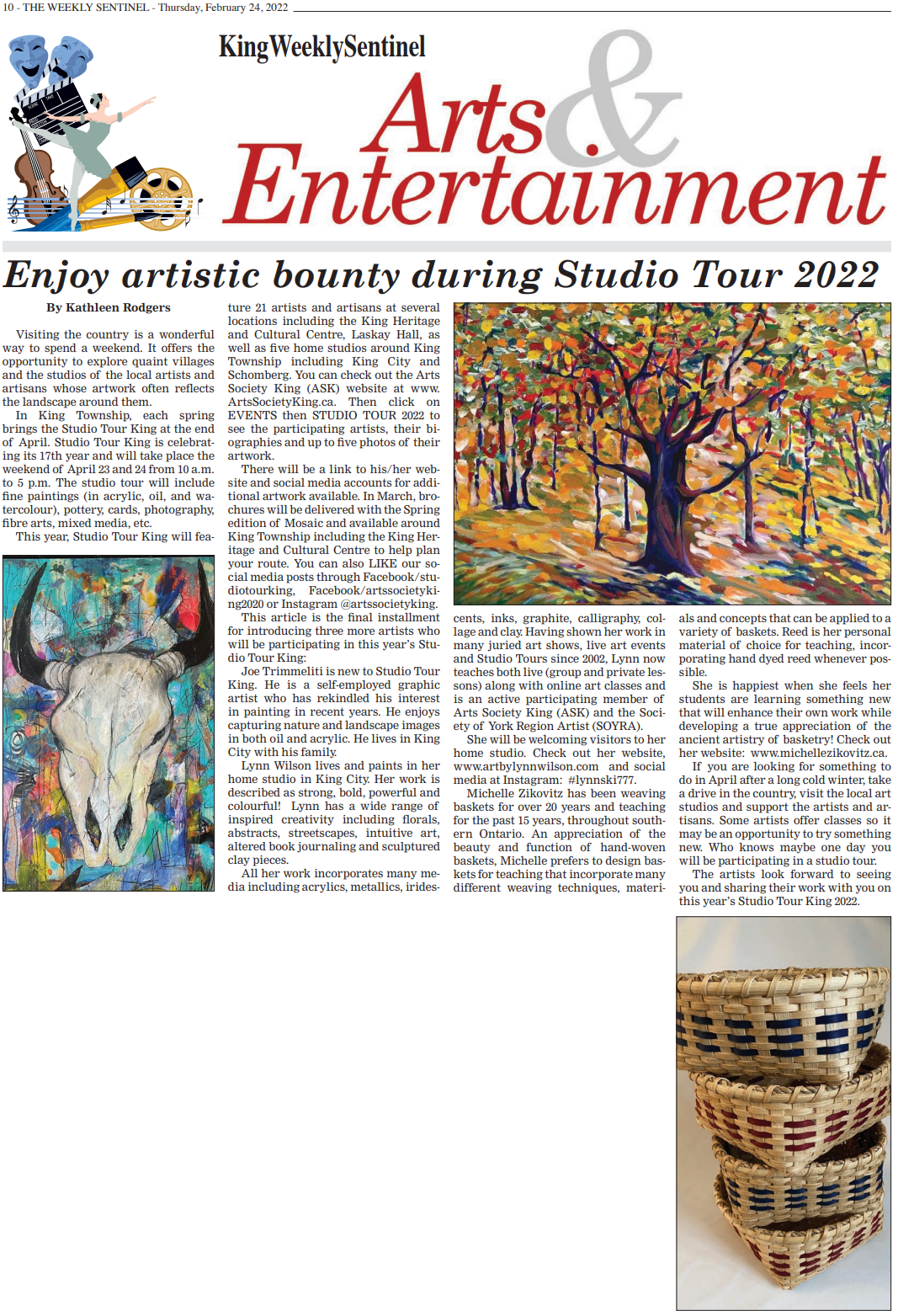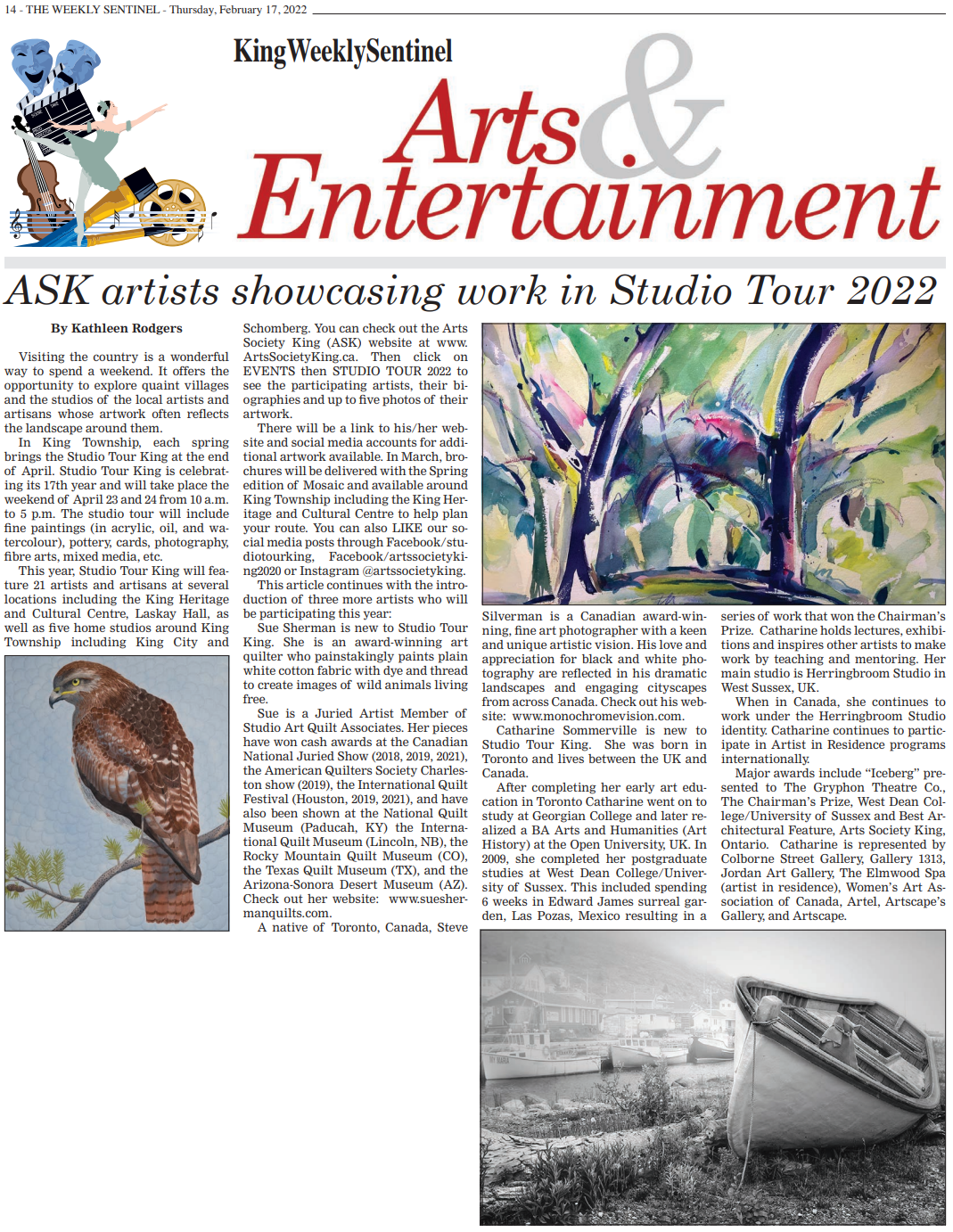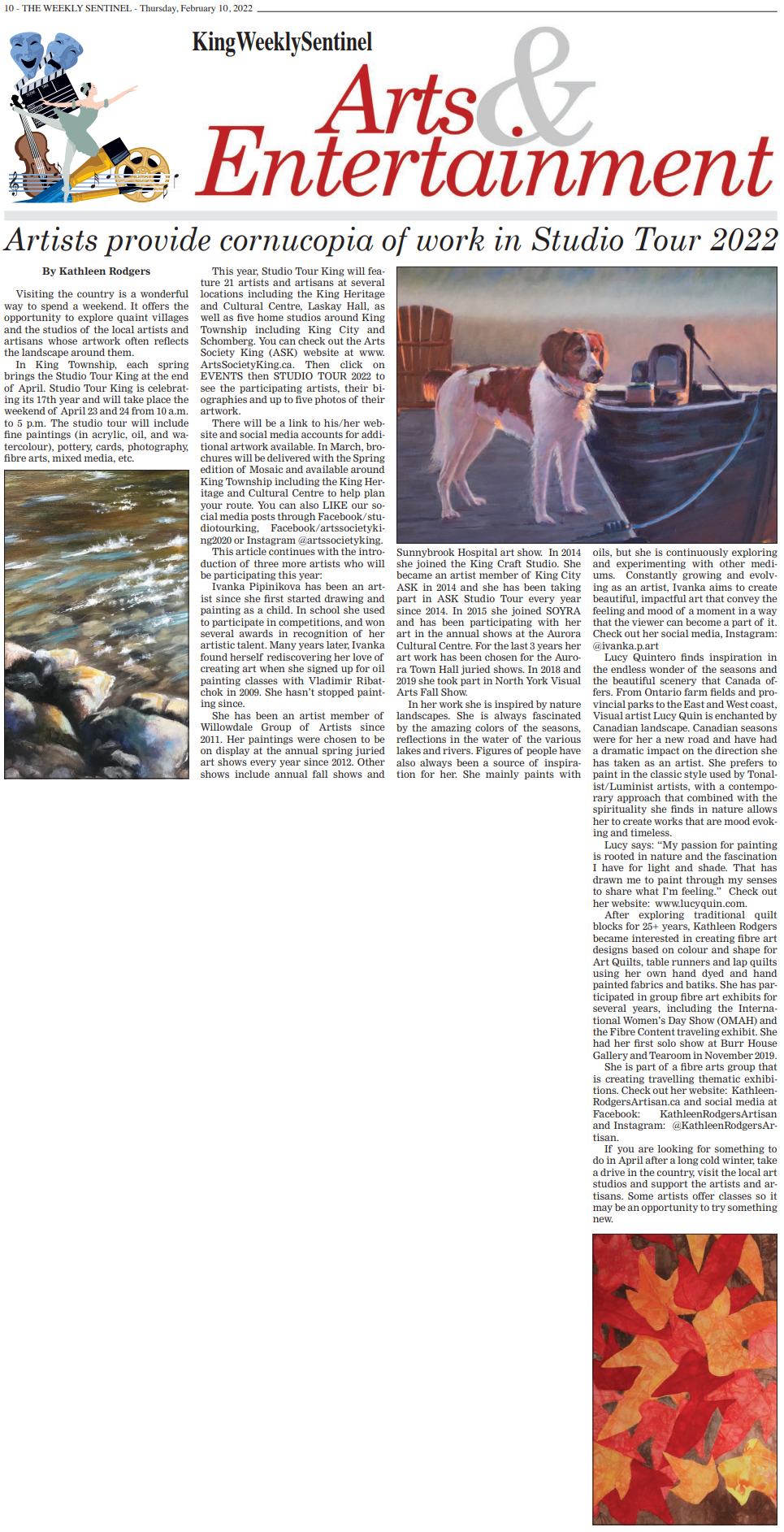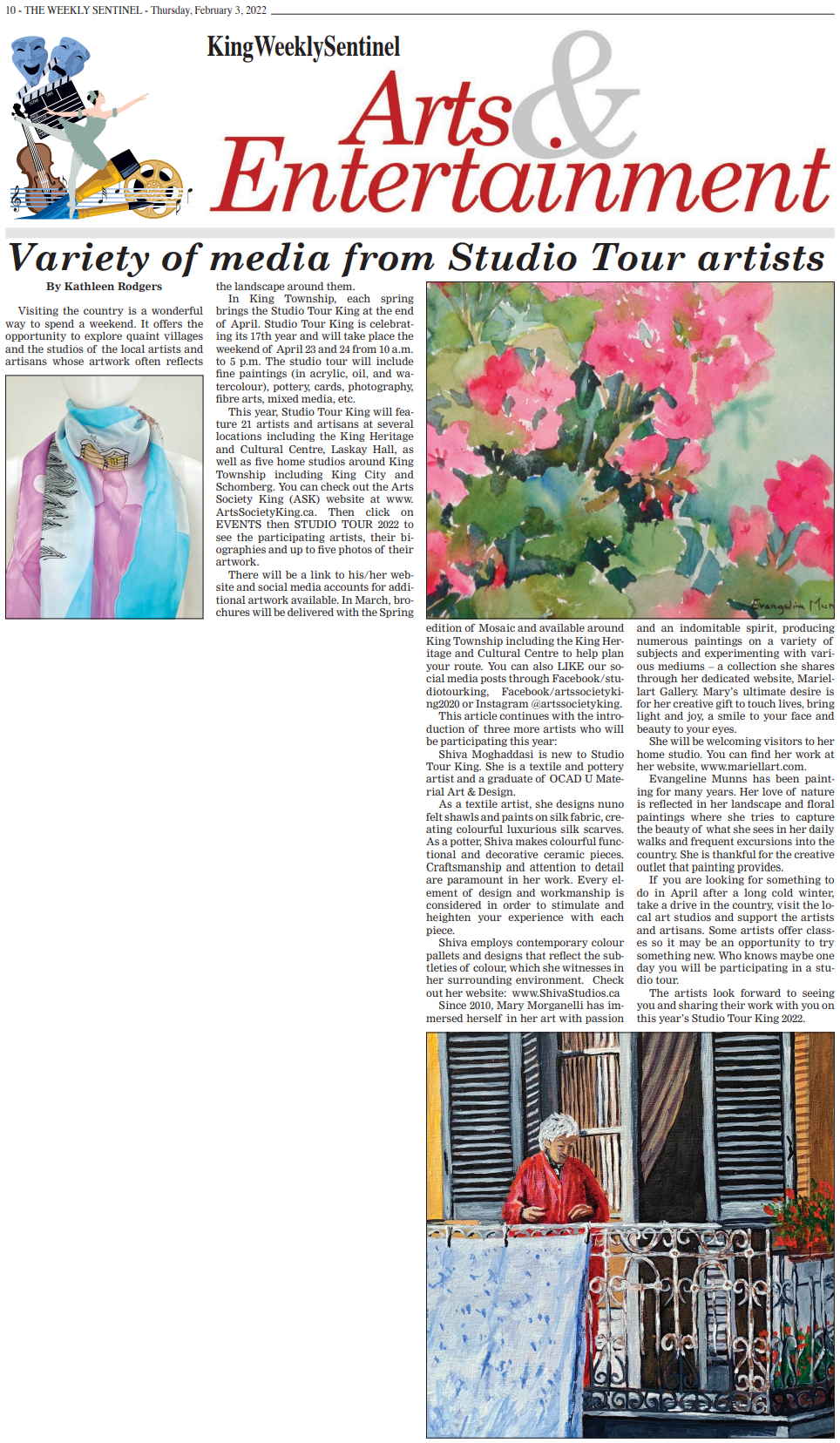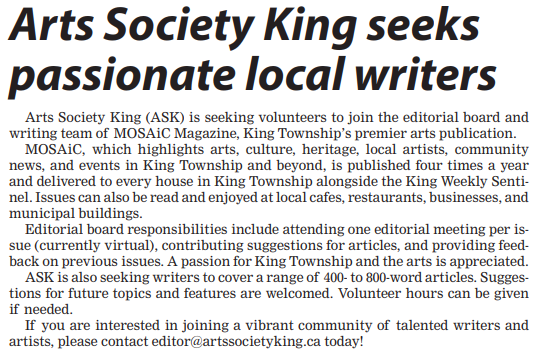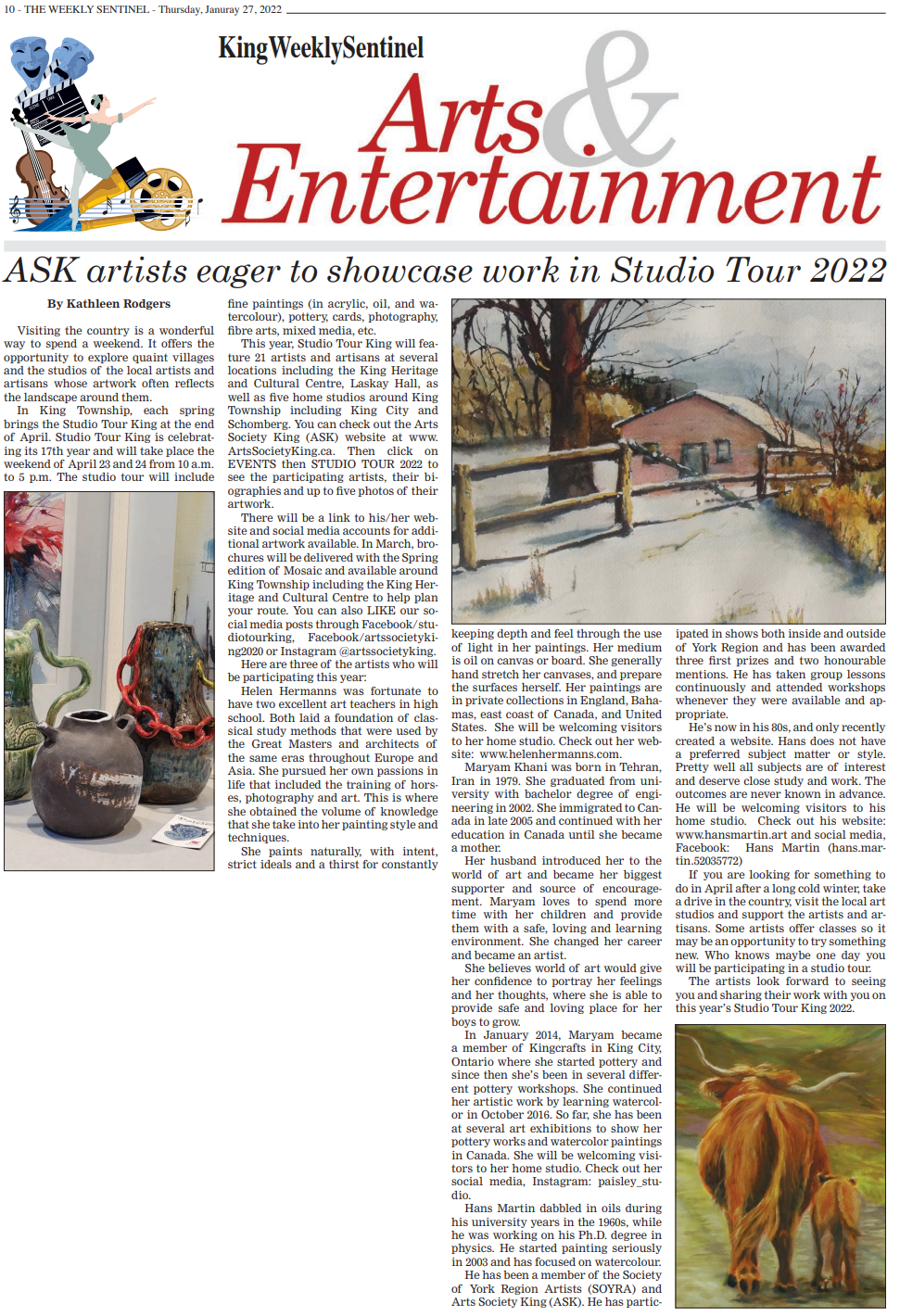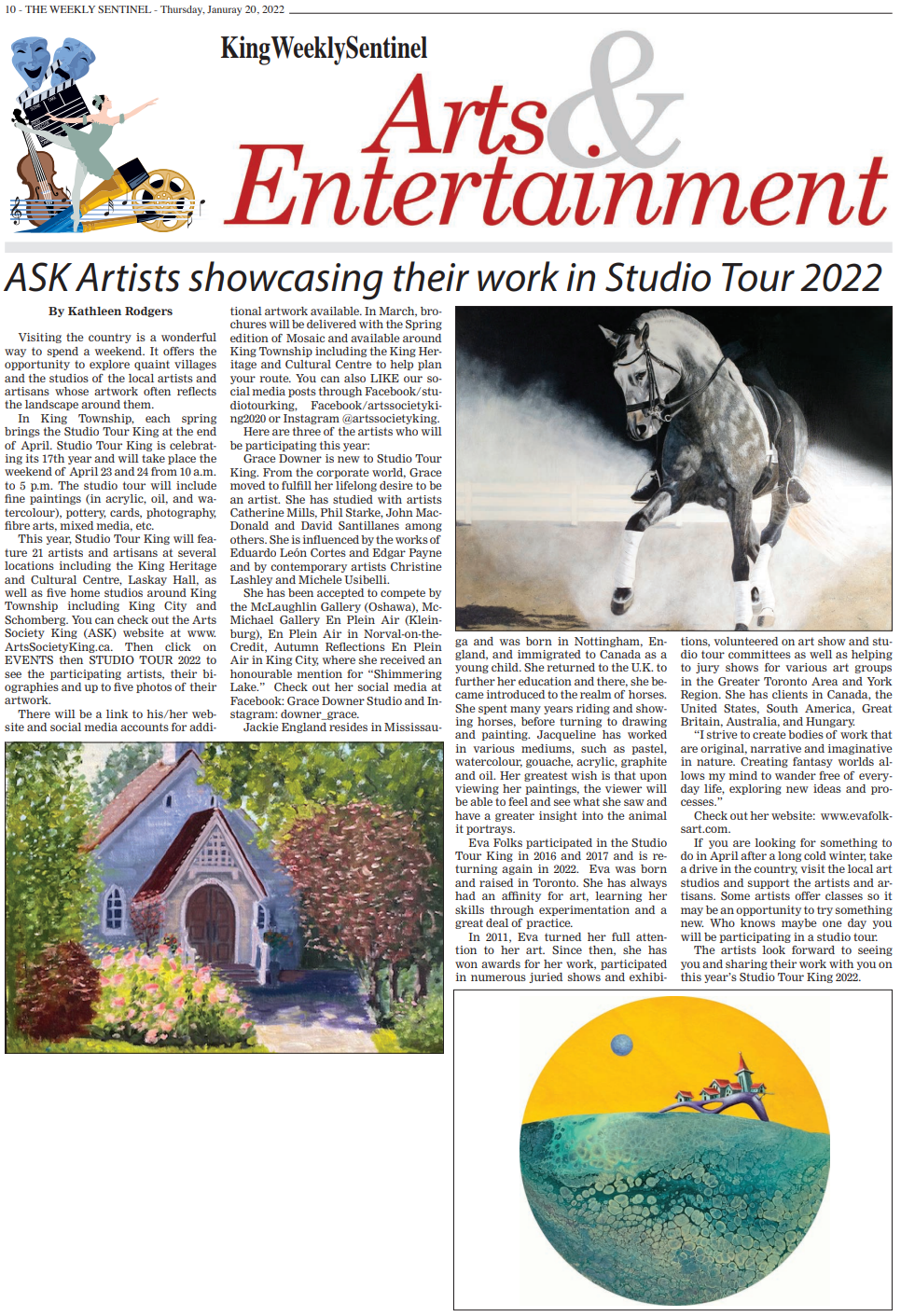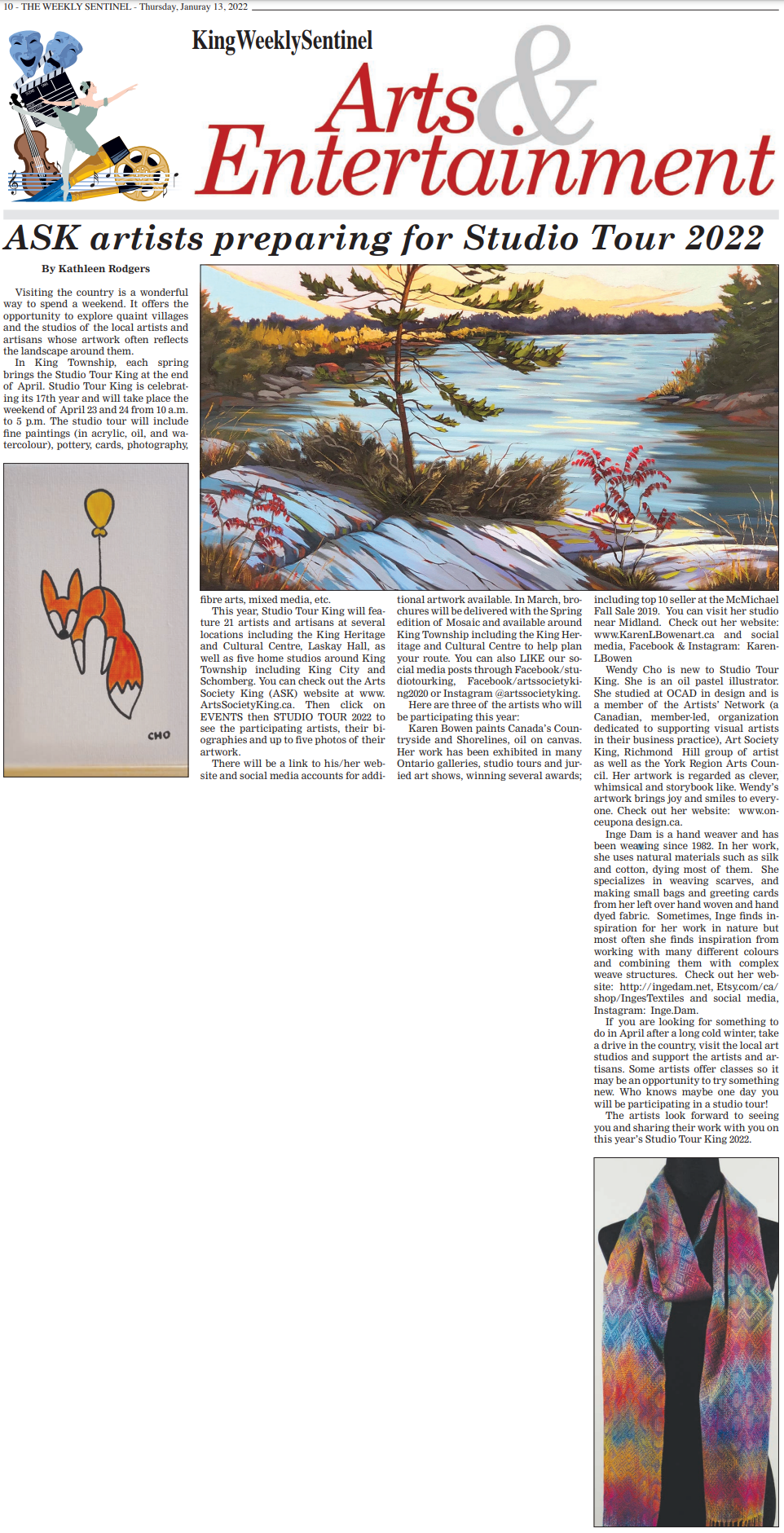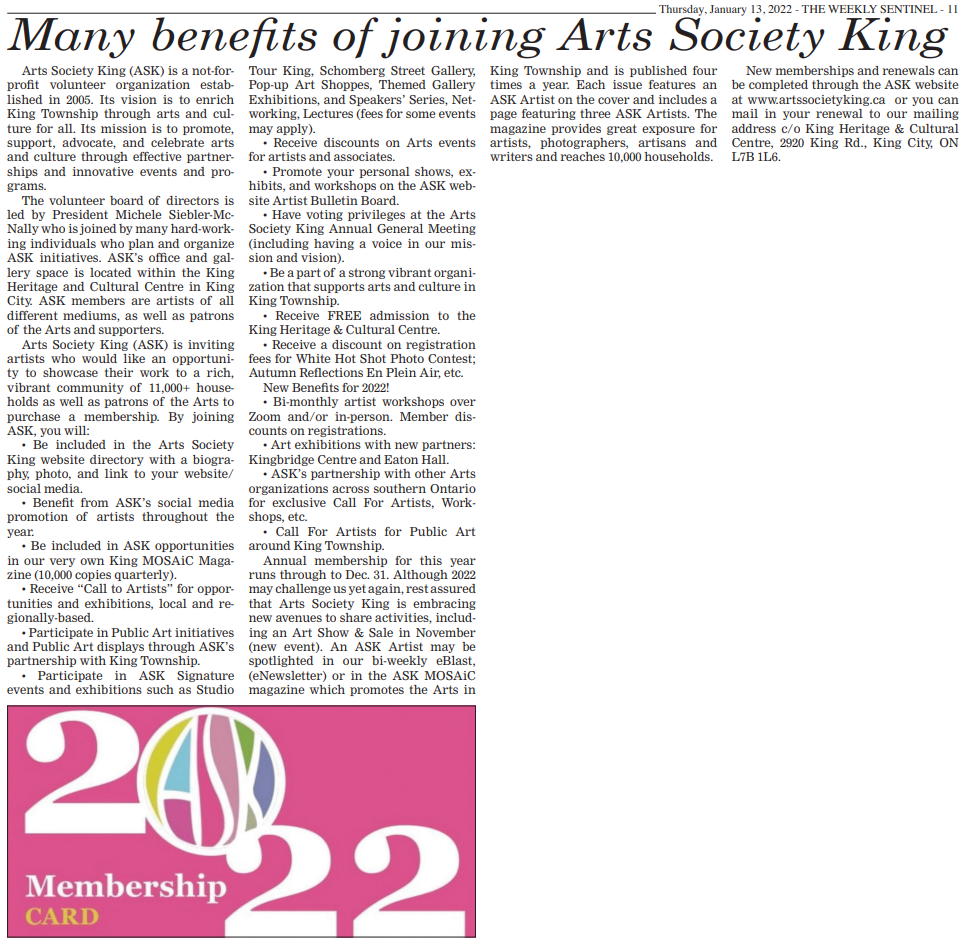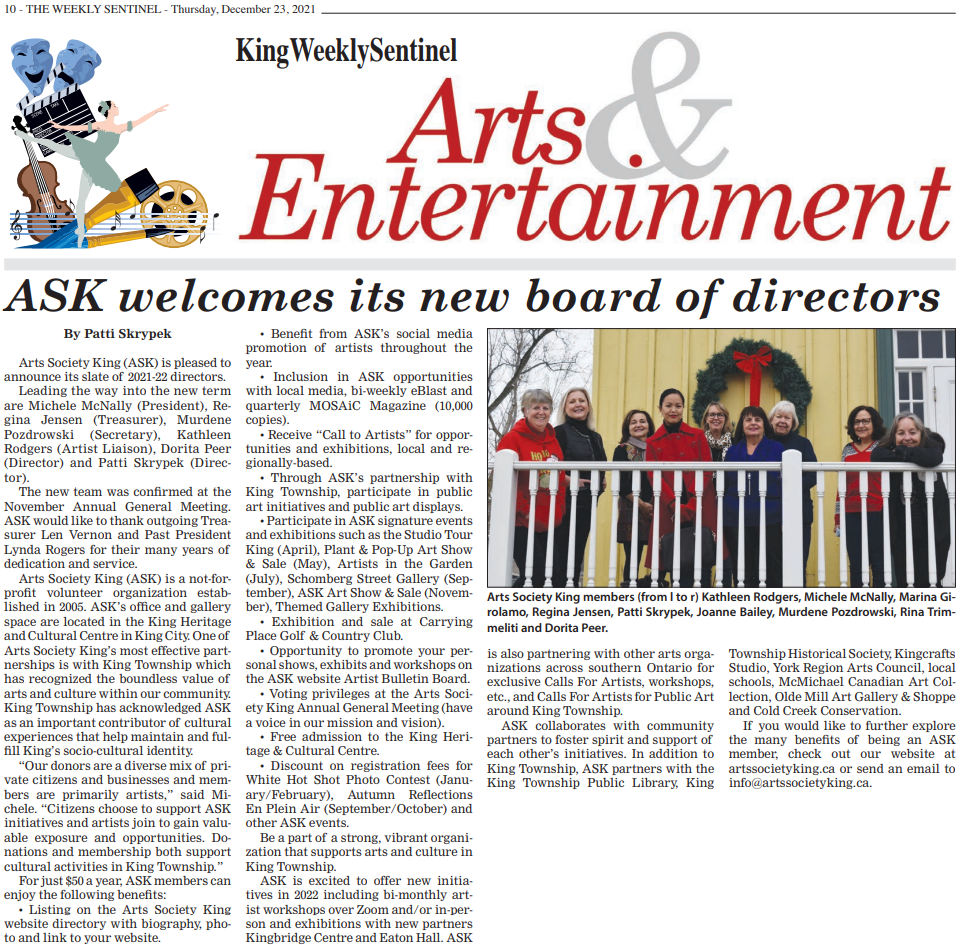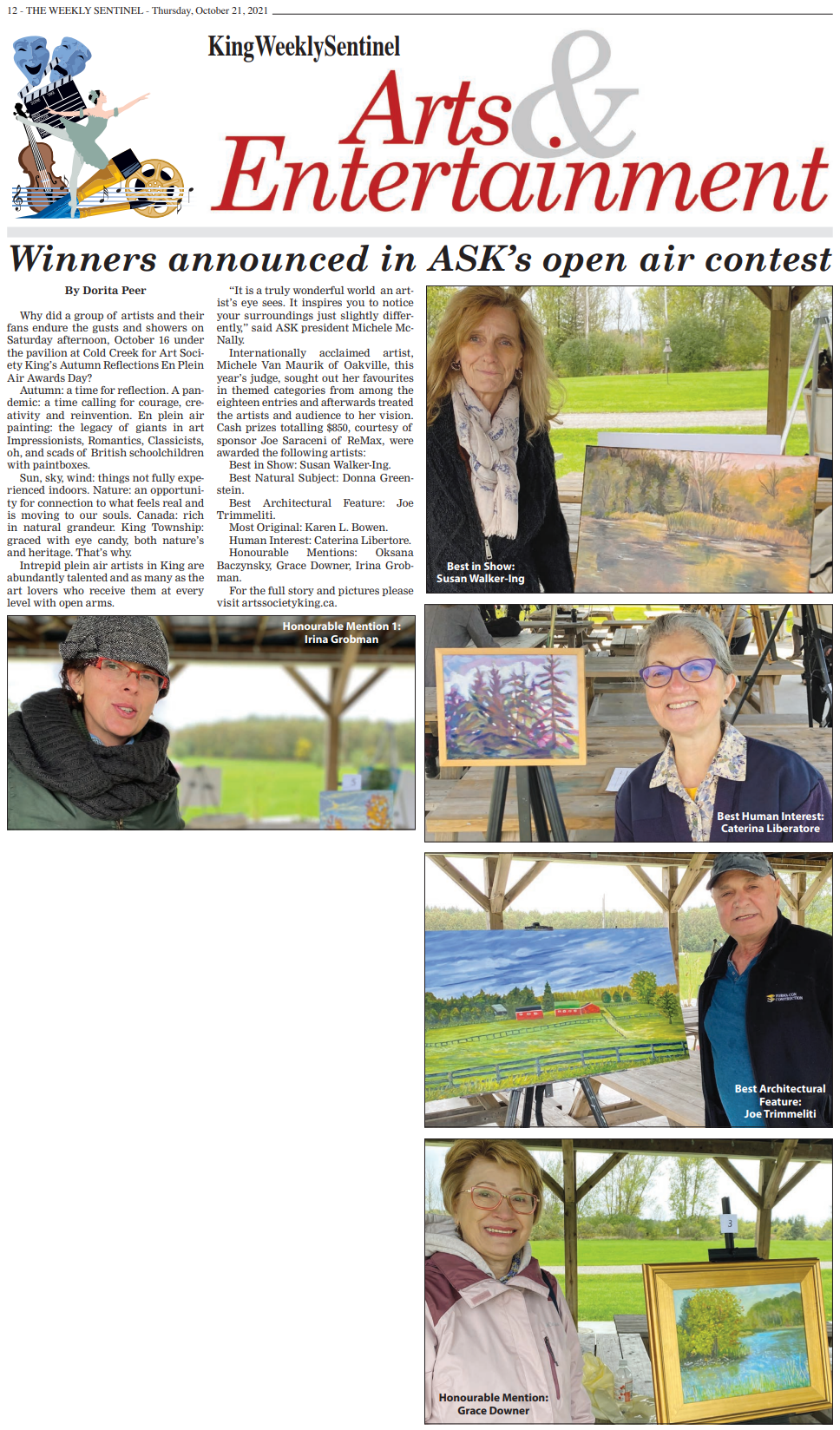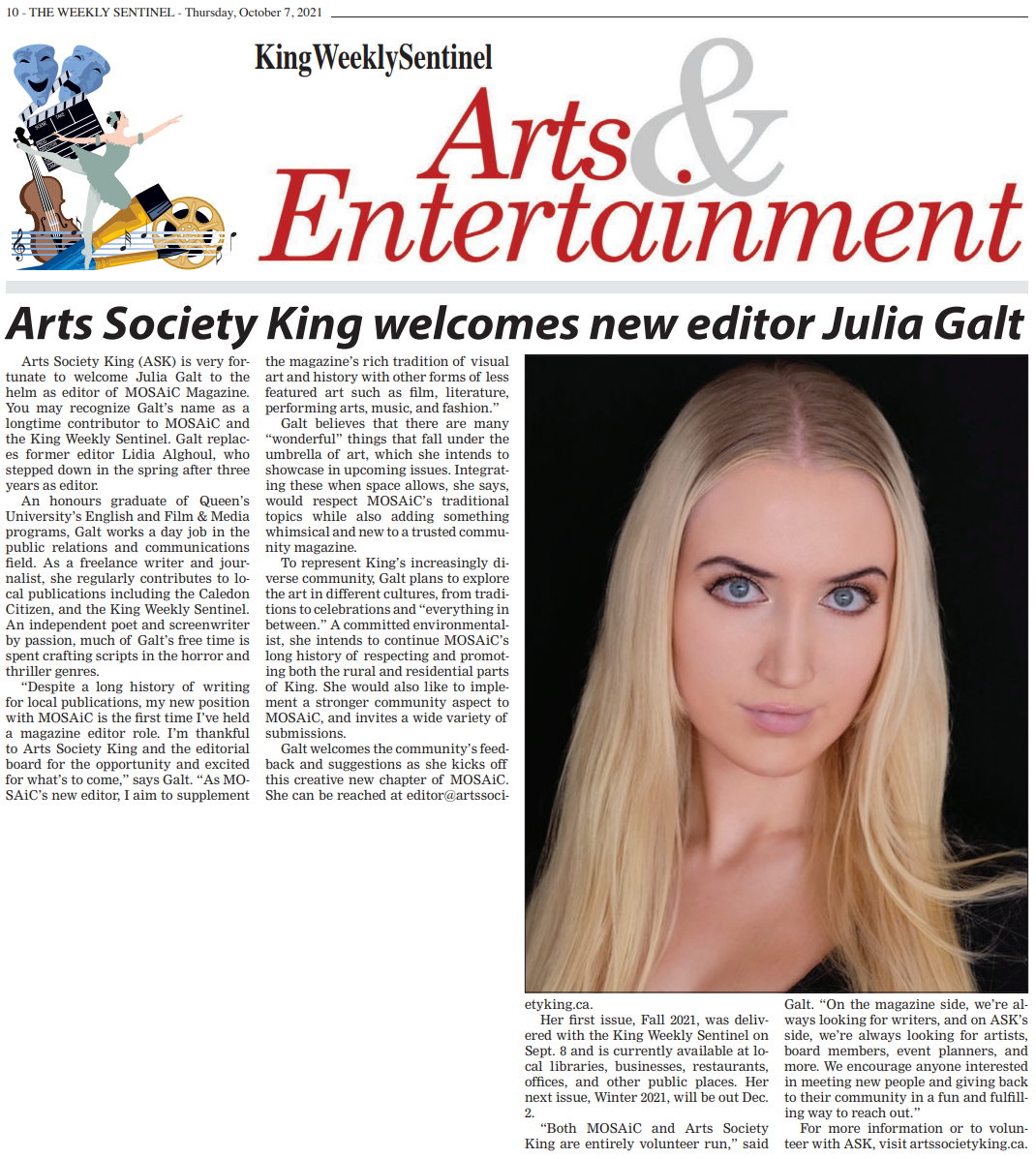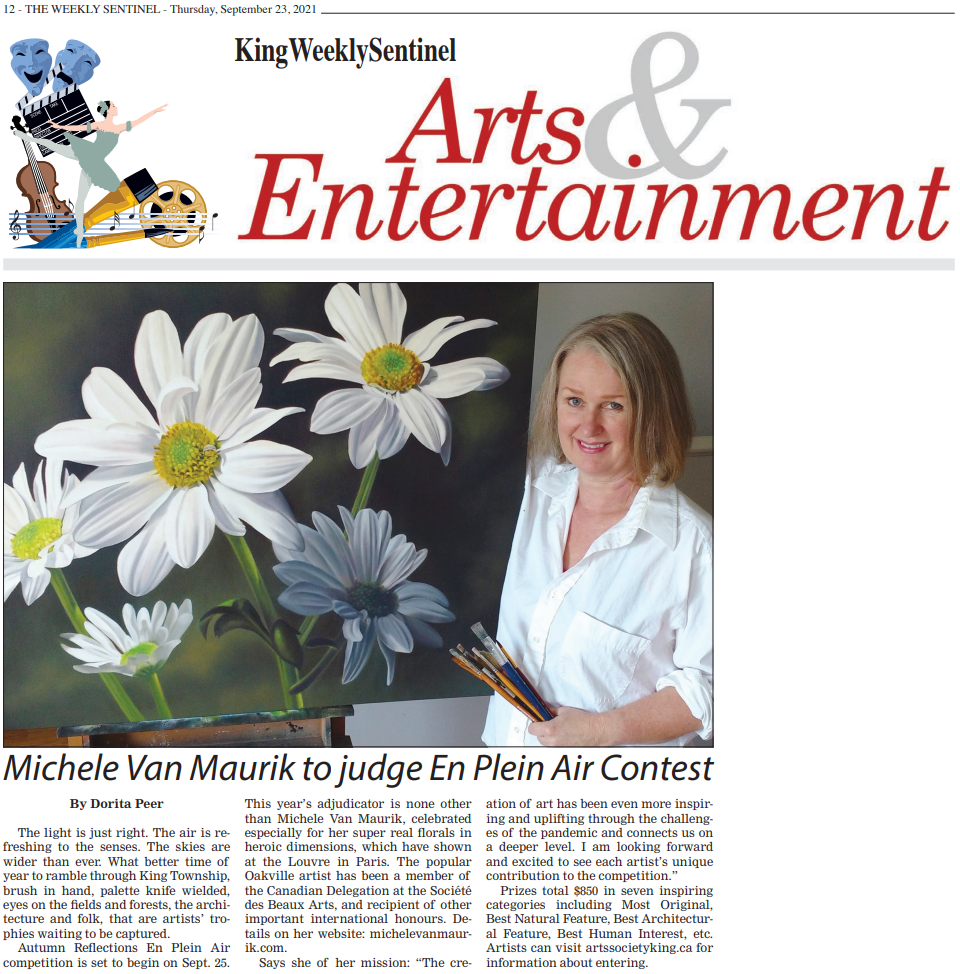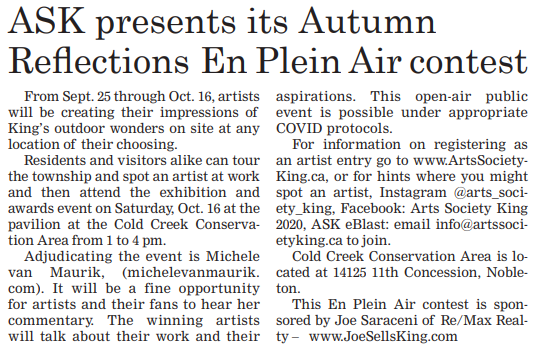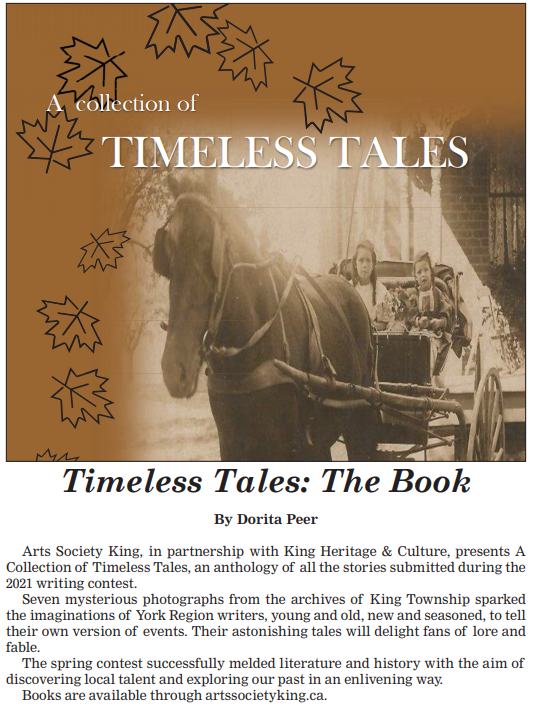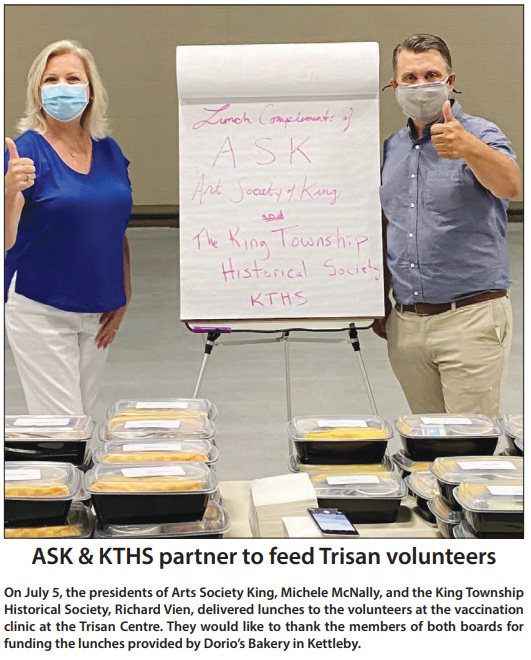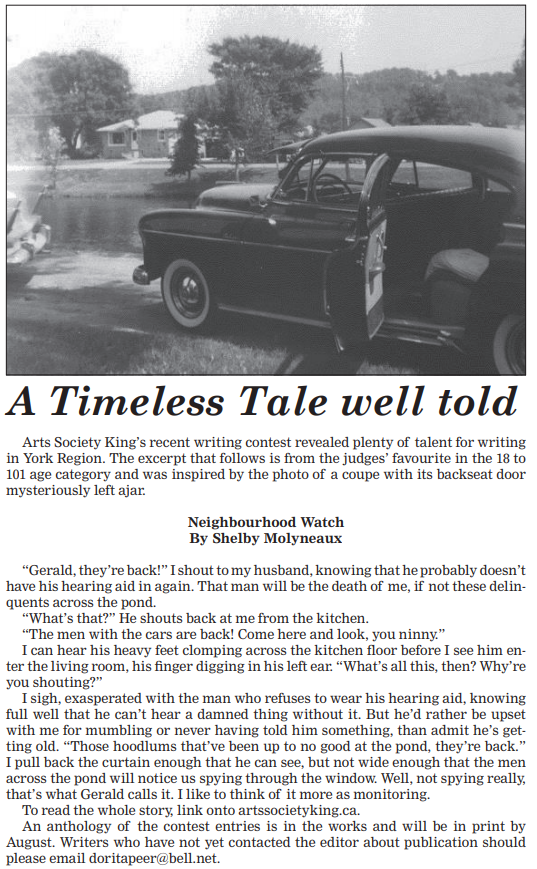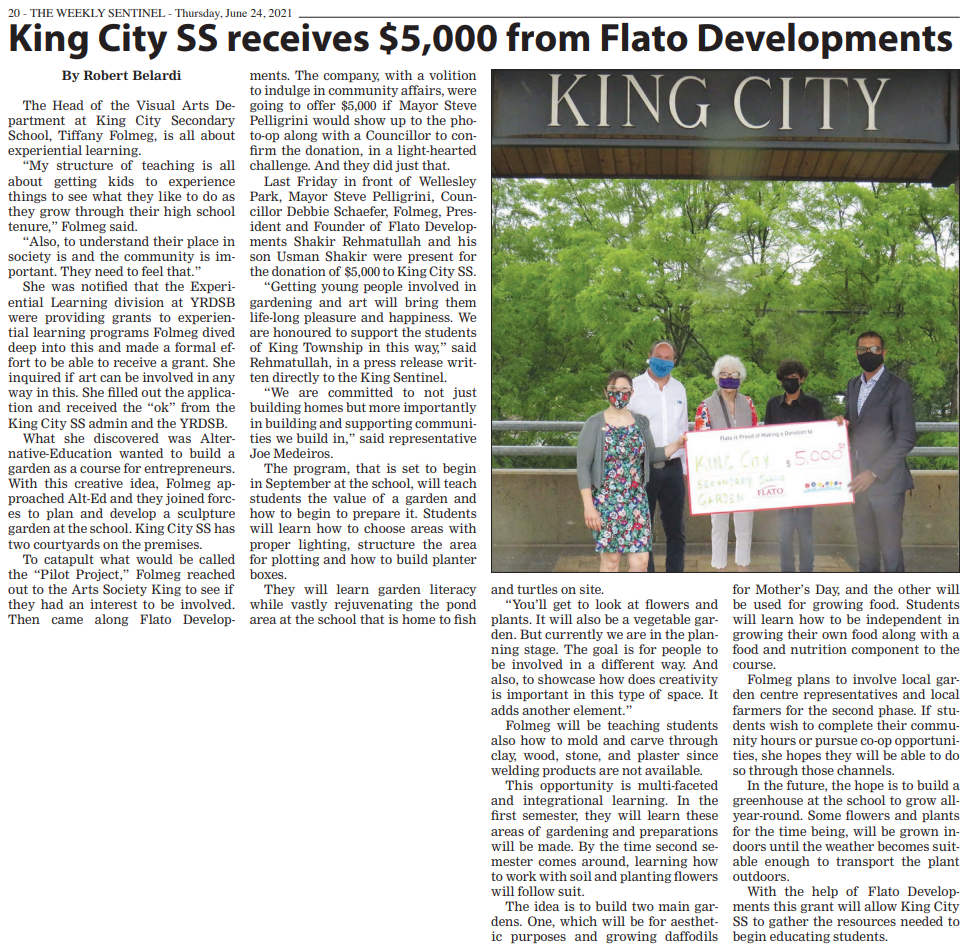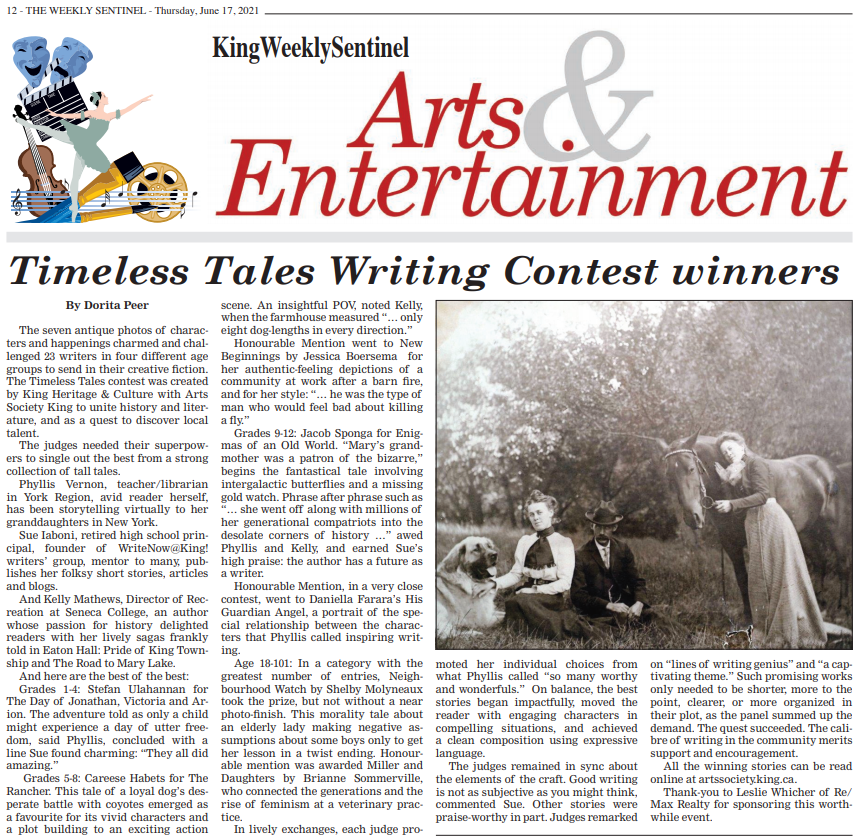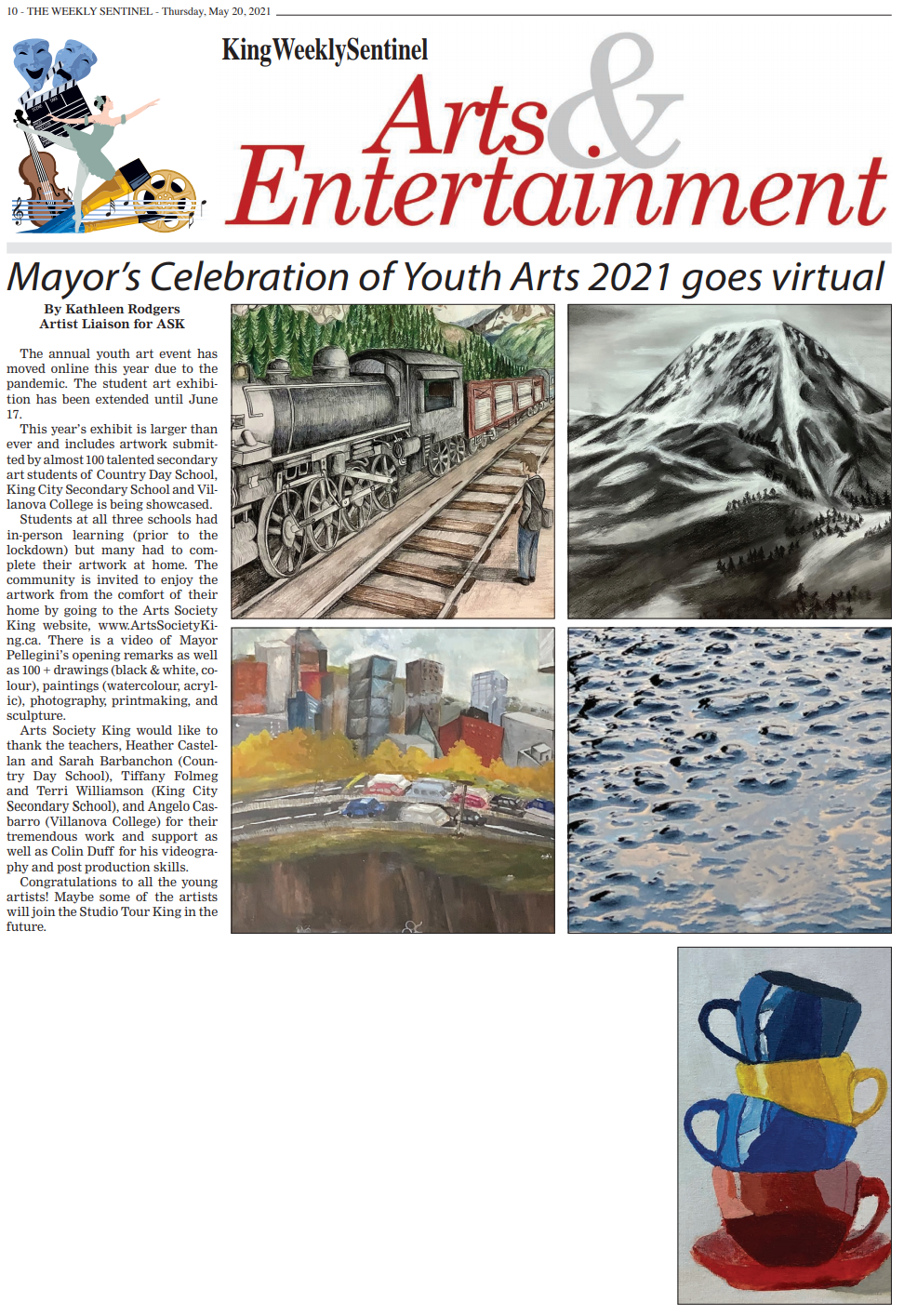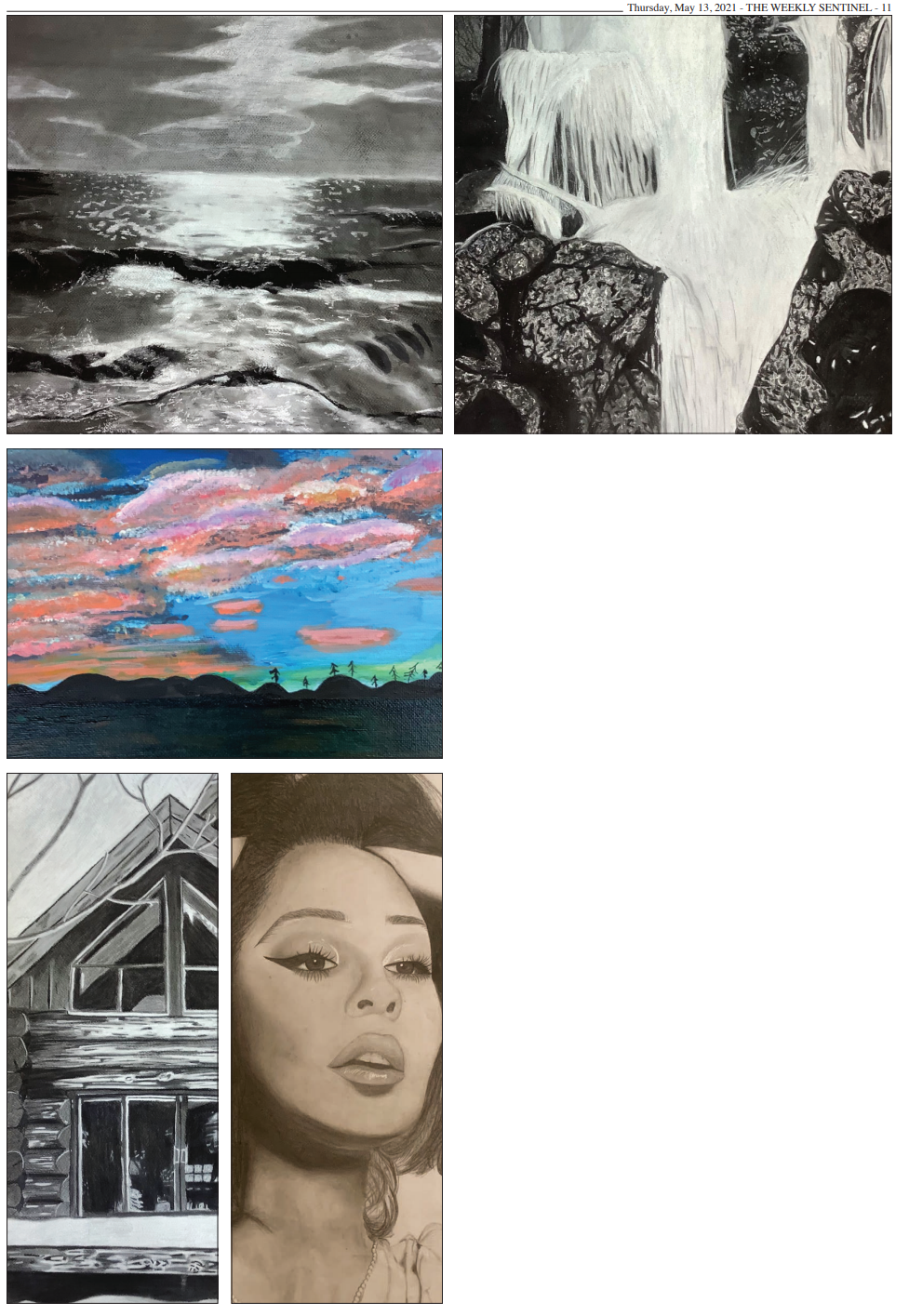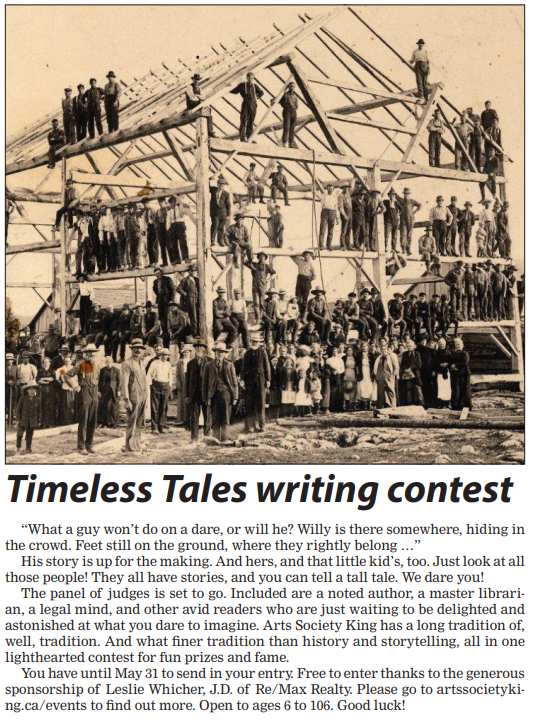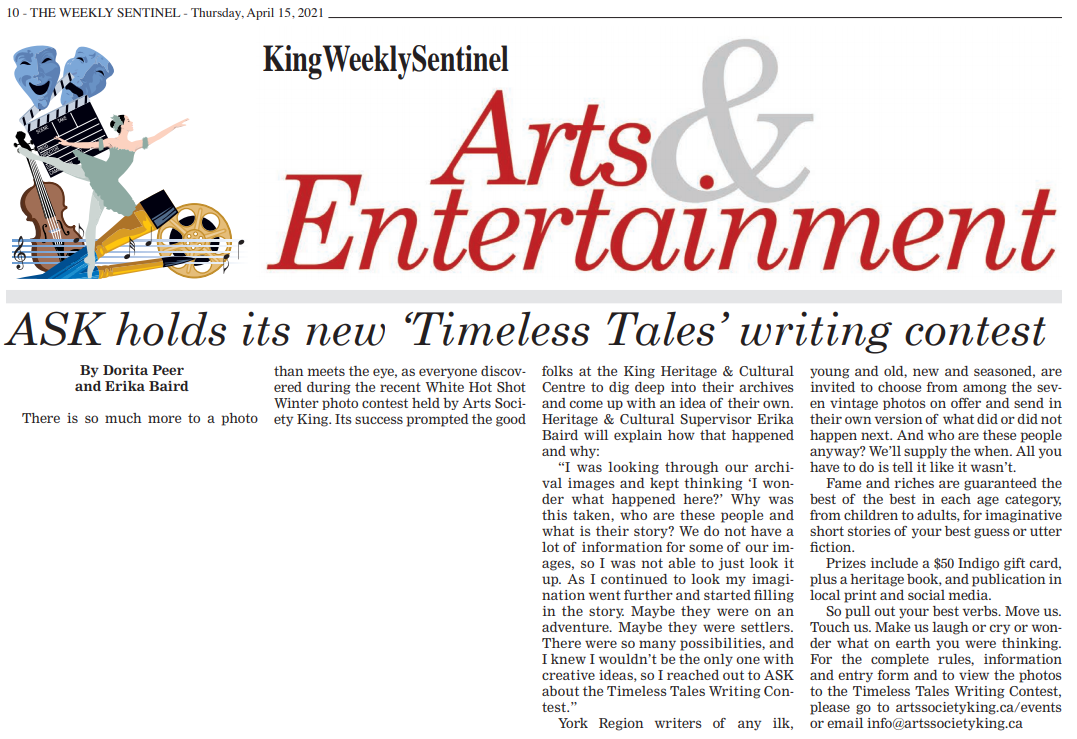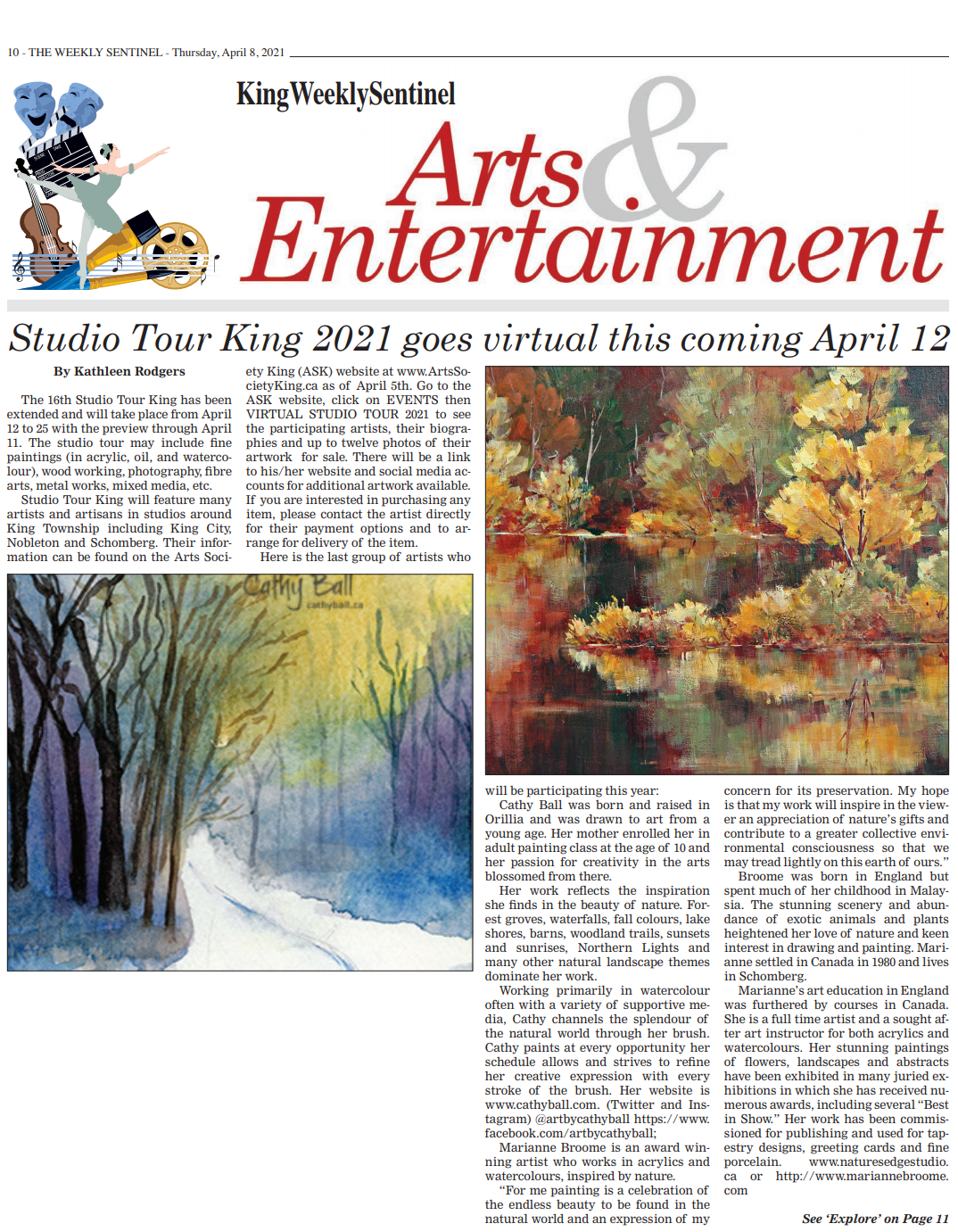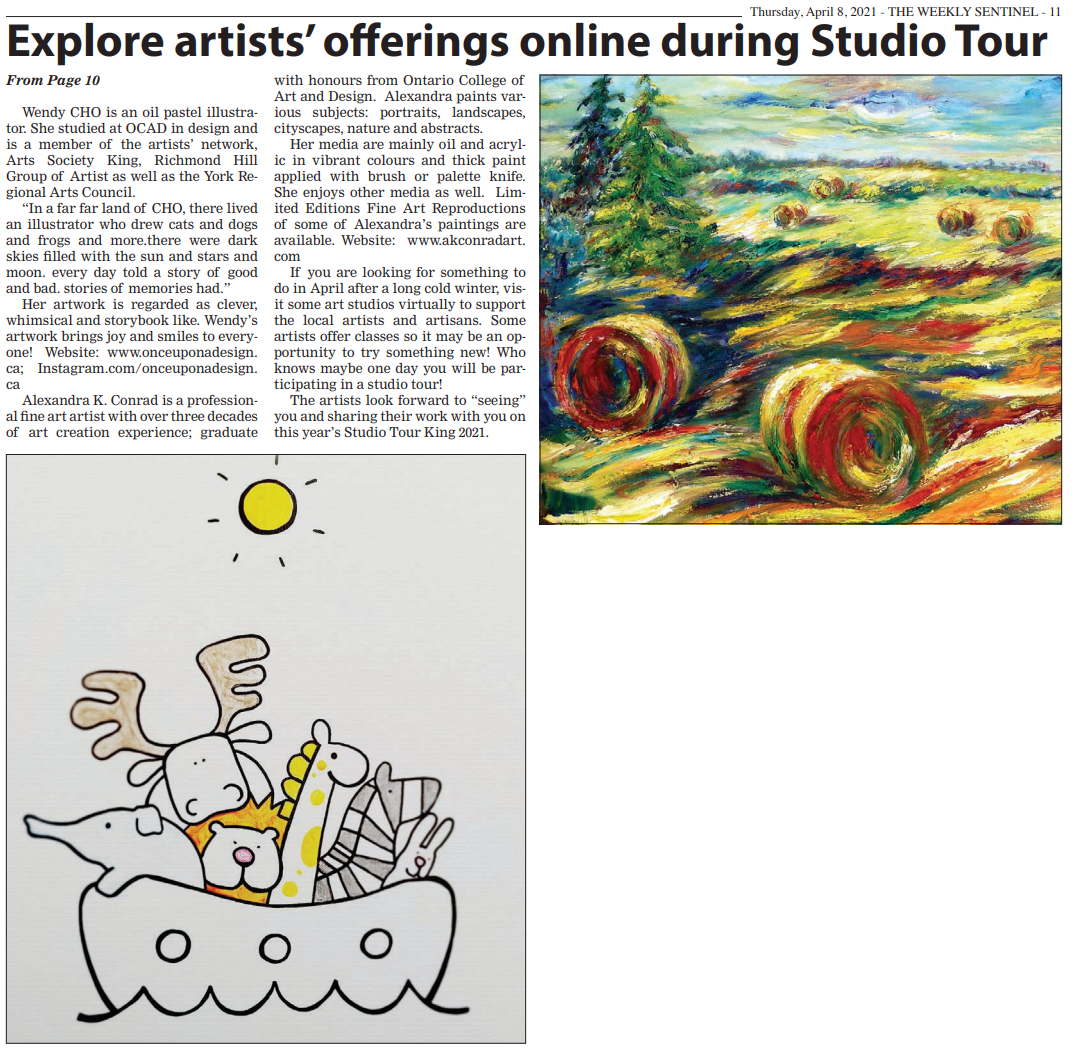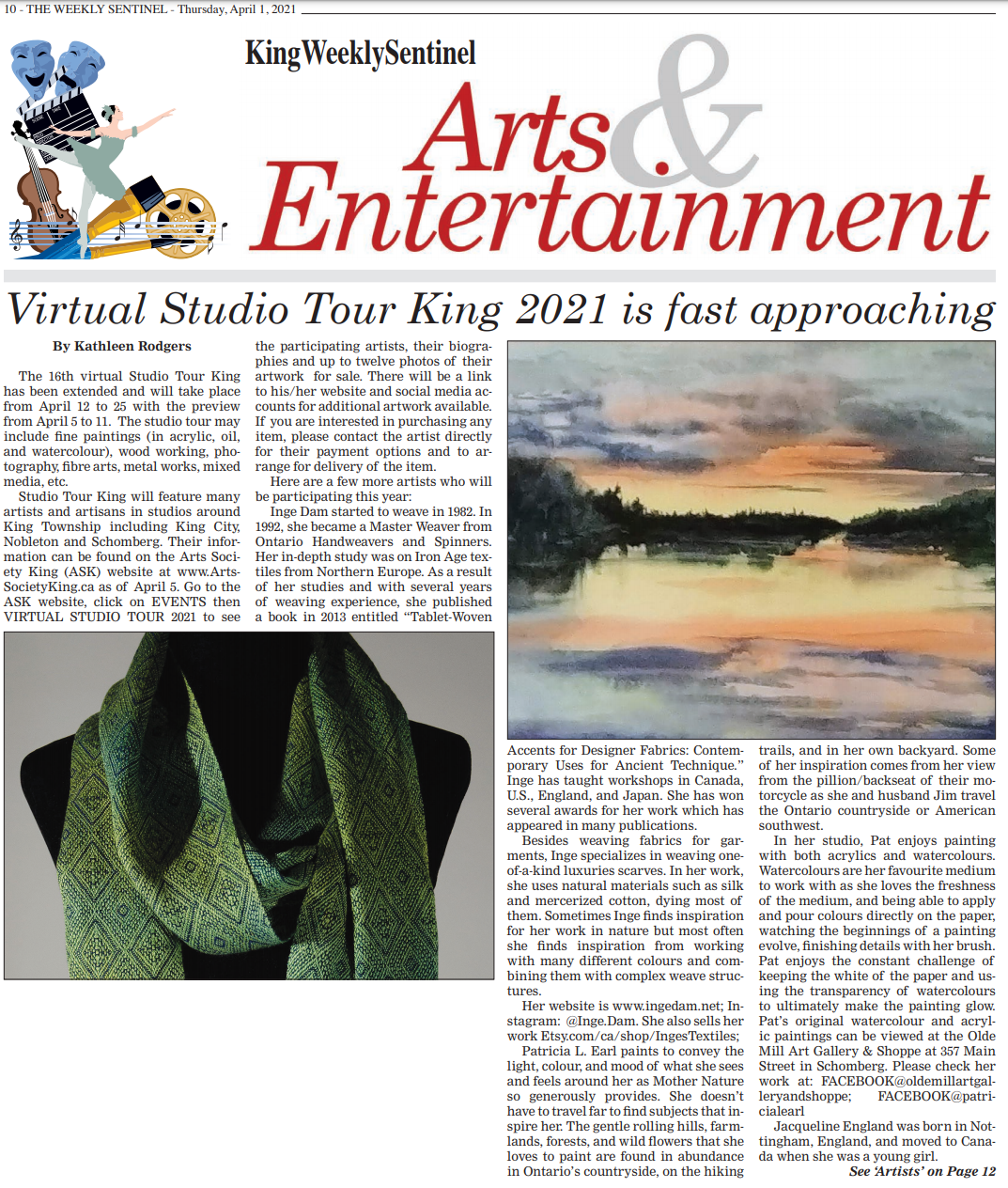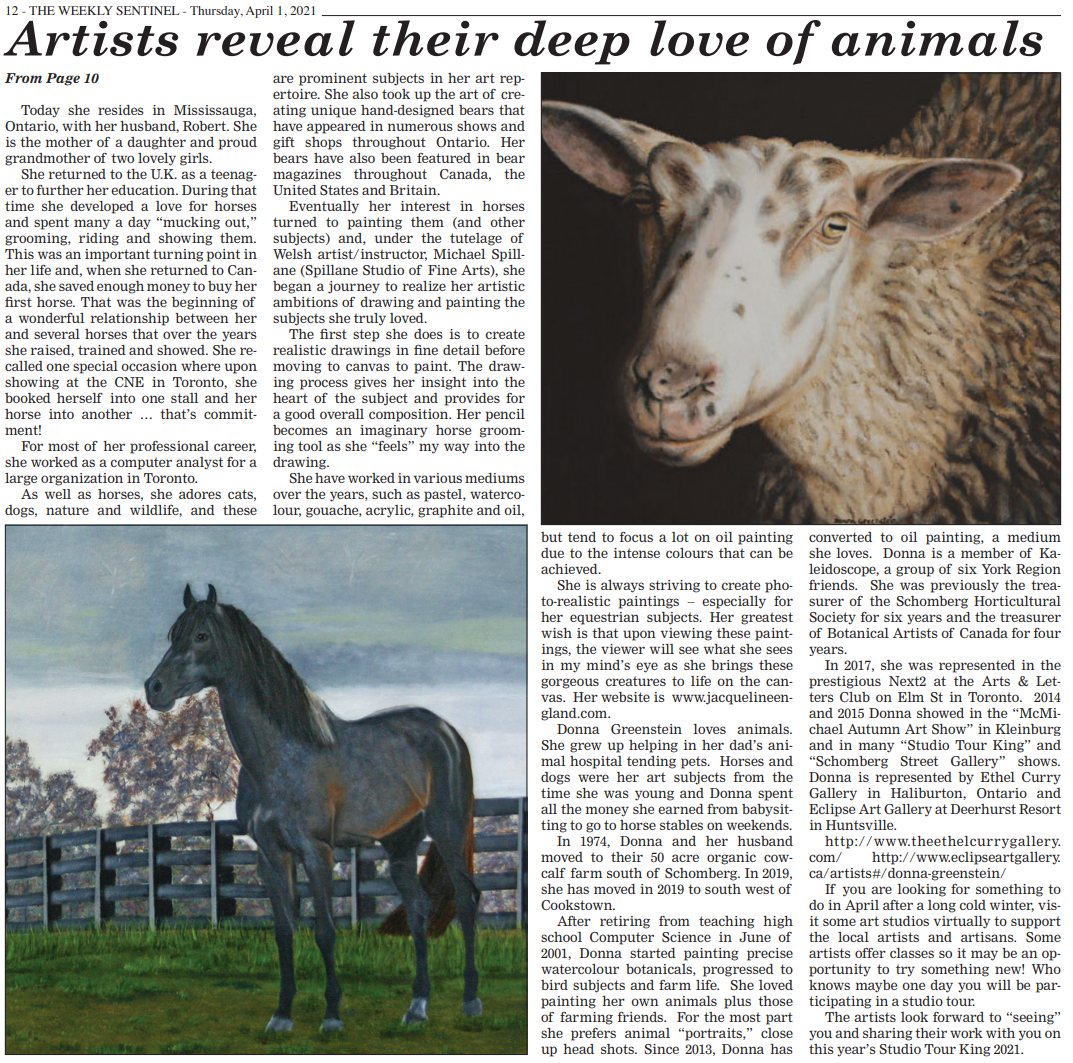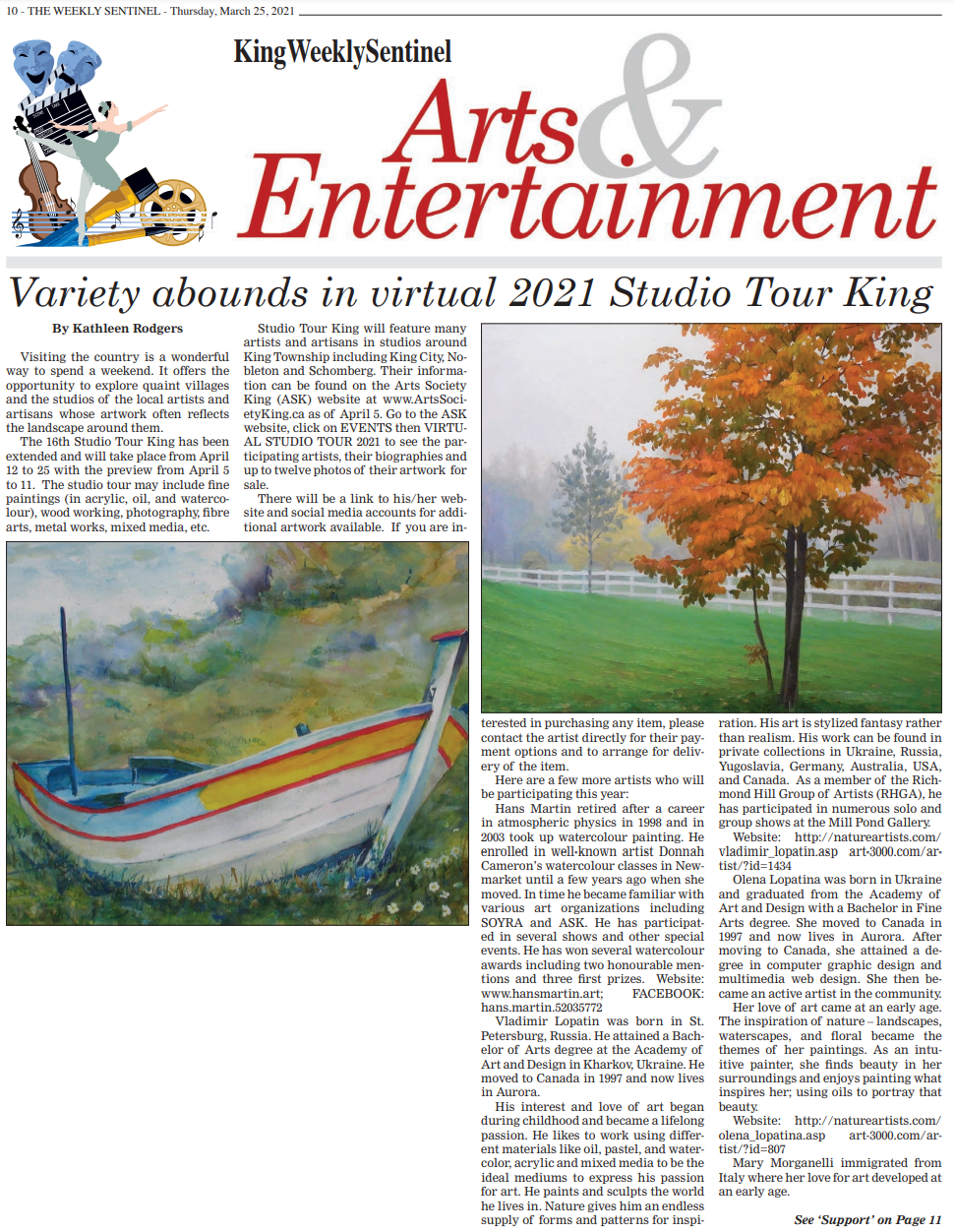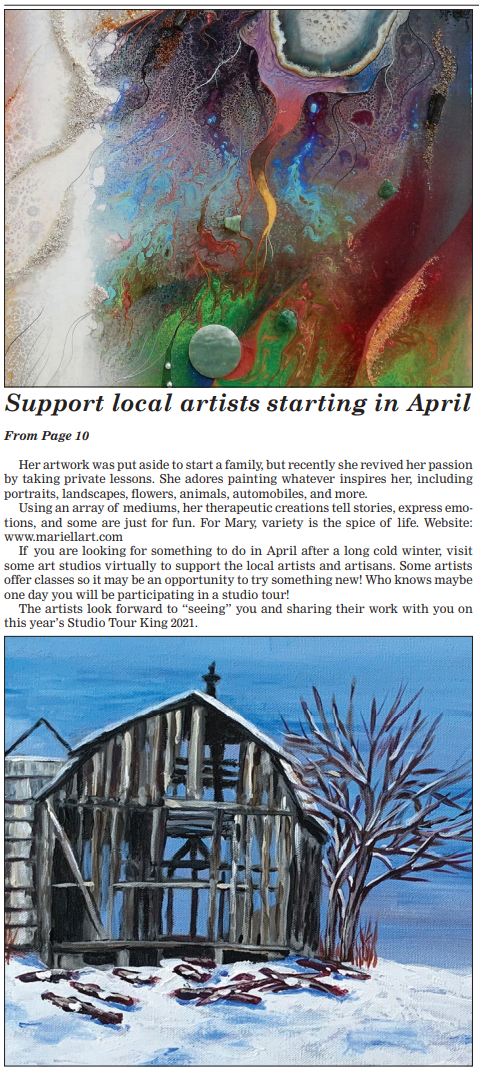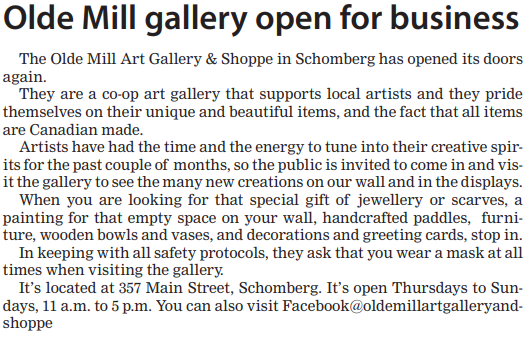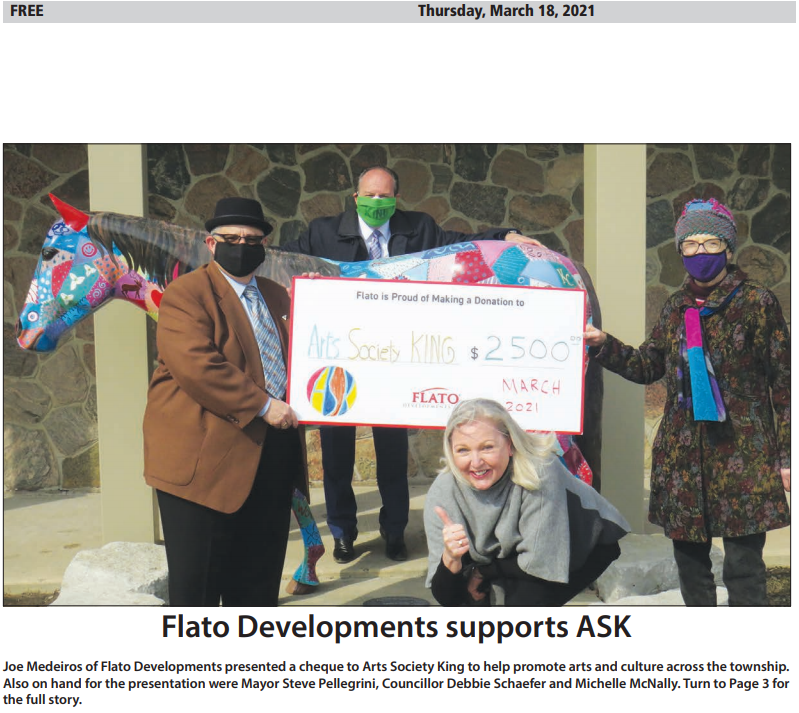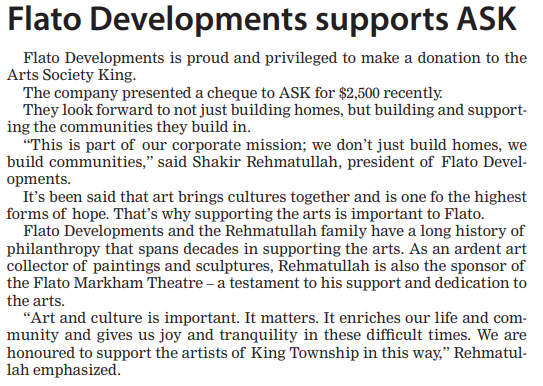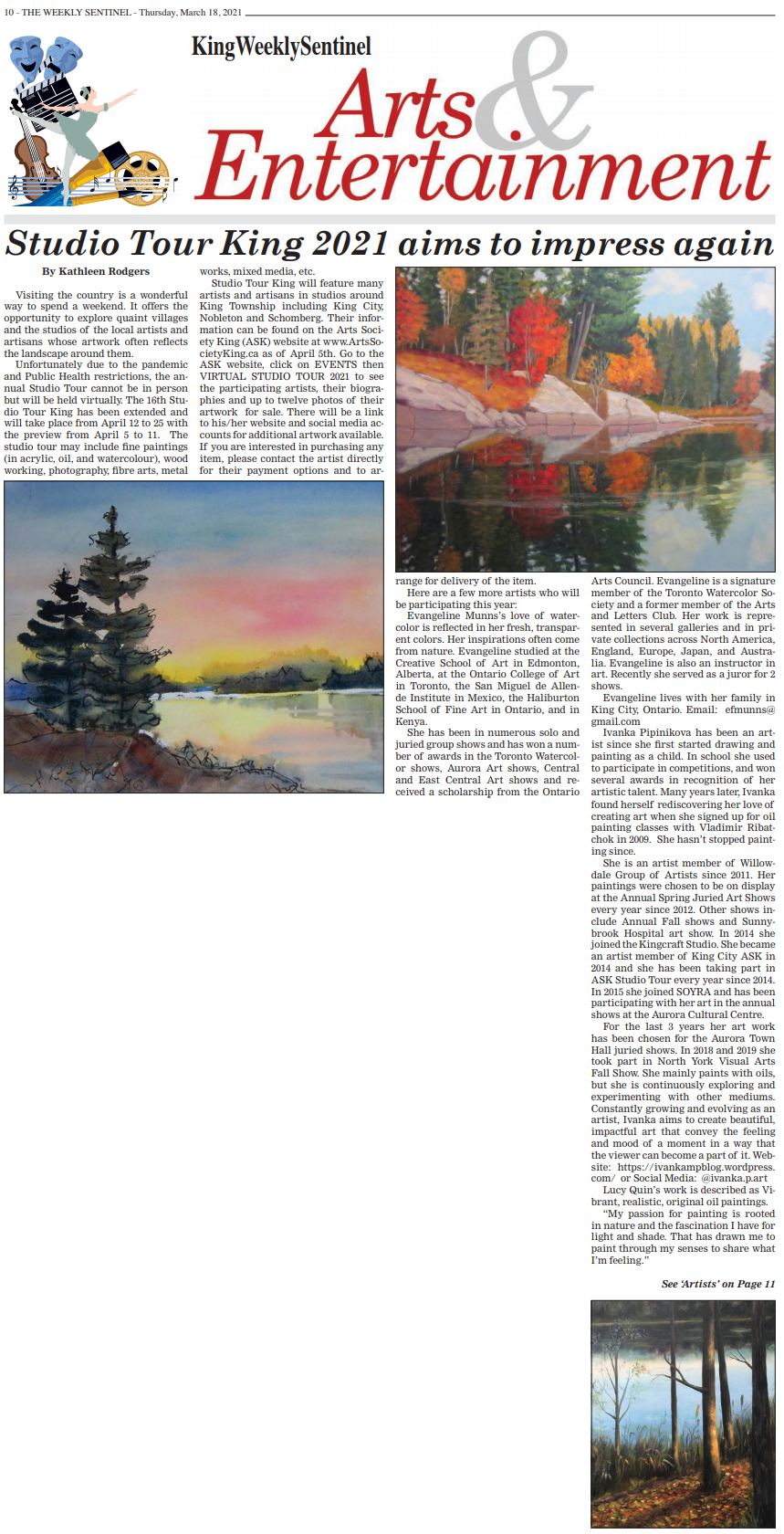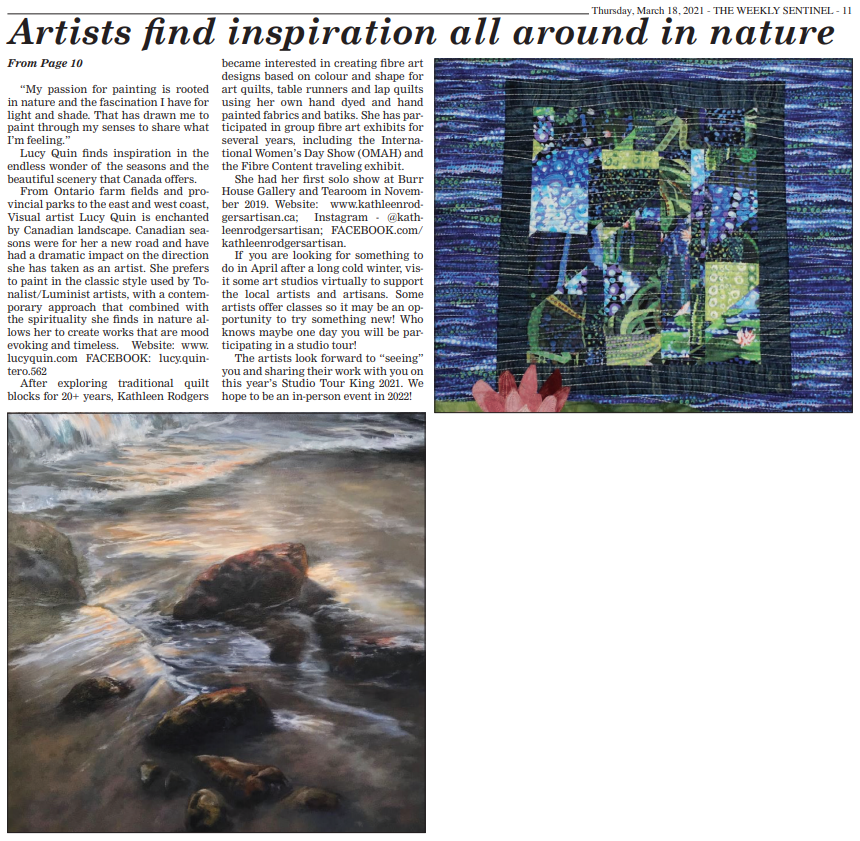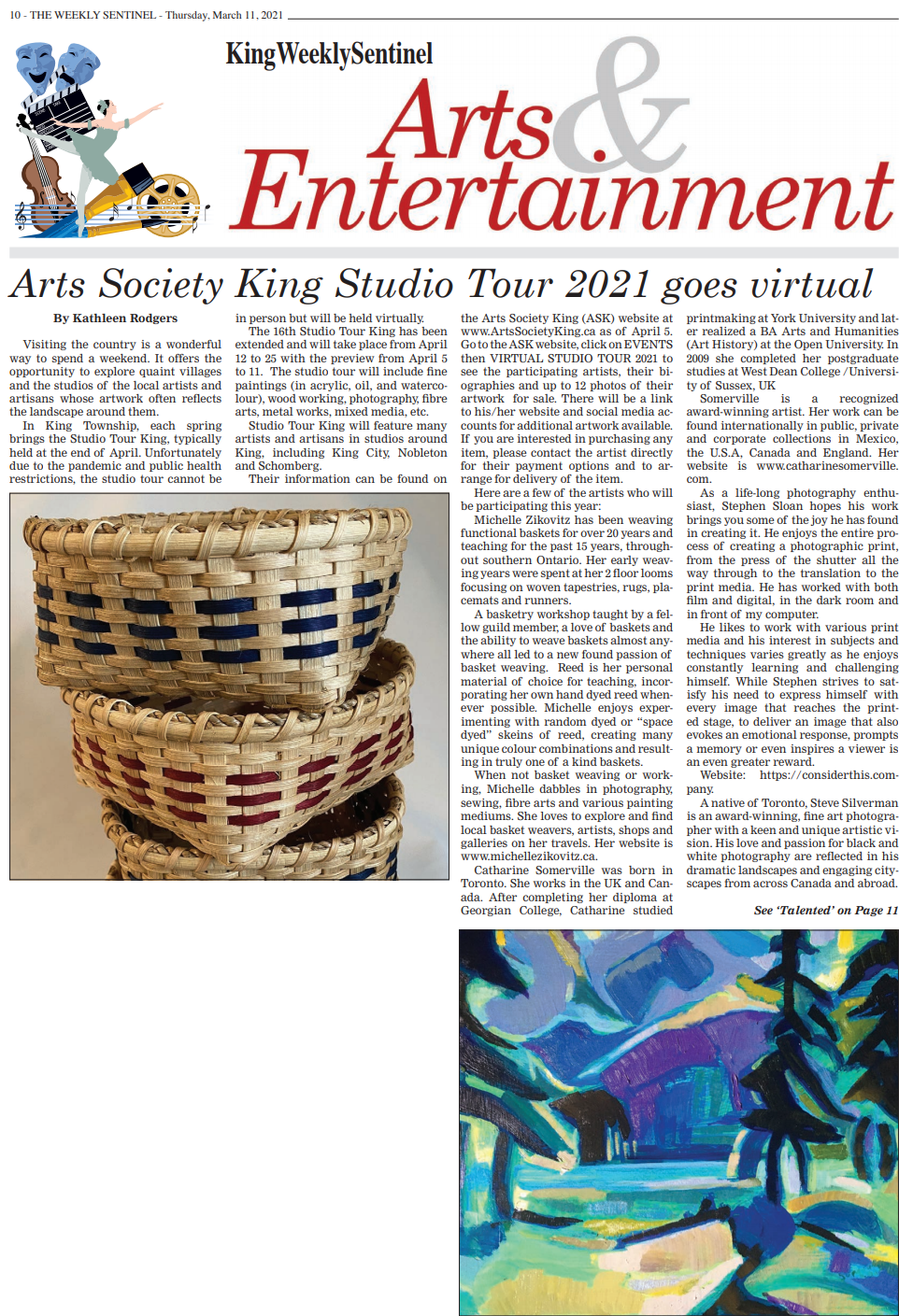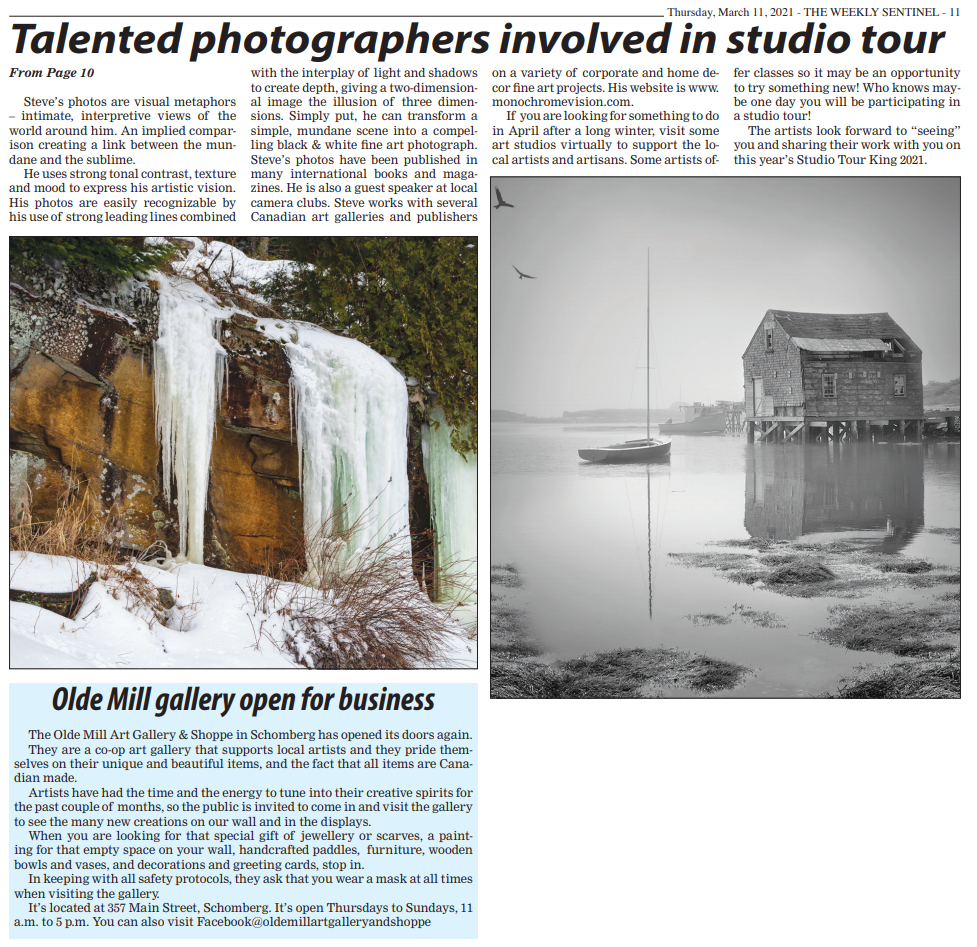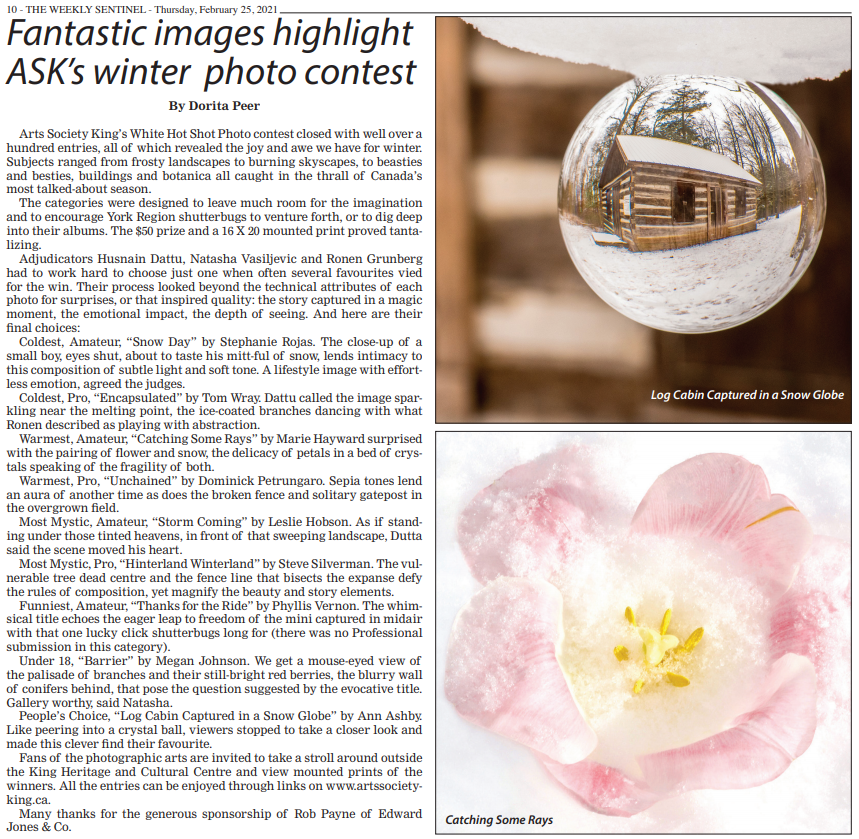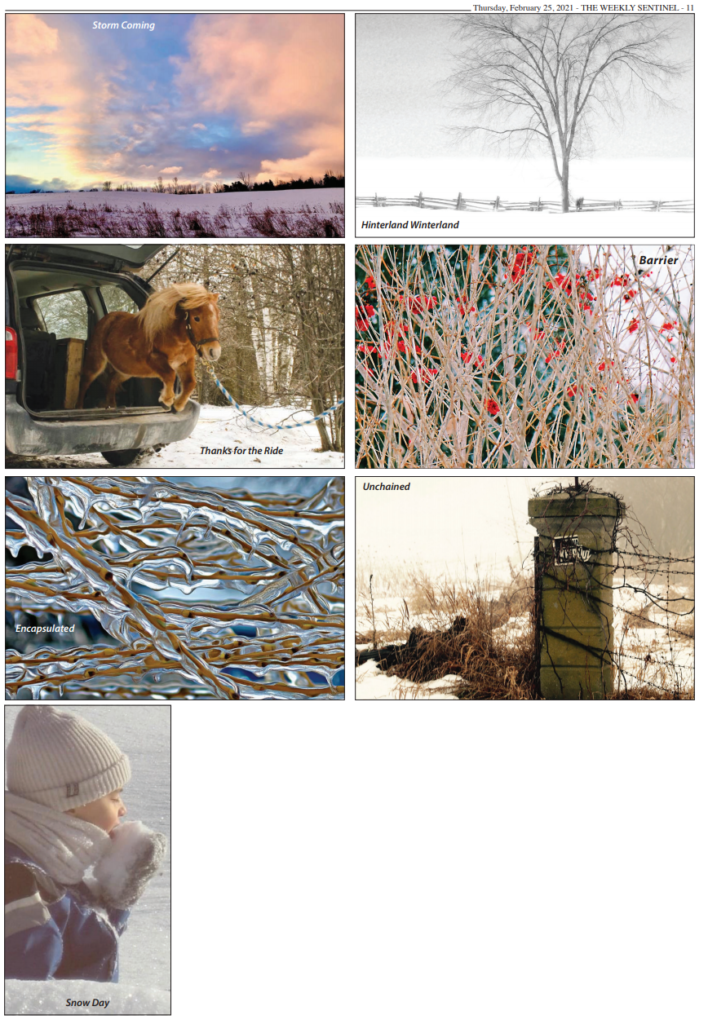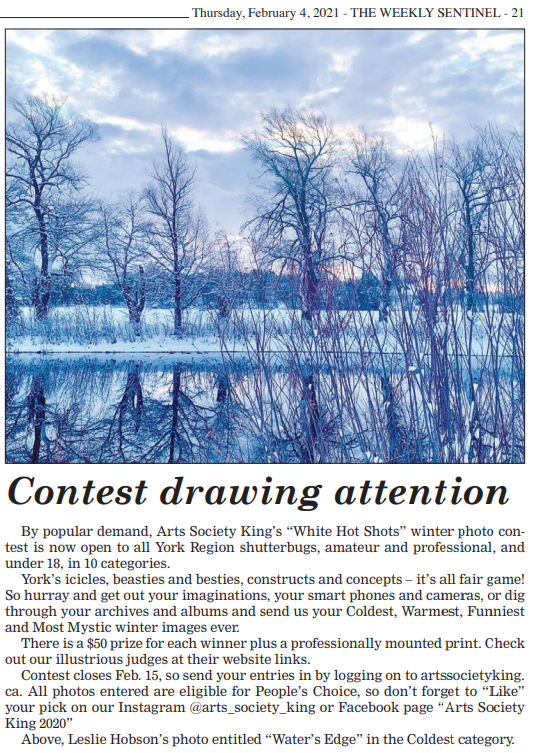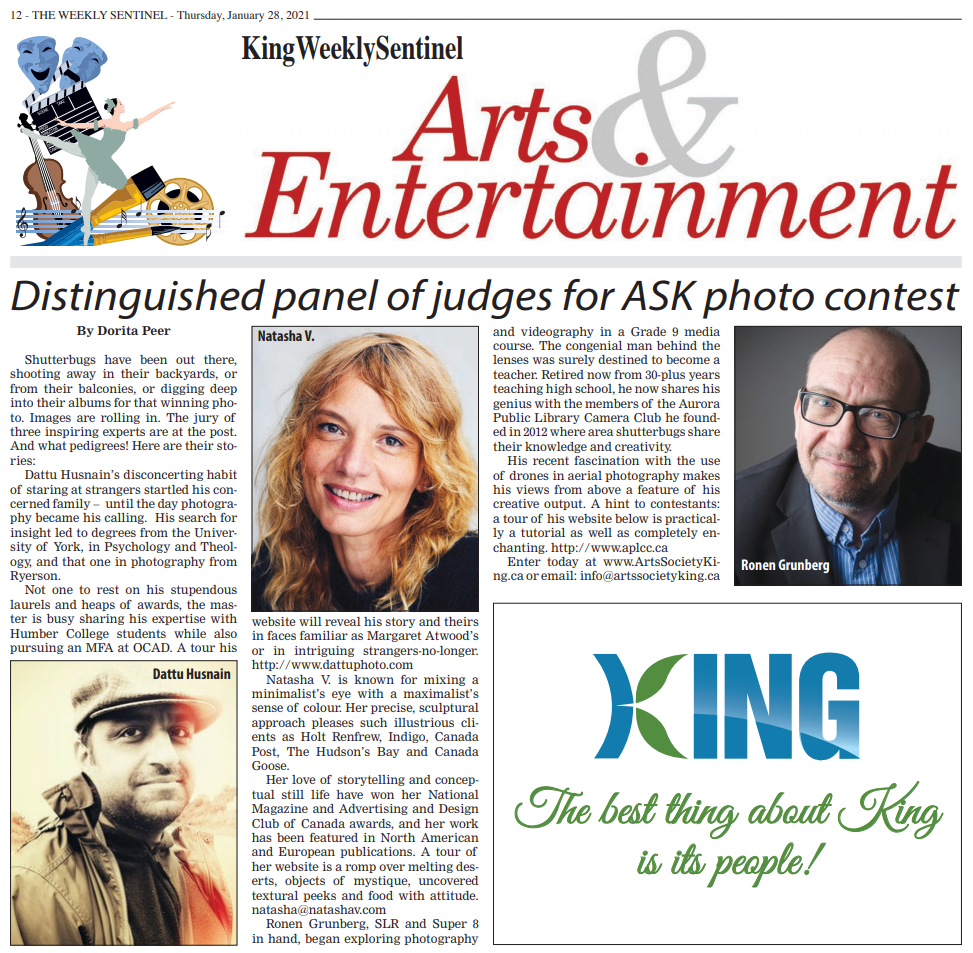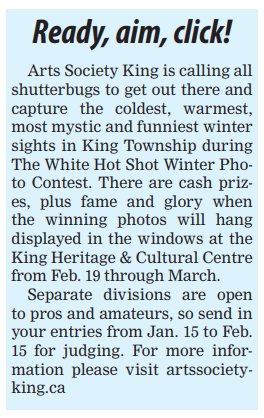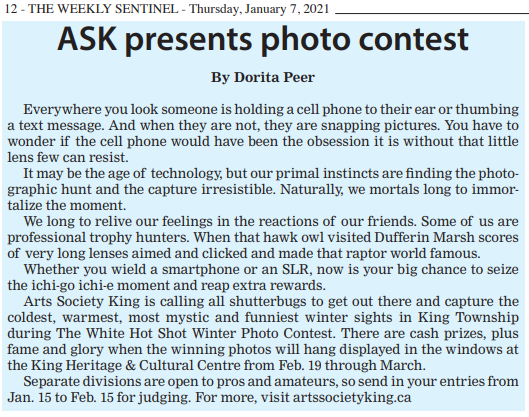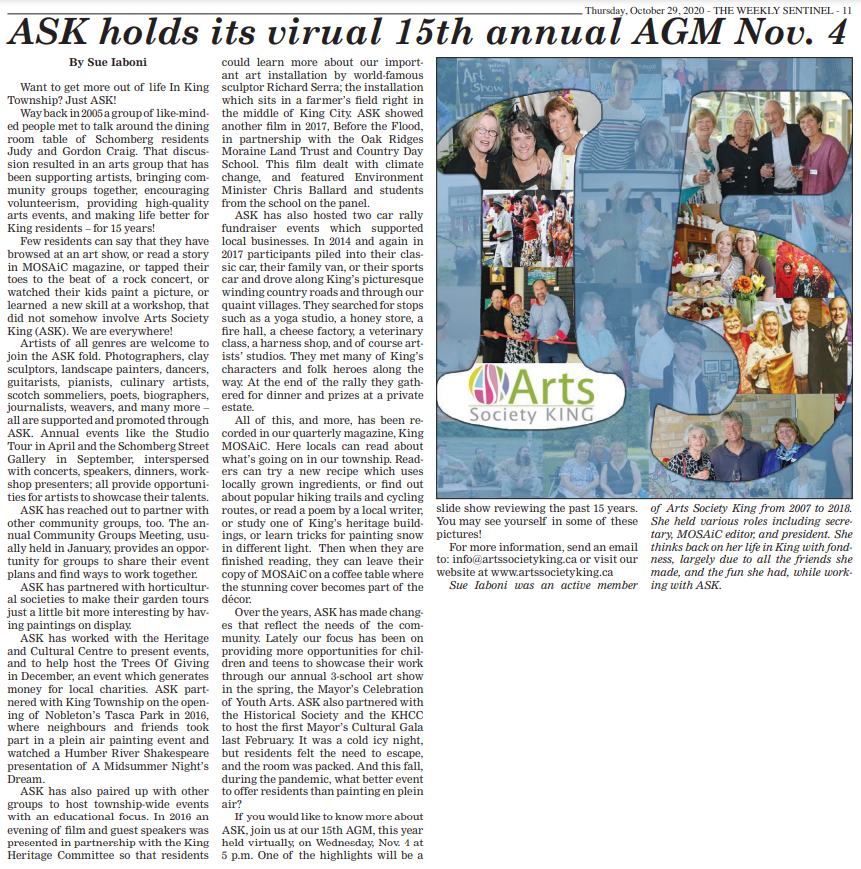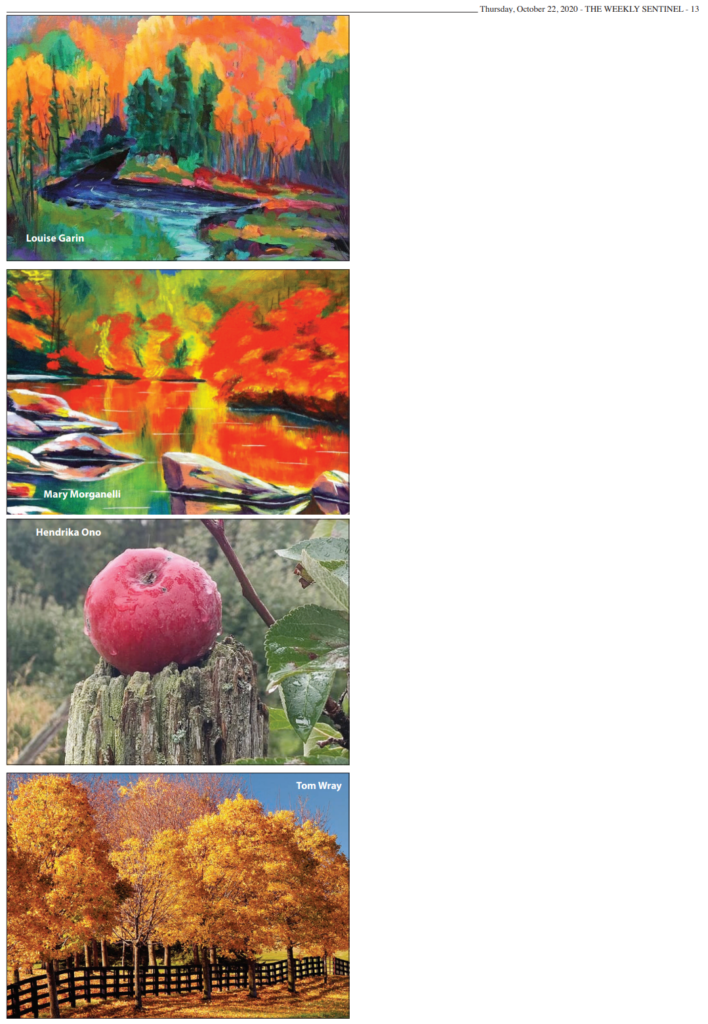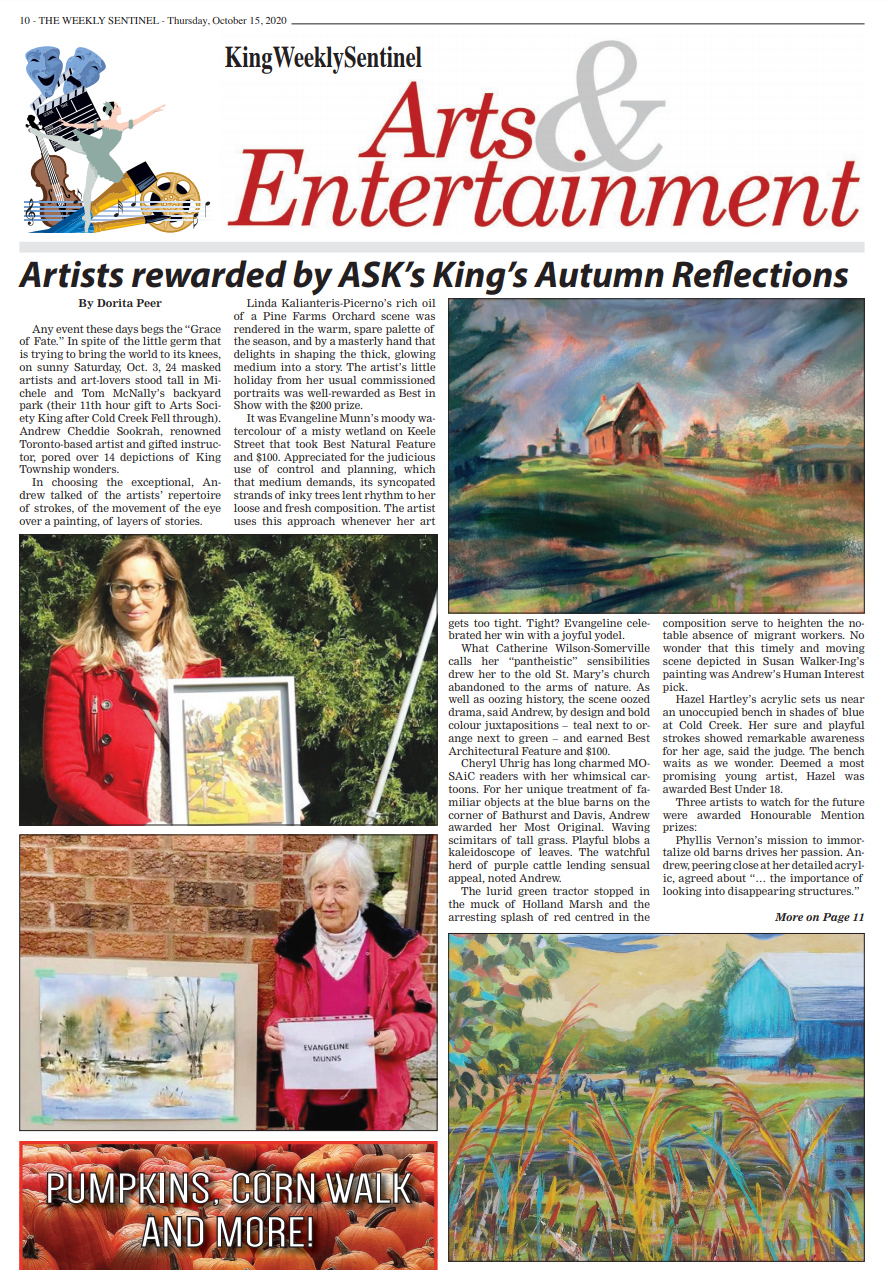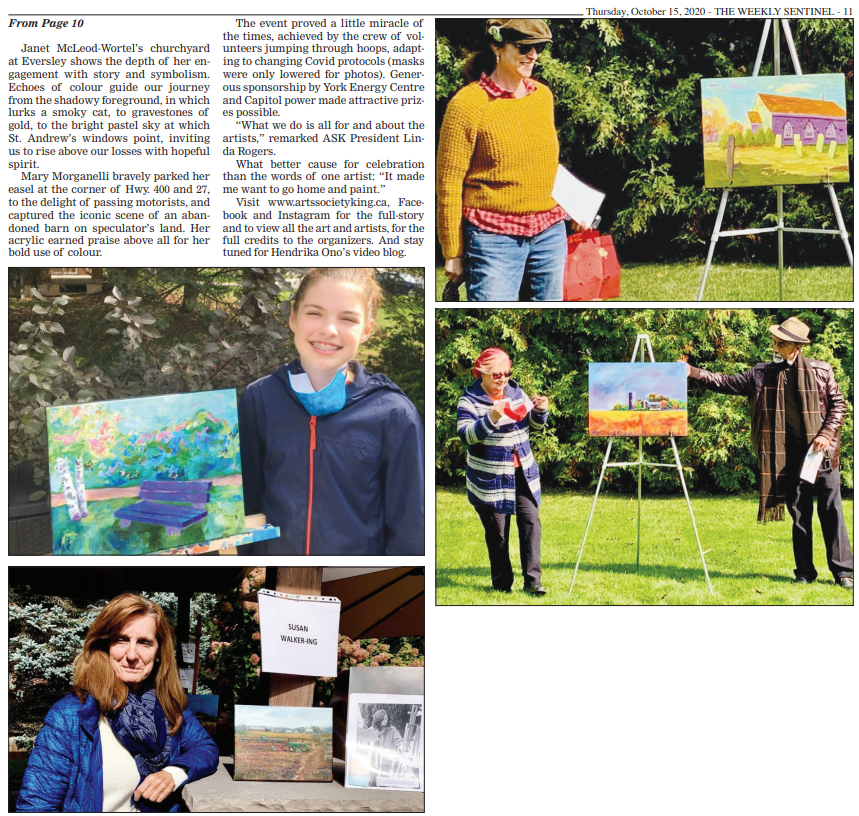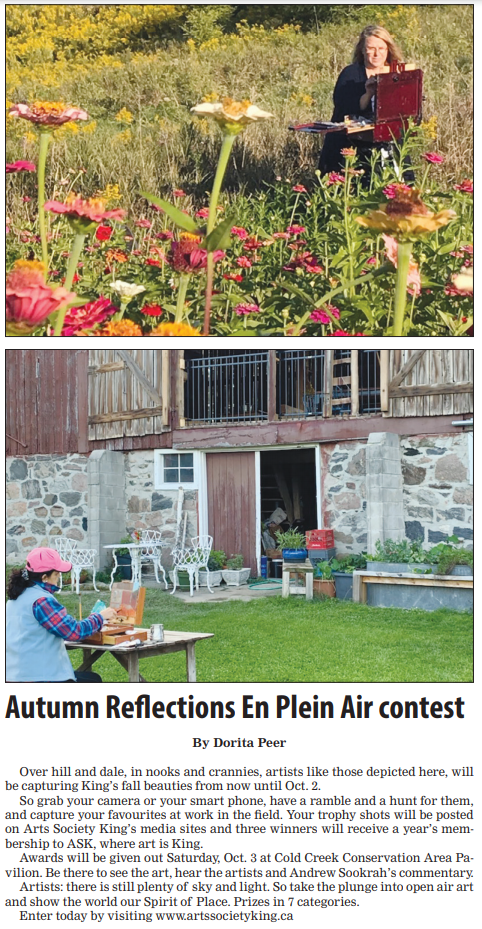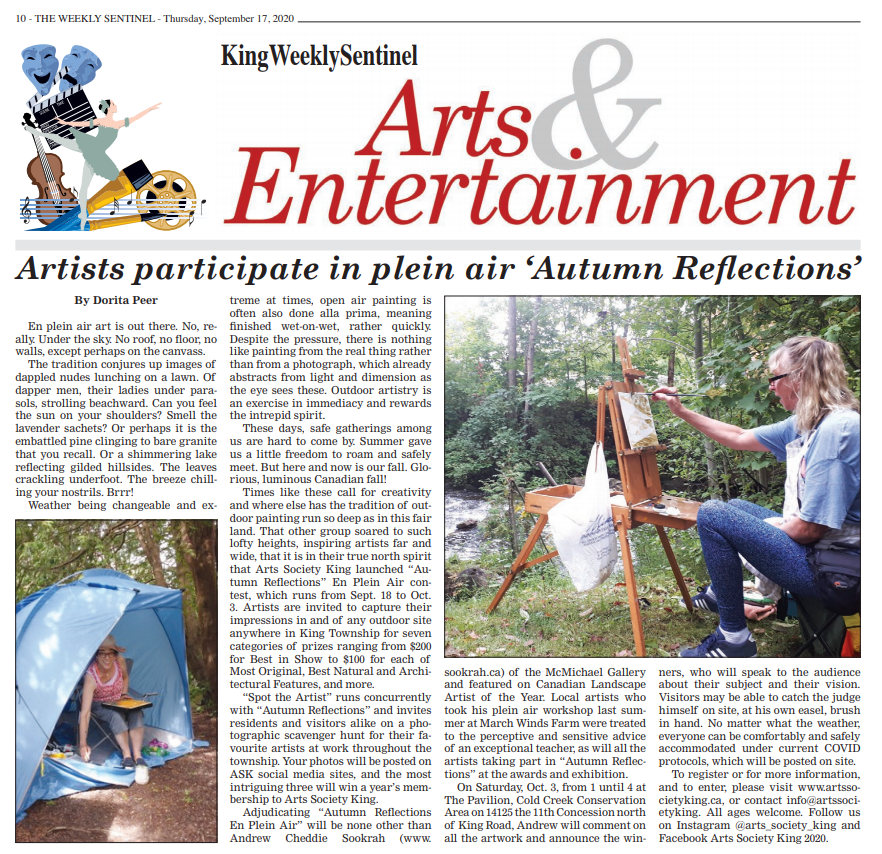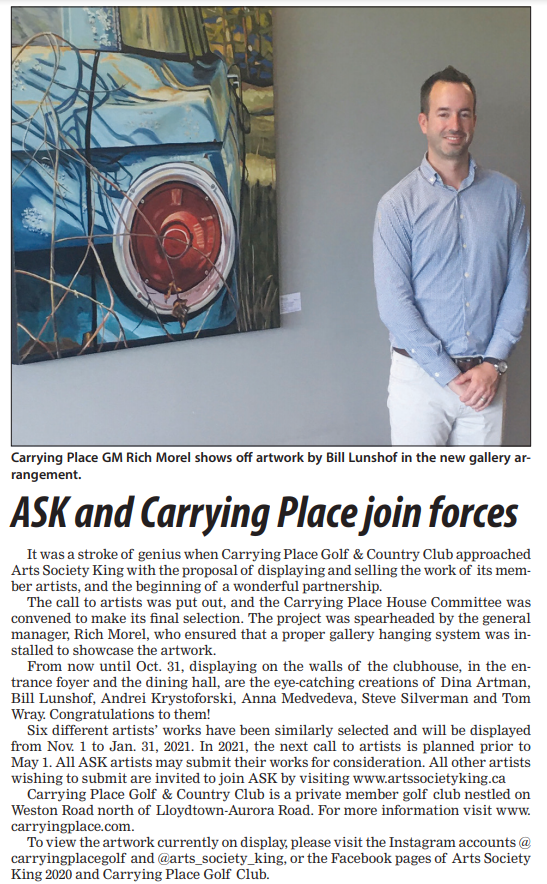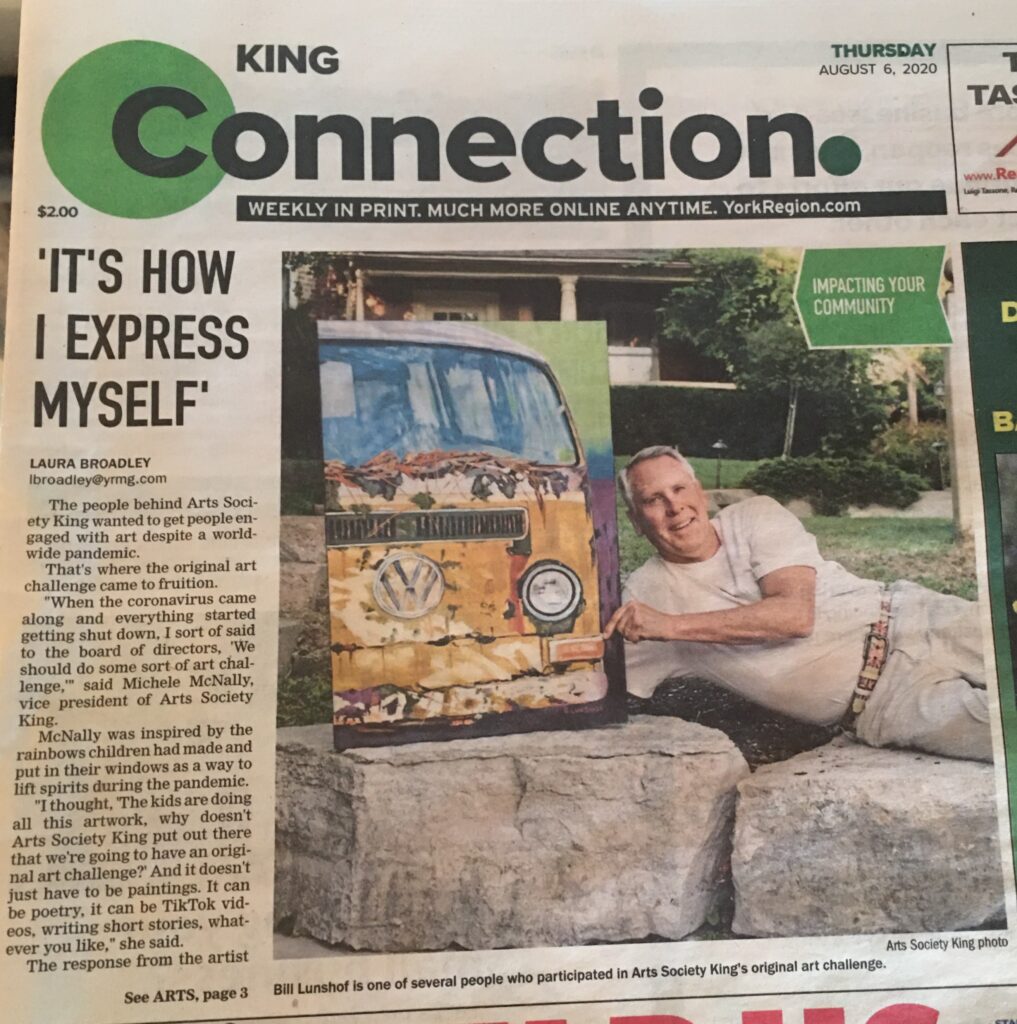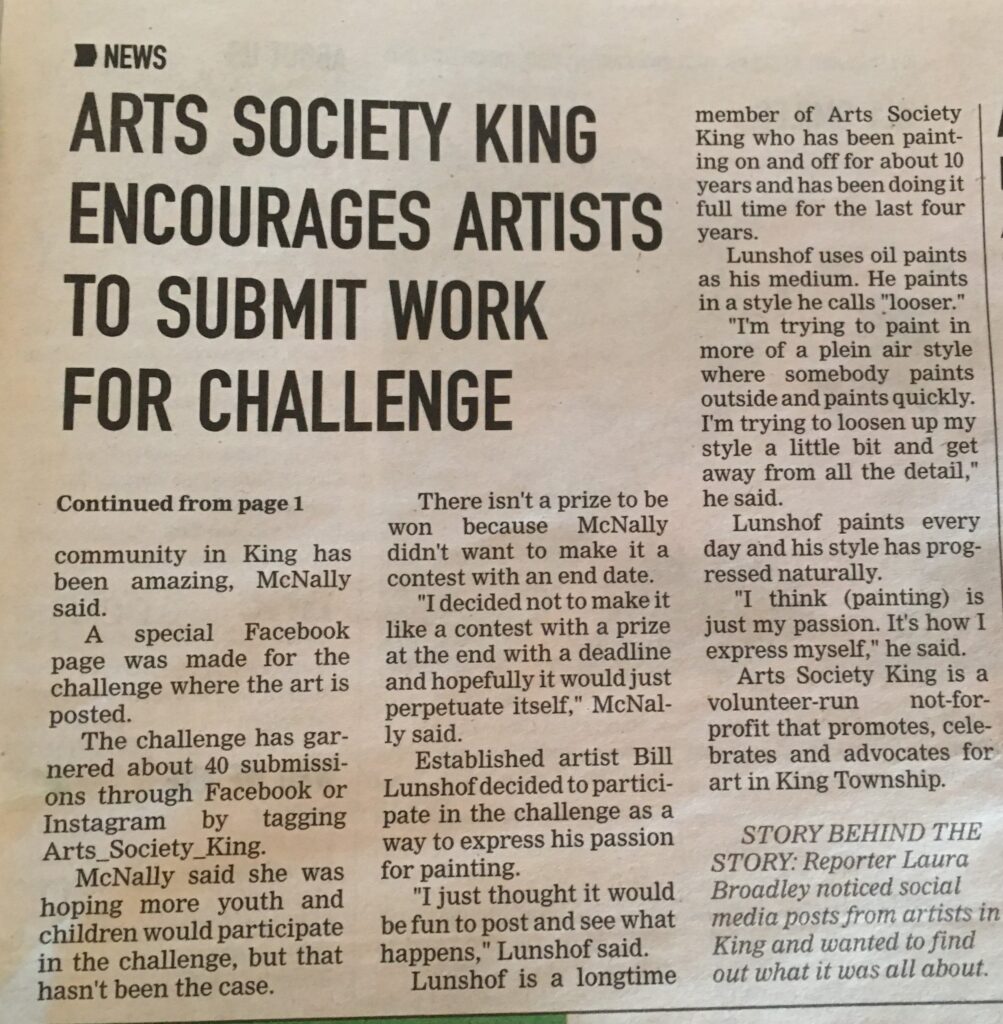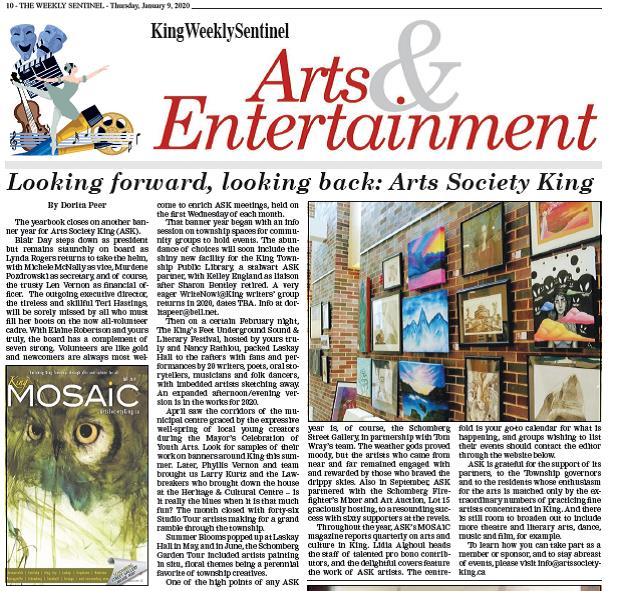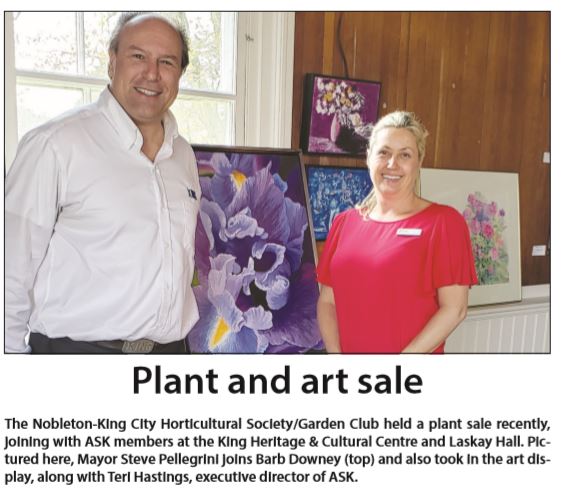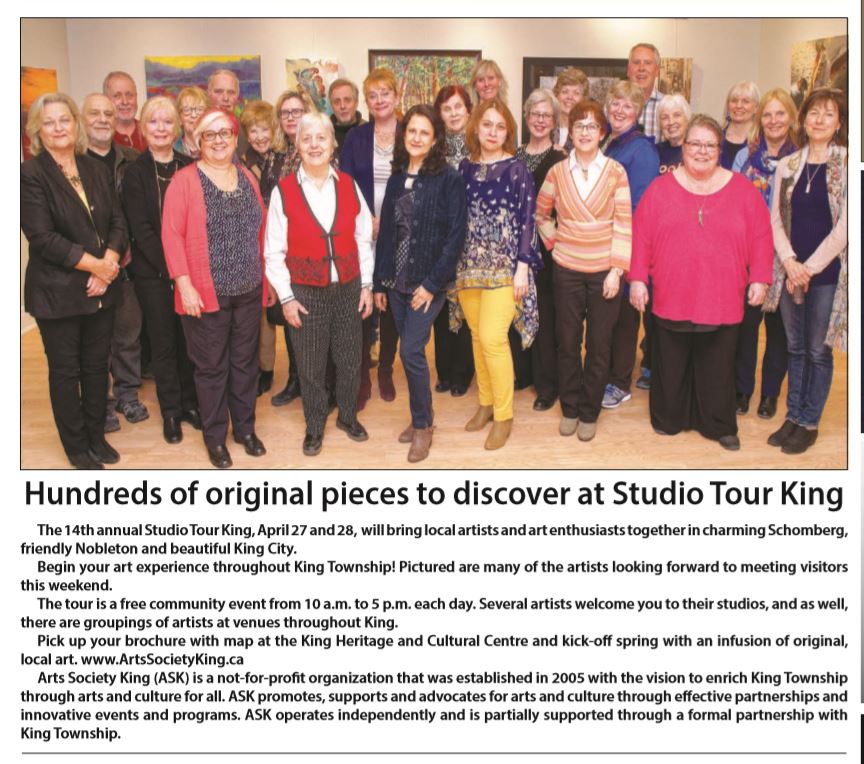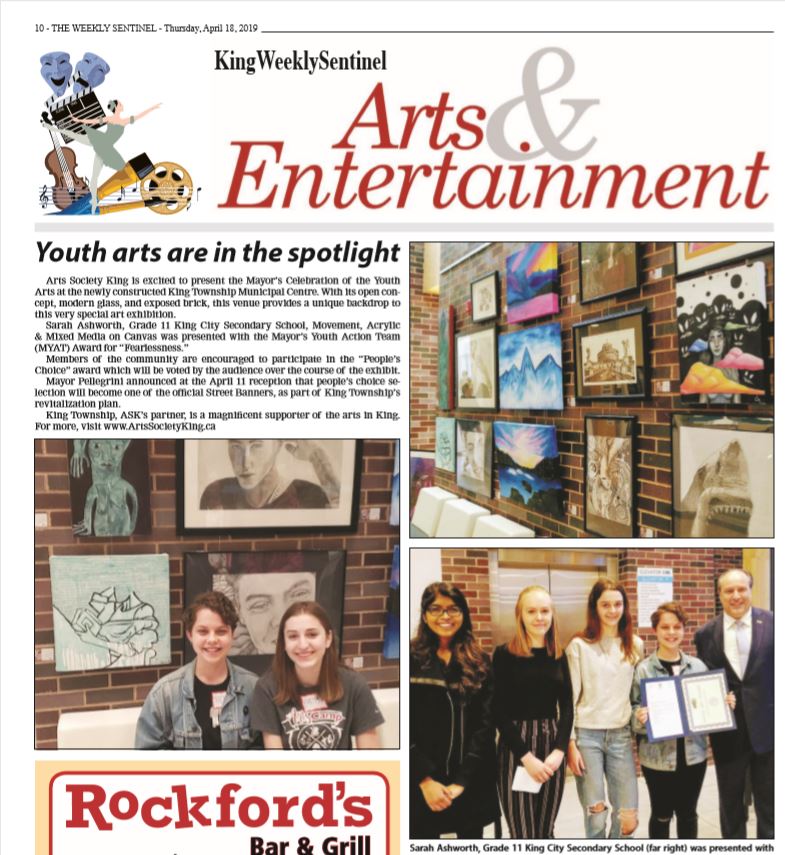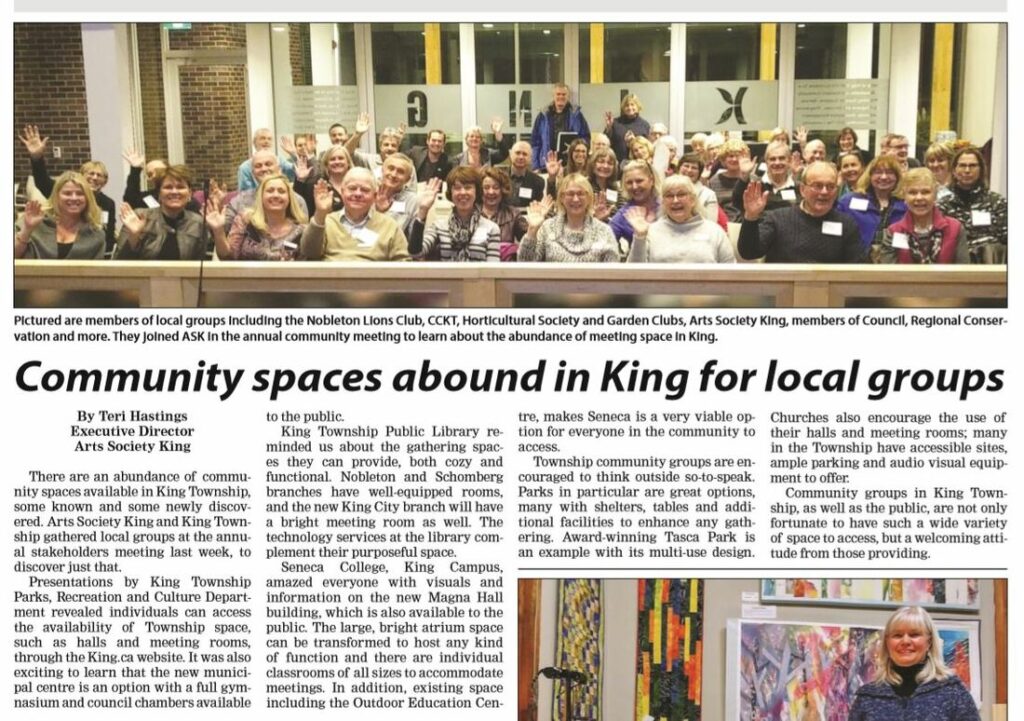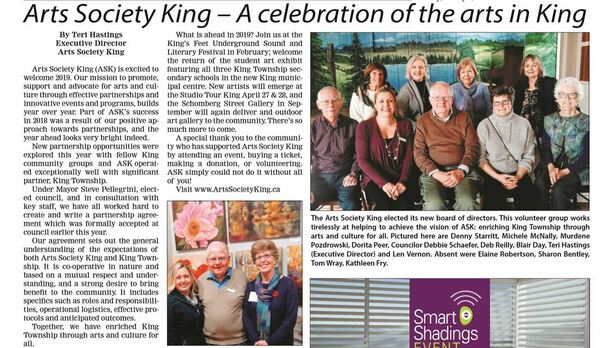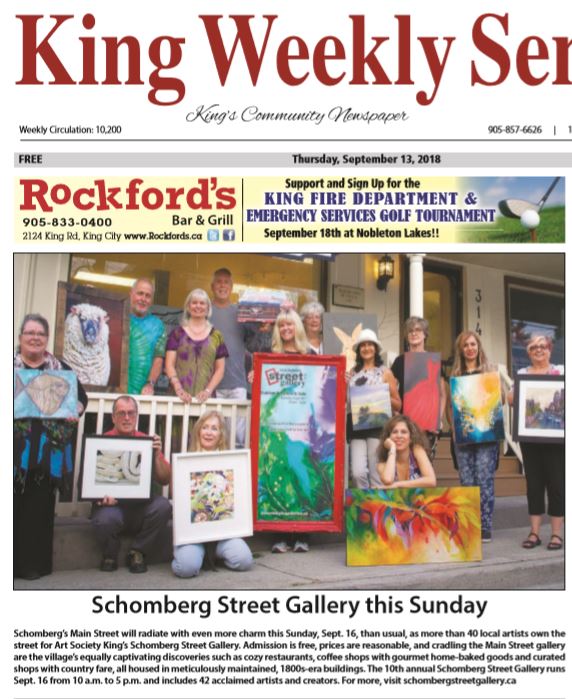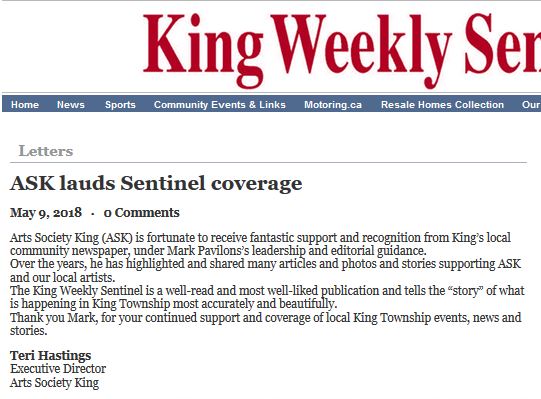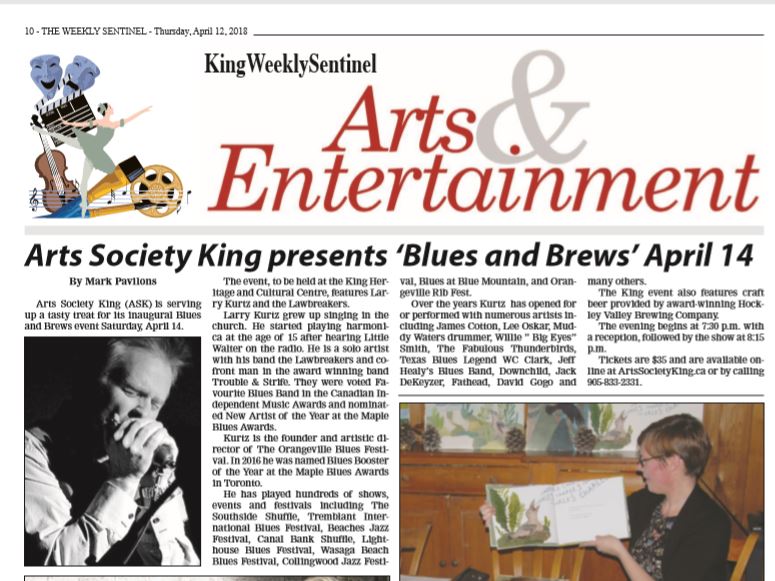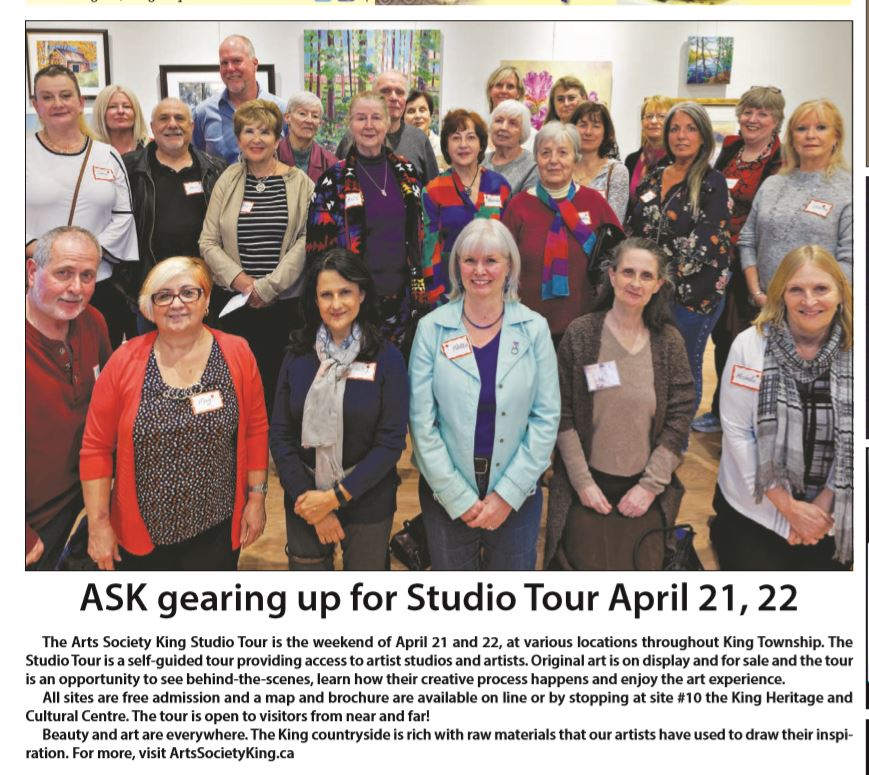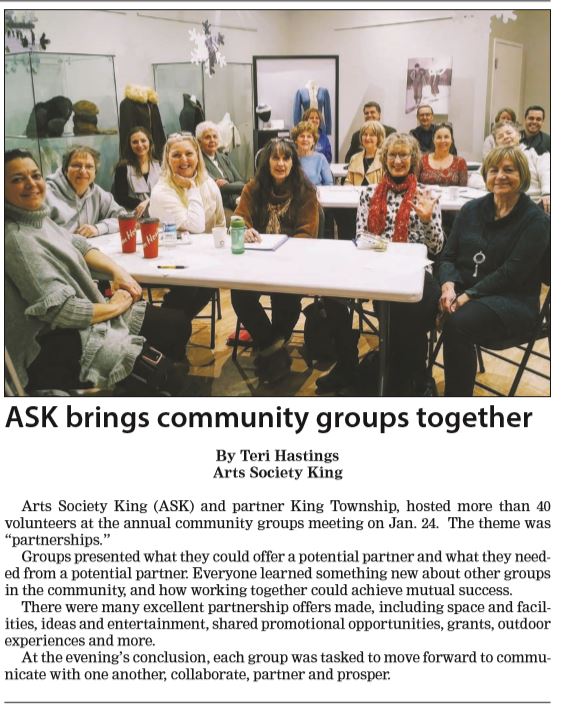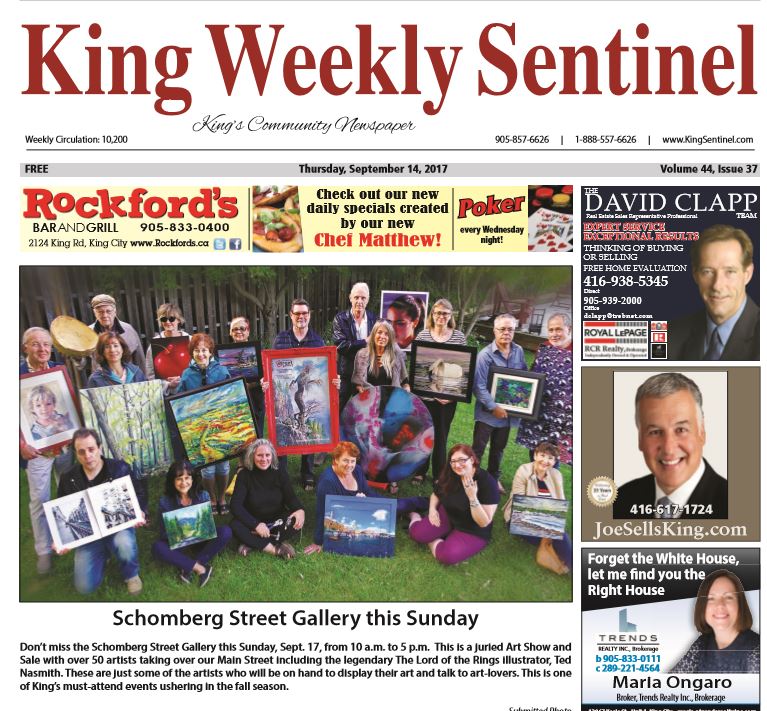 World-renowned Tolkien illustrator joins Schomberg Street Gallery
September 6, 2017
The Schomberg Street Gallery invites you to binge on an outdoor feast of art and creativity, including The Lord of The Rings/Game of Thrones Artist Ted Nasmith
On Sunday, Sept. 17, the adjectives typically reserved for Schomberg – "quaint, cozy, Victorian" – will have to share space with "otherworldly, dazzling" and "legendary." The naturally lovely town's Main Street will close to traffic and become a strollable outdoor gallery of painting, jewellery, sculpture, photography and more, including a rare appearance by an international master of fantasy art.
Ted Nasmith lives in Newmarket, yet truly belongs not just to the world but to another world cherished by millions. Since 1987, the artist and musician has faithfully illustrated books, calendars and other works by J.R.R. Tolkien, author of the iconic The Lord of The Rings saga.
Ranked among the premiere living Tolkien interpreters, he has recently added the George R.R. Martin sensation A Game of Thrones to his oeuvre. Nasmith will show several works, including some examples of his real world rural scenes, and share his unique Tolkien expertise and perspective with fans old and new.
"I consider what I do a joy; I do it for myself, and fortunately it appeals to others," said Nasmith. "And the same goes for every one of these creators who will be showing their own works of joy."
Every one of the 55 acclaimed creators showing their work made it past the judges of this juried show. Tackling nature, pop culture and conceptual themes in a huge range of media, the 9th Schomberg Street Gallery offers visitors a one-stop artistic and creative immersion that would otherwise take days of gallery-hopping to achieve. All creators will be on-hand to discuss their work, take commissions, and sell their one-of-a-kind pieces. At a range of prices, owning an original creative expression to hang, wear or display is easily attainable for anyone.
The town will be open and buzzing for the Street Gallery, with eclectic owner-operated shops, restaurants and other proudly rural delights offering the tastes, smells and architectural beauty of vintage small-town Canada. And as Schomberg is nestled in the northern corner of the world-famous Oak Ridges Moraine, the easy drive up and around is like driving through a natural art gallery all its own.
Admission is free to the Street Gallery, running 10 a.m. to 5 p.m. (rain or shine) Sept. 17.
For more, contact Tom Wray: 416-994-0174; tomwray5@gmail.com or visit schombergstreetgallery.ca
The event is presented by Arts Society King (ASK), a not-for-profit volunteer organization that promotes, supports and advocates for arts and culture in King Township. Visit ArtsSocietyKing.ca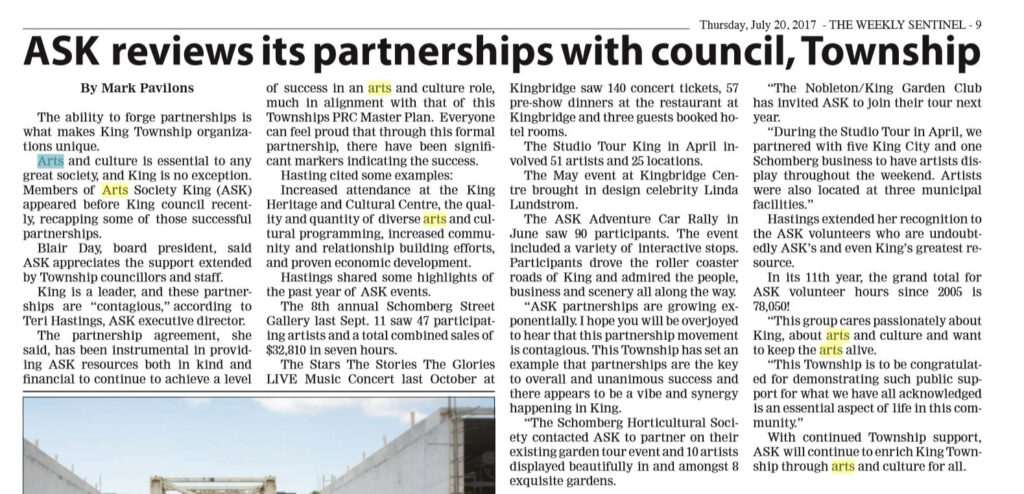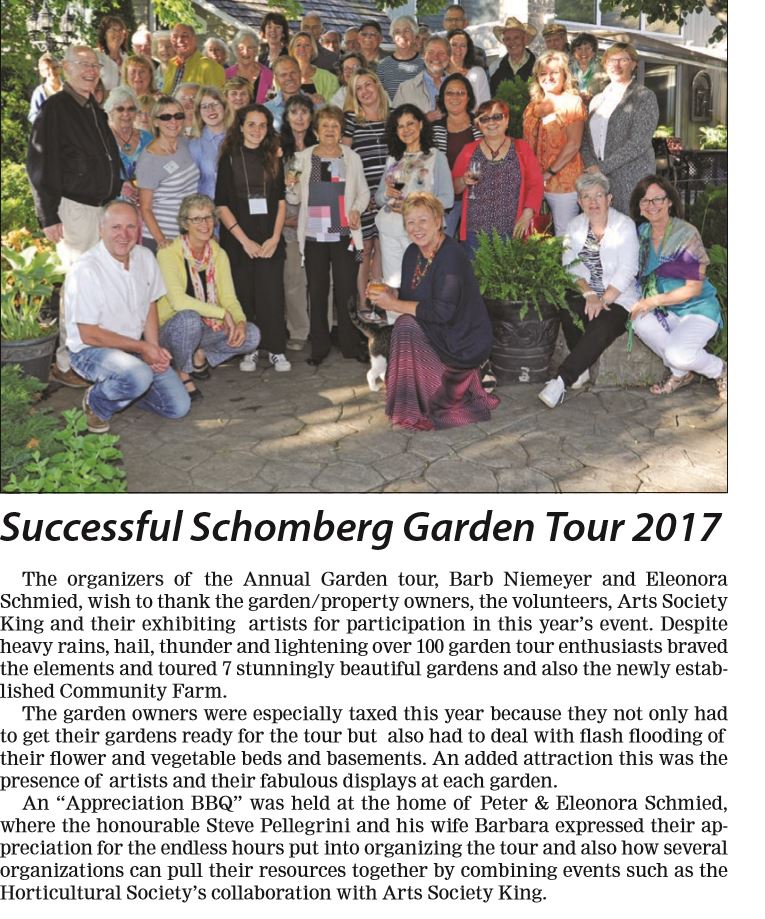 ---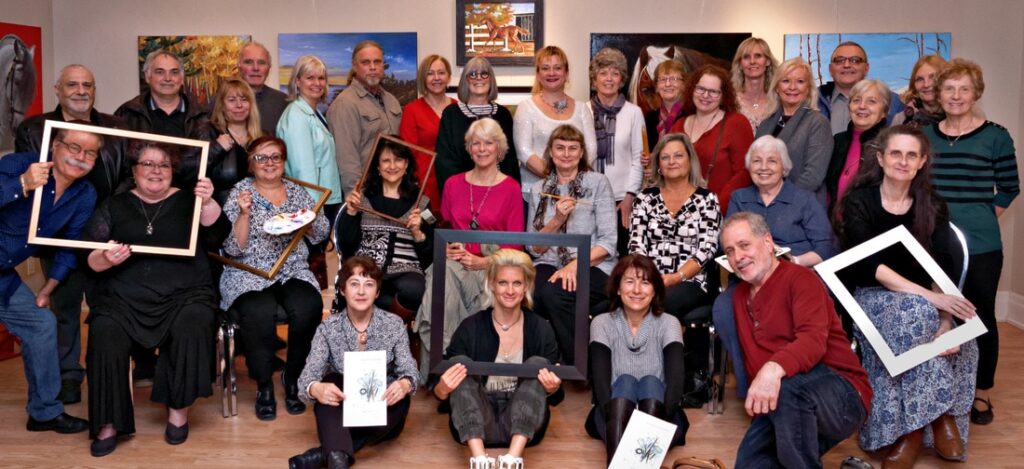 Visit 51 artists, 25 locations at this weekend's Studio Tour King
King Weekly Sentinel, April 20, 2017
Pictured here are many of the artists who welcome you to their location on April 22 and 23, from 10 a.m. to 5 p.m. A variety of mediums and styles. Come out and meet local artists and tour beautiful King Township in pursuit of original art. The brochure and map available by visiting www.ArtsSocietyKing.ca
Local artists from King Township and guest artists from neighbouring communities are preparing for the next Arts Society King (ASK) Studio Tour King. This two-day annual spring art event is April 22 and 23, and is expected to be the largest in its 12-year history. This event is a great opportunity for visitors to the studio tour to meet a new generation of great artists. A broad spectrum of disciplines will be represented during ASK Studio Tour King. Artists working in oil, acrylic, and watercolour painting, leather, photography, textiles and woodworking will be showing a variety of unique and original creations at their own studios and in many public locations throughout the Township such as the King Heritage and Cultural Centre, Nobleton Community Hall, Libraries, BMO Bank of Montreal and Engel and Volkers, to name a few. All sites are free admission. This is a great time to connect with artists on a personal level, fi nd out what inspires them, and purchase artwork from a local source. ASK Studio Tour King takes place on the weekend of April 22 and 23 from 10 a.m. to 5 p.m. both days, at various locations in King Township. All sites are free admission. For an interactive online experience, connect with ASK Studio Tour King on Face book at: www.facebook.com/studiotourking/ and at www. ArtsSocietyKing.ca and begin your journey.
---
ASK extends its thanks for 2016 support, Dec. 29, 2016
By Teri Hastings
Executive Director
Arts Society King www.ArtsSocietyKing.ca
On behalf of the Board of Directors of Arts Society King (ASK), it is with great pride I speak on behalf of ASK to congratulate the hard work of so many and thank our artist members and supporters for a successful 2016. Over the last year, there have been many well-attended events, and numerous partnerships and collaborations, and at the heart of everything ASK does, King Township has been enriched through arts and culture for all.

Specifically, Arts Society King has:
produced 4 more LIVE Music in King concerts featuring titles: The Canadian Songbook, Gordon Lightfoot Tribute Night, Rock into Summer, and The Stars The Stories The Glory ! selling a combined 450 + tickets.
hosted the Art of Scotch and welcomed 64 guests who sipped 5 scotches, were bag piped from room to room in the Heritage and Cultural Centre, enjoyed Robbie Burns's poetry with our friends at Humber River Shakespeare Co. and delighted in a presentation from a Scotch Sommelier.
launched the 'Experience Series' which were a selection of events and presentations featuring a variety of topics such as Meet the Artist, Photography of Horses, Five Line Rhyme Time, and The invisible Women.
delivered an art exhibit to feature student fine art, and what we were thrilled to have happen, is a 75 piece collection, by what Helen Lucas said "is the future of art in this community and the world". The month long Villanova College Student art exhibit was a wonderful experience for them, for us, for the Heritage and Cultural Centre and for all. The talent of our youth and the gathering of over 120 artists, teachers, family, friends and special invited guests at the opening reception, was a true gift for all of us at ASK.
brought to the community the 2016 Studio Tour King and hundreds of visitors from close by and far, far away all traveled throughout King Township during this weekend. This was the 11th anniversary of the Studio Tour and featured 38 artists and 19 locations. We have calculated that 229 individual pieces of art were sold with a combined value of over $42, 678.
partnered with King Township on the opening of Tasca Park in Nobleton and we held our first annual Battle of the Brushes competition.
produced the 8th annual Schomberg Street Gallery which was a fantastic day and have calculated that $32, 810.00 worth of fine art in all mediums was sold in just 7 hours.
partnered with the King Township Library with the Travel Diaries presentations that offered a collection of destinations over the year.
participated with The King Museum in an initiative called 'Humber River Day' where 120 grade 5 children were welcome here to the Heritage and Cultural Centre for a day of fun arts activities.
published 5 more editions of MOSAiC Magazine which is Arts Society King's quarterly publication. Over 50,000 (total) magazines went out during that period and some of you have been featured on the cover or in articles
partnered with the King Museum and welcomed children to a drop-in arts program every Saturday morning.
Arts Society King supports our artist members in significant ways. Members are promoted on the ASK website with links, photos and biographies and through social media efforts, have access to significant art events to sell and promote their incredible craft and talent, and have exhibit opportunities at the King Heritage and Cultural Centre. ASK also helps them promote their workshops and exhibits. We link our artists with opportunities outside of ASK such as gallery exchanges and professional development courses. In many cases, the public contacts our office seeking artists for workshops, other events, and referrals for professional work. We always refer ASK artists!
Believe it or not, many Arts Society King initiatives are coordinated by 'non-artists, just lovers of 'the arts". They volunteer, plan, set-up, serve, promote and clean all on behalf of our organization. They truly believe in what ASK does for arts and culture and for our community, is of great value. They are so right. This includes the Board of Directors and other wonderful members of the King community. ASK simply wouldn't exist without their unbridled passion.
Also out there are arts supporters. This wonderful group buys tickets to our events, makes financial donations to Arts Society King and brings their friends and family to art exhibits. This support keeps ASK open and accessible and provides crucial funding. Arts Society King no longer receives grant funding and now must self-fund every initiative.
We welcome support in a variety of ways. If you have time to volunteer, we can place you on a committee that suits your interest and schedule. We are also actively seeking new members to the Board of Directors. This is a dynamic group who meets once monthly (afternoon and evenings) to suit any schedule.

If you have the desire and means to support ASK financially, there are a variety of levels and tax receipts are now available for a specific level. Every single dollar donated contributes to ASK's vision.
www.artssocietyking.ca/?page_id=178
ASK's 'home' is at the King Heritage and Cultural Centre. Through a generous partnership with King Township, we have office and gallery space which we are so grateful for. Many of you know Kathleen Fry, Museum Curator and now Cultural Services Supervisor; she has helped ASK thrive in the community through our authentic relationship.
The value of arts and culture to our community is boundless. It is a gateway that draws people in because there are no limits in terms of age, gender, race, or background. Its capacity is infinite. It is the social fabric of any community, of our community.
Thank you all for your part in ASK's vision to enrich King Township through arts and culture for all. Keep in touch, always at Info@ArtsSocietyKing.ca.
---
8th annual Schomberg Street Gallery back in action on Sept. 11
This year's event will welcome more than 40 local and regional artists offering pieces such as paintings, pottery, sculptures and more.
King Connection By Brea Bartholet
The 8th annual Schomberg Street Gallery will be back and better than ever on Sept. 11 from 10 a.m. to 5 p.m.
You and your family won't want to miss out on the community's pedestrian-friendly show, as it winds its way down Main Street featuring pieces from 40 local and regional artists.
Come out and see some new talent, while running into familiar faces, too.
Guests will have the opportunity to meet each artist and find the perfect piece, whether it is for you or as a gift for someone special.
Traditional or contemporary, home décor or a unique sculpture – whatever your preference, there is bound to be something that catches your eye. The show will also feature a variety of other items such as jewelry, wooden pieces, pottery and more.
Schomberg residents continue to appreciate the culture and creativity the event brings to their community, as it offers a welcoming atmosphere.
---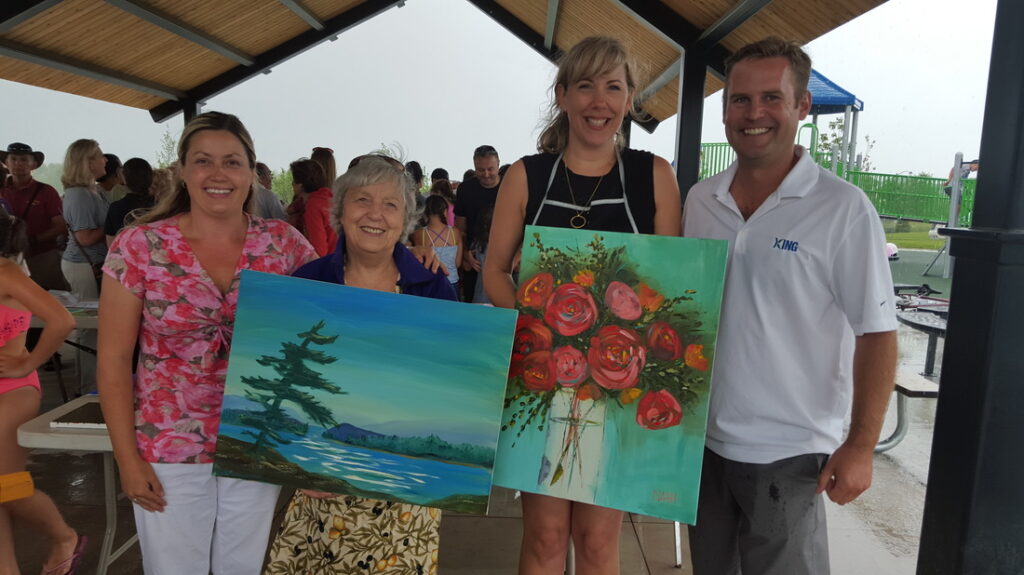 Art in the Park a success
July 9, 2016
Arts Society King (ASK) and King Township held their first annual Art In the Park event together on Saturday, July 9. This partnership event was a wonderful opportunity to celebrate art and artists, and to introduce the Nobleton community to the brand new state-of-the-art Tasca Park. Shown are Teri Hastings of ASK, winning artists and Councillor David Boyd.
---
ASK presents 'Rock into Summer'
June 16, 2016, Mark Pavillons
Arts Society King presents another live music concert in King. Get ready for "Rock into Summer," June 25 at The Country Day School Performance Centre. Start your summer with a blast of musical energy with two fabulous bands plus a full brass section and an acappella singing group .
Music Series sponsor, Oak Ridges Retirement Centre, has supported this initiative from inception through to this, ASK's 5th live concert. Joining in are a collection of new generous sponsors including Lynda and Owen Rogers and a cast of local businesses. Arts Society King has been so fortunate to attract community support to our arts and culture initiatives, and our sponsors are considered our partners and part of the family.
Doors open at 7:30 p.m. and the concert begins at 8 pm. Tickets are $35 in advance online at www.artssocietyking.ca
---
Let it be art – ASK has many plans for 2016
January 13, 2016, By Grazyna Tonkiel, Published by the King Weekly Sentinel
As the new president and artistic director of Arts Society King (ASK), I would like to wish every King Township resident a healthy, prosperous, and eventful 2016.
How eventful? Please have a look at the Flemish painter Jan Miel's work titled Carnival in the Piazza Colona, or listen to the second act of the Giacomo Puccini opera La Bohėme. What you would see and hear is the emotionally charged richness of experience and the joy of life, exactly what ASK wants to bring to King.
I would like to thank ASK's volunteers, board members and past President, Sue Iaboni, for their outstanding dedication and contribution.
ASK is a volunteer run organization. "Enriching King Township through arts and culture for all" is the vision we follow. We bring together artists, outstanding volunteers, as well as, partner organizations and sponsors. We are the conduit, the framework, the facilitator creating a context and the initial impetus for art to happen and be enjoyed in our community.
We have our own quarterly magazine, King MOSAiC (produced and distributed by London Publishing). The magazine promotes local and guest artists, highlighting King's natural and built heritage, and informs our readers about local events and activities.
There are two main, staple events we organize each year.
The Studio Tour. It is planned for April 23 and 24. Close to 30 artists will be opening their studios, some inviting guest from other areas. This year we will be presenting, for the first time, two King painters Hans Martin and Denis Flys and three visiting artists, painters Judy Sherman and Eva Folks, as well as sculptor Gordon Becker. Judy and Eva have been designing the Studio Tour brochure.
Please also mark Sept. 11 in your calendar, and get ready to be dazzled by 40 artists exhibiting their work at the Schomberg Street Gallery. This event has grown tremendously over the last nine years and has been visited by over 2,000 spectators, who last September strolled through Schomberg's historic Main street. But wait! There is more.
On Jan. 24, in partnership with the Heritage and Cultural Centre, we are planning a celebration of Robbie Burns Day. Tickets for The Art of Scotch entitle participants to try different samples of scotch, taste local Scottish fare, listen to bagpipes, and enjoy Scottish entertainment by a member of the Humber River Shakespeare troupe.
The newly invented Experience Series, sponsored by the new Bank of Montreal branch in King City, begins on Feb. 9, with an opportunity to meet artist Brett Davis, a local sculptor famous for his outdoor ironwork. He will reveal his secrets of sculpture making. March 17 will bring an evening of Irish fun with Irish stew and limericks, clever, funny and sometimes even a little off-colour. On May 18, art historian and curator of Georgina Art Gallery, Eva Chwojko and composer Dr. Steeve Srawley, will present a fascinating story of The Invisible Women; outstanding female artists and scientists who achieved unprecedented results, against all the odds in a male dominated society, but who never received adequate recognition. Finally, this presentation will give the invisible women the spotlight they deserve. ASK is also planning music concerts for 2016 and 2017. As an opera singer with over 30 years of stage experience, I have many favorite composers and music, and expect that most of King's residents have their own preferences. What are they? Would you prefer to listen to Chopin waltzes, spicy jazz from Latin America, Monteverdi's harpsicord concert in one of the King's heritage building by candle light? Please let me know, kindly call ASK or send me an email.
Now, let me take an opportunity to introduce our new board of directors:
Murdene Pozdrowski, director of community outreach. Murdene is a long-time volunteer working with many King organizations. You will be able to find her at any of ASK's outreach booths.
Ward 5 Councillor Debbie Schaefer is a board advisor.
Ann Livingston, director of volunteers, is a King City artist and will be recruiting new volunteers (if interested please give Ann a call at 905 939-8318).
Another board advisor is Kathleen Fry, Township of King Museum Curator.
Chloe Romerill, secretary, is our youngest new member and will bring a young, fresh perspective to the organization.
Denny Starritt, director of membership, ASK's past vice-president, and I hope her charm and hard-work will continue to bring new members to the organization.
Deb Reilly, representative of Kings Craft Studio, is a board observer.
Sharon Bentley, King Township Public Library Branch Manager, is another board advisor.
Sue Iaboni is ASK's past-president. Under her leadership ASK prospered. Sue is a retired educator and creative writer, who will continue as our Editor-in-Chief of Mosaic Art Magazine.
Tom Wray, director of marketing, is a gifted, sensitive photographer and the beating heart of the Schomberg Street Gallery.
Teri Hastings, executive director, brings a wealth of experience, passion, superb organization skills and full dedication to ASK.
Blair Day, current ASK vice-president, is a 40-year resident of King City. He is a very successful educator and a great mediator.
As mentioned, I am president and artistic director. I am an opera singer, actor, visual artist and an environmentalist.
Len Vernon, ASK treasurer, is our true treasure. Len and his wife, Phyllis, have been affiliated with ASK since the very beginning.
With great enthusiasm, Arts Society King, is looking forward to continuing to bring art to King Township, because as Pablo Picasso once said: "Art washes away from the soul the dust of everyday life."
To learn about our initiatives and upcoming events, please visit our website, artssocietyking.com, send us an e-mail at info@ArtsSocietyKing.ca, send me a note at gtonkiel@gmail.com, or call us at 905 939-9357.
---
ASK artist Deborah Jolly featured in the Caledon Enterprise discussing the upcoming McMichael Autumn Sale. Tuesday, October 8, 2015 caledonenterprise.com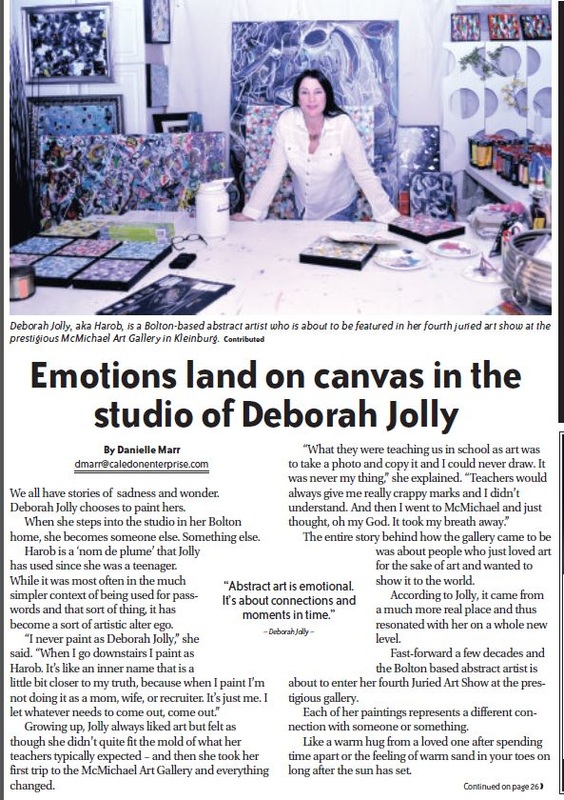 ---
Schomberg Street Gallery: George Chuvalo a heavyweight presence at outdoor event Cool temperatures, light drizzle fail to put a damper on Arts Society King event
By Chris Traber www.yorkregion.com on September 13, 2015
Sunday's unseasonably cool temperatures and light drizzle failed to put a damper on the 7th annual Schomberg Street Gallery.

Undaunted, 40 exhibitors set up covered booths on the town's historic main street against a backdrop of heritage buildings and century homes. The eclectic range of media, organized by Arts Society King, included oil, acrylic, watercolour, photography, wood, glass, metal, pottery, textiles and jewellery.

However, to the surprised delight of many, Canada's most renowned knockout artist, George Chuvalo, our nation's greatest heavyweight boxer, quietly managed to steal the morning portion of the show.

The 78-year old, whose career spanned three decades and 93 fights, winning 73 bouts – 64 by knockout – stopped by to see the work of local portrait artist Adubi Akinola.

Akinola, a self-taught painter specializing in acrylic and oils, created two works as homage to Chuvalo who was never knocked to the canvas in fights against legends including Muhammad Ali, Joe Frazier and George Foreman.

"Adubi did a couple paintings of me and I wanted to have a look," said Chuvalo admiring a portrait of his Feb. 1, 1965 championship fight against Floyd Patterson. The colourful work captures Chuvalo landing a devastating right hand to Patterson's face. "If you've ever seen the photos from the fight you'll see the painting is on the money. He's done a great job. It's very accurate."

Examining the image closer, the famed pugilist smiles and quips, "Everyone thought I won that fight except the judges."

Akinola, a Barrie resident and full time transporter at Southlake Regional Health Centre in Newmarket, beamed.

"I'm still a work in progress," said the modest first time exhibitor at the sale of fine art and crafts whose powerful painting of a 'liger', a cross between a lion and tiger, was selected as the show's program cover.

His whimsical portraits of pop icons, including B. B. King and Mick Jagger, normally fetch between $1,200-$1,500, he said but was offering them for a bargain $800 at the show.

While admirers complimented his work, he turned and whispered, "When you believe you're accomplished it makes you complacent."

Chuvalo's friend and Akinola's patron Mike Murphy brought the two together.

Adubi's done amazing portraits of some of pop idols," said the airbrush artist. "I wanted him to do a couple of George, one of my heros."

Arts Society director and Schomberg Street Gallery chairperson Tom Wray, also an exhibitor of his photography, has been organizing the event since its inception. The dicey weather didn't worry him and his volunteers.

"Rain or shine, either way, we're here" he said. "It's hard to calculate how many visitors we'll have but in the past we've had a couple of thousand."

A professional photographer who owns Images Gallery of Photographic Art in Schomberg, Wray was buoyed by the enthusiastic crowds.

"So far so good," he said of sales within the first hour.

Arts Society King president Sue Iaboni said the free, day-long exhibit has become a family tradition.

"People bring their children and dogs and enjoy seeing interesting art and artists and visiting local businesses," she said. "I love going to this great show, full of energy and gorgeous art pieces. No need to make the arduous trek into the city when we have this beautiful outdoor exhibition right here in King."

Society executive director Teri Hastings agreed.

"I'm very impressed with the collective passion and creativity of the artists in our community," she said.

King City residents Anne and Kevin Stinson, first time visitors, strolled with their purchase of a Jennifer Peers abstracted landscape of a local barn.

"There's a lot of beautiful work here," said Kevin. "A lot of selection."

His wife said the oil painting will adorn their home's foyer.

"You can tell there's a great deal of pride in the artists' work," she said. "We'll definitely be back, even if it's raining."

Peers, a fine artist and chairperson of 2015 Studio Tour, an annual trek to see 29 artists in 19 local studios, was exhibiting for a second year.

"We're well received," she said. "The sales and exposure of our work is good. It's a wonderful way for the public to enjoy the variety of art.

Peers was preparing to have her booth attended to catch of glimpse of Chuvalo.

"Having George here is crazy great," she enthused. "It shows the dynamics the show."
---
King Weekly Sentinel, Thursday, June 25, 2015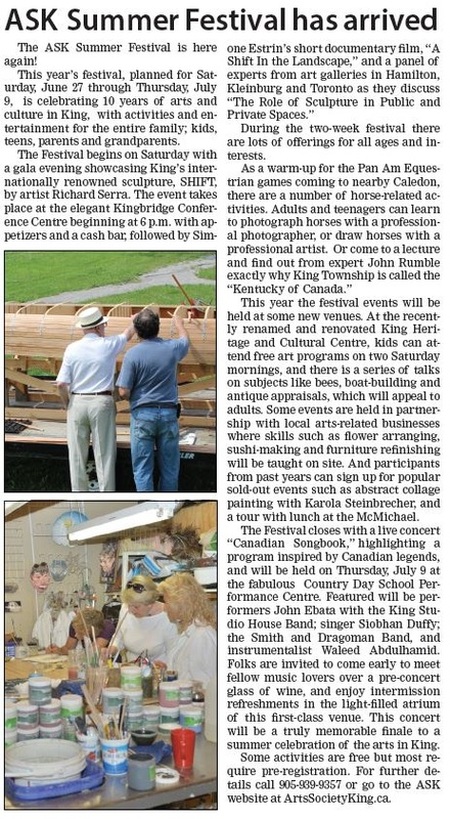 ---
Sustainable architecture and the sense of place at ASK event
May 7, 2015
By Virginia Atkins
"Out of the box and into the jet stream" describes Paul Raff, a bright star in Canada's artistic galaxy.
His orbit attracts clients who want sustainability built into the excitement of dazzling design. This can also be the description of the stunning panels arrayed left and right of the highway, blazing with sunlight to mark a grand entrance to the city of Regina. As the sun moves across the horizon, its rays are reflected in a gentle arc, opening to the city like huge pages of a supernatural book – unforgettable!
Raff's youth in Saskatoon instilled intuitive understanding of Canada's expanse, variety and beauty. Moving to Toronto in the late '70s, he saw subway stations as a significant slice of a commuter's daily experience and perhaps a significant challenge to the creative team at the Paul Raff Studio (PRS); soon the TTC's Vaughan Metropolitan Centre Station (VMC) will unveil Raff's answer: "Atmospheric Lens" built into the domed ceiling of the entry building. Its random skylights and reflective panels "provide a visual depth, optical richness and subtle shifts" mirroring or shadowing the flow of hurrying feet. These features are reminiscent of other PRS creative installations, "Mirage" at Underpass Park below the Eastern Avenue ramps and "Wavelengths" at the new Market Wharf in Toronto.
Raff's reputation blossomed in 1993 with an award- winning design for Toronto's waterfront makeover; the Spanish city of Barcelona also chose his concept for its waterfront development. International high flyers commissioned PRS to design the Chinese vice-president's Shanghai residence. On a hillside near Phuket in Thailand, Raff's plans for Treetop Villas, a simple yet elegant resort complex, arose to completion overlooking the sea.
For each project there is unique connection between the man-made and nature's inspiration; in many projects recycled building materials express dedication to the idea of environmental sustainability.
Raff's Forest Hill Cascade House, the Bridle Path Echo House and Counterpoint House as part of the PRS portfolio have resulted in many awards. Raff was honoured in 2001 as the youngest recipient ever to receive the Ontario Association of Architects' Allied Arts Award for Lifetime Achievement and in 2009, the Royal Architectural Institute of Canada awarded him its Allied Arts Medal. In 2012 he received the Ron Thom Award by the Canada Council for the Arts. Raff has lectured at the AGO, New York University and the Schulich School of Business at York University on his major theme: "Sustainability and artistic innovation."
Paul Raff's illustrated talk will take place at the King City Public Library, at 7 p.m. Wednesday, May 13. Admission free. The event is co-sponsored by ASK, KTPL and The KT Historical Society.