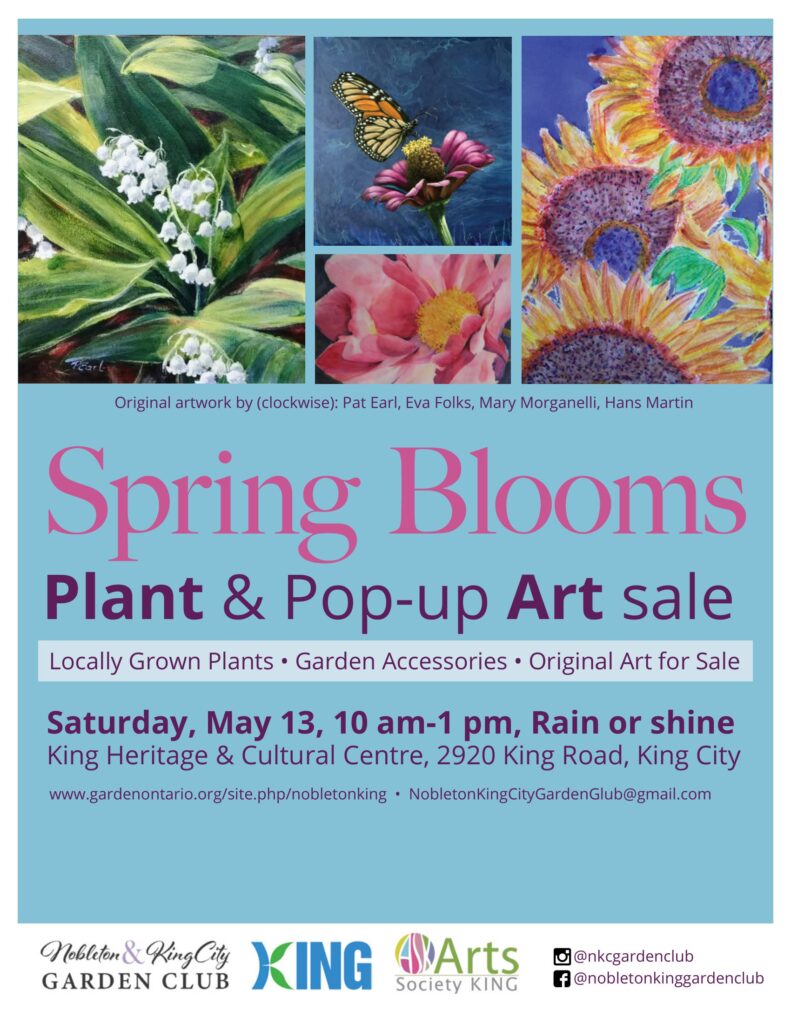 CALL TO ARTISTS
'SPRING BLOOMS' pop-up art show and sale
Saturday, May 13, 2023, 10am – 1pm, Laskay Hall, King City
Arts Society King (ASK) is partnering with the Nobleton King City Garden Club (another fantastic local organization) and together we will bring together original art and the art of gardening.
ASK will present 'SPRING BLOOMS' a pop-up art show and sale and the Garden Club will host their annual plant sale. Together we will attract and welcome a broad audience and deliver an exceptional event. Arts Society King will manage our artists and the art show and sale and the Garden Club will manage their members, plant sales, display of plants etc.
The 'Spring Blooms' pop-up art show and sale will be indoors in charming Laskay Hall (at the King Heritage and Cultural Centre). The plant sale will be outdoors at Laskay Hall. There is access and flow to both set-ups.
Arts Society King will not be taking any commission. Following the show on Wednesday, May 17, any unsold art can be picked up.
Laskay Hall has space for approximately 50 pieces of art spread throughout the room on easels, art grids, the chair rail ledge around the room and table-top displays. It will be a quaint and charming look with warm wood walls, floor and lots of windows. Artists can submit up to 5 pieces each and we ask that you consider the audience and provide a variety of sizes and price points. Art cards sell very well at this event. We are hoping for a 'cash and carry' experience for the visitors.
Applications will be accepted based on compliance with theme and all requirements and available space.
REQUIREMENTS:
Art can be in any medium or style, and must be themed to reflect the show 'Spring Blooms'
This is best described as images or paintings or items that are of flowers, botanicals etc.
All art must be original and of professional quality, properly labelled with prices
Please email two images with your application for marketing purposes
Art must be delivered to ASK on May 12 and picked up on May 17
The deadline to apply is April 30, 2023.
For more information please contact info@artssocietyking.ca
Please Fill out the form below to apply.