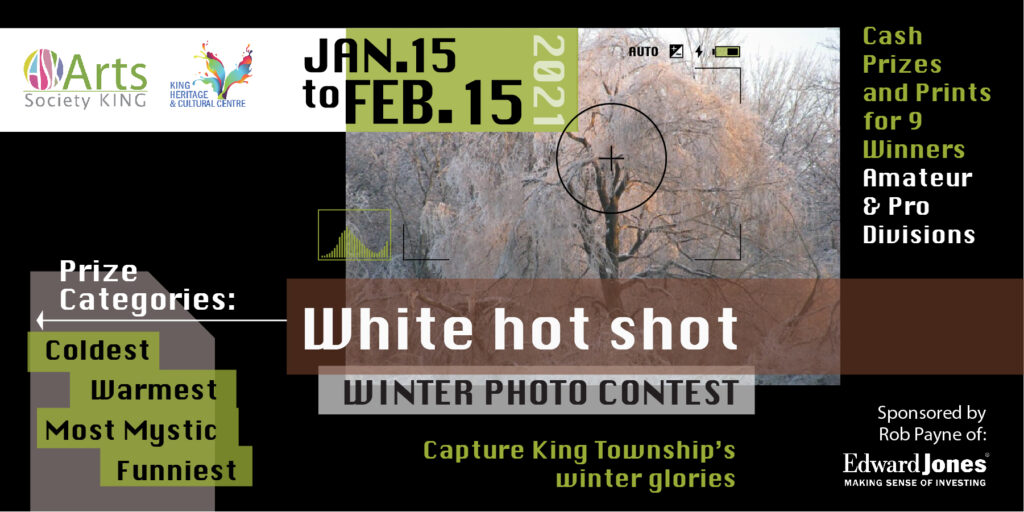 Arts Society King in partnership with the King Heritage & Cultural Centre presents the
WHITE HOT SHOT Winter Photo Contest
January 15 – February 15, 2021
Whether you wield a smartphone or an SLR, now is your big chance to seize the moment. Arts Society King is calling all shutterbugs to get out there and capture the coldest, warmest, most mystic and funniest winter sights in King Township during the White Hot Shot Winter Photo Contest. There are cash prizes, plus fame and glory when the winning photos will hang displayed in the windows at the King Heritage & Cultural Centre from February 19th through March 2021. Separate divisions are open to pros and amateurs, so send in your entries from January 15 to February 15 for judging. Awards will be given out on February 20th during a live-stream as well as being recorded.
Contest Winners
Coldest – Amateur
'Snow Day' – Stephanie Rojas
---
Warmest – Amateur
'Catching Some Rays' – Marie Hayward
---
Most Mystic – Amateur
'Storm Coming' – Leslie Hobson
---
Funniest – Amateur
'Thanks for the Ride' – Phyllis Vernon
---
People's Choice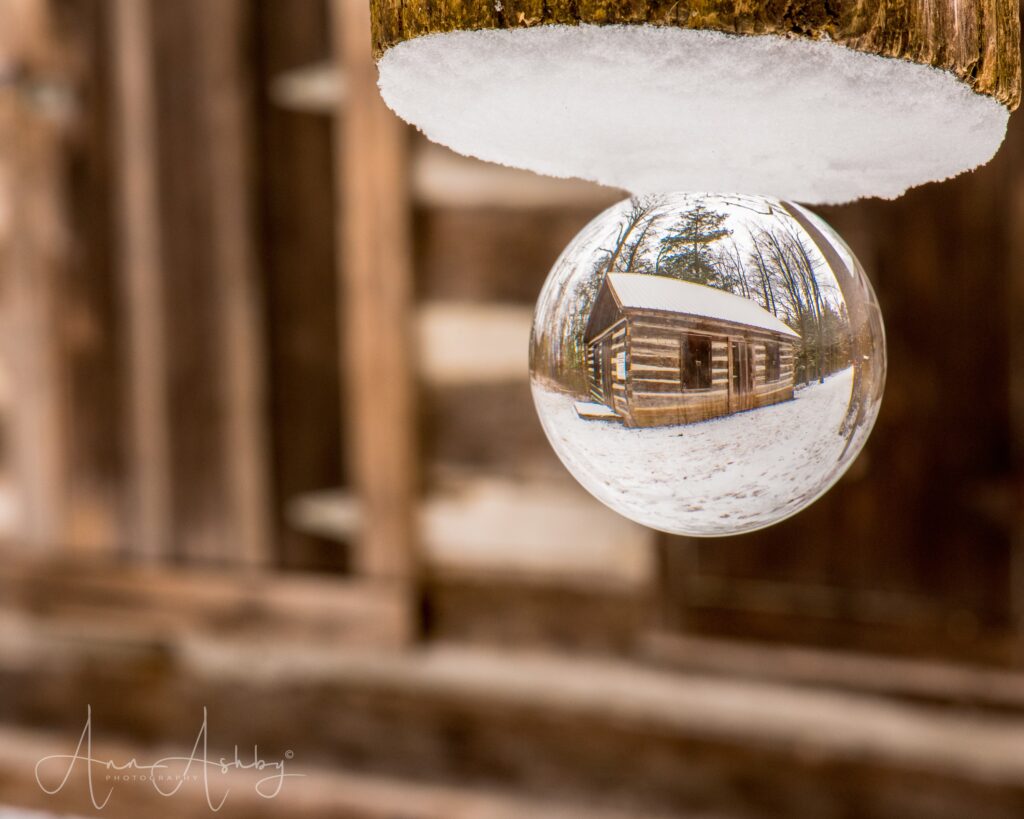 'Log Cabin Captured in a Snow Globe' – Ann Ashby
Coldest – Professional
'Encapsulated' – Tom Wray
---
Warmest – Professional
'Unchained' – Dominick Petrungaro
---
Most Mystic – Professional
'Hinterland Winterland' – Steve Silverman
---
Funniest – Professional
No Submissions
---
Under 18
'Barrier' – Megan Johnson
---
Honourable Mentions
Coldest – Amateur
'Snowy Driveway' – Vibeke Ball
---
Warmest – Amateur
'The Farm' – Mel Basic
---
Most Mystic – Amateur
'MacKenzie Marsh Ice Storm' – Kevin McBean
---
Funniest – Amateur
'What is SO Funny?' – Patricia Earl
Coldest – Professional
'Frosty' – Tom Wray
---
Warmest – Professional
'Unchained' – Dominick Petrungaro
---
Most Mystic – Professional
'Stopping by the Side of the Road' – Steve Silverman
---
Funniest – Professional
No Submissions
---
Under 18
'Facing the Sun' – Kate Jones
---
Meet the Judges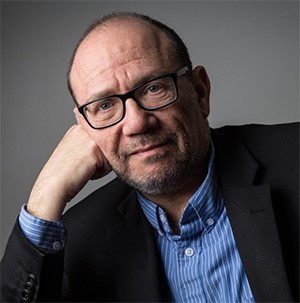 Ronen Grunberg
Ronen Grunberg became curious about photography and videography in Grade 9, when a media course allowed him to explore the art of photography, as well as make short films with a Super 8mm camera.
Ronen's interest in media arts continued through his 30-plus years as a high school history, English and technology teacher. In 2012, he founded the Aurora Public Library Camera Club so that area photographers could meet monthly to share their knowledge and creativity.
Six years ago, Ronen became interested in drones and how they can be used in aerial photography. Drone photography is now an integral part of Ronen's creative output.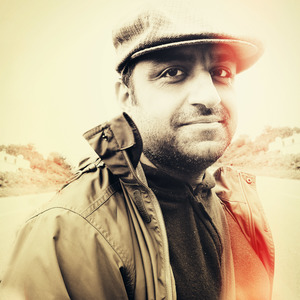 Hasnain Dattu
As a youngster, Dattu would ofter spend his time staring at strangers. This didn't sit well with his mother, who found the behaviour rude. And so he'd also spend a lot of his time being punished. The years flew by. Dattu, now a teenager, he found himself unable to tear his eyes away from strangers. Desperation set in. Torn between the activity he loved and the motherly approval he longed to have, Dattu didn't know what to do. But fate intervened.
One sunny day he was asked to take a family photograph. And as he peered through the lens of the camera, the epiphany struck: PHOTOGRAPHY. Yes, he had finally found a socially acceptable way to channel his insatiable curiosity for people. And if that wasn't enough, he later found he could make a career out of it. The only thing that puzzles him is why the hell he didn't think of it earlier.
Nowadays, Dattu photographs just about anyone with a story to tell. And, wouldn't you know, he's turned out to be pretty darn good at it. He has won many awards, which are listed below, and his clients are certainly happy with his career choice. As for his mother, well, she's just happy he's no longer staring at strangers. At least, not in front of her.
He went to York University and earned a degree in Psychology, minoring in Theology. He then went on to Ryerson University and earned a degree in Photography. Currently an instructor to students at Humber College working within the Photography program, while also pursuing an MFA at The Ontario College of Art and Design.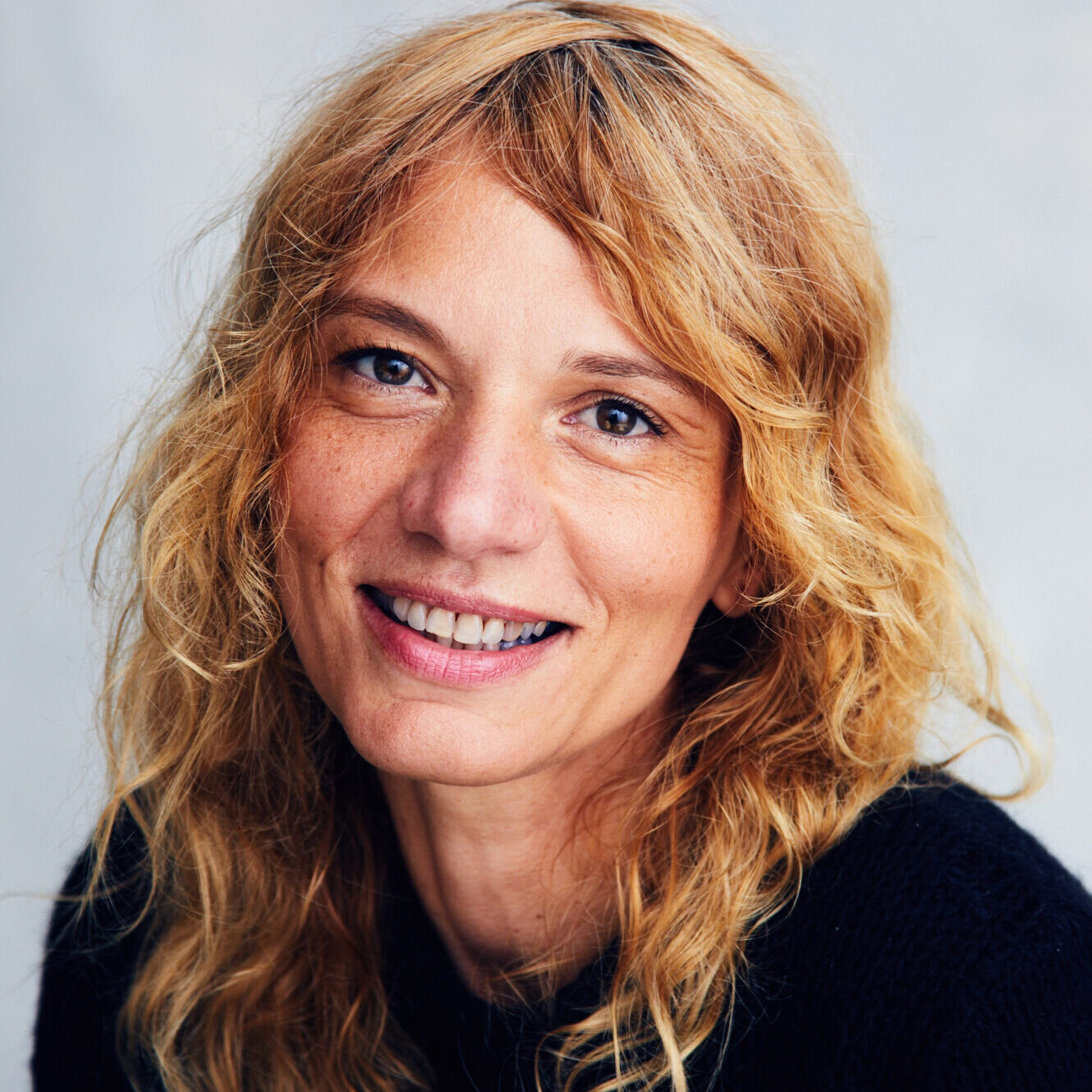 Natasha Vasiljevic
Natasha V. is known for mixing a minimalist's eye with a maximalist's sense of colour. She brings a precise, sculptural approach to her work for various commercial clients like Holt Renfrew, Indigo, YSL Beauty, Dior Cosmetics, Canada Post, The Hudson's Bay and Canada Goose.
Her love of story telling and conceiving conceptual still life have won her several National Magazine and Advertising and Design Club of Canada awards, and her work has been featured in various North American and European publications, like In Style, Red UK, Allure, Women's Health and others.
Contest Sponsored by Rob Payne of

---
Contest Entries