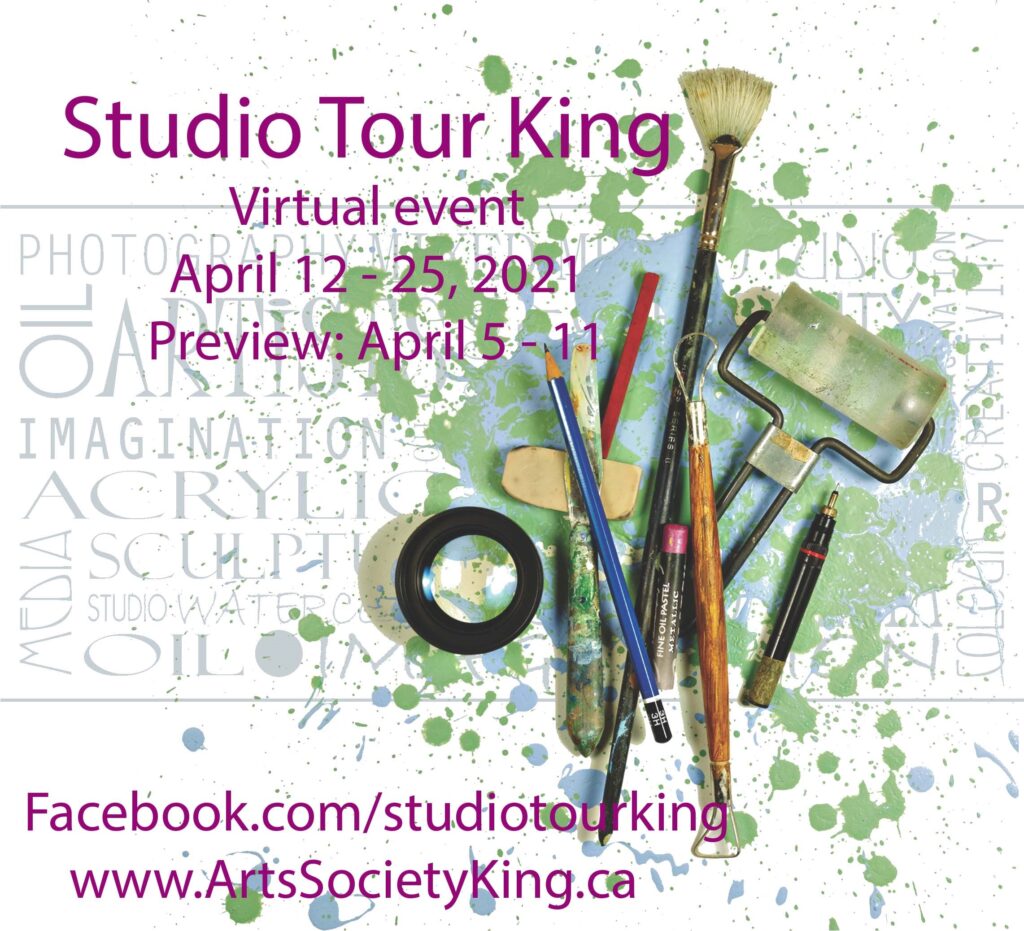 Arts Society King presents the 2021 Virtual Studio Tour King
---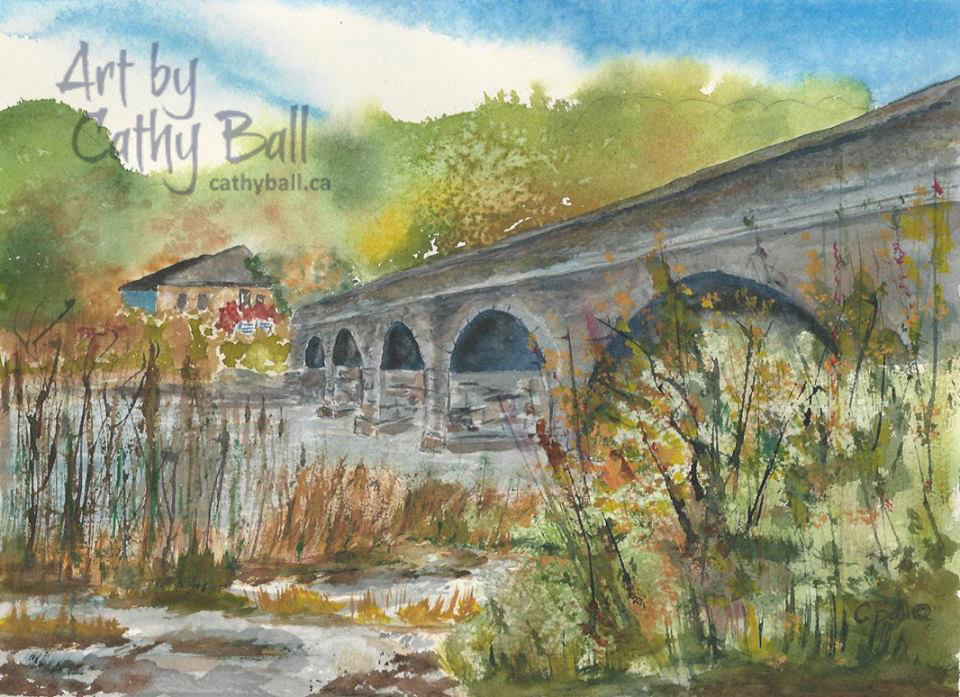 Cathy Ball
Cathy Ball was born and raised in Orillia, ON and was drawn to art from a young age. Her mother enrolled her in adult painting class at the age of 10 and her passion for creativity in the arts blossomed from there. Her work reflects the inspiration she finds in the beauty of nature. Forest groves, waterfalls, fall colours, lake shores, barns, woodland trails, sunsets and sunrises, Northern Lights and many other natural landscape themes dominate her work. Working primarily in watercolour often with a variety of supportive media, Cathy channels the splendour of the natural world through her brush. Cathy paints at every opportunity her schedule allows and strives to refine her creative expression with every stroke of the brush.
---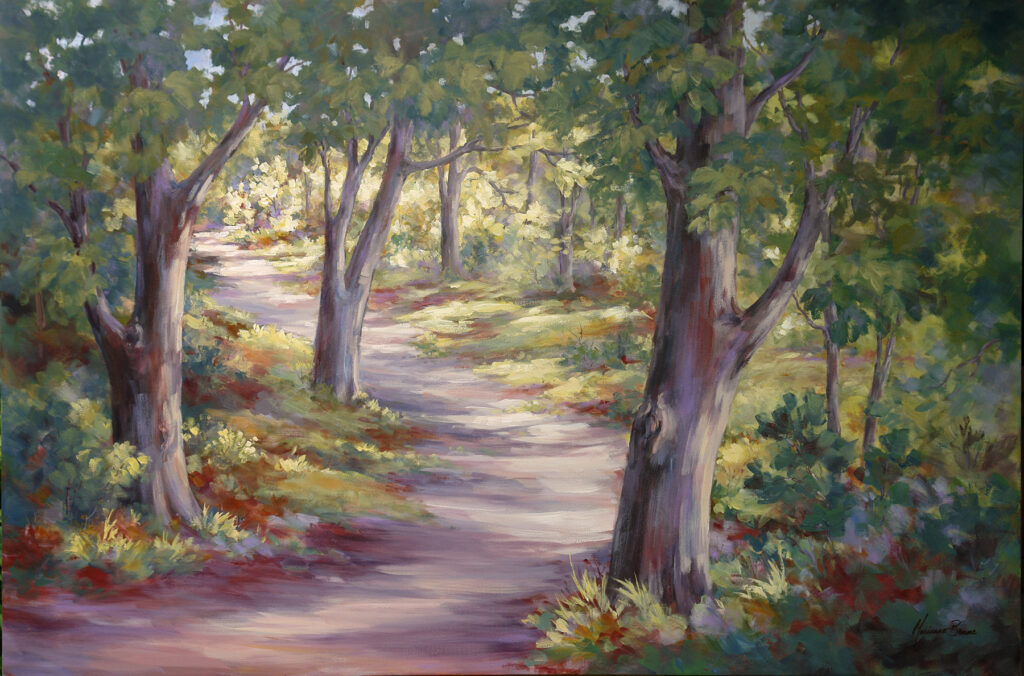 Marianne Broome
Award winning acrylics and watercolours inspired by nature.
Artist's statement: For me painting is a celebration of the endless beauty to be found in the natural world and an expression of my concern for its preservation. My hope is that my work will inspire in the viewer an appreciation of nature's gifts and contribute to a greater collective environmental consciousness so that we may tread lightly on this earth of ours.
Biography: Marianne Broome was born in England but spent much of her childhood in Malaysia. The stunning scenery and abundance of exotic animals and plants heightened her love of nature and keen interest in drawing and painting. Marianne settled in Canada in 1980 and lives in Schomberg, Ontario. Marianne's art education in England was furthered by courses in Canada. She is a full time artist and a sought after art instructor for both acrylics and watercolours. Her stunning paintings of flowers, landscapes and abstracts have been exhibited in many juried exhibitions in which she has received numerous awards, including several "Best in Show". Her work has been commissioned for publishing and used for tapestry designs, greeting cards and fine porcelain
---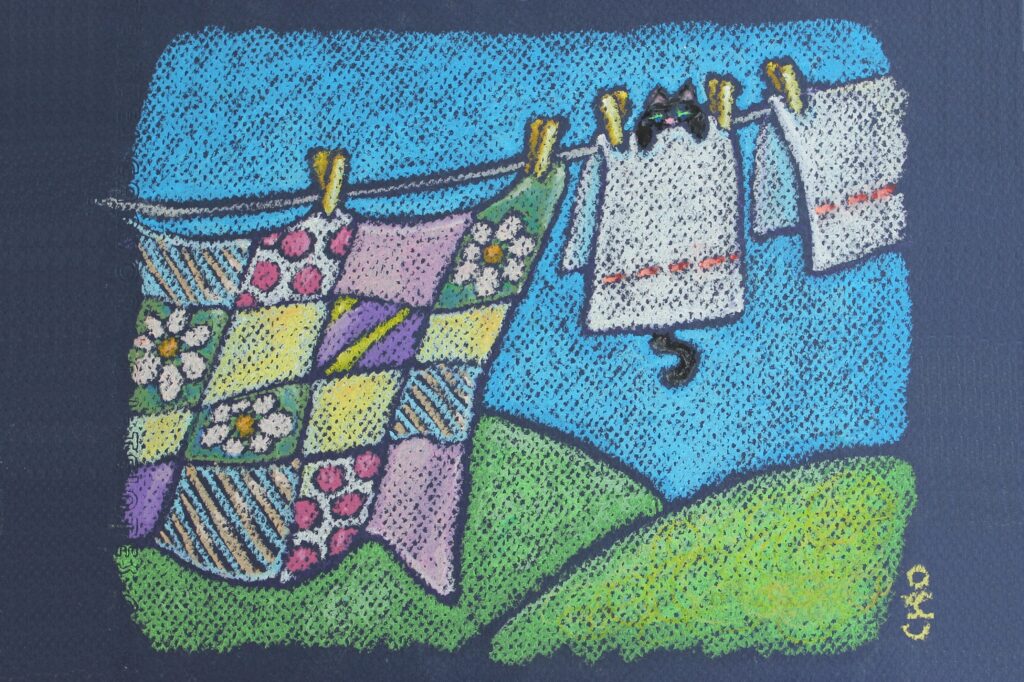 Wendy Cho
in a far far land of CHO, there lived an illustrator who drew cats and dogs and frogs and more.
there were dark skies filled with the sun and stars and moon.
every day told a story of good and bad.
stories of memories had.
"Wendy CHO is an oil pastel illustrator. she studied at OCAD in design and is a member of the artists' network, arts society king, Richmond Hill group of artist as well as the York regional arts council. her artwork is regarded as clever, whimsical and storybook like. Wendy's artwork brings joy and smiles to everyone!"
---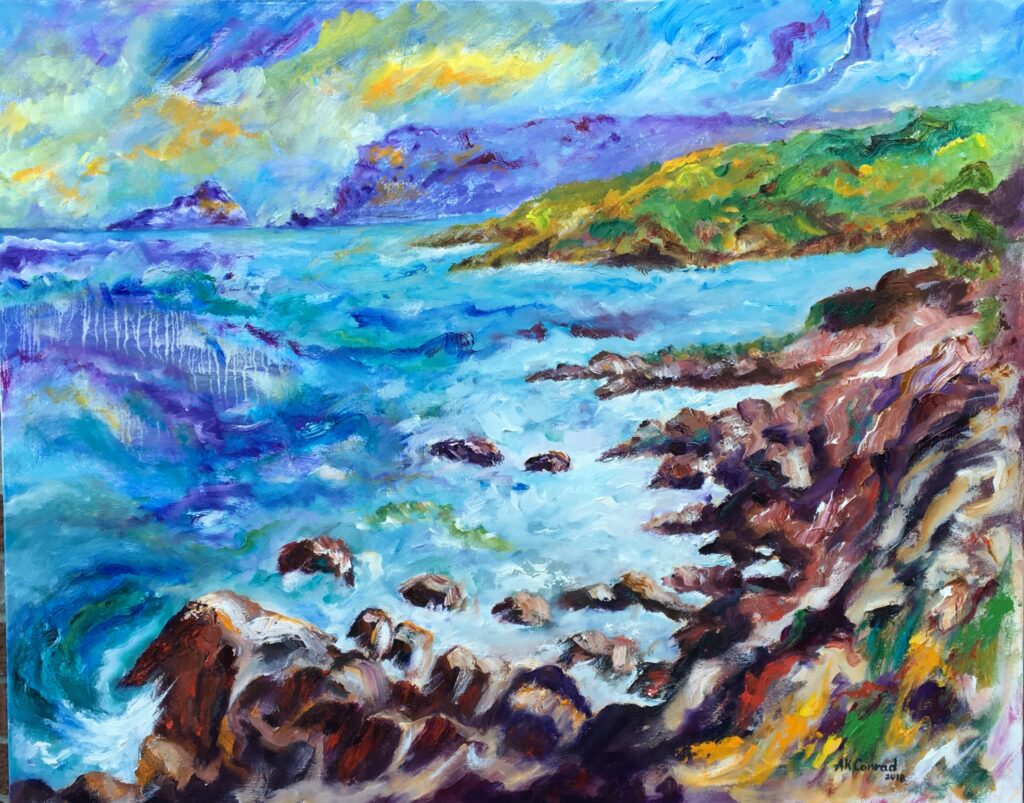 Alexandra K. Conrad
Professional Visual Artist – Fine Arts
Artist Statement: In my art, I strive to bring out positive emotions in the viewer. My aim is to introduce the viewer into a new world away from daily problems and into a beauty which only art can provide.
I particularly enjoy painting portraits in which I prefer focusing on the individual's overall physical and emotional gesture rather than photographic representation. Paying close attention to facial expression and body language I see these gesture elements as part of the "soul of the person".
Alexandra K. Conrad is a professional fine art artist with over three decades of art creation experience. Graduated with honours from Ontario College of Art and Design besides two other faculties (geography and mining engineering) that she completed earlier.
Alexandra paints: portraits, landscapes, cityscapes, nature and abstracts. Her mediums are mainly oil and acrylic in vibrant colours. She enjoys other media as well including woodcuts.
---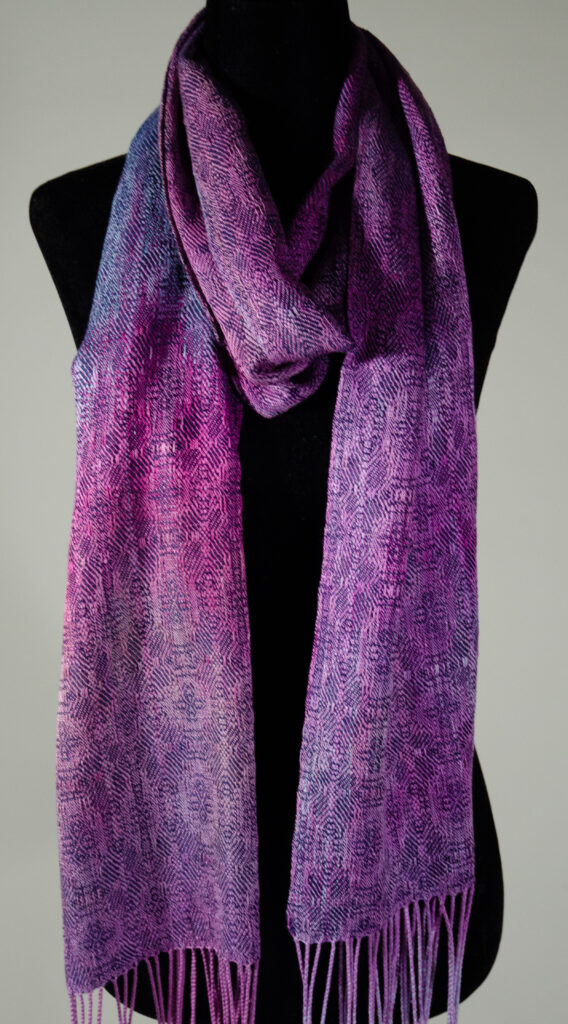 Inge Dam
Inge Dam started to weave in 1982. In 1992, she became a Master Weaver from Ontario Handweavers and Spinners. Her In-Depth Study was on Iron Age Textiles from Northern Europe. As a result of her studies and with several years of weaving experience, she published a book in 2013 entitleded "Tablet-Woven Accents for Designer Fabrics: Contemporary Uses for Ancient Technique." Inge has taught workshops in Canada, US, England, and Japan. She has won several awards for her work which has appeared in many publications. Besides weaving fabrics for garments, Inge specialises in weaving one-of-a-kind luxuries scarves. In her work, she uses natural materials such as silk and mercerized cotton, dying most of them. Sometimes Inge finds inspiration for her work in nature but most often she finds inspiration from working with many different colours and combining them with complex weave structures.
---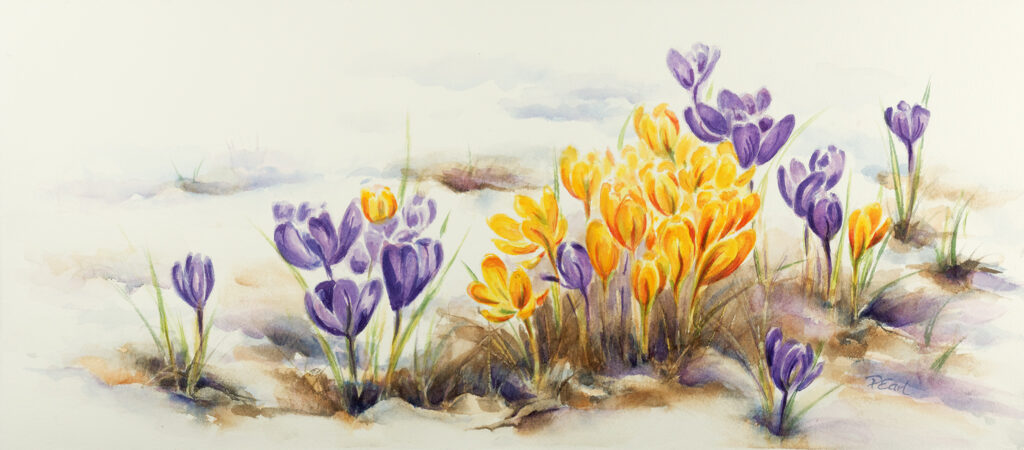 Patricia L. Earl
Patricia L. Earl paints to convey the light, colour, and mood of what she sees and feels around her as Mother Nature so generously provides. She doesn't have to travel far to find subjects that inspire her. The gentle rolling hills, farmlands, forests, and wild flowers that she loves to paint are found in abundance in Ontario's countryside, on the hiking trails, and in her own backyard. Some of her inspiration comes from her view from the pillion/backseat of their motorcycle as she and husband Jim travel the Ontario countryside or American southwest. In her studio, Pat enjoys painting with both acrylics and watercolours. Watercolours are her favourite medium to work with as she loves the freshness of the medium, and being able to apply and pour colours directly on the paper, watching the beginnings of a painting evolve, finishing details with her brush. Pat enjoys the constant challenge of keeping the white of the paper and using the transparency of watercolours to ultimately make the painting glow. Pat's original watercolour and acrylic paintings can be viewed at the Olde Mill Art Gallery & Shoppe at 357 Main Street in Schomberg!
---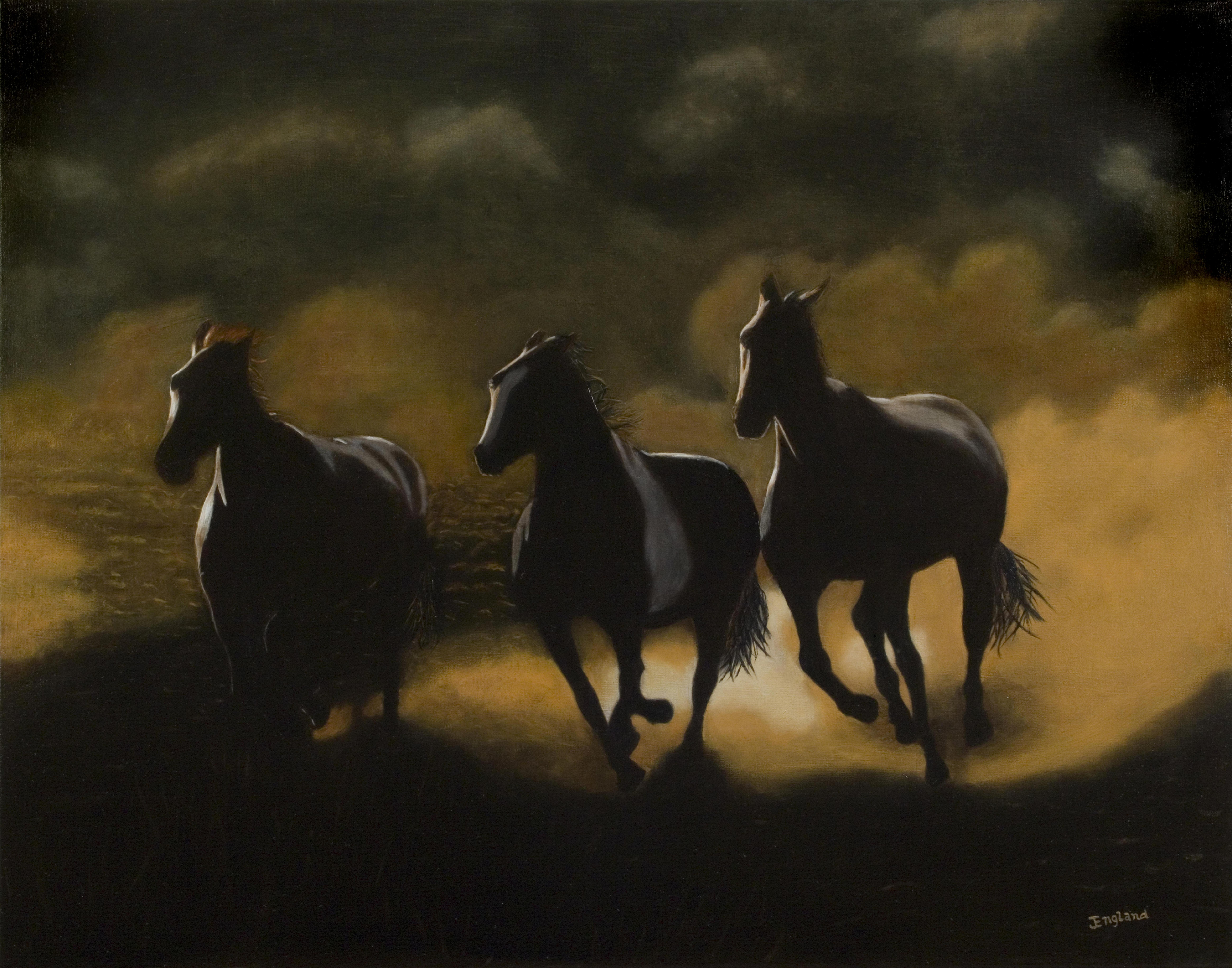 Jacqueline England
Jacqueline England was born in Nottingham, England, and moved to Canada when she was a young girl. Today she reside in Mississauga, Ontario, with my husband, Robert. She is the mother of a daughter and proud grandmother of two lovely girls.
She returned to the U.K. as a teenager to further her education. During that time she developed a love for horses and spent many a day "mucking out," grooming, riding and showing them. This was an important turning point in her life and, when she returned to Canada, she saved enough money to buy her first horse. That was the beginning of a wonderful relationship between her and several horses that over the years she raised, trained and showed. She recalled one special occasion where upon showing at the CNE in Toronto, she booked herself into one stall and her horse into another… that's commitment!
For most of her professional career, she worked as a computer analyst for a large organization in Toronto.
As well as horses, she adores cats, dogs, nature and wildlife, and these are prominent subjects in her art repertoire. She also took up the art of creating unique hand-designed bears that have appeared in numerous shows and gift shops throughout Ontario. Her bears have also been featured in bear magazines throughout Canada, the United States and Britain.
Eventually her interest in horses turned to painting them (and other subjects) and, under the tutelage of Welsh artist/instructor, Michael Spillane (Spillane Studio of Fine Arts), she began a journey to realize her artistic ambitions of drawing and painting the subjects she truly loved.
The first step she does is to create realistic drawings in fine detail before moving to canvas to paint. The drawing process gives her insight into the heart of the subject and provides for a good overall composition. Her pencil becomes an imaginary horse grooming tool as she "feels" my way into the drawing. She have worked in various mediums over the years, such as pastel, watercolour, gouache, acrylic, graphite and oil, but tend to focus a lot on oil painting due to the intense colours that can be achieved. She is always striving to create photo-realistic paintings – especially for her equestrian subjects. Her greatest wish is that upon viewing these paintings, the viewer will see what she sees in my mind's eye as she brings these gorgeous creatures to life on the canvas.
---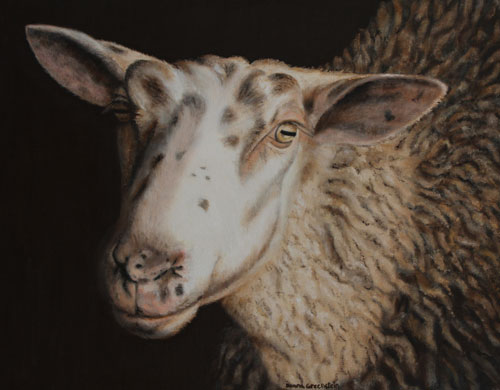 Donna Greenstein
Donna Greenstein loves animals. She grew up helping in her dad's animal hospital tending pets. Horses and dogs were her art subjects from the time she was young and Donna spent all the money she earned from babysitting to go to horse stables on weekends. In 1974 Donna and her husband moved to their 50 acre organic cow-calf farm south of Schomberg, Ontario. She has moved in 2019 to south west of Cookstown.
After retiring from teaching high school Computer Science in June of 2001, Donna started painting precise watercolour botanicals, progressed to bird subjects and farm life. She loved painting her own animals plus those of farming friends. For the most part she prefers animal "portraits", close up head shots. As of 2013, Donna has converted to oil painting, a medium she loves.
Donna is a member of Kaleidoscope, a group of six York Region friends. She was previously the Treasurer of the Schomberg Horticultural Society for six years and the Treasurer of Botanical Artists of Canada for four years.
In 2017 she was represented in the prestigious Next2 at the Arts & Letters Club on Elm St in Toronto. 2014 and 2015 Donna showed in the "McMichael Autumn Art Show" in Kleinburg and in many "Studio Tour King" and "Schomberg Street Gallery" shows.
Donna is represented by Ethel Curry Gallery in Haliburton, Ontario and Eclipse Art Gallery at Deerhurst Resort in Huntsville.
---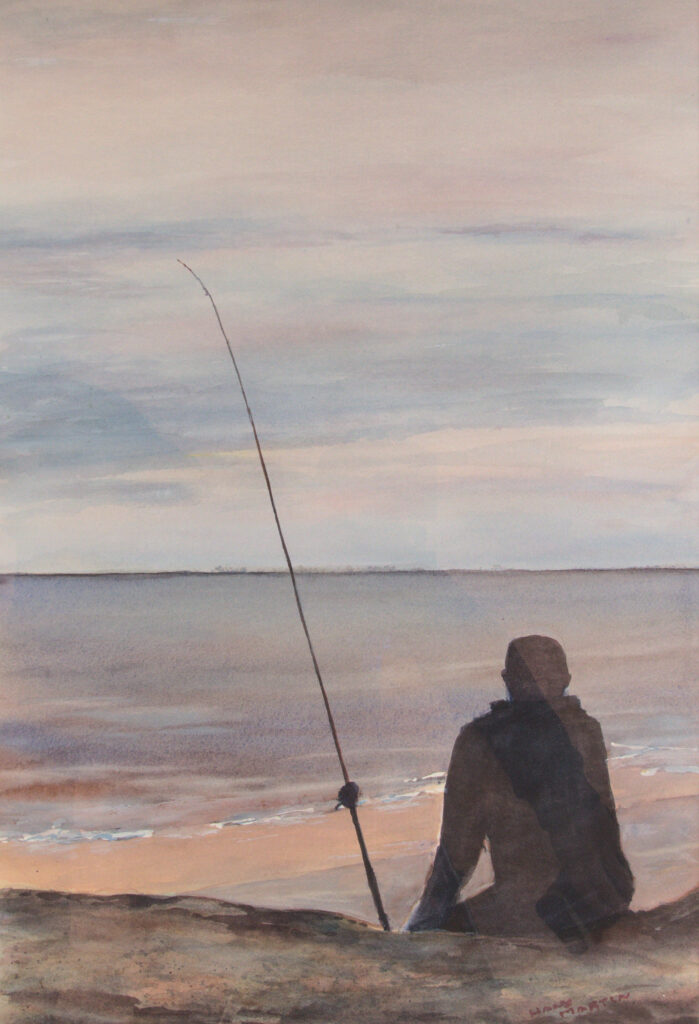 Hans Martin
Hans Martin retired after a career in Atmospheric Physics in 1998 and in 2003 took up watercolour painting. He enrolled in well-known artist Donnah Cameron's watercolour classes in Newmarket until a few years ago when she moved. In time he became familiar with various art organizations including SOYRA and ASK. He has participated in several shows and other special events. He has won several watercolour awards including two honourable mentions and three first prizes.
---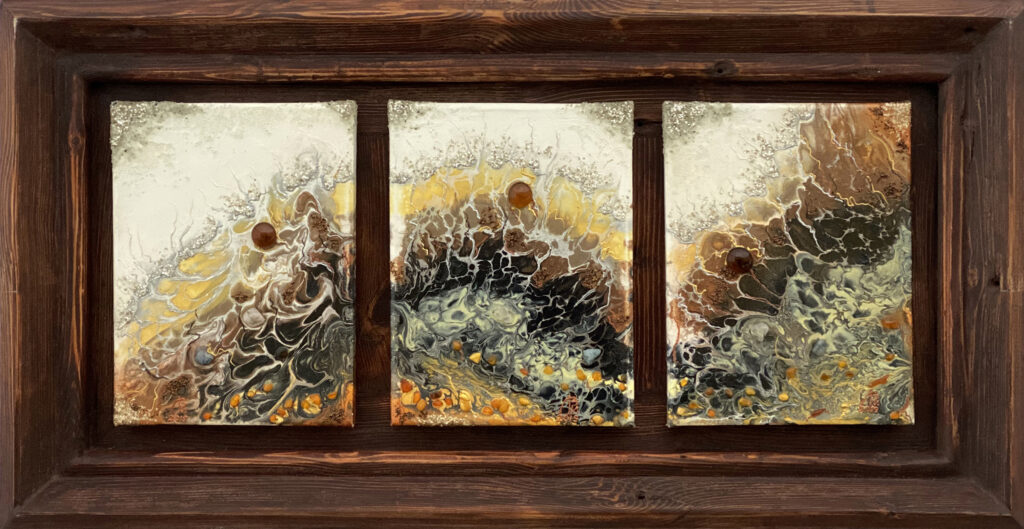 Vladimir Lopatin
Vladimir Lopatin was born in St. Petersburg, Russia. He attained a Bachelor of Arts degree at the Academy of Art and Design in Kharkov, Ukraine. He moved to Canada in 1997 and now lives in Aurora, Ontario.
His interest and love of art began during childhood and became a lifelong passion. He likes to work using different materials like oil, pastel, and watercolor, acrylic and mixed media to be the ideal mediums to express his passion for art.
He paints and sculpts the world he lives in. Nature gives him an endless supply of forms and patterns for inspiration. His art is stylized fantasy rather than realism. His work can be found in private collections in Ukraine, Russia, Yugoslavia, Germany, Australia, USA, and Canada.
As a member of the Richmond Hill Group of Artists (RHGA), he has participated in numerous solo and group shows at the Mill Pond Gallery.

---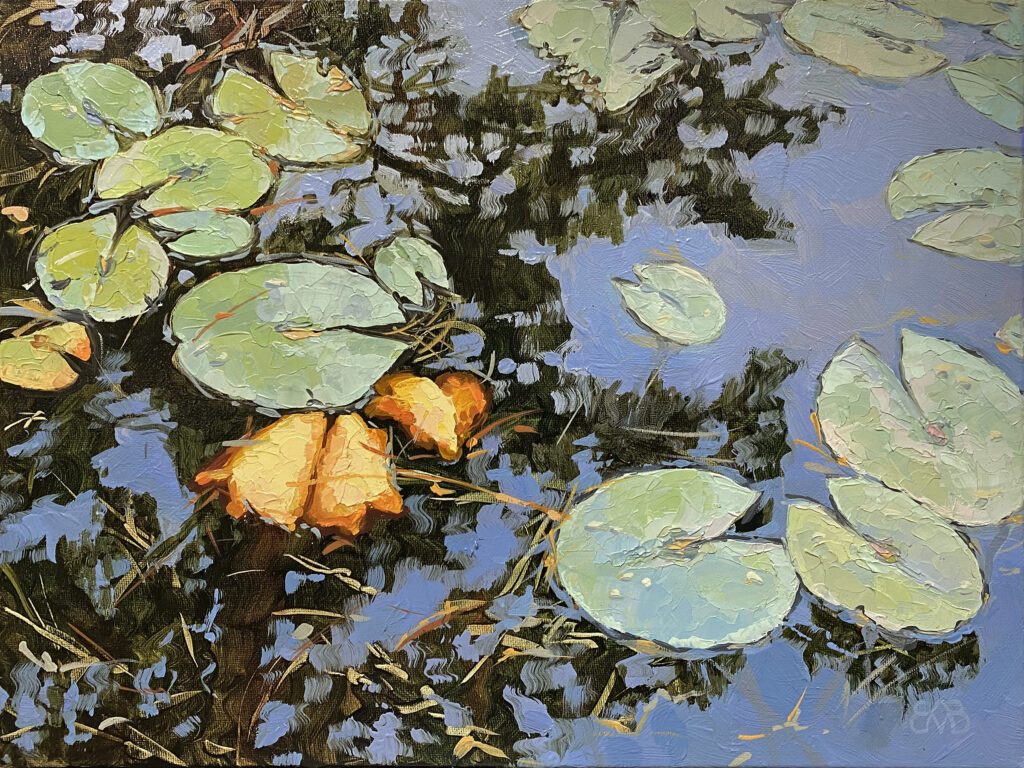 Olena Lopatina
Olena Lopatina was born in Ukraine and graduated from the Academy of Art and Design with a Bachelor in Fine Arts degree. She moved to Canada in 1997 and now lives in Aurora, Ontario. After moving to Canada, she attained a degree in Computer Graphic Design and Multimedia Web Design. She then became an active artist in the community.
Her love of art came at an early age. The inspiration of nature – landscapes, waterscapes, and floral became the themes of her paintings. As an intuitive painter, she finds beauty in her surroundings and enjoys painting what inspires her; using oils to portray that beauty.

---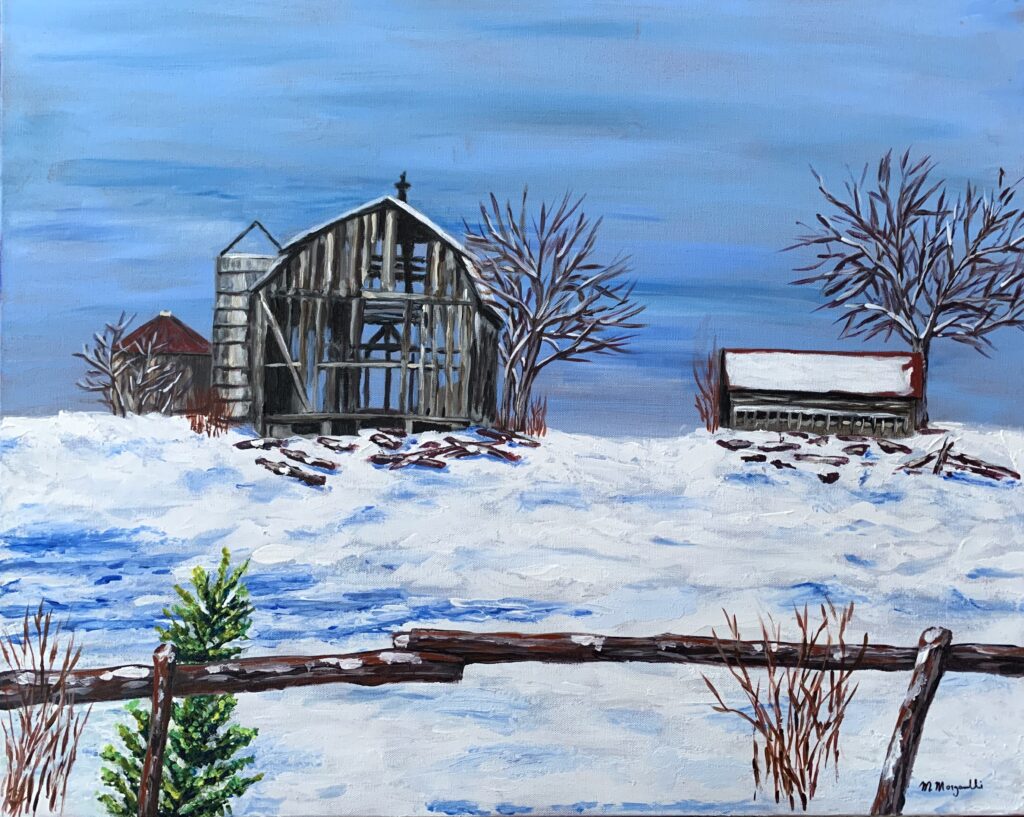 Mary Morganelli
Mary Morganelli immigrated from Italy where her love for art developed at an early age. Her artwork was put aside to start a family, but recently she revived her passion by taking private lessons. She adores painting whatever inspires her, including portraits, landscapes, flowers, animals, automobiles, and more. Using an array of mediums, her therapeutic creations tell stories, express emotions, and some are just for fun. For Mary, variety is the spice of life.
---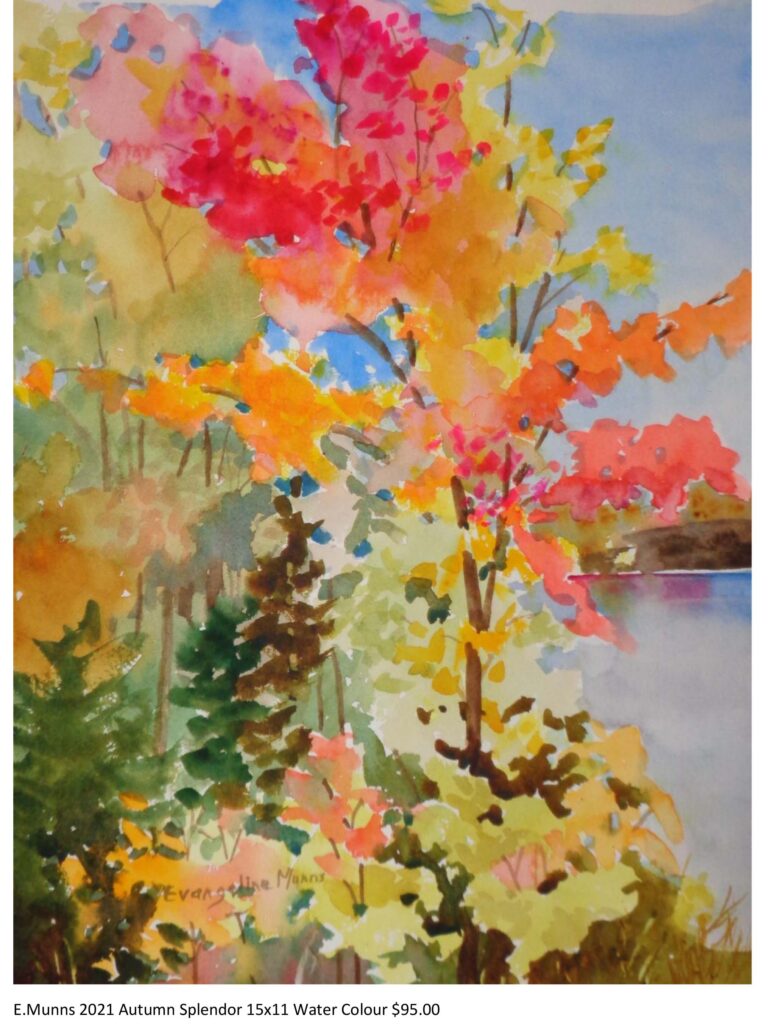 Evangeline Munns
Artist statement: Evangeline strives to bring a unique approach and to capture a feeling of passion for whatever she is painting.Evangeline Munns' love of watercolor is reflected in her fresh, transparent colors. Her inspirations often come from nature. Evangeline studied at the Creative School of Art in Edmonton, Alberta, at the Ontario College of Art in Toronto, the San Miguel de Allende Institute in Mexico, the Haliburton School of Fine Art in Ontario, and in Kenya. She has been in numerous solo and juried group shows and has won a number of awards in the Toronto Watercolor shows, Aurora Art shows, Central and East Central Art shows and received a scholarship from the Ontario Arts Council. Evangeline is a signature member of the Toronto Watercolor Society and a former member of the Arts and Letters Club. Her work is represented in several galleries and in private collections across North America, England, Europe, Japan, and Australia. Evangeline is also an instructor in art. Recently she served as a juror for 2 shows. Evangeline lives with her family in King City, Ontario.
---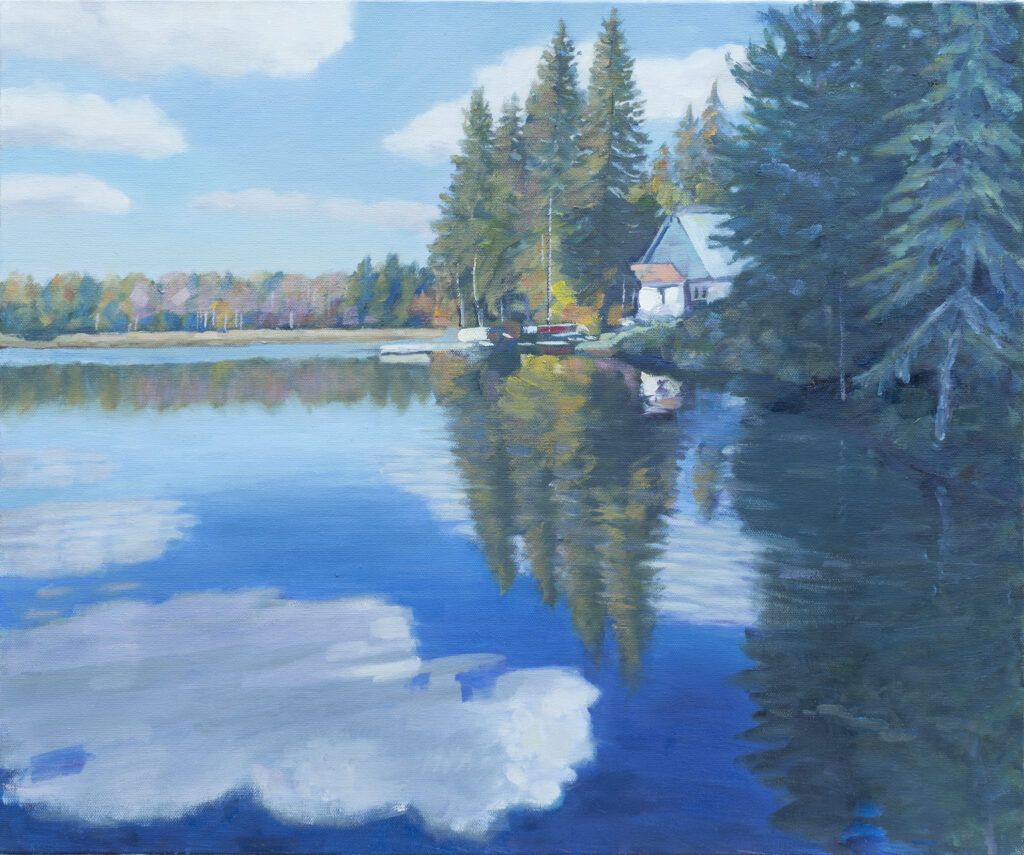 Ivanka Pipinikova
Ivanka Pipinikova has been an artist since she first started drawing and painting as a child. In school she used to participate in competitions, and won several awards in recognition of her artistic talent. Many years later, Ivanka found herself rediscovering her love of creating art when she signed up for oil painting classes with Vladimir Ribatchok in 2009. She hasn't stopped painting since. She is an Artist member of Willowdale Group of Artists since 2011. Her paintings were chosen to be on display at the Annual Spring Juried Art Shows every year since 2012. Other shows include Annual Fall shows and Sunnybrook Hospital art show. In 2014 she joined the King Craft Studio. She became an Artist member of King City ASK in 2014 and she has been taking part in ASK Studio Tour every year since 2014. In 2015 she joined SOYRA and has been participating with her art in the annual shows at the Aurora Cultural Center. For the last 3 years her art work has been chosen for the Aurora Town Hall juried shows. In 2018 and 2019 she took part in North York Visual Arts Fall Show. She mainly paints with oils, but she is continuously exploring and experimenting with other mediums. Constantly growing and evolving as an artist, Ivanka aims to create beautiful, impactful art that convey the feeling and mood of a moment in a way that the viewer can become a part of it.
---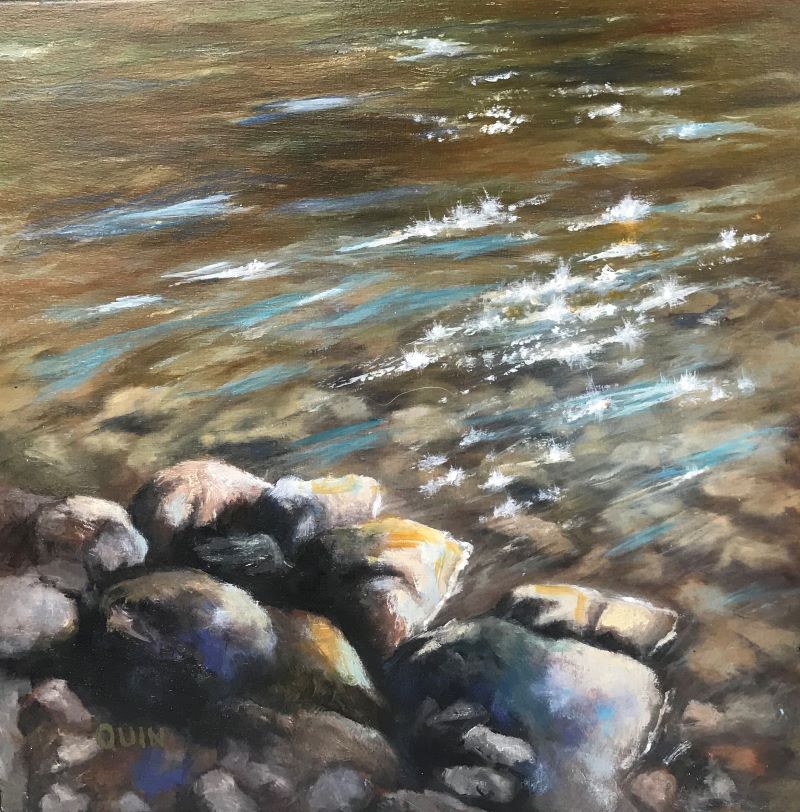 Lucy Quin
Vibrant, realistic, original oil paintings.
"My passion for painting is rooted in nature and the fascination I have for light and shade. That has drawn me to paint through my senses to share what I'm feeling".
Lucy Quin finds inspiration in the endless wonder of the seasons and the beautiful scenery that Canada offers. From Ontario farm fields and Provincial Parks to the East and West coast, Visual artist Lucy Quin is enchanted by Canadian landscape. Canadian Seasons were for her a new road and have had a dramatic impact on the direction she has taken as an artist. She prefers to paint in the classic style used by Tonalist/Luminist artists, with a contemporary approach that combined with the spirituality she finds in nature allows her to create works that are mood evoking and timeless.
---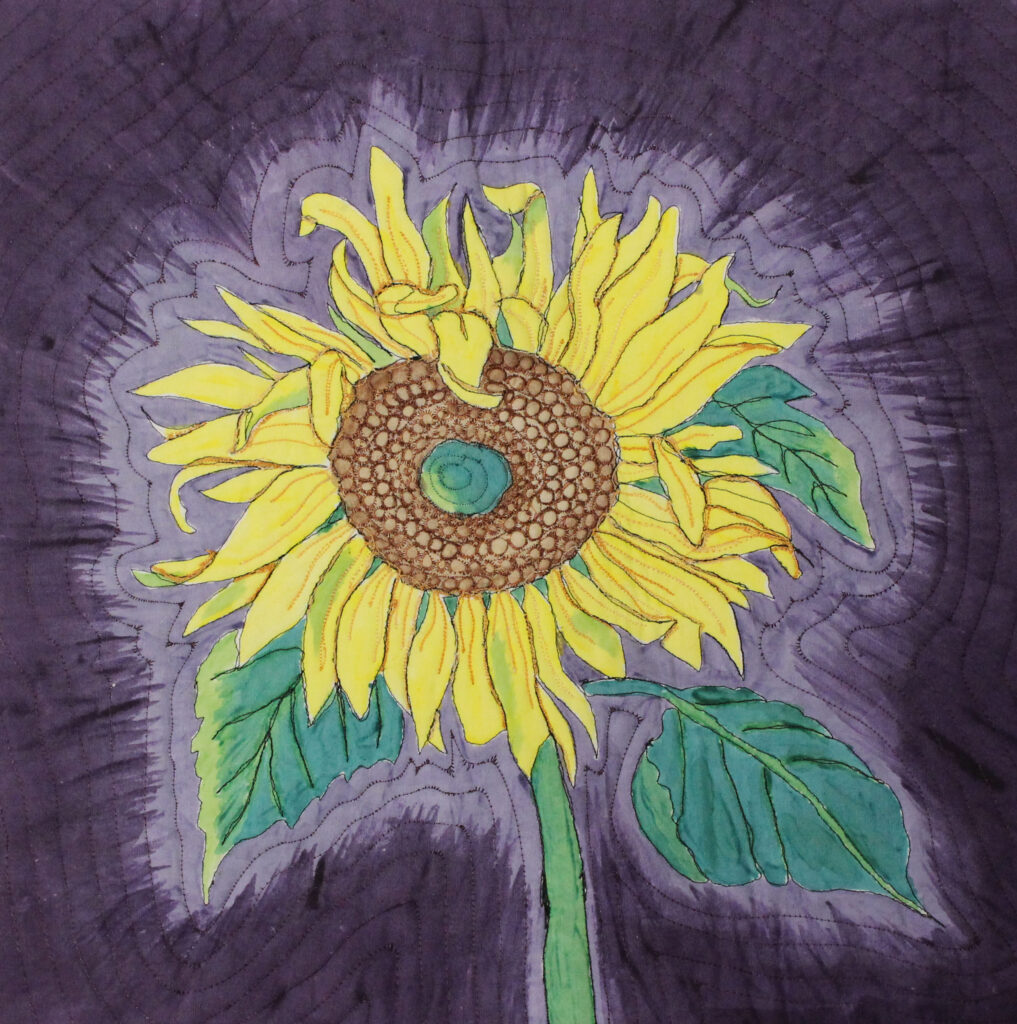 Kathleen Rodgers
After exploring traditional quilt blocks for 20+ years, Kathleen Rodgers became interested in creating fibre art designs based on colour and shape for Art Quilts, table runners and lap quilts using her own hand dyed and hand painted fabrics and batiks. She has participated in group fibre art exhibits for several years, including the International Women's Day Show (OMAH) and the Fibre Content traveling exhibit. She had her first solo show at Burr House Gallery and Tearoom in November 2019.
---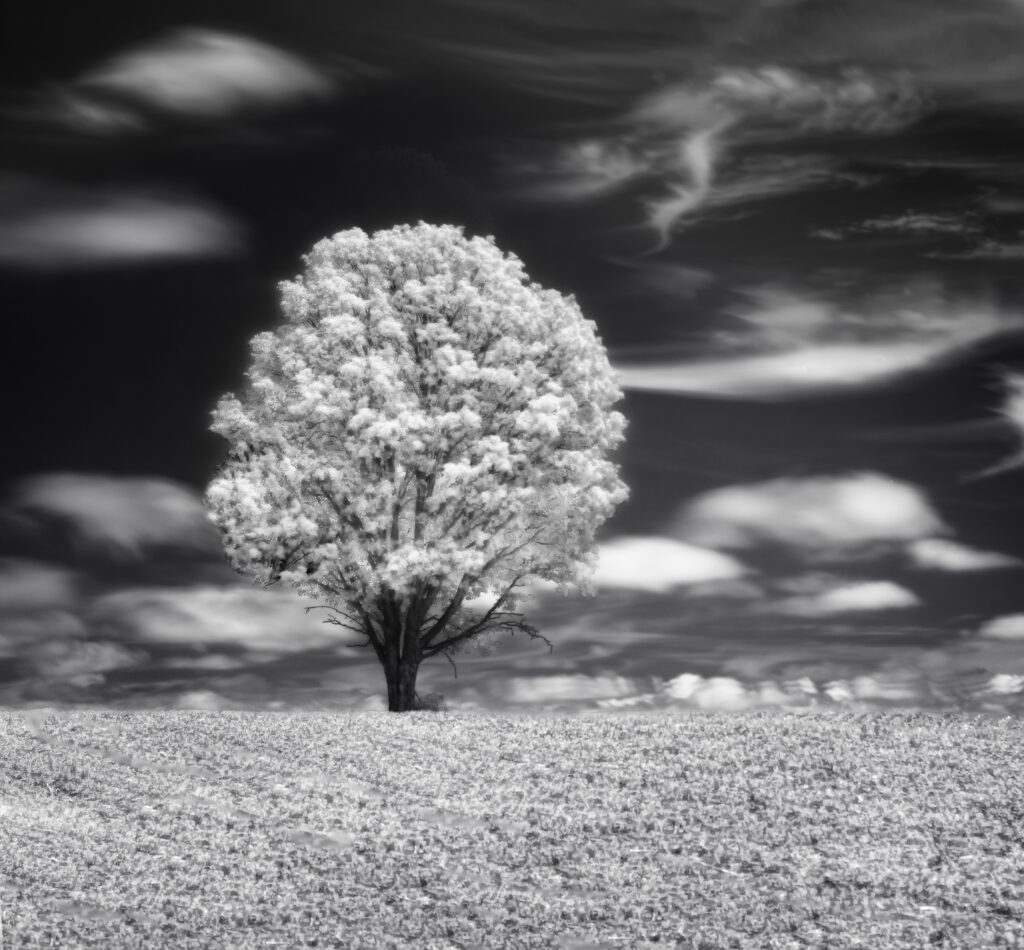 Steve Silverman
A native of Toronto, Canada, Steve Silverman is a Canadian award-winning, fine art photographer with a keen and unique artistic vision. His love and passion for black and white photography are reflected in his dramatic landscapes and engaging cityscapes from across Canada and abroad.
Steve's photos are visual metaphors – An intimate, interpretive view of the world around him. An implied comparison creating a link between the mundane and the sublime.
He uses strong tonal contrast, texture and mood to express his artistic vision. His photos are easily recognizable by his use of strong leading lines combined with the interplay of light and shadows to create depth, giving a two-dimensional image the illusion of three dimensions. Simply put, he can transform a simple, mundane scene into a compelling black & white fine art photograph. Steve's photos have been published in many international books and magazines. He is also a guest speaker at local camera clubs. Steve works with several Canadian art galleries and publishers on a variety of corporate and home decor fine art projects.
---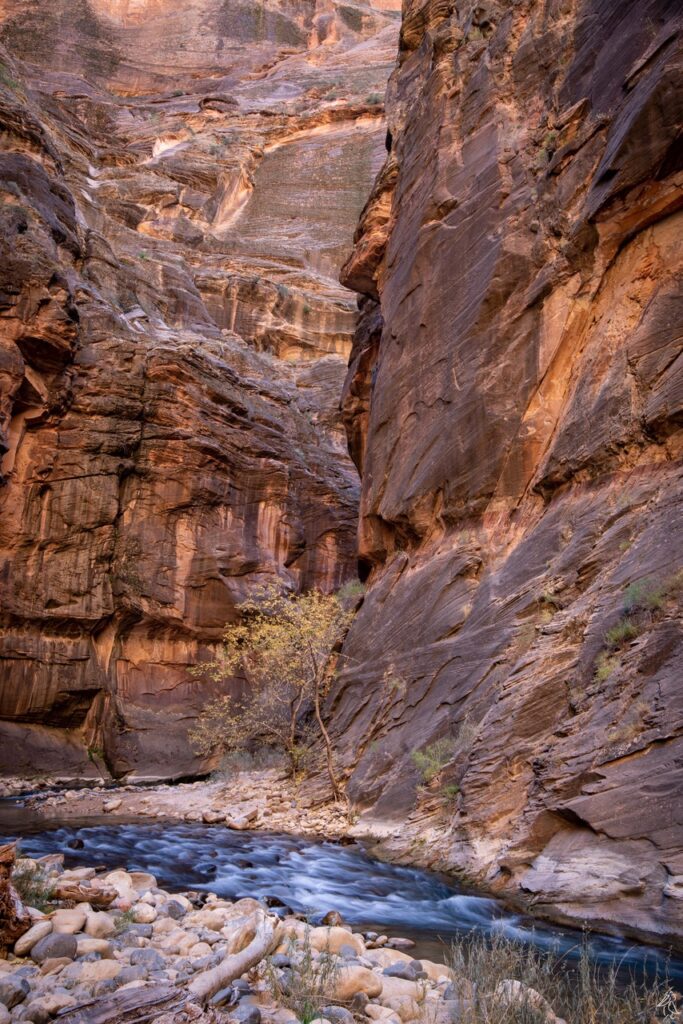 Stephen Sloan
As a lifelong photography enthusiast, Stephen Sloan hopes his work brings you some of the joy he has found in creating it. He enjoys the entire process of creating a photographic print, from the press of the shutter all the way through to the translation to the print media. He has worked with both film and digital, in the dark room and in front of my computer. He likes to work with various print media and his interest in subjects and techniques varies greatly as he enjoys constantly learning and challenging himself. While Stephen strives to satisfy his need to express himself with every image that reaches the printed stage, to deliver an image that also evokes an emotional response, prompts a memory or even inspires a viewer is an even greater reward.
---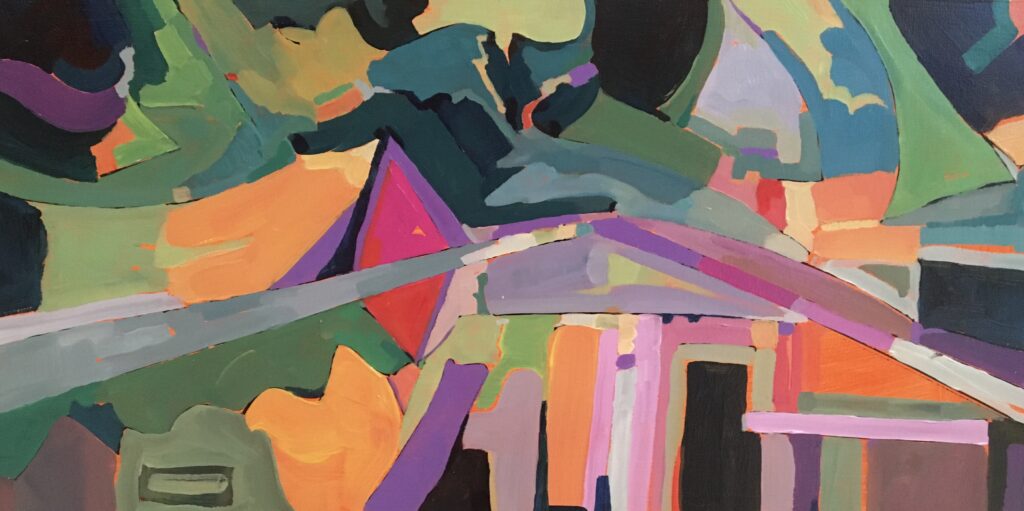 Catharine Somerville
Catharine Somerville was born in Toronto. She works in the UK and Canada.
After completing her diploma at Georgian College ON, Catharine studied printmaking at York University and later realized a BA Arts and Humanities (Art History) at the Open University. In 2009 she completed her postgraduate studies at West Dean College /University of Sussex, UK Somerville is a recognized award-winning artist. Her work can be found internationally in public, private and corporate collections in Mexico, the U.S.A, Canada and England.
---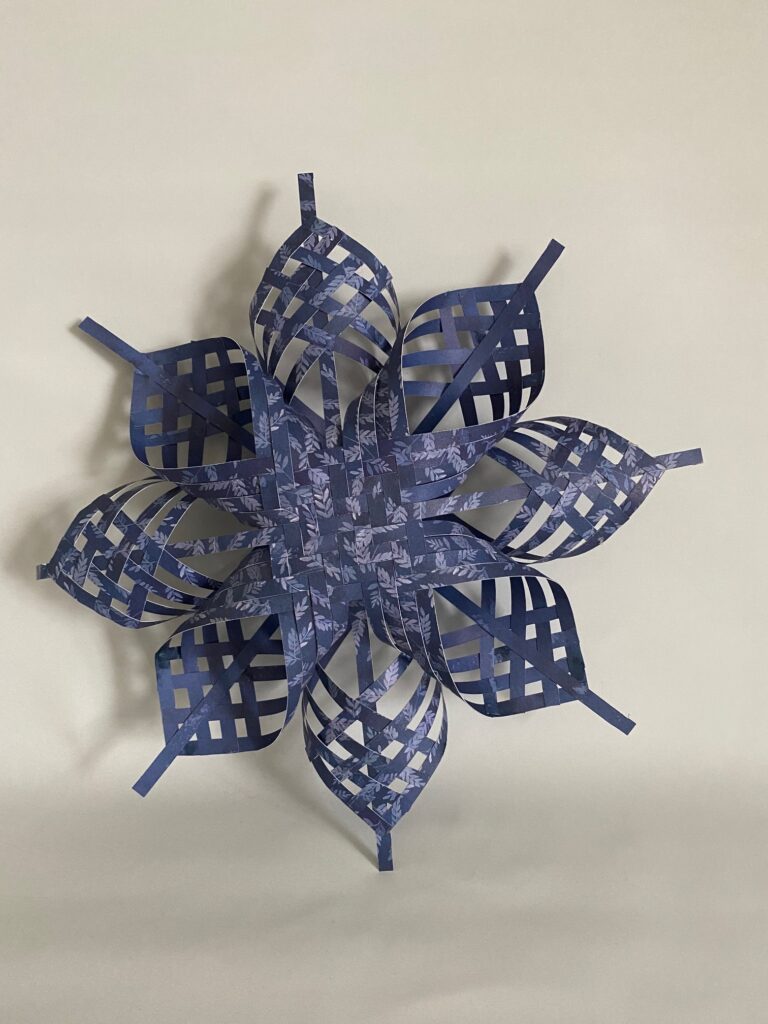 Michelle Zikovitz
Michelle Zikovitz has been weaving functional baskets for over 20 years and teaching for the past 15 years, throughout southern Ontario. Her early weaving years were spent at her 2 floor looms focusing on woven tapestries, rugs, placemats and runners. A basketry workshop taught by a fellow guild member, a love of baskets and the ability to weave baskets almost anywhere all led to a new found passion of basket weaving. Reed is her personal material of choice for teaching, incorporating her own hand dyed reed whenever possible. Michelle enjoys experimenting with random dyed or "space dyed" skeins of reed, creating many unique colour combinations and resulting in truly one of a kind baskets. When not basket weaving or working, Michelle dabbles in photography, sewing, fibre arts and various painting mediums. She loves to explore and find local basket weavers, artists, shops and galleries on her travels.