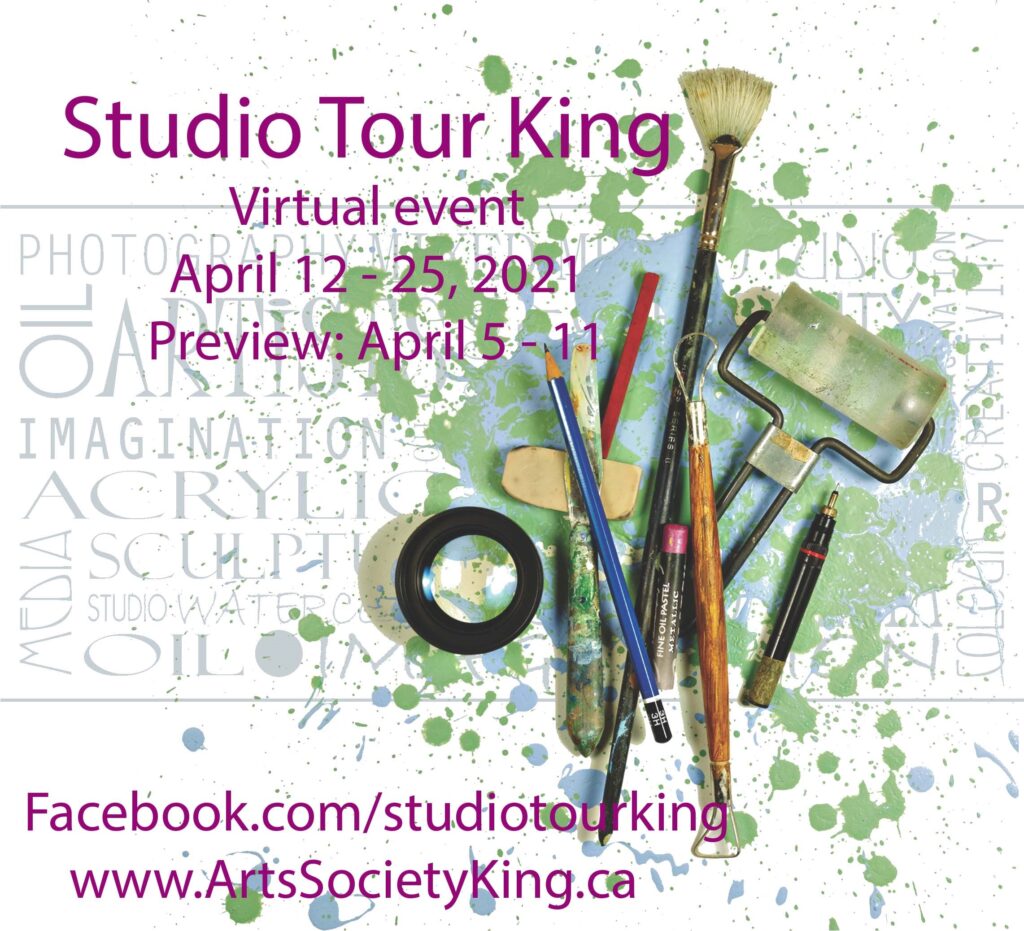 Arts Society King presents the 2021 Studio Tour King Information and Application Package
A. General Studio Tour Information
Arts Society King (ASK) is a not-for-profit organization located in King Township, Ontario established in 2005. ASK's office and gallery space is located in the King Heritage and Cultural Centre in King City. The organization's driving Vision is "Enriching King Township through arts and culture for all" and its Mission is "to promote, support and advocate for arts and culture through effective partnerships and innovative events and programs". ASK is an arts organization like no other with a huge following and municipal acknowledgment and support.
This is the 16th year for the Studio Tour King. In 2005, local artists Marianne Broome and Garry Conway worked together to initiate plans for the first Studio Tour that would showcase the diverse talents of our acclaimed King artists. They were joined by other artists, and a group of passionate volunteers, who all worked tirelessly to coordinate the first studio tour event in King Township in 2006. The ASK Studio Tour King now has its widest reach ever, attracting not only artists eager to participate in the event, but also a wide array of art enthusiasts who anticipate visiting the artists during the studio tour every year.
Due to the pandemic and Public Health restrictions, the ASK Board of Directors has recommended a virtual tour for 2021. Your information will be featured on the ASK website and its social media (Facebook & Instagram). Studio Tour King 2021 will be a longer event. There will be a one week preview from April 5 to April 11 with the studio tour open for sales as of Monday, April 12 to Sunday, April 25, 2021. You are welcome to share ten to twelve pieces of artwork on ASK platforms. Customers will be directed to YOUR website and social media where you can offer a digital tour of your studio and additional artwork for sale. Customers will also contact you directly to purchase any artwork. ASK has hired a student intern from the Media Communications program at Humber College. He is available to photograph and/or videotape you, your work and/or your studio.
Please complete the application on page 3 to ensure that all your information is up-to-date for the website. Once your application has been reviewed, you will receive an official confirmation. Only after your participation is confirmed will your payment be processed. Once processed, there are no refunds.
Please read the entire package. The key information points are:
The virtual Studio Tour King is April 12 to 25, 2021
As a participating artist, you MUST help promote the tour by sharing ASK Facebook & Instagram posts as well as your own (section B – page 2)
This is 'AN ART EXPERIENCE THROUGHOUT KING TOWNSHIP' (section C – page 2) – New Opportunity – **book an appointment for video/photography with the intern
See important dates to help keep you on track (section D – page 2)
You are welcome to submit high quality images of ten to twelve examples of your work for the virtual advertisement WITH the inventory description (page 4)
A short/revised biography (100 words maximum) **if there are any changes since 2020
ASK membership fees (page 5) and Studio Tour fees are due at time of application (page 4)
B. Artist Involvement and Responsibilities
Arts Society King has thrived through the years with support from volunteers. The Studio Tour volunteer committee will rely heavily on the support and participation of each and every artist. We are asking that each artist make a contribution to further expand the market reach.
Follow the Studio Tour King Facebook page: https://www.facebook.com/studiotourking/
Create Facebook posts that include samples of your work / images, your artist biography or information about your artistry process, and tag to the studio tour Facebook page @studiotourking must appear in your post. Once ASK receives the notification, we will share your information to the studio tour Facebook page and to the Arts Society King Facebook page. Many other groups share and like our pages so the marketing domino effect is an important aspect of our marketing efforts.
Utilize your own social media channels with this same concept (Instagram, Twitter etc.).
Invite your colleagues, former clients, potential clients, galleries, friends and family to see you at the Studio Tour. A special invitation will be created and sent to all participating artists that can be easily forwarded.
C. An Art Experience Throughout King Township – New Opportunity 2021
It is important for our event to stand out. With the extended virtual studio tour, demonstrating an aspect of your work during the two week event may generate sales. This can be done live or via technology. ASK has hired a Media Communications student from Humber as an intern with photography and video skills. He is able to help photograph new work for the website and/or videotape you in your studio (i.e. interview, working on a new piece, etc.). If you are interested in using his services, please send an email to info@artssocietyking.ca to book an appointment.
Another option is to use social media/technology prior to or during the event to show the beginnings of a piece of your art or the process. Once completed, that piece could be sold on your website or social media as part of the studio tour.

These are all suggestions with the goal for each artist to be motivated to share what is unique about himself/herself and to create excitement and interest in the tour and his/her studio. If you have other ideas, please feel free to share as we appreciate any thoughts and effort into creating a successful studio tour experience. King has a fantastic arts scene so let's continue to celebrate OUR art experience.
D. Important Studio Tour Dates (this may be updated and re-distributed)
Monday, February1, 2021 Application package (all components) submitted to ASK
January/February Videos created by Media Communications intern – book an appointment
Monday, February 8, 2021 Acceptance emails will be sent for new applicants
March 1, 2021 Promotion in ASK's MOSAiC Magazine, distribution 10,000
April 5-11, 2021 Studio Tour Preview ASK website, social media (Facebook, Instagram)
April 12 – 25, 2021 STUDIO TOUR KING
OR
Payment for either method can be made through the Paypal link below.