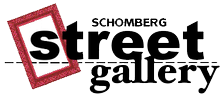 Sunday September 17th, 2023. 10am to 5pm
The Schomberg Street Gallery is presented by Arts Society King (ASK). The Schomberg Street Gallery is an outdoor, juried exhibition and sale of quality fine art. Held in the charming historic village of Schomberg, Ontario. On September 17, Main Street will be closed to traffic allowing for full pedestrian access to the artists and their work. Tents line the street displaying original fine art and skilled craftsmanship all available for purchase to the public. Admission is free to all visitors, and many local shops and restaurants are close by. With thousands of visitors over the years, the Schomberg Street Gallery is sure to be the outstanding feature for the start of the fall 2023 season.
Artist applications are now open until June 30! Please submit an application through our form below.
Acceptance Criteria
Open to all professional artists.
Only work created by the artist may be displayed or offered for sale on the condition that it is consistent with the images submitted at the time of application. Applications will be assessed based on the digital images submitted.
The Selection Committee's decision is final. Artists will be contacted by email with their respective jury selection notification.
Application fees will only be processed if exhibitor is accepted, otherwise it will be returned.
Following acceptance, there shall be no refunds of application fee.
Guidelines
Event date is Sunday, September 17, 2023, from 10:00 am to 5:00 pm.
Artists will be allocated a 10 x 10 foot outdoor space.
Artists must supply their own display materials. Artists are encouraged use a canopy/tent, no larger than 10 x 10 ft. There are no tents provided.
SSG Management will inspect the display area for professional presentation and reserves the right to remove display materials or artwork that is unsuitable or substandard.
Exhibitors should arrive for set-up at 7:30 am and must be completed before 10:00 am. Exhibitors will not take down their booth and/or leave the show before 5:00 pm.
Displays must be manned at all times and artist participation is required for the entire duration of the event. Volunteers are available to assist throughout the day.
Artists are to be respectful of area homes and businesses and park in designated areas only.
Art Society King and SSG Planning Committee accept no liability for loss or damage to property, however caused.
For more information please reach out to schombergstreetgalleryinfo@gmail.com
Application Form