Date: June 17, 2023
Location: Kingbridge Centre, Garden Rooms, 12750 Jane Street, King City, ON L7B 1A3
Time: 9 AM to 4 PM (Lunch included)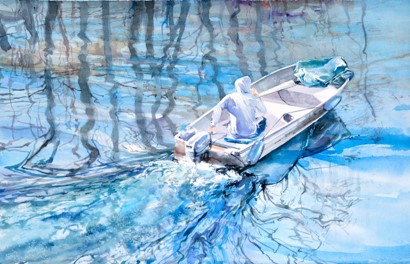 Art Lab with ANDREW CHEDDIE SOOKRAH, Watercolour
Elevate Your Idea / Sketch or Photograph To An Excellent Watercolour Painting
Whether a beginner, intermediate or advanced watercolour artist, Andrew will guide you through a fun process of creating an impactful and expressive painting of your favourite subject with the versatile (and challenging) medium of watercolour.
He will demonstrate techniques such as washes, wet in wet, wet on dry, drybrush, the use of salt, etc, to express your personal interpretation of the chosen subject.
With his live demonstrations and one to one guidance, Andrew will help artists throughout the day.
Demonstrations will be done in transparent watercolour, with guidance on an opaque use of the medium.
Whatever the source of your inspiration – an idea / sketch, a photograph; be it figurative, landscape, still life, wildlife / pets, it can be transformed into a terrific watercolour painting.
Basic drawing techniques, perspective, composition, colour, texture, use of material will be explored.
Watercolours Paints (suggested)
Ultramarine Blue, Cobalt Blue, Pthalo Blue, Manganese Blue Hue, Cadmium Red, Cadmium Yellow, Naples Yellow, Jenkins Green or Hookers Green, Sap Green, Burnt Sienna, Purple, Alizarin Crimson, van dyke brown, sepia, Paynes Grey, Mars Black, (and any other colours of your choice)
Watercolour paper, single sheets or in pre-stretched pads
Media
Masking Fluid – Friskit (or other brand name) for masking areas
OTHER MATERIALS
Paper towel roll.
Please bring your own containers for water.
Masking tape
A board to support your paper
Brushes
Assorted watercolour brushes, in a range sizes and shapes (fine point, flats, rounds)
Drawing
Pencils – 2H
Sketch pad
Support
Rags
Containers for water
Photographic reference
Watercolour palette
For more information on Andrew Cheddie Sookrah please visit https://www.sookrah.ca/
Email: sookrah@engineroom.ca