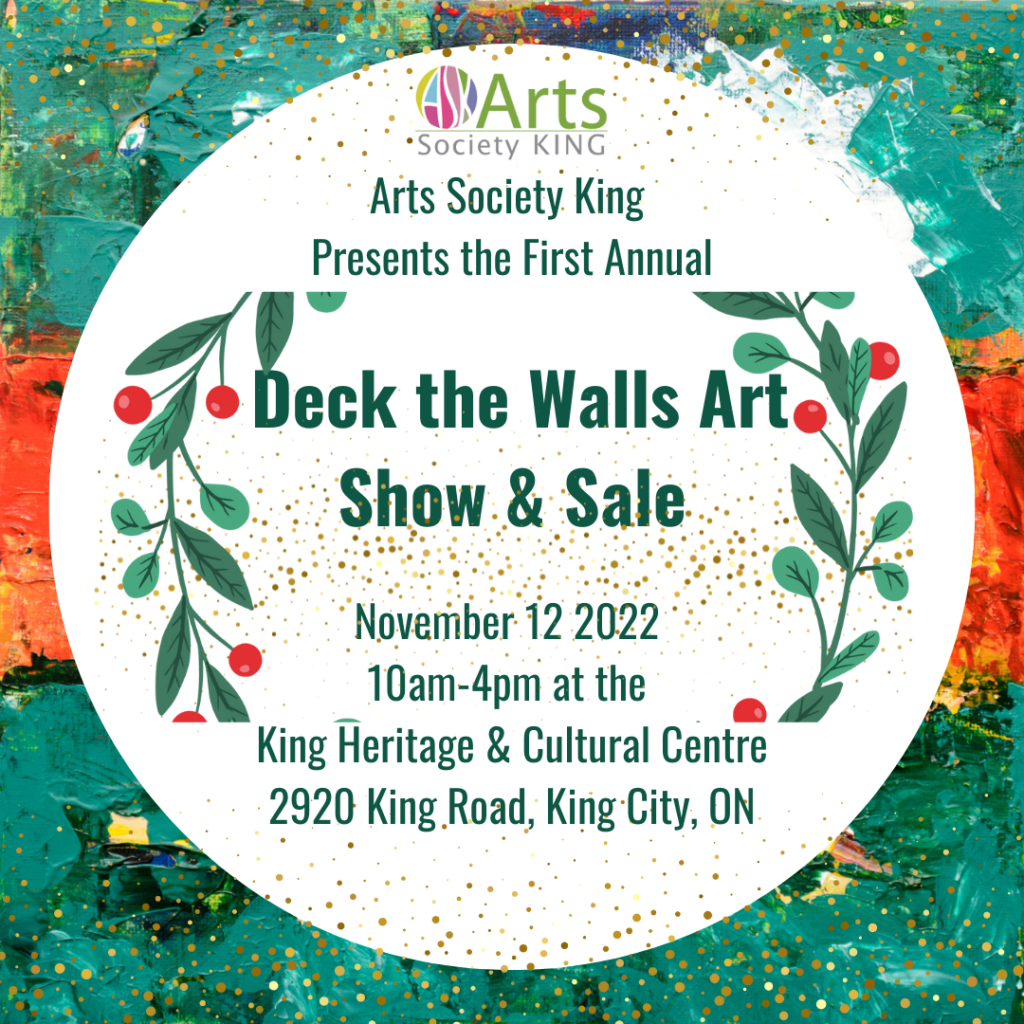 ASK is pleased to present a new fall event for our members. The first annual Deck the Walls Art Show and Sale will be held on Saturday, November 12, 2022 from 10:00 am to 4:00 p.m.
Location: King Heritage & Cultural Centre, 2920 King Road, King City.
Sixteen juried artists/artisans have been selected for this event.
If you have any questions, please send an email to artshow@artssocietyking.ca.
Accepted artists may pay their $100 + HST fee with the link below.
Meet the Artists
Grace Downer
Grace Downer is a new member to Arts Society King in 2022. From the corporate world, Grace moved to fulfill her lifelong desire to be an artist. She has studied with artists Catherine Mills, Phil Starke, John MacDonald and David Santillanes among others. She is influenced by the works of Eduardo León Cortes and Edgar Payne and by contemporary artists Christine Lashley and Michele Usibelli.

She has been accepted to compete by the McLaughlin Gallery (Oshawa), McMichael Gallery En Plein Air (Kleinburg), En Plein Air in Norval-on-the-Credit, Autumn Reflections En Plein Air in King City where I received an Honourable Mention for my work 'Shimmering Lake'. Check out her social media at Facebook: Grace Downer Studio and Instagram: downer_grace.
---
Jackie England
Jackie England resides in the Mississauga, Ontario, but was born in Nottingham, England, and immigrated to Canada as a young child. She returned to the U.K. to further her education and there, she became introduced to the realm of horses. She spent many years riding and showing horses, before turning to drawing and painting. Jacqueline has worked in various mediums, such as pastel, watercolour, gouache, acrylic, graphite and oil. Her greatest wish is that upon viewing her paintings, the viewer will be able to feel and see what she saw and have a greater insight into the animal it portrays.
---
Eva Folks
Eva Folks participated in the Studio Tour King in 2016 and 2017 and is returning again in 2022. Eva was born and raised in Toronto, Ontario, Canada. She has always had an affinity for art, learning her skills through experimentation and a great deal of practice. In 2011, Eva turned her full attention to her art. Since then, she has won awards for her work, participated in numerous juried shows and exhibitions, volunteered on art show and studio tour committees as well as helping to jury shows for various art groups in the Greater Toronto Area and York Region. She has clients in Canada, the United States, South America, Great Britain, Australia, and Hungary.
Here is her Artist Statement: I strive to create bodies of work that are original, narrative and imaginative in nature. Creating fantasy worlds allows my mind to wander free of everyday life, exploring new ideas and processes. Check out her website: www.evafolksart.com.
---
Donna Greenstein
Donna Greenstein is a realistic artist focusing mainly on farm animal and bird images. Her oil paintings harken back to an earlier time when everyone knew how to ride a horse, milk a cow and name of all the species of birds flying around them. She hopes that the viewer is touched by the emotion in her paintings. Donna constantly looks at the world through artist's eyes and thinks about her next painting.
---
Atswei
Atswei is a visual artist who started out in childhood, high school then went on to study graphic/packaging design at Humber college. She dropped out, finding it much too rigid for her artsy free self. So she literally jumped out of the box and buried her talents in pursuit of other trades.
She studied culinary art, then moved on to serve her country in the Armed Forces. She then studied skin, and as an aesthetician learned to create creams, lotions, bath bombs and natural hand made soaps as an entrepreneur. She then came back full circle to her first love – Art.
In the beginning her best pieces we achieved in extreme anger or extreme happiness. Currently, they flow with any emotion. Atswei has always felt that the minute you turn what you love doing (your hobby) into a career, then it becomes work. Once it become work, it become confinement, which equals rules, which equals regulations.
Art to her is to be freeing, where you set the rules, tone, pace etc. Once someone is telling you what to do, it is no longer art to her.
It is the one place she can let her art do whatever she wants. It is her world which all are welcome to view.
Her art is her therapy –
her happy place –
her escape –
her appreciation to Yahweh –
her voice –
and so much more that she continues to explore.
---
Shiva Moghaddasi
Shiva Moghaddasi is a textile and pottery artist and a graduate of OCAD U Material Art & Design. As a textile artist, she designs nuno felt shawls and paints on silk fabric, creating colourful luxurious silk scarves. As a potter, Shiva makes colourful functional and decorative ceramic pieces. Craftsmanship and attention to detail are paramount in her work. Every element of design and workmanship is considered in order to stimulate and heighten your experience with each piece. Shiva employs contemporary colour pallets and designs that reflect the subtleties of colour, which she witnesses in her surrounding environment. Check out her website: www.ShivaStudios.ca
---
Evangeline Munns
Evangeline Munns has been painting for many years. Her love of nature is reflected in her landscape and floral paintings where she tries to capture the beauty of what she sees in her daily walks and frequent excursions into the country. She is thankful for the creative outlet that painting provides.
---
Sophie Naidoo
Sophie Naidoo is a teacher who has always been keenly interested in art and science. Her art focuses on combining themes and skills from both these areas. Although her formal degree and training is in Chemistry, she has always had a passion for art and started studying art as an adult on her own. Her paintings are primarily landscape or experimental abstract and aim to highlight the beauty of our natural environment. She typically uses watercolour or chalk pastel but regularly experiments with other mediums and painting techniques. Her artwork has been exhibited on a few occasions over the past few years, primarily within York Region. One of her watercolour paintings was chosen for the "All Things with Imagination" exhibit at the McMichael Art Gallery. Another one was included in a "Covid Bubble Public Art" project at the Civic Centre Resource Library. She currently has a painting on display until October 2022 at the McMichael Art Gallery with the "Views from Pine Cottage" student exhibit.
---
Ivanka Pipinikova
Ivanka Pipinikova has been an artist since she first started drawing and painting as a child. In school she used to participate in competitions, and won several awards in recognition of her artistic talent. Many years later, Ivanka found herself rediscovering her love of creating art when she signed up for oil painting classes with Vladimir Ribatchok in 2009. She hasn't stopped painting since.
She is an Artist member of Willowdale Group of Artists since 2011. Her paintings were chosen to be on display at the Annual Spring Juried Art Shows every year since 2012. Other shows include Annual Fall shows and Sunnybrook Hospital art show. In 2014 she joined the King Craft Studio. She became an Artist member of King City ASK in 2014 and she has been taking part in ASK Studio Tour every year since 2014. In 2015 she joined SOYRA and has been participating with her art in the annual shows at the Aurora Cultural Center. For the last 3 years her art work has been chosen for the Aurora Town Hall juried shows. In 2018 and 2019 she took part in North York Visual Arts Fall Show.
In her work she is inspired by nature landscapes. She is always fascinated by the amazing colors of the seasons, reflections in the water of the various lakes and rivers. Figures of people have also always been a source of inspiration for her. She mainly paints with oils, but she is continuously exploring and experimenting with other mediums. Constantly growing and evolving as an artist, Ivanka aims to create beautiful, impactful art that convey the feeling and mood of a moment in a way that the viewer can become a part of it. Check out her social media, Instagram: @ivanka.p.art
---
Lucy Quintero
Lucy Quintero finds inspiration in the endless wonder of the seasons and the beautiful scenery that Canada offers. From Ontario farm fields and Provincial Parks to the East and West coast, Visual artist Lucy Quin is enchanted by Canadian landscape. Canadian Seasons were for her a new road and have had a dramatic impact on the direction she has taken as an artist. She prefers to paint in the classic style used by Tonalist/Luminist artists, with a contemporary approach that combined with the spirituality she finds in nature allows her to create works that are mood evoking and timeless. Lucy says, "My passion for painting is rooted in nature and the fascination I have for light and shade. That has drawn me to paint through my senses to share what I'm feeling". Check out her website: www.lucyquin.com.
---
Kathleen Rodgers
After exploring traditional quilt blocks for 25+ years, Kathleen Rodgers became interested in creating fibre art designs based on colour and shape for Art Quilts, table runners and lap quilts using her own hand dyed and hand painted fabrics and batiks. She has participated in group fibre art exhibits for several years, including the International Women's Day Show (OMAH) and the Fibre Content traveling exhibit. She had her first solo show at Burr House Gallery and Tearoom in November 2019. She is part of a fibre arts group that is creating travelling thematic exhibitions. Check out her website: KathleenRodgersArtisan.ca and social media at Facebook: KathleenRodgersArtisan and Instagram: @KathleenRodgersArtisan.
---
Julie Rothschild
Julie Rothschild has an appreciation for all things messy. About five years ago, she stumbled upon alcohol inks and fell in love with their wispy style and unruly nature. She has grown to love the medium and appreciates that it cannot ever fully be controlled and purposeful … ink challenges that in the best way possible. As the grand-daughter of respected Canadian artists, Johana Rothschild, she is proud to wield her tools and stretch her creative boundaries. Julie resides in King City with her husband, daughter and two very lucky dogs.
---
Judy Sherman
After a successful career as a graphic designer, Judy Sherman studied Academic Painting in Florence, Italy and in 2006 received an OAC Emerging Artist Grant. She's been published in American Art Collector Magazine, interviewed on Rogers TV, and has appeared on City TV with Marilyn Dennis. Judy has juried shows, conducted workshops and has been teaching for over 15 years. She has won awards and is represented in galleries. Her paintings are collected worldwide.
Judy is a narrative painter using a juxtaposition of the old masters' style and present day life.
"Things aren't always as they appear to be. At first glance my paintings may make you smile but the true meaning lies just beneath."
---
Joe Trimmeliti
Joe Trimmeliti is a graphic artist by profession who enjoys painting landscapes and nature. He is inspired by his environment, travels, the Group of Seven and other impressionists. He lives in King City with his family.
---
Phyllis Vernon
Phyllis Vernon works in a wide variety of styles and media, including collage. She enjoys creating paintings in abstract realism, exploring identifiable subjects through colour, line, texture, stencils, even hand-pulled prints. By contract, she uses a very realistic style to record and preserve the memories of King Township's historic building (such as the disappearing old barns) or as requested when doing commissions.
---
Lynn Wilson
Lynn Wilson lives and paints in her home studio in King City. She paints using strong, bold colours on large canvas (florals, abstracts, streetscapes and interpretive intuitive pieces) in mixed mediums. In the Fall 2017, Lynn discovered Altered Book Journaling and Intuitive work. Her journals and intuitive work now inspire her large pieces on canvas and wood cradled panel boards. She uses a variety of mediums and techniques including acrylics, metallics, iridescents, inks, graphite, oil pastels, calligraphy and collage. Since 2002, Lynn has shown her work in many juried art shows, art events and
Studio Tours. She now teaches both live, online art classes and private home classes. She is a member of Arts Society King (ASK) and Society of York Region Artists (SOYRA). Her studio is located at 13048 Keele St., King City and open by appointment. She can be reached via telephone at (905) 833-2388 or through her website at www.artbylynnwilson.com.